Virtual phone system for small business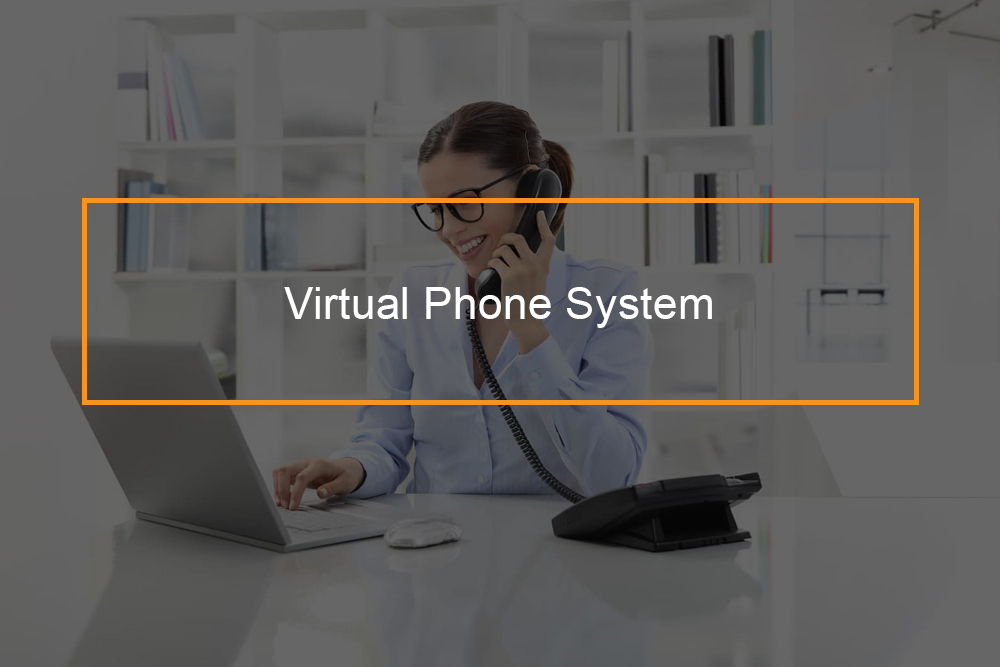 A virtual phone system is a scalable, economical solution that allows your company a professional communications infrastructure while you are still small. It is a comparatively new technology based on Internet and Cloud-based computing. 
With advances in internet service, home users and small businesses have been able to benefit from cloud-based services. Since providers now can host systems on the internet and offer remote services with confidence as rapid growth in available bandwidth to the end consumer. One opportunity that developed through cloud computing is virtual phone systems.
For small business owners, having a reliable phone system is vital. Business phone systems enable us to interact with leads, network with other business owners, and negotiate important deals on a more intimate basis than digital communications like emails and texts.
Traditional desk phone systems have been outdated by new internet-based kinds of communication. Today, small business owners and employees can be tied over their desks. The virtual phone system has eliminated the limitations set by small phone systems. Generally, modern cloud-based virtual phone systems let companies communicate efficiently and anywhere in the world.
---
What is a virtual phone system?
Virtual phone system defined
The success of any company depends on seamless communication- in case you are having problems with expensive hardware, dropped calls or lack of mobile and internet features, it could be essential for you to plow money in a virtual phone system.
A virtual phone system, also referred to as  Virtual Private Branch Exchange (VPBX), is a communication site created specifically for businesses that require a variety of calling and messaging services like voicemail, call routing, extensions, and fax.
The chief difference between virtual phone systems and traditional phone systems is you do not require to install clunky hardware or purchase new phones for your team. A VPBX  phone system is entirely virtual and can work with your existing phones, inclusive of your current phone, including hard-line and cell phone.
In case your startup depends on personal phones or VoIP services such as Skype, a virtual phone system can be an economical and convenient way to improve your business communication. Most of the virtual phone systems are designed to reduce phone costs for small business specifically. When it comes to choosing between VoIP and virtual phone system, while VoIP is less costly, it does require broadband internet connectivity- unlike VPBX systems, which uses the PSTN. Some providers offer both services in case you would like to have internet and PSTN functionality.
---
How do virtual phone systems work?
How a virtual phone system works?
Similar to conventional phone networks, a virtual phone system manages each call that comes into your business. Rather than purchasing many new desks phones and routing equipment. The virtual phone allows you to build a professional phone system via your cell phone. After you have set up and you are running, you can add each member of your team to the system so that calls are routed whichever phones you like, landline and cell phone. Incoming calls can be received by either a digital or real-receptionist. Customers are then prompted to a specific extension, which links them directly to the branch or employee of their choice. This connection transmits digitally and can connect callers to VoIP-capable phones in literally any location- so you do not need to be in the office.
All of your phones will have necessary features such as hold queues, music on hold, transfer capabilities, voicemail, and support department to assist with troubleshooting and issues you might have. 
Virtual phone system comes with several inherent merits over the dedicated circuit-switch system. Packaging information let's data from several conversations be simultaneously transferred across one fiber optic phone line. The effect is a far more effective strategy for transferring phone calls. Besides, data compression enables virtual phone system users to access even more pocket-friendly services, such as digital faxing, enhanced messaging, and sophisticated call routing.
---
How does a virtual landline work?
What is a virtual landline and how does it work?
A virtual landline phone system is a cloud-based telephony service that allows you to divert your incoming calls to a phone number of your choice.
A virtual phone number is a number that exists in the cloud which is not physically linked to a fixed telephone line. Calls to a virtual phone number can be diverted anywhere that is suitable for your needs, usually your mobile but also any landline globally.
When it comes to receiving a call, anyone calling a virtual number landline thinks they are just calling another landline number, but in reality, the calls get diverted to the phone number you have added when registering. You can easily pick up the call on your mobile or another device; it could be.
For calling your virtual number, virtual landline offers you the opportunity to place outbound calls from your virtual number, making it less economical and easier to reach out to your consumers. To place outbound calls all you have to do is either of the following options;
Buzz Box

Business quality voice over internet protocol handset

Free app-Android, iOS, PC and Mac
---
Factors to consider when choosing a virtual phone system for small business
Selecting the right provider can be challenging. There are companies that offer virtual office systems and other phone platforms. Every company has various specialties and strengths that you should take into consideration.
Some major providers such as CenturyLink, FiOs, and EarthLink provide business plans, but most involve installing hardware and are more oriented toward offering internet services. Below are some of the things to consider:
Your business is distinct, and your phone system should cater to your style. Fortunately, there are programs and packages for businesses of all shapes and sizes.
For example, Nextiva is known well with small businesses or startups. Big companies would prefer Virtual PBX, Nextiva, or RingCentral. In case you and your employees are always on the road you can consider getting phone.com. 
In case your business is multifaceted or has specialized departments within the organization, you might want to use extensions. By including a short number after your main phone number, you can route calls to a particular division or employees.
Despite how sophisticated your business becomes, the flexibility of extensions will keep your customers calling the right people. You can consider companies such as Grasshopper or virtual PBX, which both provide unlimited extensions as part of their plan deals.
We do not want to deal with complicated disorienting and interfaces of technical details. You require a simple, streamlined phone system so you can place calls and keep your company running smoothly.
When it comes to beginners and startups, Grasshopper may be the best virtual phone system.
Choose a virtual phone system that does not run your business dry. Investigate virtual phone providers to see which package is affordable for you.
In case your company tends to use fewer minutes, you might consider a specialized, pay per minute tier, like that offered by Grasshopper. Business with extensive phone usage may require to get an unlimited service plan, such as the one provided by phone.
Ensure you select a company that has your back when you require support.  Make sure it is easy to reach customer service for help.
In case you would categorize yourself as inexperienced, Nexiva may be a good option. Nexia prides themselves on maintaining strong relationships with their consumers and rapidly having representatives available.
Virtual phone system allows your business to keep on operating- even though your office experiences a disaster, such as fire or flood. A routing package can be configured in advance so, in case the worst happens, you will be able to reroute your VPX system to use mobile or home numbers with a single call to your provider.
This recovery plan, together with a reliable data backup system, can keep your business open after a disaster strikes.