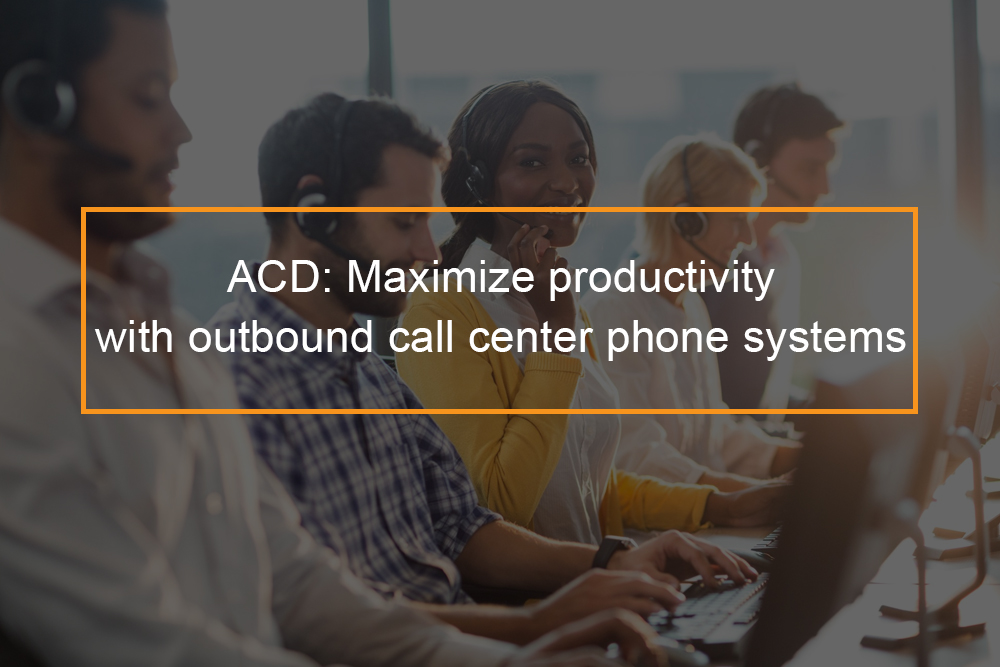 An ACD; the automatic call distributor, is a specialized phone system that routes inbound calls to teams of sales agents assigned to different call queues. Queues are an ordered list of phone calls to be dispatched to agents. The automatic call distributor oversees the procedure of placing inbound calls into the right queue, assigning priority to those calls based on different factors, and ultimately dispatching those calls to available call center agents. The algorithm by which calls are dispatched is known as a queue strategy.
The queue strategy is often based on guiding a caller to any customer agent as fast as possible. However, commonly, multiple variables are added, all with the end goal of finding out why the customer is phone calling. Identifying and routing thousands of calls to the right agent is a hard task, and is frequently done in concert with interactive voice response and business phone systems.
---
How does ACD work for call center?
Inbound call center software: How does ACD benefit a call center
ACD enables the following:
Call routing to specific agents 
ACD allows calls to be routed to the particular sales agent or division that is most qualified to address the consumer's needs. Sales calls can be routed to the specific sales agent or division that is most qualified to address the call.
Call transfer and rapid response to VIP callers
ACD enables VIP callers to be routed immediately to the most appropriate agent, or, in case none are accessible, they will be placed in the front of the waiting queue. Callers are recognized as VIP based on pre-defined information, tags that they were assigned, and information from integrated databases or business tools.
Call monitoring, call reporting and coaching of sales agents
ACDS enables call center managers to engage in call monitoring, call recordings, call barging, and whisper coaching. These functionalities enhance the coaching procedure as well as workflow automation. Automatic call distribution software also enables the acquisition of data to facilitate real-time and historical reporting.
CTI and dialer CRM integrations
With CTI integrations, intelligent routing, and ACD, sales agents will have comprehensive information about the caller in their browser, before answering the call. Most contact center solutions integrate with CRM, live chat, social media, and SFA to offer a detailed interaction history of the consumer. This information enhances the outbound sales and support procedure, so agents are more effective.
Call centers that use PBX systems from multiple carriers to function as one omnichannel contact center
Some call centers use PBX systems from various carriers. These companies can easily function as one through system integrations into one omnichannel contact center using and ACD.
Workforce management
When all sales agents are busy, and the queues are full, automated outbound calls can be automatically directed to pre recorded voicemails using the ACD. With this feature, any company can easily control high call volumes and become more efficient and professional.
Integrated auto-attendants
For callers who would want to speak to a particular sales agent, they can auto-dial their extension to be immediately transferred.
The acquisition of usage info
The ACDs enable call centers to acquire usage data such as the number of outbound calls, the amount of talk time of an agent and the caller, the total number of calls, and the waiting period before the call was answered.
Multiple call queues
ACDS allows organizations to have numerous waiting queues. For example, there can be various waiting queues for various divisions, different sales teams, or various numbers that the caller dialed.
The routing strategy
The strategy that the automatic call distributor software uses to route inbound calls is based on an algorithm that recognizes the best accessible call center agent or division to route the caller intelligently. The routing strategy is customized for every company centered on the company's needs. Mainly the routing algorithm is focused on any of the following:
The phone number to be called

Caller ids, automatic number identification, or dialed number identification service

Customer profile data

Integrated CRM, database, helpdesk, salesforce or Zapier integrations

Sales agent availability

Time of day

Customized parameters based on interactive voice response configuration

Information, the caller, entered in the IVR such as credit card required

Queue statistics
---
Types of call center dialers
Outbound call center dialers explained
As each call center has its distinct application and needs, so are the variations of phone systems accessible. Apart from ACD, below is a discussion of dialers available to aid with your specific telephony needs.
Predictive dialers: Increase your outbound call centers production with predictive dialer
This is the newest type of high-speed telephone dialing system. Besides dialing calls, the predictive dialer will also monitor the period of each call and develop an average call length. After the auto-dialing system knows the average call period, the predictive dialer can make the next phone call and hand it off to the agent as soon as the call has ended. Predictive dialing software increases the talk time of each agent, and the overall dialing rate. Predictive dialing mode is an automated dialing feature in which the system predicts from pre-configured algorithms when an agent will become free and makes the call in advance. The most common vendors of predictive dialers include Kookoo Cloudagent and Adversus dialer.
Auto Dialer software
Automated dialers, also known as voice dialers and phone dialers, are electronic devices that can automatically dial telephone numbers to communicate between any points in the phone, pager networks, and mobile phones. Once it is done, the telephone exchange, the call has been developed, the auto-dialing software will announce audio messages or transmit digital data to be called a party. Auto Dialer system comes with different features which include: Call recording, appointment scheduling, appointment reminders, touch tones, click to call, answering machine detection, calling campaigns management, and voice broadcast.
Power dialer
Large calling campaigns operations commonly linked with collections, emergency notifications, and political campaigns need more aggressive auto dialer software. Some of these are power dialing mode, which places automated outbound calls for each accessible agent. When sales agents hang up, the system connects it to the agent's phone by automatically dialing another call. This strategy keeps on as long as the sales agent remains logged into the system. Power dialers allow the cloud call center to place more calls than could be accomplished through manual dialing mode. Nonetheless, there is still some agent time wasted managing calls that do not connect, reach answering machines, and prerecorded messages.
Desktop dialer for outbound call center
Desktop dialer software is typically integrated with CRM software or other business applications. When a sales agent requires to place a call, the click to call button or link in the dialer application instead of manually entering the digits on the keypad of their phone. The automated dialing system then places the call on behalf by sending a command to the phone or the phone system. Desktop dialers have various phone dialing and phone messaging features that help to reduce errors and increase productivity.
Robo dialer notification solutions
Sometimes dialer systems are automated completely. Such dialers place calls then play messages to the answering party or machine. These systems are often used for notification purposes ( for example, a reminder of a doctor's appointment, emergency notification of a school, as well as marketing and political messaging. Some telemarketing software supports additional features such as surveys or transfers to live people.
Call recordings
Call centers often record automated phone calls either to monitor the performance of their agents or for regulatory compliance. Call recording systems manage the process of capturing the audio from all [participants in the automated call, combining it, storing it, and offering an index that enables administrators to locate and review call recordings.
Preview dialer
Preview dialer is an automatic dialing system that dials from a list of numbers. A preview dialer presents the agent with the information about the customer to be called and needs a response either to make the call or not make the phone call. Progressive and preview differ from a predictive dialer, which turns all calls over to the next available agent.
Progressive dialers
Progressive dialers cover the middle ground between manual dialing and more advanced predictive dialer solutions. Predictive, progressive dialer, is adopted to avoid agents having to manually dial customer phone numbers to place outbound calls. A progressive dialer will wait for a sales agent to finish their current call before it dials the next contact on the list, and it will only dial one number per sales agent.