Ways to make free international calls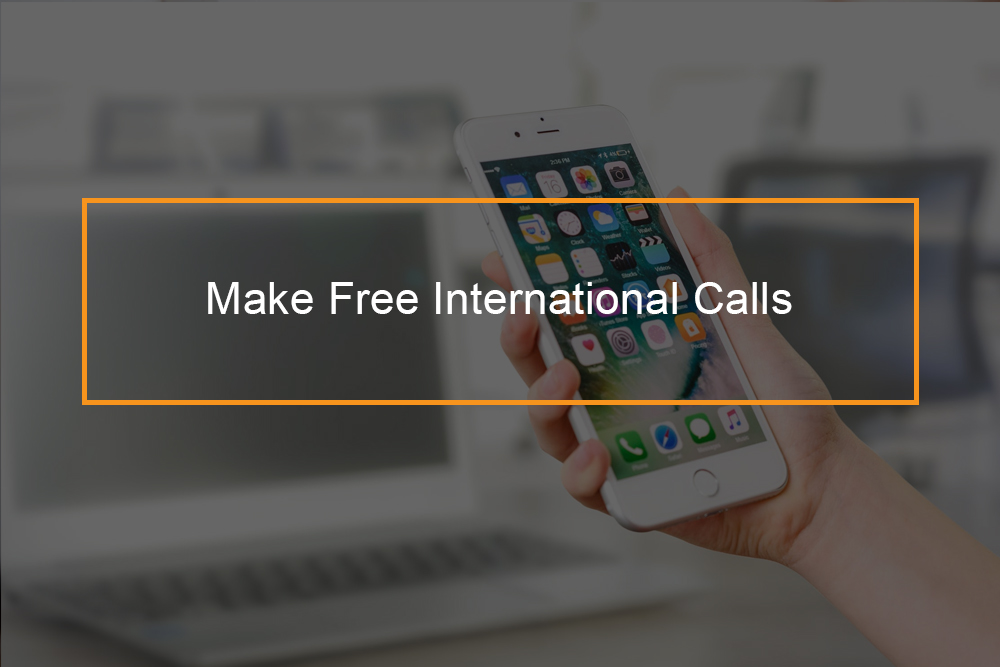 You can make free international calls using VoIP apps such as Viber, WhatsApp, FaceTime, Rebtel, IMO,  PopTox, Google Voice, and many others. Free international calls are possible thanks to Voice over Internet Protocol (VoIP) technology. 
Today, international phone calls are inexpensive and easiest to make. Whereas it used to be very expensive to call someone overseas, and you frequently had to suffer an unreliable connection, data plan and mobile apps have changed that. In many cases, you can call abroad for free.
---
Which apps are best to free international calling?
Best apps to make free international calls
Many apps provide free international calls. However, the best app m, mainly depends on what country you are trying to call and which video features you require. Some countries block various apps, so you have to find an authorized app to complete the phone call.
All the apps outlined below offer free international calls to at least one if not more countries. Most of these apps also have chat features to help you stay in touch with instant messages in between calls and share videos and photos. Here are the top ten apps.
WhatsApp: Most secure international calling app
WhatsApp is a voice call and messaging app for Android and IOs. It uses data and not your cellular plan. You can place video and voice calls to people all over the globe for free. However, you have to watch your data usage per month. WhatsApp also supports group calls.
WhatsApp also allows you to send documents up to 100MB in size, which makes it suitable for businesses too. There are web and desktop versions of the application.
However, you cannot use WhatsApp to call emergency services such as 911 in the United States.
Skype: Best for international group calls
Skype is a VoIP phone service that has been in the market since 2003. You can use Skype for voice and video calls, and group calls with up to ten participants for free when communicating with other Skype subscribers. 
You will be charged if you call someone who is subscribed to another app. The good thing is, Skype has affordable rates, and unlimited monthly plans are available.
Similar to WhatsApp, you cannot use Skype to contact emergency services. Besides Android and iOS, you can also place international calls from your Mac computer, Xbox, and web browser.
Facetime: Best international calling app for video calls on iOS
FaceTime is a free voice and video call application for iPad, iPhone, Mac, and iPod touch. FaceTime allows users to call via wifi or using mobile data around the globe, apart from several countries. To sign up for an account with FaceTime, you require an Apple ID. When it comes to the iPhone, FaceTime will sign up your phone number automatically. For iPod or Ipad touch, you can sign up with an email address.
To contact friends, you will require to have a phone number or email address linked with their Apple ID. You can also change to FaceTime call during a regular phone call as long as you have both accounts.
Google Voice: Best international calls between the United States and Canada
Google voice is supported by Google. It is the most limited application in this list since it only supports free phone calls between the United States and Canada. Rates for calls to other parts of the globe vary. 
Google Voice allows you to forward up to six numbers to your account, but have everyone dial before going to voicemail. You can also get a free phone number, so you do not have to share your present mobile phone number either.
Viber: Best VoIP appl offering free international calls
Viber app is one of the most popular VoIP applications for free international calls. To make an international call, all you need to do is select the person from your Viber contact list and press free call. You can also use the Viber app by choosing the person you need to call or chat with for free. 
Similar to other apps, you can also send messages, share photos, and other media via Viber app.
Rebtel
Rebtel allows users to make free international calls to over 53 countries without wifi or data connection. In case the person you are calling does not live in one of the powered countries, you will require both wifi and data connection. 
PopTox
What makes PopTox cool is that it allows users to call a regular cell phone or landline for free. And the call recipient does not require the PopTox app to make the free phone call.
Even though POpTox provides free phone calls, it has a limit on how many calls you can make every day.
IMO
Most VoIP apps need a 3G cellular connection or using a wifi connection. IMO enables international calls where an only 2G connection is accessible. Although you may have 4G LTE anywhere you go, some regions do not have reliable internet.
In case of security is the primary concern, IMO voice and video calls are encrypted.
Voxofon
Voxofon was the first app to provide free international calls in 2008. Today when mobile phones are standard, Voxofon still offer free international calls. 
The Voxofon app functions on any computer or mobile devices and calls between app users are free. Besides, you can send text messages and video for free too. Voxofon also offers the alternative to call international mobile phones and landlines too.
Tango
Tango provides free international calls to any number in the United States, Canada, Mexico, and India. Besides voice and video calling, you can play games with others or put on a digital mask on Tango.
For international destinations not on the list, you can make a call for a nominal fee which can still be less expensive than your current cellular phone provider.
Other apps you can use to make free international calls include; Line, Vonage Mobile, VoIPBuster, VoIPStunt, WeChat, and Phone.com.
---
How do VoIP apps make free international calls?
Most VoIP applications only allow free international calls when you call another user in the app. In case you have ever Skyped someone, then you know this principle. You communicate via the internet rather than regular telephone lines which are expensive to maintain.
To provide free calls, most VoIP apps depend on promotions and need premium subscribers to subsidize the cost of free phone calls. Apps such as WhatsApp and Facebook do not need advertisements because they are owned by big companies, and they are famous.
---
Can I make free international calls without an internet connection?
Do you need an internet connection to make free international calls?
You cannot make free international calls without internet. Most applications require a minimum 3G mobile phone data connection or connecting to a wifi hotspot. For the apps to support services such as video chat and to have a quality voice call, you will both need to have adequate internet. If you have a poor internet connection, the services will be reduced.
The only exception is the Rebtel application when you are calling a supported country that they can call a local number in. However, in case the person you are calling does not stay in one of the 53 countries, you will bothe need a data connection.
---
Do I require a special phone to make international calls?
Do smart phone plans offer free international calls?
Your existing smartphone can make free international calls. You, therefore, do not need to have a particular phone. You only need to have a compatible operating system to launch and download the app. In case you are calling from a business phone, and you require advanced features, you may need to buy a VoIP phone. You can access VoIP phones at Phone.com that will allow you to operate a business with everything you require from a business phone.
For cell phone plan you may have to pay more money for these plans, but it can be cost-effective than paying by the minute without a plan.