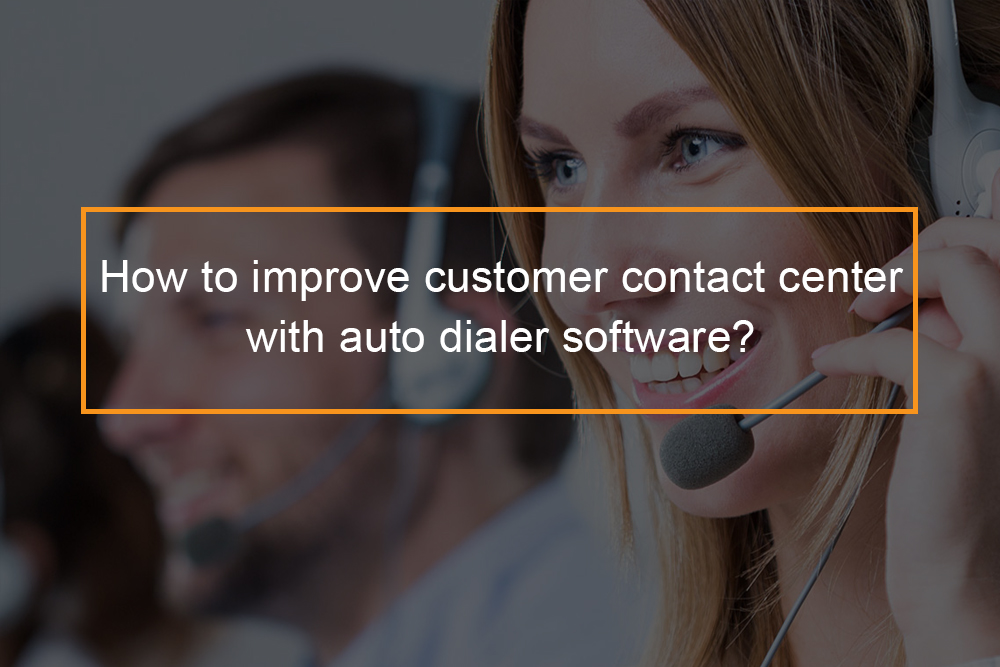 A customer contact center, also known as a customer service center, is a type of call center that is equipped to manage large amounts of customers' telephone requests for a company. It also handles other customer communications from a single facility.
Whereas a call center mainly focuses on phone dialing, a customer contact center will manage additional types of customer communications like emails, letters, live chat, and faxes in addition to phone dialing. The contact center includes one or more outbound call centers but may include other types of customer contact, as well. A customer contact center is equipped to route communications to the correct employees within an organization and is further defined as part of a company's overall CRM integration strategy.
---
How does auto dialer software work for customer contact center?
Outbound call center software: Benefits of the auto dialer to customer contact center
An auto dialing software is an application that automates the procedure of dialing numbers in the cloud call center. Unlike manual dialing automated dialers, auto dials the phone numbers about a chosen list of contacts on behalf of the agents. After an automated outbound call is answered, call center dialer, also known as phone dialers or voice dialers, connects the customer to either interactive voice response or live person. Thereby increasing call connect ratio and sales agent talk time.
The right auto dialer software is much more than just contact center solutions. It brings intelligence, analytical insights, and phone messaging features to the outbound and inbound calls, to enhance call center efficiency.
Auto dialing systems can be used to place thousands of calls automatically. Auto dialer software can usually be set to leave audio messages for people on answering machines, receive touch tones or prerecorded messages and pre recorded voicemails, or dial an operator. Some automated dialing systems that perform a call transfer and call routing to an operator when a live person answers sales calls is known as predictive dialing mode. Let's look at auto dialer advantages:
Lead generation
A business phone system is still the most widely used channel for outbound sales development, and companies use cold calling as an approach to generate leads. The more the number of customers being reached out, the higher the dialing rate.
Surveys and promotions
Each business requires to promote their offerings to existing and prospective clients for better outbound sales. Besides improving their products and services, they need feedback from their customer base. A robust omnichannel contact center solution helps out to a vast customer base efficiently and faster.
Increased sales teams productivity
For outbound call centers, productivity mainly depends on the number of connected calls and agent talk time per day. Nonetheless, as a result of various challenges like call waiting, dialing non-serviceable numbers, or calls landing on pre recorded voicemails can reduce the productivity of a contact center to an alarming level. To overcome these challenges, auto dialer systems are installed for automating the dialing procedure and accelerate operational efficiency by amplifying talk time per hour.
Real-time call monitoring and workflow automation
Call center dialer software aids to give real-time insights into call center operations and agent responsibilities through customizable dashboards. Real-time dashboards and calling campaigns reports to improve the decision-making ability of both call center managers and call center agents by identifying the challenges at the earliest. Call recordings also help call center managers to monitor the agent's performance and enable call quality. Dashboards aid in tracking and measure key call center metrics daily for higher operational efficiency.
---
An auto dialer with predictive dialer ability: Why outbound call center need a predictive dialer?
A predictive dialer is an auto dialer system that automatically dials numbers from the contact list. As soon as the phone call connects, the dialer routes them to a live person to take the interaction forward. By automatically dialing contacts, the predictive dialer saves sales agents time. Just the name suggests, predictive dialer has an inbuilt algorithm to predict when the next call should be placed. Some outbound call centers use predictive dialing mode for lead qualification to increase the amount of time they spend on the business phone system with leads during outbound sales prospecting.
---
Why a customer contact center needs a power dialer?
Power dialer is also known as a progressive dialer. Power dialing is a type of call center dialer where the sales agent is already active on the line before a telephone call is dialed. The sales agent initiates the calling session, and when a call is connected, he answers the automated outbound calls. In progressive dialers since the agent already lives in progressive dialing mode, there is no need for call routing. In the case of progressive dialers, there is hardly any chance of call abandonment contrary to predictive dialer as the sales dialer dials one number at a time, and the agent is always accessible on the line to answer the connected automated calls. Predictive, progressive dialers work better for call centers with few agents working on high-quality leads.
---
What is preview dialer for customer contact center
Preview dialer is the kind of auto dialer that empowers the agents by providing them a quick info update about the next contact, which enables them to prepare to place the automated phone calls. As a result, this telemarketing software connects the agent first before connecting the call to the customer. Secondly, a preview dialer enables phone calling flexibility to the sales agent by offering the option to skip any number from the list and move to the next contact. This call center solution is ideal to meet the challenges of the sophisticated sales process that require higher quality sales touch points. Progressive and preview dialers are similar in the way they work. Preview dialer is the ideal for call centers with a sophisticated process that needs pre-research for calls to increase the conversation ratio.
---
Common uses of autodialers
A school could use emergency notification solutions to inform parents and students of a fire outbreak in the school.

A doctor's office could configure a system to remind senior citizens when to take their medication
---
Key features of auto dialer software
Improve your customer contact center services with auto dialer features
Call center dialers technology includes dialer CRM integration, call recording, answering machine detection, workforce management, and automatic call distribution software integration. They are designed to increase your outbound customer contact center productivity by completely automating the dialing procedure.
The key features include:
With the click to call functionality, call center agents can dial all those contacts whose details already exist in the CRM without manually dialing the number. This gets rid of any cases of error and improves efficiency as call center agents can dial out more numbers at a provided period.
Appointment reminders and appointment scheduling
This feature enables agents to schedule a call back that is agreed upon by the caller and the customer during previous interaction. The functionality can be customized, and the dialer provides the flexibility to connect designated agents to chosen calls.
Multi calling campaign management
Most call center dialers such as kookoo cloudagent and Adversus dialer help companies run multiple calling procedures simultaneously in these kinds of campaigns. With Ameyo, you can build, modify, and delete campaigns quickly from one unified window. Agents can also control campaigns for exclusions, such as implementing Do not Call for voice processes only in specific calling campaigns.
Most sales dialers come with extra call features such as caller ids, ACD, Salesforce, and zapier integrations, voice broadcast, among other key features that help customer contact center in optimizing operations and costs. When buying a dialer, business system integrations should be a key factor in choosing the right auto dialer so that you can redefine your business and deliver impeccable customer experience.