What does a landline cost you?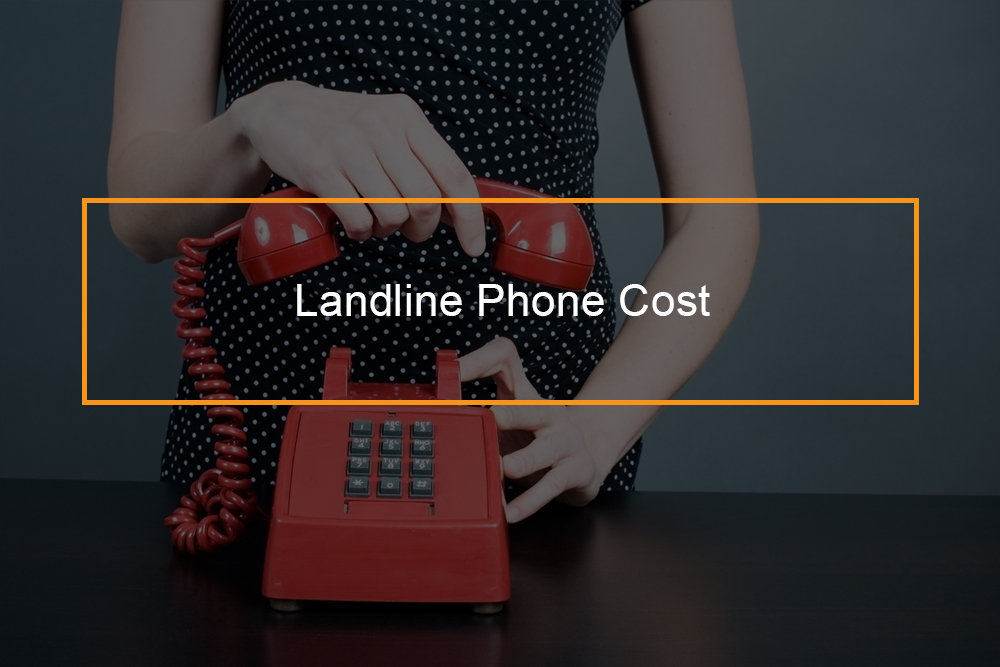 On average, a landline phone costs $42 per month. When it comes to the hardware, a new cordless home telephone on hand cost about $40 for a basic model. Therefore annual costs for landline phone service and hardware would be $544.
The cost of a landline is comprised of two parts, the line rental, and the cost of the calls you place. Landline phone services tend to be expensive. It is worth to look at your current bills to check the types of calls you place and if they are included in your current package. In case they are not, talk to your provider about moving to a more cost-effective deal.
---
How much is a landline phone per month?
Landline phone monthly cost
Whereas most households are selecting to depend solely on mobile phones, landlines remain useful systems for accessing 911 emergency services and internet DSL connections.
A basic phone service that includes unlimited local calls generally costs $15 to $30 per month, depending on additional features. For instance, AT&T costs $23 for a residential home line that comes with a few additional basic features like voicemail, call waiting, and caller ID.
Home phone service levels that include long-distance and local calling cost about $30 to $45 per month. For instance, Comcast XFINITY calling plans with unlimited nationwide calls begin at $30. Tiers basically include other calling features such as caller ID and call waiting. 
Some landline phone providers connect calls on high-speed internet connections. The tiers allow both local calls and long-distance for about $10 to $30 in a month. For instance, Vonage provides international calling plans that begin at $26 for every month with a one-year commitment and three-month introductory price of $10 every month.
Single-line landline business calling plans basically cost $26 to $60 for a month. For instance, Verizon lines with local calling only begin at $25 for a month. Levels with long-distance calling begin at $50 per month. Multi-lines tiers cost more. For instance, Charter Communications cost $25 for a single phone line, and additional features are charged separately. 
All home phone landline should include unlimited local calling and a listing in the local telephone directory and access to 911 emergency services. Some levels include extra features like call waiting, voicemail, and caller ID.
Landline phone additional costs to monthly fees
There are additional costs for the monthly landline phone costs. For example, federal and local taxes apply to phone lines. Basically, taxes account for less than one percent of the total bill. Optional maintenance insurance which is charged as a monthly premium covers any home wiring repairs and services. This service cost about $5 to $10 for a month.
Some home phone plans will need one-time charges for activation, setup, equipment rental or purchase and installation. Phone lines need consumers to buy phones for various locations in the house, or business cordless phones are popular for both uses and cost about $10 to $300 depending on the features.
Landline phone service discount
In some states like California, low-income households can get discounts on the basic home phone line. You can pay anywhere from $6 to $10 per month for the phone line, and unlimited local calling recipients of the discount are frequently needed to offer proof of low-income, such as getting aid from the country of residence.
Building phone service with other services like Internet or cable television offers discounts. For instance, Charter Communications discounts business lines packaged with internet service. Comcast provides discounted deals for consumers who combine many services as well, with the Internet, packages for voice, and TV channels beginning at $100.
---
Cheap landline deals to consider
The following deals could reduce your landline costs:
Unlimited weekend and evening landline calls
In case you place calls at certain times, selecting one of these deals could help you save money. They let unlimited national or local calls at evening or weekends.
Nonetheless, check with the provider about the charges of calls to other numbers- like 0870 or 0845 or to mobiles. Calls are frequently only free for a specific length of time. To avoid being charged, hang up and redial before you reach the time limit.
Unlimited anytime landline calls
In case you often place calls during the day from Monday to Friday, it might be worth selecting a package which enables unlimited calls all day, each day. It is good to ask your provider what numbers are included in the package, and maximum call lengths are likely to apply.
---
How much it cost to install a landline?
Landline installation cost
Even though landlines are not considered as essential as they once were, they are still a good addition to a home. For this section will consider the cost of installing a two-line basic home phone system with five hundred linear feet of wire, which averages $440 to $600.
When it comes to materials a basic two-line phone system with a basic docking station, and two extra cordless phones will cost you about $60 to $110. For a four-conductor phone jack which houses one to two phone lines expect to spend fairly $3 to $10.
A two-line system will require two to three jacks, for a total cost of $6 to $30. A telephone wire costs about $0.10 to $0.20 for every hour and can install a typical home system for around twenty hours. Thus costing $260 to $340.
When it comes to labor, electricians basically charge $65 to $85 for every hour and can install a basic home system for around four hours. Therefore the total cost could be anywhere from $260 to $340.
Besides material costs, landline installation cost includes enhancement and improvement charges. The caller ID comes standard on most new phone systems, bust a separate device also can be bought for $20 to $30. Including any intercom to your basic phone system amplifies the overall cost by $100 to $150.
Some phone systems can add programmable lines. The features have a tendency of increasing the overall phone system material cost by about $50 to $75. Adding an additional line basically costs around $100 for one line.
Additional considerations and costs to landline phones installation cost
Getting rid of an old phone can add more time, maybe an hour or two to your labor costs. This could cost anywhere from $65 to $170, but there are some of the materials that may not be able to be reused in the new system.
Cat 6 cabling is more expensive than the telephone wire, but when installed, both Internet and telephone can work with just a single installation. Therefore, in the long run, you are saving money in labor and material costs. In case this is the situation, it would cost you about $417 to install five hundred feet of cat six cablings or $0.80 per feet.
For homes with no interwall access, they may require to re-route the wires via other parts of the wall of floor to get access to the connection box. This will cost you anywhere from $30 to $60 per jack n case; this is the case.
OIt is worth noting that phone jacks or lines in hard to reach places or exposed drywall, might require a professional. You can add an extra one hour or two, that is $65 to $170 to the electrician 's fee to help you deal with location problems.
Note that after the phone system is installed, you will require to pay for monthly phone service. Assess costs from various companies to find the coverage with the best price that meets your needs the best. Check the first section for more details.