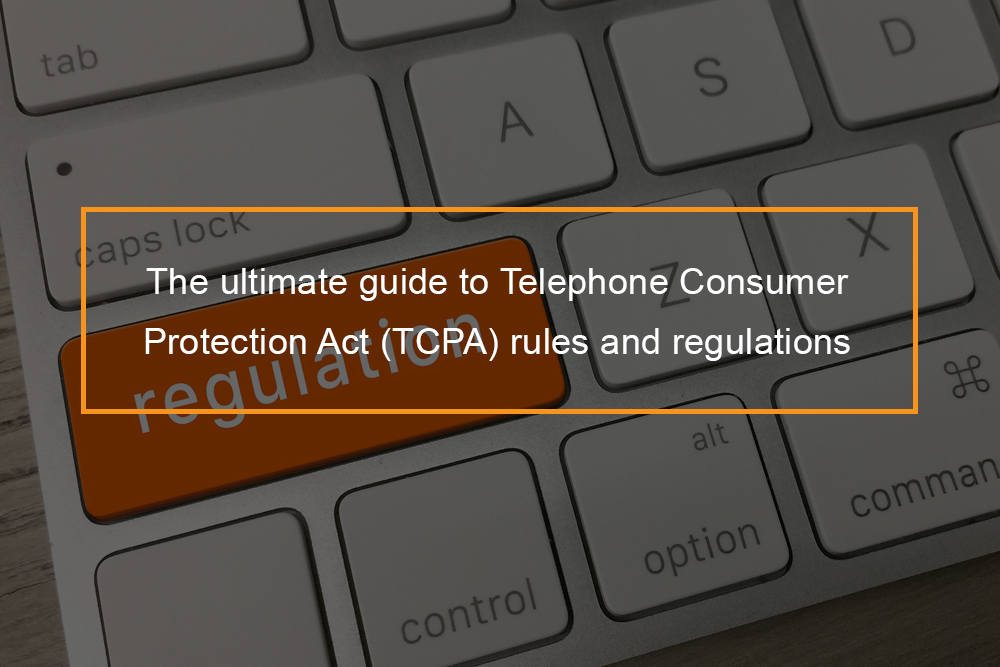 Telephone Consumer Protection Act (TCPA ) requires advertisers and marketers to conform to rules and regulations of telemarketing calls. TCPA regulates auto dialed calls, artificial voice calls to wireless phone numbers, telemarketing calls, prerecorded calls, unsolicited faxes, and text messages.
Currently, the TCPA prohibits using an artificial or auto dialer or prerecorded voice to make calls to cell phones, not unless the caller has obtained the prior express consent of the called party. Telemarketers need to have prior express written consent to do the same thing. Telemarketers will also need this form of written consent for all prerecorded telemarketing calls placed on landlines. TCPA is also the authority to create the National Do Not Call List (DNC). The Federal Communications Commission (FCC) is mandated to issue rules and regulations implementing the Telephone Consumer Protection Act TCPA.
---
What are Telephone Consumer Protection restrictions?
TCPA's restrictions on collection calls under Federal Communications Commission rules
The Federal Communications Commission has determined that debt collection calls are not telemarketing calls.
The Federal Communications Commission issued a report on February 15, 2012, that updates and clarifies various provisions of the TCPA. FCC ruled that prerecorded debt collection calls to wireless numbers are made with the consumer's prior express consent, if the customer has given the cell phone number to the creditor for use in regular business communications, like in a credit application.
The FCC also offered in the order a non-exhaustive list of other kinds of calls that are not included in the written consent requirement reserved for telemarketing calls. Such calls include research and survey calls, white collar criminals alert to the extent they do not contain telemarketing messages as well.
What are the TCPA's restrictions on advertising and telemarketing under FCC rules?
A residential telephone number on the national do not call registry

Any residential phone subscriber before the hour of eight o'clock and nine o'clock
Exceptions include calls:
Calls made for emergency purposes

Calls or text messages that deliver food and drug message

Phone calls that are manually dialed and do not have a pre-recorded message

Made by the tax-exempt nonprofit organization
Companies that are seeking to implement an effective TCPA and DNC compliance policy must make sure their employees check their call lists against the DNC applicable database and are updated on TCPA restrictions before calling consumers.
TCPA litigation growth
The lucrative TCPA has provided a way to cottage industry of TCPA plaintiffs law firms. These firms actively recruit friends, clients, and even law students who are willing to act as class representatives for actions. Firms are also joining together to split legal expenses in the hopes that shared investment can generate major rewards. With such significant financing backing, these litigations have the potential to devastate the business they target.
How to report illegal robocalls?
There is an application for that this onslaught against business has had many marketers, and even industry trade groups, predicting that the Federal Communication Commission will clarify TCPA rules and regulations to protect enterprises to what some may consider against frivolous lawsuits. In fact, there are various mobile phone apps that make it easier than ever to report unwanted phone calls.
---
Definition of auto dialer under TCPA
TCPA dialer 2019: What is an auto dialer?
The definition of what qualifies as an automatic telephone dialing system (autodialer or ATDS) is a crucial issue for any company that sends text messages, and places calls to consumers. Last year in case no 15-1211 (DC circuit 2019), the circuit split the FCC definition of an autodialer in ACA international versus FCC. Since then, courts have had a diverged approach to the term auto dialer. In this section, we revisit the relevant information of the court's decision in ACA intl, related cases, and chairman Pai concerns regarding the atd definition in TCPA.
2015 Declaratory ruling on FCC interpretation of auto dialer
ATDS under the TCPA is defined as a device with the capacity to store or produce telephone numbers to be called, utilizing a random or sequential number generator and to dial such numbers. The court held that in 2015, the FCC adopted an overly expansive definition. In its 2015 declaratory ruling, the FCC defined equipment as an autodialer in case it had the potential capacity to dial random or sequentially generated numbers, even though the capacity could be added only via specific modifications. Under this interpretation, any equipment that could be modified to dial numbers randomly or sequentially would be an autodialer. And thus subjected the caller to potential liability under the statute.
The Federal Communications Commission had made a contradictory statement about the capabilities that equipment must possess to function as an autodialer- reaffirming and then appearing to disclaim its prior rulings on predictive dialers, and providing contradictory statements concerning the level of human intervention that would preclude a call from being auto-dialed. By setting aside the prior FCCs interpretation, the DC Circuit handed the issue back to the Commission for further analysis and explanation.
Federal Communications Commission seeking comments on the interpretation of TCPA
The ninth circuit saw the attorney advertising asking the public to comment on what constitutes an automatic telephone dialing system and the impact of the Mark v Crunch San Diego, court decision of the remand of the D.C Circuit's decision in ACA international v FCC.
In particular, the Consumer and Federal trade Commission FTC was seeking input on: 
If the statutory definition of ATDS is ambivalent?

What device has the capacity to store numbers? And what devices that can store numbers also have the capacity to automatically dial phone numbers.

Does the ATDS interpretation by the ninth circuit in the Marks case mean that any equipment with the capacity to dial stored numbers automatically functions as an ATDS?
Chairman Pai 2015 dissent
When the FCC 2015 TCPA Declaratory ruling was issued, Chairman Pai authored a critical dissent to the interpretation of an autodialer under the TCPA. He positioned that only equipment that has the capability to dial sequential numbers or random numbers should qualify as an ATDS. According to Chairman Pai, if the equipment can not store or produce phone numbers to be called utilizing a random or sequential number generator and can't dial such numbers.
Pai believed that the statutory definition of an ATDS was limited to the equipment's present capacity and not to its theoretical or potential capacity. Chairman Pai charged that FCCs interpretation transforms TCPA from a statutory targeting specific organizations that market their services by generating random or sequential numbers automatically into an unpredictable shotgun covering virtually all communication devices.
FCC creates TCPA safe harbor
The safe harbor is intended to allow callers, inclusive of businesses, to confirm the status of numbers and therefore prevent consumers with recycled numbers from getting unwanted calls. Callers frequently face inconveniences such as not being able to reach the deliberated recipient when the recipient's phone number was disconnected and then reassigned to another telephone subscriber.
---
TCPA cases of Note
Ninth Circuit rejects the third circuit ruling on ATDS
A three-member jury of the ninth circuit ruled in Marks v Crunch San Diego, LLC, that ATDS includes equipment with the capacity to automatically dial stored telephone numbers. In Marks, the Plaintiff charged a putative class action against a gym, which used a web-based system to send promotional text messages to stored telephone numbers.
The California court had earlier granted summary judgment to the gym, ruling that the system was not an ATDS since it lacked the present or potential capacity to store or produce phone numbers to be called, utilizing a random or sequential number generator. 
However, in the ninth circuit's adoption, it included the expansive definition of autodialer holding that: ATDS incorporates a device that stores telephone numbers to be called, if or not a random or sequential number generator has generated those numbers. The court thus explicitly rejected the second and third circuit conclusion, which was consistent with the district's court (California court) ruling.

Bankers group seeks TCPA exemption
The American Bankers Association requested that the Federal Communications let financial institutions to text or call customers on their mobile phones in the case of a data breach or other account problem. At the root of the problem, the intersection of the TCPA, which needs prior consent to send identity theft alerts, with other laws mandating that notice be sent when possible data breaches might have occurred. In its petition, the American bankers association stated that such messages serve customers' interest and can be sent most efficiently and reliably by automated calls to consumers' telephones.
---
What is a predictive dialer?
Predictive dialers definition under TCPA
Telemarketers have long cited the statutory definition to argue that predictive dialers match autodialer definition only if they have the ability to randomly or sequentially generate telephone numbers and dial such numbers without human intervention.
The Federal Communications Commission rejected this interpretation in 2003 ruling, finding that a predictive dialer qualifies as an ATDS because:
The basic role of an automatic telephone dialing system ATDS is the capacity to dial numbers without human intervention

The ATDS definition completes equipment that has the capacity to store or produce numbers