What are some free VoIP services?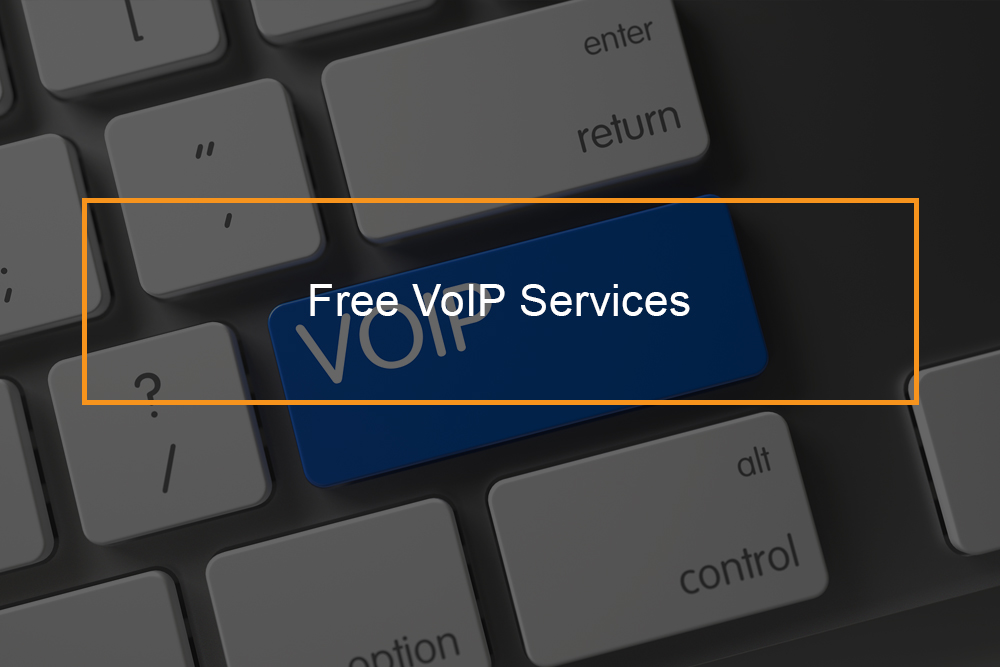 Some VoIP services enable you to make free calls. Free VoIP phone programs will enable you to make free phone calls- sometimes to all through the globe but other times only to numbers in the United States and Canada-using special software. The most common free VoIP provider is Skype. However, Google Voice (Google Hangouts) has been a challenging free VoIP provider to Skype. Google Voice is the only VoIP service that allows you to place a call to any mobile phone or landline in the United States or Canada for free.
With other free VoIP phone system providers, the call is only free if both the person being called and caller use the same VoIP service. For example, if you are calling someone from Belgium from the US, both of you have to set up Skype. Other free VoIP services include; FaceTime, Viber, WhatsApp, and others.  
It is worth noting that a free VoIP service has some shortcomings. For example, you can not make a 911 call or a similar emergency call. In case you need to call 911, you have to use a traditional provider that is approved for 911 such as Vonage. When it comes to reliability and call quality- you get what you pay for. Often free VoIP call quality is poor, but it gets better with reliable internet connections. 
You may have to install a VoIP app or program to make free calls. Free VoIP software should work on any device that supports iOS, Android, or has a web browser, supporting the service helps it. For instance, all the Android apps should run on Google, Samsung, or HTC phones, and iOS ones should run on the iPad and iPhone.
---
Is a VoIP free?
Free internet calls
VoIP service can be used within offices to help converse with remote employees, host a call or a group meeting. VoIP service can be used externally to connect companies with their prospects or customers by integrating with a sales team's CRM software.
There are free VoIP products, while others offer a limited free trial. Free VoIP trials are useful to clients who desire to be comfortable with a product before landing on a solution. In case you are looking for a free VoIP service, consider reading through to find VoIP solutions that exhibit the most reviews in 2019.
Free international calls from pc
It is impossible to make international calls often since they have high call rates. Fortunately, the internet provides one service where you can make free international calls from your PC to any mobile phone number and for free. Such services make use of their applications which you require to install on your PC to make free international calls to any number globally. All you have to do is follow the registration steps, and you are ready to talk to your family and friends or client in different countries. One such service that is very popular for making free international calls from PC to phone is Google Voice. You can also try iEvapone.
---
What are the best free VoIP services?
Best Free VoIP providers in 2019
Below are the best free VoIP providers in 2019, based on users review online.
Google voice is rated as one of the best ways to make free VoIP phone calls. You can place free calls to an actual phone number, free PC to phone calls and PC to PC calls. The main benefit of Google Voice is that you can call the United States for free, no matter where you are.
Google VoIP offers some advanced features. For example, calls are integrated with your Gmail contacts for easy click-to-call functionality, and you can use one Google Voice number to call all your phones and receive transcriptions of your voicemails via email or text, even though reports claim that transcription frequently gables or skip words.
Google also provides free video conferencing. You can make Google video calls with many people, something that needs a membership upgrade on Skype. Google Voice app works from the web as the iPhone, Android devices, and the iPad.
Skype is famous for personal video communications, but it also a useful business tool. Skype can be used to place calls from one internet-supported device to another or to call telephone numbers. Skype has a free version that can be used for business or personal purpose. 
Skype has direct support from both Microsoft and Facebook, making it easy to use. Whereas the desktop application appears to work better than the mobile app, it is not terrible. The main features of Skype include; video conferencing, call landline and mobile phones, Highlight Reels, Photo Share, and customizable chats.
WhatsApp is owned by Facebook and is popular for messaging, but it can be used to support voice calls and video. The site is very popular, making it easier for other people to download the app. Services offered by WhatsApp include address book integration, file attachments, and multimedia support. WhatsApp is not suitable for someone who is in need of an actual phone number.
Facebook messenger application offers voice calls, SMS messages, and video calls. Whereas it does work best for text messages, call quality is based on how fast your internet connection is. Facebook messenger also depends on resource usage, which is not recommended on older devices or lower ones.
Another alternative you can try is Messenger Lite, which is less reliant on system usage. Even though it only texts and calls.
FreeConference.com is a web conferencing and VoIP solution. Users can benefit from this app by communicating with prospects even while they do not have internet access. Generall, FreeConference.com is free for up to 400 users a month. When it comes to international users, they can even dial-in on the free plan. Prices increase depending on the minutes a company wants to buy.
FreeConference.com users can enjoy features such as; moderator controls, active speaker, text chat, conference call recording, free international calling, toll-free conference call numbers, group call invites, pin-less entry, SMS Notifications, Recurring Calls, Call Summaries, Invitations and Reminders, Free Online Meeting Room, Screen Sharing and Video Conferencing.
When it comes to pricing, FreeConference.com is free for up to 400 audio participants. The starter level is $9.99 per month for one hundred premium minutes. Plus level costs $24.99 per month for five hundred premium minutes. Pro plan is $34.99 per month for 750 premium minutes.
Google Duo is one of the latest video calling applications. It also offers regular voice calls. So that Google Duo calls work, everyone has to be on Duo. The video and voice quality is perfect, and it is very easy to use. To use Google Duo, all you have to do is ensure that your friends sign up for the application. Then get ready to use the app. Google Duo works with iOS devices and comes pre-installed on some new Android devices.
---
What is the cheapest VoIP service?
Cheap VoIP providers 2019
Cheap VoIP phone providers help businesses make and receive calls over the internet for a low price. Below are some affordable VoIP phone services.
OnSIP -OnSIP provides free in-network calling and other SIP phones, and a fixed Per-Minute plan costing $49.95 in a month for service plus the cost of calling minutes. It also provides Unlimited calling plan; however, at $18.95 for every user, in a month.

Grasshopper- Grasshopper is a cheap virtual phone system that offers phone features on your personal device without any equipment to install. Grasshopper provides three priced service levels; Solo level which cost $29 in a month, Partner level for $49 in a month, and Small Business for $89 in a month.

8X8- 8X8 is a cheap VoIP phone system with a complete set of features that include call routing, conference calling, and SMS messaging. It offers three economic pricing levels; X2, X5, and X8, which are $25, $35 and $55 for every user, in a month, respectively.

Vonage- Vonage has three affordable packaging choices; Mobile, Advanced, and Premium. Pricing runs from $19.99 to $39.99 for every user in a month and includes CRM integration, unlimited calling, and mobile apps.