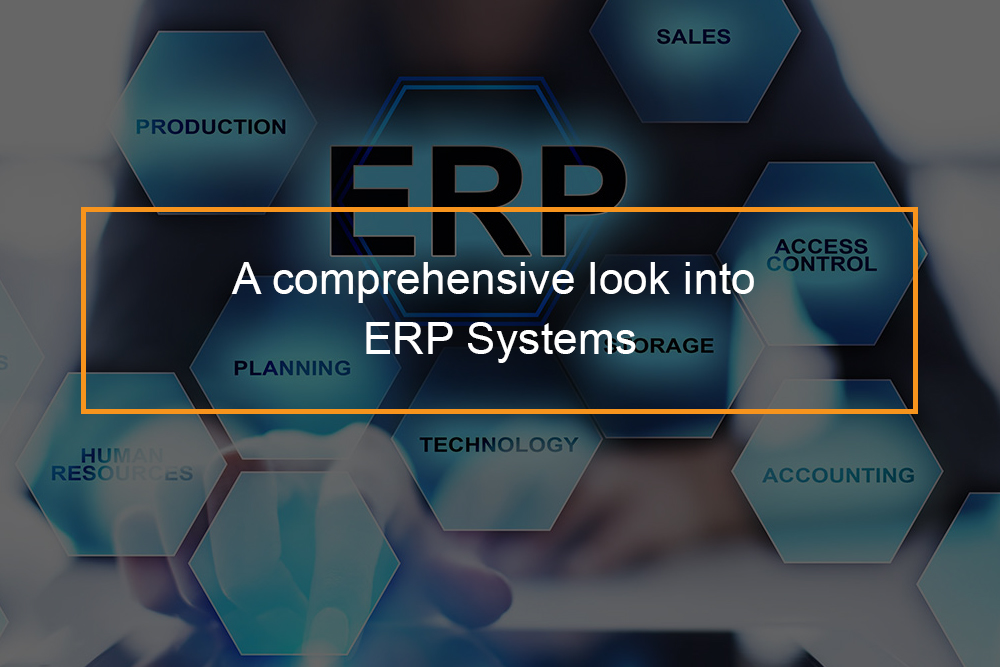 When you search for the term "ERP"  the answers you get can be quite overwhelming and confusing. Everyone seems to have their own definition of the term and many variations on how to implement them. Having a deeper understanding of what these systems are and how they can transform your business can help you in selecting the right one for your organization.
---
What is ERP?
Defining ERP systems
ERP is an abbreviation for Enterprise Resource Planning. The name itself doesn't shed a lot of light on what it is or what it does. To fully define ERP systems you have to think about the many processes that are vital to the running of a business like inventory and order management, accounting, human resource, customer relationship management(CRM) and the rest. 
It can, therefore, be defined as a business process management software that lets an organization uses a series of linked applications to supervise the business and automate a lot of the back office functions mentioned above. It connects all the operational facets of a company in a single database, software application, and user interface. ERP software combines these functions into a single system to streamline the processes and transfer the information across the whole organization.
ERP systems have a shared database that supports the various functions utilized by different business units. This means that employees in different departments such as sales and accounting can depend on the same information and use it for their specific needs.
---
What is the purpose of an ERP system?
Other than knowing what ERP software is, you should also understand why you need it. Its primary purpose is to increase efficiency, streamline processes and facilitate a culture of collaboration within the company. This reduces costs and increases productivity.
Combining related processes like accounting, sales, marketing, production, and inventory, etc, increases efficiency.

It is mainly used to help an organization operate more efficiently by organizing the workforce and technology employed to do more together. It integrates the many departments of an organization and centralizes information and processes. An ERP solution allows you to view all your processes and sub-processes to improve efficiency and effectiveness in achieving your business goals. It allows for the effective use and optimization of the available resources.

The automation of daily tasks like keying in data and report generation also increase the efficiency of the workforce. Removing tasks that require repetitive processes, frees them to work on other things.

Supervisors and shareholders can check on the performance of the organization as a whole as all the elements are integrated into this system.

It allows for interdepartmental collaboration as the data is stored on a central server and can be accessed with the right credentials. This allows teams that were initially made to work separately to collaborate with others in the ERP system.

It allows for communication between remote teams and organization headquarters.
---
Why use ERP software?
Pros and cons of ERP software
Advantages of an ERP system
IT can save the company some money and increase profit margins. Administrative and operational processes are automated allowing users to manage operations thus preventing delays and backlog proactively.

It allows you to cut back on operational costs by reducing waste within the organization. This can be a waste of resources, workforce or even time.

It provides optimal productivity, efficiency, effectiveness in all business ventures.

It reduces the time taken to respond to an issue because the information is transferred to the relevant department promptly. Data analysis allows for faster response to market conditions allowing the business to change strategies when needed.

It allows for traceability of inventory and stock and can be beneficial when you recall batches, improve scheduled and preventative maintenance, product configuration and change control.

It allows you to digitally transform and future-proof your business with mobility and flexibility as your business grows. The ERP software enables you to adapt to the changing needs, gain better control over the company.

It streamlines most companies functions. Availing data in a centralized location visible to all programs. It automates business processes and allows the decision makers to monitor operations in real-time. The automation allows for accurate inventory taking.

It helps in making quick and vital decisions in your organization.

It can aid the rapid growth of a company, improve customer satisfaction, service and relation.

It can help the organization adopt industry-specific functionality by streamlining the processes involved in the operation of the business. For example, adopting a more efficient procure-to-pay-process.

It can help the company venture into new areas of business by providing a structure and workflow for efficient best-practice procedures that can range from getting raw materials to customer returns. It frees up time and contains the necessary numbers you need to make profitable adjustments.

It can reinvigorate a struggling business by honing in on problematic areas and see how you can improve or streamline them. It can aid you in running a smarter leaner operation restoring order and seizing new opportunities.
Shortcomings of ERP system
Customizing the software can be problematic. ERP's can be used to achieve the lowest organizational needs which result in the need to look for any unique idea that may come up.

There may be applications available to help manage the many business processes, and not all may be supported by the ERP software you have installed. The more applications you have, the harder it is to find the right ERP solution. Unless you discard the present applications, you will need, and this can be quite a time intensive. You can get an ERP with an open API so that your developer can tweak the system to incorporate your current apps.

Plug-and-play off-the-shelf ERP solutions work pretty well for small enterprises with straightforward processes but fail when used in large corporations with branches in different locations. A uniform system will run into problems quickly in such a diverse environment. Various factors like culture, policies, and even regulations make implementing such a system difficult, so the ERP is adopted quite slowly or abandoned altogether. Many large organizations use two-tier ERP solutions to help address their organizational challenges.

It presents several security risks. The same infrastructure that is its main selling point is also its biggest weakness. The broader the scope of the system the more access points it has and since all the data is stored in a central location there is a chance that sensitive data could be leaked. Even with firewalls and encryption to mitigate this problem, the fact is all the company's data is in a single place, and every employee can gain access to it.

Incompatible applications can lead to crashes, limited reporting tools can lead to the use of imported data, and this can be a pathway for hackers to breach the system's firewall. Disgruntled employees and delayed updates can also cause a lot of havoc. Many of these security risks can be solved by updating the systems and performing security checks.

If anyone involved in the implementation of the system is non-compliant, then the likelihood of failure is high. Since most ERPs are designed for financial compliance, a certified accountant should be included in the implementation team to verify the configuration and controls and confirm that the process is compliant and also recommend audit controls.  
---
How does ERP software work?
Having known what ERP software is, let us take a look at the different types available. ERP is difficult to classify because of its fluid dynamics and diverse factors. It can be grouped as per functional levels, business size, and deployment. To simplify these types and avoid redundancy ERP can be grouped as follows:
A lot of Cloud-hosted and legacy ERPs are of this type. They adapt to various processes across many industries. They are highly customizable and easy to integrate to match industry requirements. Examples of such ERP software include Oracle, SAP, Focus 8, and Netsuite
These are industry-specific ERP solutions. Vertical ERP vendors are usually startup or smaller companies that prefer to focus on a niche like a supermarket, construction, fashion, etc. these software options include Stafiz, Microsoft Dynamics AX, etc.
These are usually off-the-shelf cloud or on-premise ERP software solutions. The ERP is modularized with pared-down features. Instead of a fully integrated system, they serve one or two business processes and omits the rest. For instance, such an ERP system can feature HRM and accounting functionality only with add-on options for inventory and supply chain management. It is also referred to as Lightweight ERP. Examples include Peoplesoft
These systems are used by companies with in-house tech teams to develop the flexibility for further development while adding their apps into the ERP system. It increases usability and user adoption because it is highly customizable. An example of this is Odoo.
Here are the categories based on the implementation method:
The ERP software is not hosted on the company's computers, but instead, it is web-based, this software is known as SaaS. Software as a Service(SaaS) is where the software is licensed on a subscription basis and is centrally hosted by the software vendor or developer. It is also called on-demand software. The information is kept in a safe virtual location, and since the system runs on a remote server, the organization can access it from anywhere at any time they choose from a device connected to the internet. It is suitable for any size company, but it is best suited for small companies with smaller budgets. 
Cloud-hosted ERP is smart and adaptable as it has predictive analytics and process optimization. It is also fast and affordable as you can get up and running from anywhere for a low monthly or yearly rate. It is secure and reliable because in case of damage to the office your data is safe.
The ERP software and database is run from the company's computers. It is ideal for big enterprises and is very secure from hackers. Since the servers are on location, no lag occurs as it sometimes does over internet connections. It provides flexibility and maximum control.
This is a combination of the two types above. It allows some ERP applications to run on the cloud and some run on the servers on the premises. It is also known as two-tier ERP. 
---
Basic ERP modules
There are many vendors and implementation platforms available in the market. There are however some common modules of ERP which can be found in any system. Depending on the company's needs these modules are integrated and customized to form an ERP system suited for that company specifically. These modules include:
Human resource 
It helps the human resource team to manage the human resources in a company efficiently. It keeps track of employee information, track records like performance reviews, designations, attendance record, job descriptions and more. One of the most crucial sub-modules of this module is the Payroll System which helps manage the salaries and payment reports. It can also include travel expenses and reimbursement tracking. 
Inventory
It tracks stock as items are identified by serial numbers. These numbers allow the system to keep track of them and trace their whereabouts. It includes inventory control, master units, stock utilization reports and more. It can be linked to the purchase module.
Sales & Marketing
This module includes processes like sales queries, inquiry analysis, and handling, quotation drafting, sale order acceptance, drafting of sales invoices with the proper taxation. The CRM module can take care of future opportunity creations and lead generation.
Purchase
It takes care of all the procurement processes like getting raw materials. It contains a list of suppliers and vendors, supplier and item linking, it can send quotations requests to suppliers, prepare purchase orders, track purchased items, update stock, etc. it can be integrated with the inventory and engineering/production module to update the stock.
Finance & Accounting
This module manages the inflow and outflow of the company's capital. It tracks all transactions like expenditures, balance sheets, account ledgers, budgets, bank statements, tax remittance, and payment receipts. It makes financial reporting easy as it has all the economic data needed.  
Customer Relationship Management(CRM)
This module helps boost sales through better customer service and establishing a healthy relationship with clients. It also stores all the client's data. It tracks communication history, calls made, purchase history, contact details and more. It can be linked to the sales module to enhance sales opportunities.
Engineering/ Production
This module is vital for a company in the manufacturing industry. It helps to monitor the production of the products. Some of the processes manage include planning, machine scheduling, raw material usage, and tracking, bill of material preparation, track daily production output, forecast production progress, and actual production reporting. 
Supply Chain Management (SCM)
It manages the flow of the finished product from the maker to the user and vice versa in case of a defect. It involves supply and demand management, sales returns and replacing processes, shipping, and transportations, etc.
Each part specializes in a certain business process in the organization.
---
Factors to consider when picking an ERP system
Key tips when choosing ERP software
Once you have weighed the cost-benefit ratio of getting an ERP and you are sure that if properly implemented it will drive up profitability here are some factors to think about:
Is it an upgrade or replacement?
Gauge whether what you need is a new ERP system or just an upgrade. A lot of the ERP solutions today are modularized, so you can add a new module to the current system. This way you minimize the costs and disruptions. If the system is older than ten years it is recommended to replace it as a newer model has better security, mobility, integration, scalability and development features. Also, newer models have machine learning, advanced reporting and predictive analysis pushing them to the next level.
Customization
Other than ensuring the ERP processes match your essential business workflow, take a keen look at your various departments. They have different priorities and cultures for instance marketing spends while accounting saves.  This means that their workflow varies and thus need an ERP system that has customization tools, localized dashboards, configurable workflows, etc, that allow different departments to set their goals and configure the ERP system based on their parameters.
Reporting and dashboards
Go for an ERP system that gives you more than spreadsheets and pdf exports. New Model ERPs features advanced reporting that can produce compliant financial statements with in-system query and smart filters that sift through real-time data. The system should be agile to adjust to the evolving business needs and any disruptions quickly. The dashboard feature allows the user to combine the quantitative and qualitative data at all levels.
Integration
The ERP system you choose should work seamlessly with the existing applications.there are some integration points that you must consider is: system-to-system (like integrating the ERP to the current Human Resource Management System); module-to-system like ERP payroll to HRMS; and file transfer capabilities such as exporting PDF, JPG, DOC, etc. a flexible system can work with the current infrastructure, expand its functionalities.
Training and set up
On-premise ERP solutions have to be put in by qualified personnel. If there is no tech team in your staff, be sure you fully understand the service level agreement. The installation is not charged together with the license although some vendors offer an all-in-one bundled plans. For SaaS ERP, setting it up is as easy as activating your account to access the vendor's server.
Likewise, ERP systems are more complex than other business solutions and to use them specialized training is required. So ask vendors if they offer training? If they have a bundled or exclusive payment plan and the training you get should be enough to use the software efficiently fully. 
---
Examples of ERP software
Some of ERP software available
NetSuite ERP

– It is a fully integrated ERP system targeted at fast-growing companies that need scalable financial management, fixed assets, billing, order management, and inventory management. A solid alternative.

Brightpearl

– It is a retail management ERP that focuses on order management, inventory, accounting, customer data, and reporting.

Intacct

– It is one of the most popular cloud accounting solutions for small and medium businesses that features ERP capabilities via integration, such as financial management, wholesale distribution, and retail management.

Odoo

– among our examples of ERP software, Odoo is uniquely the only open-source, but also commercialized ERP aimed at companies with an IT development team; it can integrate with third-party apps for MRP, POS, and e-commerce. 
If you decide to go ahead and check specific ERP solutions and vendors, knowing exactly why you need the software and what you want to achieve is vital.