Top business VoIP phone services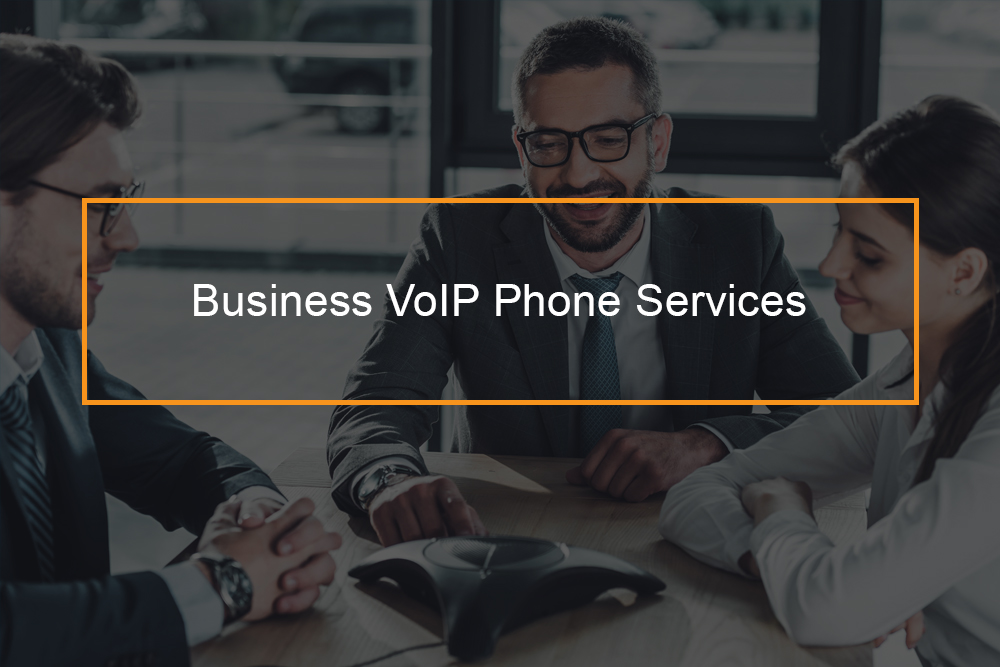 The best VoIP services for businesses include RingCentral, Ooma, Nextiva, 8×8, Grasshopper, Vonage, Freshcaller, Jive, and MegaPath. Overall, RingCentral is considered the best. Each of the other VoIP service providers has features that make them stand out in specific categories. 
Selecting a VoIP service provider majorly depends on your business and its specific needs. If your business mostly works with international clients and suppliers, then it makes sense to get a VoIP provider that offers the best rates for international calls. 
With the best VoIP service providers in the market, your business will enjoy world-class VoIP services and the benefits that come with it. Here are the top business VoIP services and features that make them stand out. 
What is the best VoIP service? RingCentral
The best VoIP service for businesses is currently RingCentral. It has all the features your business would need in a VoIP service; you cannot go wrong with RingCentral. It is reliable, easy to use, and not to forget the regular updates that ensure your business is not justify behind. 
Such premium services and features demand an extra charge. That is why you have to pay a little extra when using RingCentral compared to its competitors. But it is surely worth it. 
RingCentral offers clients with three package options. Its most basic package is the Essential Plan. This costs $29.99 per user per month. You can, however, save a lot if you get billed for the same plan annually. The monthly cost will then drop to $19.99 per user. The second tier plan is the Standard Plan, which will cost you $34.99. The premium plan costs a whopping $44.99 per user per month. This premium package is designed for large enterprises with a huge volume of calls. 
Some of RingCentral features
Unlimited calling

Visual voicemail services

Integration with Google, Microsoft, and Okta

Toll-free minutes

Call log reports

Unlimited fax

Multi-level auto attendant

Video conferencing of up to 100 people

Voicemail transcription to text

Automatic call recording
What is the best VoIP service for small businesses? Ooma
When it comes to small enterprises and businesses that cannot afford RingCentral, then Ooma is perfect for them. What makes Ooma specifically attractive for small businesses is its scalability. It allows room for your small business to grow. This option is perfect for business owners who want to maintain low communication bills and at the same time, expand their business. 
Ooma has one standard plan, the Ooma Office Plan. This plan starts at $19.95 per user per month. Ooma only charges you extra for the features that you actually use. This is also important for startups and small businesses.
Some of the available features in Ooma
Voicemail

Extension dialing

Virtual receptionist

Call transfer

Call log

Modes for business and after hours

Ring groups

Music on hold

Conference bridge

Virtual fax

Extension-to-extension calling

Dial by name
The downside of using Oom is the hardware costs. Unlike its competitors, Ooma does not have in-built costs, and you have to pay for the hardware separately.
What is the cheapest VoIP service? Nextiva
Among the professional VoIP service providers for businesses, the most cost-efficient is Nextiva. It offers all the essential VoIP features at an affordable price. No Nextiva plan exceeds $50, compared to its competitors, that is a fair price. Furthermore, if you commit to a long term agreement with Nextiva and have many users, the prices get even cheaper. 
Nextiva has three popular plans; Office Pro, Office Pro Plus, and Office Enterprise. Office Pro is the basic plan that costs as little $19.95 per user per month. This price only applies if you have 100 plus users and are committed to a contract of 36 months. Otherwise, the price of this plan goes to $34.95. 
Office Pro Plus will cost $22.95, that is with 100 plus users and a contract of 36 months. Without these conditions, the plan costs $34.95 per user per month. The top-level package from Nextiva is the Enterprise Plan, which costs $29.95. This again is with the condition of 100 plus users and 36 months contract. The charge would otherwise be $44.95.
Some of the features that come with Nextiva
Auto-attendant

Unlimited calling

Conference calling

Voicemail to email transcription

Cloud PBX

Tollfree number

Professionally recorded greetings

SMS

Mobile app

Conference bridge

Call recording

CRM software

Analytics and reporting
What is the best business VoIP service for international calls? 8×8
8×8 is renowned for its unlimited international calling for up to 47 countries. Therefore, if your business largely dependant on international calls and communications, then 8×8 will suit it best. It is not the cheapest VoIP option, but if international calls are your thing, then it offers the best value. 
The three 8×8 packages all come with international calling. The basic plan is $28 per user per month and offers unlimited calling to 14 countries. The second tier package comes with unlimited calling to 32 countries. This costs $38 per user per month. The premium plan from 8×8 costs $60 and comes with unlimited calling to 47 countries. At first glance, these rates may be excessive, but the accumulative charges of international calling costs by other VoIP providers will prove more expensive with time. 
Apart from international calling, 8×8 offers the following features
Audio and video conferencing

Text messaging

Phone number

Up to 10gb media storage 

Unlimited fax

Voicemail

Auto-attendant

Team messaging

CRM software integration

Advanced analytics
What is the best VoIP service for mobile business? Grasshopper
Grasshopper is regarded as the best VoIP service for businesses that would prefer running its activities via a mobile phone. Outdoor businesses and those that do not require desktop phones benefit the most from this VoIP service provider. Grasshopper boasts of Android and iOS apps specialized at making and receiving calls directly from your mobile phone using the business number. This also lets you have one phone that can be used for both private and business matters but not mix them up. 
Grasshopper offers three packages, the Solo Plan, the Partner Plan, and the Small Business Plan. The Solo Plan costs $29 per month and comes with three extensions and one number. The Partner Plan is the mid-level package that costs $49 per month and comes with six extensions and three numbers. The Small Business Plan is the top-tier package, which costs $89 per month. It comes with unlimited extensions and five numbers.
The mobile alternative makes Grasshopper ideal for small businesses that are outdoor, but its high rates do not make it worth it. Moreover, the features that come with Grasshopper are not on the same level as other VoIP service providers. 
What is the best VoIP service for collaboration? Vonage
For businesses that engage in distant collaborations, Vonage might be a good option. The service offers unlimited chat, calling, and video conferencing that suits any kind of collaborations. 
Vonage offers three packages that are not costly. The Mobile Plan costs, $19.95 per month per line, the Premium Plan begins at $29.99, whereas the Advanced Plan starts from $39.95 per month. With more users, you get discounted prices. 
Some of the features Vonage users can enjoy
Auto-attendant

Unlimited calling

Video conferencing

Team messaging

SMS

Mobile app

Voicemail to email conferencing

Music on hold

Visual voicemail

Call group

On-demand call recording

CRM integration

Onboarding support
What is the best VoIP service for free calls? Freshcaller
Most smaller businesses and startups cannot afford paid VoIP packages. Such businesses can enjoy professional services with a free entry-level package from Freshcaller. This package comes with custom greetings, caller ID, and call center tools. 
Freshcaller offers three packages. Sprout is the entry-level plan that is free. Blossom, the second-tier plan, will cost users $25 per user per month while the top-tier plan which is Garden with cost a monthly fee of $49 per user. Additional features include a local virtual number for $1 every month and tollfree numbers for $2 per month.
---
Other VoIP service providers for businesses
Business VoIP services
Jive VoIP 
Jive offers simple and affordable cloud VoIP services to small businesses. The key selling point of Jive is simplicity as it helps businesses manage their phone services in a simple way that improves communications. 
Jive packages begin at $29.95 a month, and it supports up to four users. The packages become cheaper as users increase. The price can fall to $19.95 a month with 50 plus users. 
Some features of Jive include; call routing, call sequencing, call queue, call analytics, call recording, auto-attendant, hold music, custom greetings, unlimited extensions, ring groups, and virtual fax. 
MegaPath VoIP
MegaPath offers good quality features for a fair price. They are known for their tailor-made packages that suit your business needs. These packages are also very scalable. The price begins from $19.95 and can rise depending on the plan and the features you want. 
UniTel Voice VoIP
UniTel Voice is designed for small businesses. It is easy to use and very affordable. UniTel is loved because of its customer support that is free and based in the US. For a low starting price of $9.99 per month, UniTel offers impressive features such as extensions, voicemail, unlimited users, unlimited greetings, and many more.