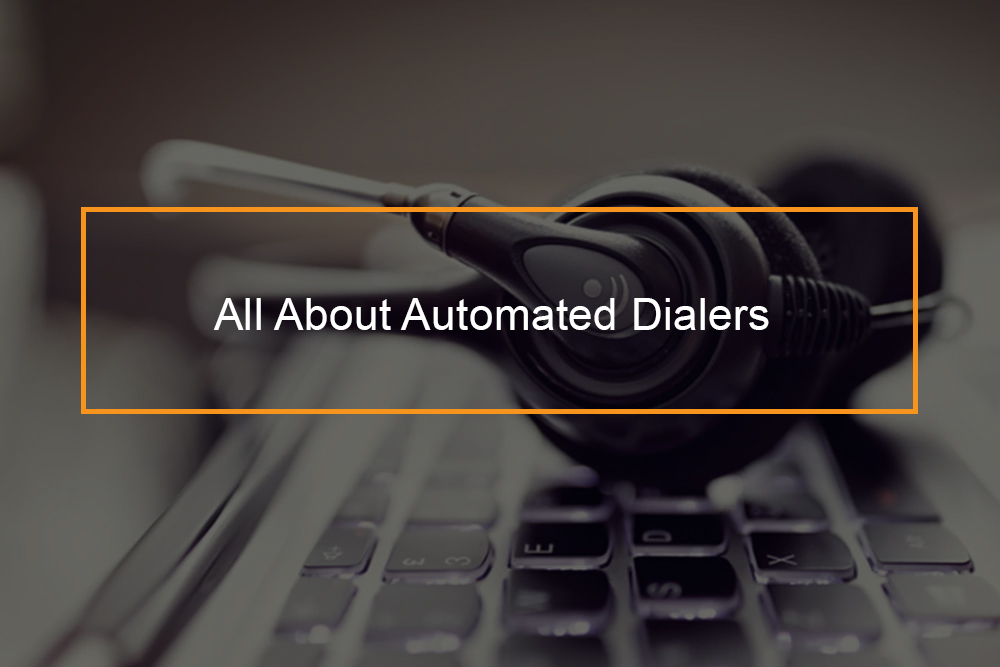 An auto dialer software dials phone numbers directly from a list and automatically connects either to a prerecorded message or to a live call center agent. An auto dialer replaces the tedious work of manually calling individual phone numbers. This, therefore, saves a lot of time for the agents who can then focus on their content and how they will deliver it. Auto dialers are hence responsible for maximizing the productivity of your agents. 
---
What is an auto dialer?
Auto dialers are outbound call centers that assist the sales team by automatically dialing the phone numbers of clients from a predetermined list. The system, depending on the company's needs, can be configured to connect to a live agent or play a prerecorded message. Automated phone dialers are commonly used as telemarketing software or customer support, but can also be incorporated in many other industries. Not only can you conduct surveys and outbound sales calls, but you can also run call campaigns such as emergency notification solutions, public reminders, and appointment scheduling and appointment reminders. 
---
The different forms of auto dialers
Automated dialers for different needs
Depending on your business needs, auto dialers can be of four varieties:
Progressive dialers

Predictive dialers

Preview dialers

TCPA safe dial
Each automated dialer is best suited for a specific need.
Progressive dialer
Progressive dialer gives the business the confidence that every client will be connected to a live person every single time. Progressive dialer makes an automatic call to a phone number from the list only when there is a free sales agent. Therefore, the customer does not have to wait in line for a free sales agent. The phone dialing system is dependant on whether an agent is available or not. 
A progressive dialer is best for facilitating a more productive and personal type of interaction between the client and your call center agents. It is used where the quality of leads far outways the number of leads. A progressive dialer is the most preferred automatic call distribution system.
Predictive dialer
Predictive dialer calls many phone numbers at a time; that is, it has a high dialing rate. This dialer works by intelligently predicting the time an agent is ready to attend to the next customer. When a sales agent answers inbound calls, the predictive dialer calculates the average time it takes to finish up a call and estimates when the agent will be free again, and it starts to dial thousands of calls again. When the agent hangs up the current call, they are automatically connected to the next number. 
This dialer maximizes the agent talk time as very little time is wasted between customer calls. However, progressive dialers can be very frustrating to the customer. The system tries to accurately predict when a live agent is available, but in a lot of cases, the agent is still on another call. The customer is then forced to wait impatiently for a call center agent and eventually hangs up. Unlike progressive and preview dialers, the personal touch is lost with predictive dialing. 
Preview dialer
Preview dialer is all about having prior information before making a call. The call center agents or their team will select specific numbers to dial, depending on the set parameters. The aim of this is to increase the probability of making sales by giving priority to numbers that are more likely to lead to successful transactions according to the research done beforehand. The agents are also better placed to handle the call. 
TCPA safe dial
These are dialers that fully comply with the Telephone Consumer Protection Act. This full-featured manual dialing system has built-in compliance supporting tools with a familiar agent-UI. The TCPA safe dial is best for phone calling clients with mobile phones but have not subscribed to calling campaigns. 
---
How does an auto dialer work?
What an auto dialer software requires?
For the auto dialer system to work, it needs the following: an auto dialer software, a computer, an active telephone line, and a voice modem. A voice modem allows computers to play pre recorded voicemails and other audio messages. There are cloud-based solutions that do not require a telephone line or a modem. Some auto dialer solutions require companies to buy and host all the required hardware by themselves while other solutions add hardware hosting into their product for an additional charge or even for free. The hardware needed is not always specific as the application can run on a cell phone or computer. 
The auto dialer starts to work when the auto dialing software tells the computer which phone number to auto dial and how to act under different circumstances. In any case, before the phone system connects, the auto dialing software decides which phone number to calls and the talk time duration.  There are a lot of standalone auto dialer products. However, most integrate with a CRM software or are built into telecom service for call centers or contact center infrastructure software. Auto dialer software is also fitted with outbound call tracking software.
For a system to be categorized into an auto dialer, it must automatically dial phone numbers from a specific list, and secondly, it must have a prerecorded message or connected to a live agent once the call is answered. 
---
The technology behind the auto dialing system
The following technology makes up the auto dialing system.
Voice broadcast
Voice broadcast is responsible for relaying important messages to a list of clients at the same time.
Interactive voice response (IVR)
The interactive voice response can be used with the voice broadcast and include an option that generates touch tones, allowing the customer to interact with the system and listen to call recordings. 
Answering machine detection
The answering machine detection is in charge of determining whether or not a call is being answered by a live person. 
Call routing
Call routing prompts the software to take the necessary actions once a person or answering machine takes the call. 
---
How much is an auto dialer?
Getting an auto dialer for your business is an expensive investment. Depending on your business needs, the basic version that manages one outbound call at a time can cost a few hundred dollars, while the advanced version that supports thousands of automated outbound calls can cost thousands of dollars. Dialer software that has comprehensive cloud call center software allows you to save the extra dollar. 
---
What is the best auto dialer software?
The top auto dialer software right now
The top dialer software are the ones that promote workforce management, workflow automation, empowers the call center manager and agents, and effectively increase customer satisfaction and experience. The omnichannel contact center solutions with dialer systems offer the best customer experience. 
Some of the top-rated auto dialer software include:
RingCentral

Talkdesk Enterprise

Five9

Genesys PureConnect

PhoneBurner

KOOKOO CloudAgent

Nice inContact
RingCentral
This is an omnichannel contact center that allows customers to select their preferred means of communication with the business. The communication methods include voice, phone messaging, social media, email, chat, and more. Self-service options and intelligent IVR help clients connect faster to the agent best suited to handle their queries. RingCentral supports CRM integrations for different dialer CRM platforms. This is the best solution for a business phone.
Talkdesk Enterprise
This cloud contact center takes customer experience to the next level. Talkdesk quickly adapts to the needs of support and sales teams thanks to its consumer-like ease of use and enterprise-class performance. Talkdesk, therefore, increases productivity, savings, and customer satisfaction. 
Five9
This cloud contact center software facilitates over three billion interactions every year. Five9 has been at the forefront of cloud revolution in contact centers, serving small to large businesses. 
Genesys PureConnect
This omnichannel contact center solution is simple to use, easy to customize, and very flexible. PureConnect is available as an on-premise service and also a cloud-based service. PureConnect allows you to do more due to its all-in-one system integrations and delivers better customer experience. 
PhoneBurner
This is a sales acceleration platform and a power dialer for sales teams of different sizes. PhoneBurner helps contact center agents to increase calls, live conversations, and callbacks. PhoneBurner is also available for free with no credit card required. Some of the features of PhoneBurner include:
Contact management

Emailing

Caller IDs

Reporting

Lead distribution software

Voice dialer

Power dialing

Manual dialing

Automated phone calls meant to automate dialing

Voice broadcast

Click to call dialing mode

Call transfer

Call monitoring

Adversus dialer

Zapier integrations

Predictive progressive dialer

Phone banks