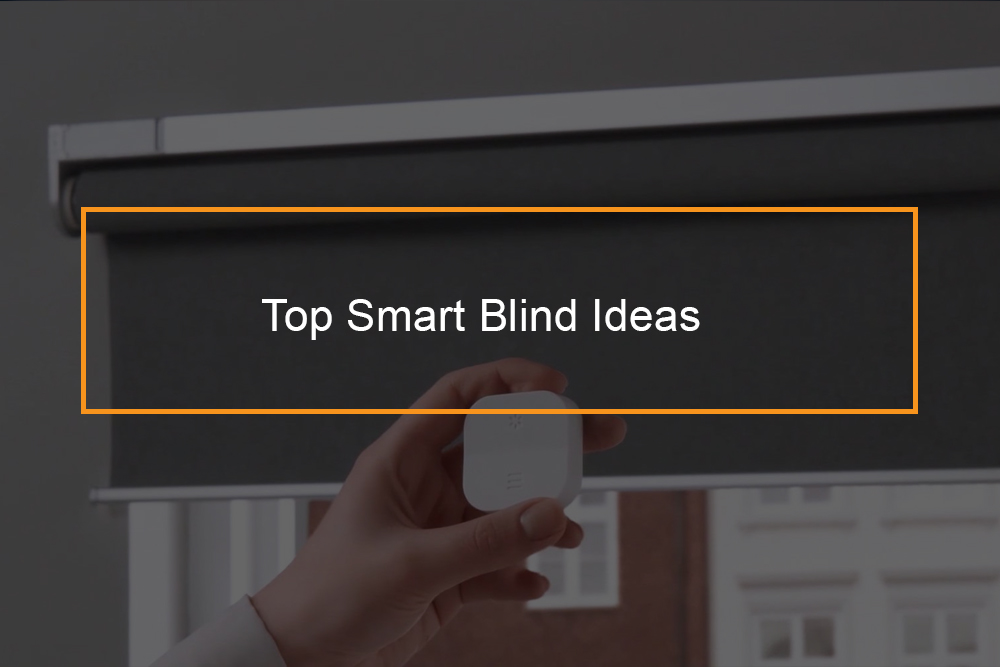 While this may come as a surprise, your windows and shades of your home can be improved with smart technology. Smart blind technology will enable  you to customize and control natural light entering your home. This article is a guidance to get started with smart blind.
---
What are smart blinds?
Smart blind explained
Nothing feels great than an afternoon sunlight creeping into your living room enabled by automated smart blinds. It feels so luxurious. Even better you can pair smart shades with smart lighting to maximize the amount of daylight in your home and cut down electricity usage.
If you are building or remodeling your home, energy efficiency is a key factor. In this reference smart shades are something you can add to your home to control temperature.
Benefits of smart blinds which will help you decide if they are a good fit for your home
Smart motor blinds are convenient 
You can open and close motorized blinds by just touching a button on a remote control or an application on a smartphone. Smart blinds are the best solution to minimize solar gain and prevent heat loss, and as they are easy to operate, high chances are you will remember to do and you, and your environment will benefit. The best part is, there is a feature which enables you to set schedules of opening and closing and thus you may not need to worry about operating the smart blind yourself at all.
Smart blind help you save energy and thus reduce electricity bill
You can connect smart blinds to a smart hub to minimize the amount of energy your HVAC system uses. The blinds will then close automatically in the hottest parts of the day and reduce energy usage. Consequently, they will open on a sunny day in the winter to allow heat into the room. 
Enjoy smart home integration by diving in smart blind motor technology
Smart thermostats have usually have data, which they use to determine if closing smart blinds will aid to reduce energy such trove data include; what time of day it is, what the weather is like that day and what temperature your house is.  Using the above data, the thermostat can either decide to close or open the shades.
Improve your smart lighting by adding smart blind to your house
When combined with smart lighting, smart shades can maximize the amount of daylight in your house and even cut down electricity usage. For instance, opening the smart blinds can cause smart lighting to turn off.
Use of smart blind such as soma shades can add a significant insulation value to your window
Motorized blinds can add an insulating layer to your windows even without smarts. 
Smart home blind offer come with safety benefits
While some may think that lack of smart blinds is safety solution as you do not have to worry about keeping children away from the shades, some blinds actually come with major safety benefits. For example, Lutron's smart blinds connect to Nest's Protect Smoke Alarm to automatically open them when fire is sensored inside. This technique allows emergency responders to see into the home.
Foul would be burglars into thinking a home is occupied for security purposes by using smart blind
You can control the smart blind and make it look as if someone is home. The best part is, you can connect smart blind to smart home system so that the blinds can shut when there is no one at home and open when you return. If you compare new build energy saving solutions, installing smart blinds is inexpensive and comes with many benefits-thus as a homeowner you should seriously consider it.
---
How much do smart blinds cost?
Most popular smart blind shades reviews and prices
There are always various options out there when it comes to smart blinds. You can choose the do it yourself or professional ones. For whichever smart blind option that you decide to dive in, know that there are various brands. Here is what you need to know about smart blinds types so that you choose wisely.
Soma smart shades
Going for a price of about $149.99, SOMA smart shades are easy to fit. Once you have fitted the blinds you can control the blinds using a smartphone. Soma unit has a feature for setting schedules rather than doing it manually. You can trigger the soma unit around sunrise and sunset. SOMA comes with complete suite of smart integrations, with Alexa, Google Assistant and HomeKit in the line-up. However, this will need the SOMA connect $99.99 module to be plugged into a router. This will be connected to the Assistant you will choose. Most SOMA smart shades users highly rated it because it is easy to use, easy to fit, among other strengths.While other users review smart bind as so slow to open and close, expensive and unreliable.  
Explore smart blind technology with Lutron Serena blind
Lutron Serena blind price varies with serenashades.com. This type of smart blind can be controlled via Amazon Alexa, HomeKit and Google Assistant.  The Serena blind has a Lutron website, which has a website that allows you to design your blinds, window by window.The website is user friendly and you can select any size of window, colour and roll-type.  Also you can select the company own remote control, the smart home option which need the purchase of the Lutron Smart Bridge or both. You can connect the smart blinds with smart hub such as Wink, Logitech Harmony and Sonos so that you can set your blinds to go down at sunset.
Diving into smart blind technology with somfy shades
Somfy shades are very popular in smart blind blind technology. The price of the blinds varies with somfysytems.com and easy to set and fit. All you need to do is set a motor, which is inexpensive, but choose one depending on your blind. Somfy my Link application will handle the company's RTS motors which will sync up to common smart home hubs such as SmartThings. Somfy blind shades will set your window coverings in motion with (RTS)Radio Technology Somfy , their exclusive control platform will enable you to control your window coverings from virtually anywhere. Even better you can control your environment by just pressing a button or the sound of your voice.
You can pair your somfy shades with hand held remote or wall switch to myLink solution to increase the control of your blinds and shades. My Link app will control individual window coverings and groups of window coverings so as to fit all your needs. In addition myLink app integrates with other home automation technologies so as to control window coverings with simple voice commands.
Make your home fancy with Velux active smart blind with Netatmo
To take your smart blind technology to the next level,you can choose to explore velux active smart blind with Netatmo. Going for about €249, Velux active smart blind is fancy and smart. Despite being expensive compared to its competitors, the blind have different fancy styles , types, colors and motor options than the other blinds.
Velux active smart blind can monitor humidity, temperature and CO2 through detectors and even take care of ventilation all by itself.   For example, if the smart blind needs to air out your home, it will also open the windows. The Active also makes all of this compatible with HomeKit, ande you can use Siri too. With velux active smart blind you will be in control as the shade uses the velux active app to operate your velux skylights and blinds from anywhere using a smartphone. Moreover, the blind is easy to install- velux active indoor climate control can be installed without any professional help.
If you're down in Australia, Luxaflex smart blind technology is your best option
Luxafex company is a world leading manufacturer of smart blinds. The blind usually come with a five year guarantee. You can choose from various Luxaflex  types to suit your personal lifestyle depending on your individual preferences. You can also use various designs to adjust the control of light, make various moods, or influence the atmosphere of add character to all your rooms. Luxaflex smart blind has a number of motorisation options to choose from-PowerView, QMotion to Somfy.
The best part is there are even motorised blinds that are powered by the sun. In addition, most of the Luxaflex's options work with Google Assistant, Zigbee systems and IFTTT that gives plenty of options. Whichever option you choose you can be sure Luxaflex will not disappoint you.
Improve your home windows with diy smart blind-engine blind
If you have old blinds in your home and you would like to upgrade them to smart blinds engine blind is the  best options that you have.
Try

DIY

smart

blind

with engine blind- It is hard to understand why most people like the idea of having motorized blinds as they come with  high prices of installing and buying. 
If you want a cheap DIY smart blind, then you can try bind engine. The blind works with roll shades, horizontal blinds and roll type curtains. The engine smart blind comes with two different gears which can work with normal string cords. If you are considering blind engine below are the best features.
You can control engine blind with a  smartphone-they are mobile controlled.

With engine blind you can be able to control many blinds simultaneously as they have multiple control features.

Engine blinds come with location recognition feature which enable you to set the blind to go up or down based on your phone's location

You can voice control engine smart blind using Alexa, Google Home and Homepod among others

Engine smart blinds have an automatic stop feature, to stop if the line detects additional weight.
---
How much do ultra smart blinds cost?
Ultra smart blind price
Advance in technology and increase in demand for smart and connected living has contributed to rising utilization of motorized blinds. The benefits of smart blind are many. From the ability to control your shades  with just touching a button to cost reduction i heat billings. 
But it is important to know how much exploring smart blinds will cost you. Basically, this will depend on a number of various factors such as the motor you select, if you are existing window treatments compatible with motorization and size and number of windows you seek to add motorized blinds to.
Breakdown of the cost you are likely to incur
The price of motors determines the overall cost of smart blinds
You have a variety of motors to choose from. Inexpensive motors seem like a steal. However, it is important to buy quality motorized system so as to save money and time. Usually cheap motors have shorter warranties.  Basically the price of motorized blinds will depend on whether they are battery, plug-in or hard wired. The most popular somfy battery motors starts at $ 270.
Know the price of window treatment, to determine the price of ultra smart blind
Window treatment is a great investment for your home. Generally, there are different window treatments to choose from and there are various factors which impact how much these window treatments will cost. The best way to decide the best window treatment is to identify your need. For example you can go for cellular or honeycomb blinds to help you with energy efficiency or solar shades for reduction of UV glare. But those factors will determine how much you will spend on window treatment. At the same time you should also consider the window material.
The number and size of windows at home will affect the price of blind blind 
You can measure the length of the windows yourself or call a professional. To measure the window use a metal tape measure, measure every window that you plan to cover with smart blind, round of the window measurements to the nearest 1/8th. Then note the measurements in width and height. Then do not forget the installation cost.