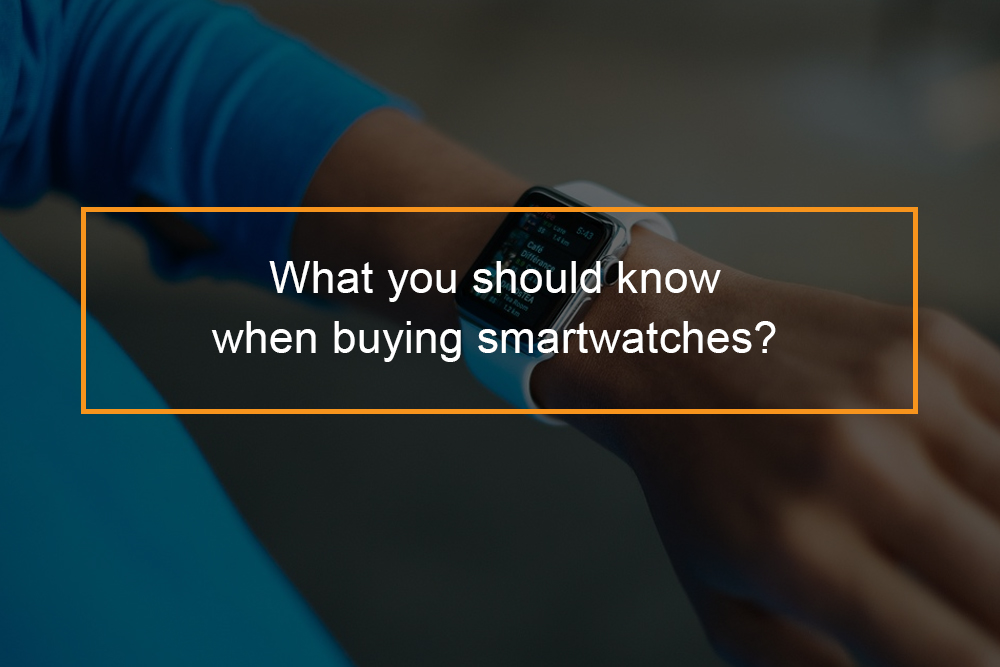 A smartwatch is the ultimate smartphone accessory. You can tell the time, and you get to see notifications on your phone without taking out your phone. There a lot of models available today and they can perform a ton of tricks with features like Voice command, GPS tracking to contactless payments. Let's take a look at what they are. 
---
What is a smartwatch?
Defining smartwatches
A smartwatch is a portable gadget that's designed to be worn on a wrist. Smartwatches like smartphones use touchscreens, provide access to apps, and can even record your heart rate and other vital signs.
The Apple Watch and Wear OS (formerly Android Wear) models triggered more users to value the convenience of having a tiny computer system on their wrists. Also, specialty smartwatches for outdoor activities typically supplement other, bulkier devices in a traveler's toolkit.
---
What Do Smartwatches Do?
The many smartwatches, whether they're intended for day-to-day use (just like the Apple Watch) or for particular functions (as with the Garmin Fenix), offer a suite of the following basic features:
Notifications:
Smartphones display alerts to inform you of important events or activities. The kinds of notices vary; gadgets connected to a smartphone might merely mirror the phone's notifications on your wrist; however, some smartwatches show notifications that only a wearable might provide. For instance, the most recent Apple Watch has a fall sensing unit. If you were to fall while wearing the watch, the watch detects your subsequent movement; if it does not spot any, it'll send out a series of escalating notices. Failure to react to the notification, and the watch will assume you're injured and alert authorities on your behalf.
Apps: 
Beyond showing notices from your phone, a smartwatch is only as excellent as the apps it supports. App environments vary, and they're tied to either Apple's or Google's environments. Smartwatches with a devoted purpose, such as for hiking or diving, typically support the apps they need to achieve that purpose without the chance to include other apps.
Media management: 
Most smartwatches coupled with mobile phones can control media playback for you. For instance, when you're listening to music on an iPhone using Apple's AirPods, you can use your Apple Watch to adjust volume and change tracks.
Responds to messages by voice: 
Modern smartwatches running watchOS or Wear OS operating systems support voice dictation.
Physical fitness tracking: 
If you're a hard-core professional athlete, a devoted physical fitness band is likely a better choice than a smartwatch. Still, lots of smartwatches consist of a heart rate monitor and a pedometer to help track your exercises.
GPS: 
Most smartwatches have a GPS tracker for tracking your location or receiving location-specific alerts.
Great battery life: 
Modern smartwatches have batteries that will get you through the day, with typical use, with a little juice still justify to go. Battery usage differs; the Apple Watch generally gets 18 hours of normal usage on a single charge, while the Pebble can last for two or 3 days.
---
What to look for in a Smartwatch?
A list of Features you should look for 
Even though buying a smartwatch is not difficult, it's crucial to know that not all smartwatches are made equally. Some have their own exclusive features that are missing in other smartwatches.
They also use different operating system too; for example, Android Wear is the typical OS found in smartwatches made by Huawei, LG, Asus, and Samsung, while the watchOS is for the Apple Watch.
There are a few other features that are either there, or just missing out from these watches generally based on the price tag. For anyone who is in the market for a new smartwatch, all of this can be frustrating.
Option for Voice Commands
Voice commands have come a long way in regards to how they operate, gone are the days when voice commands led to funny analyses, or not working entirely. Thanks to assistants like Siri and Google Assistant, voice commands are better than ever.
It is just natural to assume that these commands can be incredibly useful when it comes to smartwatches. Especially when you want your smartwatch to open a text and read it to you, or provide you some other contextual details from within the app.
Sure, a few people might wish to use the voice function for one reason or another, it is good to have voice command because it allows you to get the most from your from your watch.
Media Playback Support
This feature might not work for everybody, however, most people like being able to play music from the smartwatch. It is quite easy, a lot of smartwatches nowadays have a Wi-Fi or cellular connection, which suggests that they can connect to the internet, and stream music if you wish to.
Similarly, these smartwatches also include NFC, or Bluetooth, allowing users to link their wireless earphones. Both of these features combine to make a fantastic listening experience for individuals who like to exercise out or in the fitness center and don't want to keep changing the music on the phone.
Range of Sensors
Another feature that you must consider is the range of sensing units available in the smartwatch. I am talking heartbeat sensors and other comparable sensing units that can record vitals, or at least give you information that you can find useful.
For people who like to exercise a lot, having a heartbeat sensor is great because it can monitor their heart rate while they exercise. There are additional sensors that notify the individual about the calories burned, and steps taken. Simply put, sensing units are essential in a smartwatch, yes, you might have to pay a premium for the best possible sensing units; however, it is worth it.
Customization
It is just natural to want to have the capability to tailor your smartwatch to your taste. This does not mean altering the OS on the smartwatch. However, personalization means being able to change watch faces, layouts, or be able to utilize calibrations created by talented developers and designers. Not everyone wants to stick with the standard look. 
Just like you put a case or skin on a smartphone to change its appearance a bit, you can change the straps on the smartphone to make it look different and be comfier. Although your choices are limited between rubber, leather, or steel strap, the advantage is that there are several color alternatives.
If you are purchasing a smartwatch, ensure you can change straps so you can genuinely tailor your watch to your style. This is not considered a function, but something many people see as a necessity in a smartwatch.
Fitness Tracking
If you are not buying a smartwatch that is just made for physical fitness tracking, at least purchase one that has the physical fitness trackers built into it. There are some watches from companies like Garmin that feature some fantastic fitness tracking abilities.
These trackers can cause the price to be higher; however the good thing is that if you believe you exercise enough to keep a track on all your activities and make sure that you are on the right track, having a watch with fitness tracker is a must.
If you are wondering, Garmin's Fenix 3 is a fantastic watch and has a lot of good fitness trackers. Similarly, high profile companies like Samsung and Apple are also likely to include physical fitness trackers that can help make the total job a lot easier and simpler.
---
The very best smartwatches you can buy
A list of the best smartwatches available
Samsung Galaxy Watch
Operating System: Tizen OS|Compatibility: Android, iOS|Show: 1.2″ or 1.3″ 360 x 360 Super AMOLED|Processor: Dual-core 1.15 GHz|Band sizes: 22mm or 20mm|Onboard storage: 4GB|Battery duration: 4 days on 46mm/ less on 42mm|Charging method: Wireless|IP score: 50m|Connectivity: Wi-Fi, Bluetooth
Price: $ 249.
The finest smartwatch you can buy right now is from Samsung, and instead of going with the anticipated Gear S4 name it's called the Galaxy Watch. Following the Gear S3 series and the Gear Sport in 2017, the Galaxy Watch is an improvement on its predecessors.
We've tested the bigger 46mm variation of the watch, and it includes an incredible 4-day battery life even when you're using it throughout. That's impressive considering a lot of the other watches on this list last a day or two from a single charge.
The rotating bezel remains as a feature of navigating around the Tizen OS on the watch, and the user interface is one of the easiest to use that we've seen on a smartwatch. Apps offered on the watch are limited to Wear OS or watchOS 4 – 2 of the smartwatch os available – but it still offers the core basics, and Samsung had supplied a watch that's proficient at fitness along with sporting a fantastic style and lots more functionality too.

Apple Watch 4
Operating System: watchOS 5|Compatibility: iOS|Display: 1.78″ OLED|Processor: Apple S4|Band sizes: Varies based on watch size|Onboard storage: 16GB|Battery: 1 to 2 days|Charging method: Wireless|IP score: Water-resistant to 50m|Connectivity: Wi-Fi, Bluetooth, NFC, LTE.
Price:$ 399.
Coming in a close 2nd, the Apple Watch Series 4 is our 2nd preferred smartwatch you can buy today. Apple for the first time,  has upgraded the design of its smartwatches, and it looks better for it.
You get a bigger screen with the choice of 40mm or 44mm watch sizes; there's a larger display (which is still brilliant and clear) along with all the remainder of the tech we've gotten out of the Apple Watch. The speaker is louder than before, the style is still light-weight (yet it feels premium), and you can utilize all your existing Apple Watch straps with this newest generation too.
The most amazing feature is the realistic ECG function within the heart rate tracker. It can check your heart to see if you're at a high danger of atrial fibrillation, which will allow you to seek assistance early on.

TicWatch Pro
Operating System: Wear OS|Compatibility: Android 4.3+, iOS 8+|Display: 1.4″ 400 x 400 OLED paired with LCD screen|Processor: Qualcomm Snapdragon Wear 2100|Onboard storage: 4GB|Battery period: Up to 48h, 5 additional days in Essential mode|Charging method: Magnetic connecting pin|IP score: IP68|Connectivity: Wi-Fi, Bluetooth 4.1, NFC.
Price:$ 249.99.
Our preferred Wear OS watch is the TicWatch Pro, which you can use with either an iPhone or with your Android phone. You may not have known about it earlier, however, the latest from the company it a top-end watch with a unique dual-screen function.
There are two screens on this watch – one layered on top of the other. On the top is a transparent LCD show that can show the time, your heart rate and more when the battery is low.
Below that is a brilliant and bold complete color OLED screen that will offer you all of the advantages of Wear OS. That means you can have a regular smartwatch, which we discovered would last around two days, and after that have the time and some other functions still available when your battery is running low.
Mobvoi declares the TicWatch Pro can last for 30 days in the low power mode, but we have not yet been able to prove that claim. We did discover it lasted for just under a week when in low power mode though.

Apple Watch 3
Operating System: watchOS 4.3|Compatibility: iOS|Display: 1.53″ OLED|Processor: S2 dual-core|Onboard storage: 8GB/ 16GB (Non-LTE and LTE respectively)|Battery duration: 18 hours|Charging technique: Wireless|IP score: IPX7|Connectivity: Wi-Fi, Bluetooth, NFC.
Price:$ 329.99.
The Apple Watch 3 or the Apple Watch Series 3 was the best smartwatch but has recently been bumped off the top and slipped down a few places after the launch of the Apple Watch 4.
The Apple Watch 3 is typically just the Apple Watch 2 frame with some new inner tech; however, they make a huge difference. Plus the price has just recently dropped, making this a much more appealing option.
The LTE connection is the headline feature, although that's not as helpful as some might hope – plus it costs a lot more to use, and drains the battery.

Fitbit Versa
Operating System: Fitbit OS|Compatibility: Android, iOS|Show: TBC, 1000 nits|Processor: Dual-core 1.0 GHz|Onboard storage: 2.5 GB|Battery duration: 3-4 days|Charging approach: Proprietary charger|IP score: 50M water resistant|Connection: Wi-Fi, Bluetooth.
Price:$ 149.95.
Fitbit is among the best brands in physical fitness tracking tech, however until late in 2017, the company had not ventured into smartwatches.
They have now released two smartwatches, and both are on this list however first we're beginning with our favorite that was revealed in March 2018 and will be all set to purchase in mid-April.
This is the Versa that is a touch smaller than the other one (that's the Ionic) however it includes Fitbit Pay for contactless payments, 2.5 GB of storage for music and battery life that'll last around three days.
It does not have GPS for tracking your runs, and the style doesn't feel as premium as a few of the other watches on this list, but we like the Fitbit Versa, and it's one of the more budget-friendly choices on this list.

TicWatch E
Operating System: Wear OS|Compatibility: Android 4.3+, iOS 8+|Show: 1.4″ 400 x 400 OLED|Processor: MediaTek MT2601|Onboard storage: 4GB|Battery duration: Up to 24h|Charging method: Magnetic connecting pin|IP score: IP67|Connection: Wi-Fi, Bluetooth 4.1.
Price:$ 129.99.
The TicWatch is quite unknown because it's a relatively small and new brand name to the smartwatch world. This is among the most inexpensive watches on this list, and it's well worth your attention.
That's mainly because of the low price and the fact that everything works well. We also enjoy the TicWatch E for its built-in GPS, precise heart rate sensor and fantastic design.
All of the physical fitness features you 'd expect are here; you can even utilize it without having to take your phone out while you work out, but you will not have the ability to pick calls like on the Apple Watch 3. The style is premium; however, it won't be for everybody so make sure to check it out thoroughly before you buy.
The true emphasize here is the low price considering it's usually around half the price of the other gadgets you'll find on this list.

Fitbit Ionic
Operating System: Fitbit OS|Compatibility: Android, iOS|Display: TBC, 1000 nits|Processor: Dual-core 1.0 GHz|Band sizes: Large|Onboard storage: 2.5 GB|Battery period: 2-3 days|Charging approach: Proprietary charger|IP score: 50M water resistant|Connection: Wi-Fi, Bluetooth.
Price:$ 229.
The Fitbit Ionic was going to be a difficult move for the brand, trying to get in the world of smartwatches from fitness bands.
The effort prospers in some locations: specifically, physical fitness, as you might imagine, where you can track all manner of things, from weight lifting to swimming. There are devoted bodyweight training sessions there, and you can pay for the products on the go using Fitbit Pay.
When it was first introduced, the price was incredibly high. The bright side is the price appears to have dropped in recent months so you can get it for at least $70/ ₤ 70 less expensive than the RRP.

Misfit Vapor
Operating System: Wear OS|Compatibility: Android, iOS|Display: 1.3″ 360 x 360 AMOLED|Processor: Dual-core 1.0 GHz|Band sizes: 20mm straps|Onboard storage: 4GB|Battery period: 2 days|Charging method: Wireless|IP ranking: 50m|Connectivity: Wi-Fi, Bluetooth.
Price:$ 199.99.
Misfit's first ever fully-fledged smartwatch placed eighth in our ranking, and this is partly due to its low cost – we've seen the price drop down even further since it was released.
The Misfit Vapor has a clear and brilliant 1.3-inch AMOLED screen, a premium style – if it is a little thick – along with Wear OS software too.
It's not the ideal watch as the Misfit Activity app is rather limited and there's no Android Pay, but mainly this will match you if you're searching for an appealing watch with basic physical fitness and notification features.

Ticwatch S
Operating System: Wear OS|Compatibility: Android 4.3+, iOS 8+|Display: 1.4″ 400 x 400 OLED|Processor: MediaTek MT2601|Onboard storage: 4GB|Battery duration: Up to 24h|Charging approach: Magnetic linking pin|IP score: IP67|Connectivity: Wi-Fi, Bluetooth 4.1.
Price:$ 159.99.
Ticwatch is back again this time it's the Ticwatch S, which is remarkably comparable to the Ticwatch E we've pointed out above. The differences are few, but this watch is a little bit heavier and a little larger because it comes with a thicker bezel around the sides to reveal you the precise time.
There's also a strap on this variation that comes with the GPS sensing unit inside. The makers of the Ticwatch say this is more accurate than when it's inside the watch case; however, we didn't see any major distinctions. It does mean you can't switch out the band on the Ticwatch S like you can on the Ticwatch E, and that's a huge shame.
It is slightly more costly than the Ticwatch E too, but if you prefer the style, you might want to choose this as it's still a lot more economical than a lot of our other preferred smartwatches on sale today.

Huawei Watch 2
Operating System: Wear OS|Compatibility: Android 4.3+, iOS 9+|Display: 1.2″ 390 x 390|Processor: Snapdragon Wear 2100|Onboard storage: 4GB|Battery period: Up to 48h|Charging technique: Conductive USB-C battery charger|IP score: IP68|Connection: Wi-Fi, Bluetooth, 3G + 4G LTE.
Price:$ 264.98.
The Huawei Watch was among our preferred Android Wear watches back in 2016, and while the follow-up was originally quite expensive, the prices have now dropped to make it one of our leading recommendations for your wrist. Huawei has packed in lots in the Watch 2 consisting of GPS, NFC and there's likewise a 4G model if you're aiming to have a connection while you're on the move and without your phone.
The design isn't to everybody's taste, but it's a well-constructed watch with Wear OS software on board. All that concluded with a few of the very best features you'd desire from a smartwatch, the Huawei Watch 2 might be best for you.