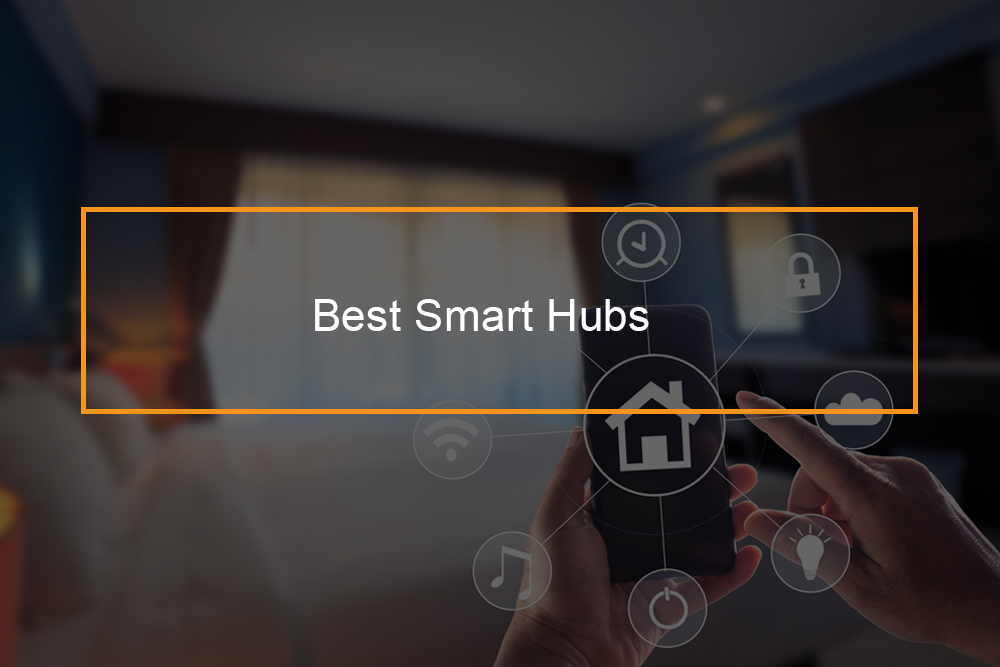 If you want to create an ultimate smart home, you definitely need a smart home hub. There are many smart technologies such as smart  lights, digital locks, security cameras, thermostats and more which you can create in you home. And to control all these smart home technologies-all from a single interface, then you need to have a smart home hub. 
Also if you are tired of using two separate apps to control you home, you will be delighted with the benefits which smart home hubs have to offer. However, in real sense hubs come in many forms, maybe you already have one in your home and you do not know. 
---
What does smart hub do?
Do I need a smart home hub?
Many smart home kits come with a smart hub, but what do the smart hubs do and are they essential to an internet-connected home?
Generally it is easy to understand how smart home kits such as smart light bulb or even connected speaker works- the only difference when you introduce smart hub, is that you can control them from an app on your tablet or smartphone. This same concept applies to the smart hubs which are connected to your router.Some smart home devices are wireless, while others are wired to your router. From the router the smart hub can connect with the compatible smart devices in your home and gain control.
The smart hub usually have its own app just like other smart home devices, only that it  controls one device, then dedicated app can control any compatible technology. For some smart hub they allow you to set up routines. IFTTT is one of the smart appliances reacting to another. For instance , when you trigger the motion sensor on your door your smart bulbs switch on your kettle boils. The best part is smart hub can control smart devices even if they are from different companies. 
---
Why you need to buy a smart hub?
It is very convenient to have all your smart home appliances operating harmoniously.  To achieve this same wavelength operation you need a smart hub to control your smart home devices. However, not everyone requires a dedicated smart hub to make their smart home devices work smoothly. 
For instance a smart speaker such as Amazon Echo or even Google Home can do the same function, with every appliance respective app acting as middle command. This has made manufacturers to model hubs into other devices like security systems and mesh WiFi routers. Something which has made home automation easy for beginners. Just think of smart hub as the backbone of your home, something like the central which connects all the devices of your house. Think of the smart home hub as a heart with arteries which lead to each of the appliances. Something that will allow you to access everything through a centralized app, rather than juggling through different apps which are actually from different manufacturers.
Another reason why you need smart hubs is that not every device relies on the same wireless standard. For example, connected lights such as the LIFX A19 smart bulbs connect through WiFi, while others such as Philips Hue, usually need each bulb routes through a Zigbee-compatible gateway.
---
Why you might not need a smart home hub?
As much as you might want to upgrade to a smart home hub, you might be surprised to know that, you do not need one.
Some smart home appliances and devices, for example smart plugs and switches, are designed with WiFi built in feature, or, in cases such as that of Philips Hue bulbs and August Smart Lock Pro, which come with a Wi-Fi bridge, that allows you to control the devices remotely without the need of a smart home hub.
Moreover, both Amazon Alexa and Google Home allow you to automate control of various smart home appliances in Routines. Also a set of pre-programmed actions which will activate at a pre-set time or when you say a particular phrase. The best part is, for some smart home appliance they talk to each other, obviating the need for a hub entirely. For example, if your nest protect thermostat detects smoke, it is possible to have it turn on your Philips hue lights and unlock your door. In the same case, the Nest learning thermostat can turn off your lights and close your lights and close your blinds when it enters away mode.
---
What is Amazon smart home hub?
Best Amazon smart Hub
The newest versions of the hub come in different varieties such as Wi-Fi- which gives you flexibility in your house. Below are some of the most popular smart home hub options that you find on Amazon 
Samsung smart home hub
The samsung smart hub comes in 5 by 5 by 1.2 inches and costs about $62.99. The hub is well known for its powerful compatibility with IFTTT, Z-Wave, ZigBee, Wi-Fi, Bluetooth, Nest, Alexa, Philips Hue and Honeywell. Moreover, it is Ethernet, 1 USB disabled.
However, the newest Samsung SmartThings hub cannot connect to many of smart home devices unlike its competitors.This means it lacks creativity feature and thus you cannot create different scenarios for all of the devices in your home.
But the best part about the newest Samsung smart hub is that it has Wi-Fi, which gives you flexibility in anywhere you can place it in your house. Although, it has no battery backup, therefore so you will not be able to control smart home devices if the power goes out.
Amazon echo dot smartthings hub reviews
This is the best budget smart home hub you will get in the market today. Going for about $49 amazon echo dot smart home hub comes in 3.9 inches (diameter) x 1.7 inches. Amazon smart home hub, is one of best smart home automation investments for beginners, not only because it is inexpensive but also because can control a wide variety of devices.
Moreover, the latest version of Amazon echo dot smart home hub has a greater and more powerful speaker than the earlier model- it also have an updated design with a more attractive cloth cover.  
The best part is, you can use it not only to turn lights and other appliances on and off, but also read headlines, weather reports, sports scores and even host other things.
Best Alexa enabled smart home hub-Amazon echo plus (2ND GEN) smartthings
The alexa enabled smart home hub cost around $176.98. Amazon echo plus second generation is larger in size than other Echo smart speakers as it measures 5.9 x 3.5 x3.5 inches.
Moreover it has a built-in-Zigbee radio, which allows so-equipped smart home appliances such as Philips Hue Lights to connect directly to your network without requiring a bridge.
However, despite the plus sounds being great, amazon echo plus  has no more complex interactions which you can get with other hubs. In addition it does not support the Z-Wave devices.
The best google home smart hub
Google home smart hub stiffly competes with Amazon Echo competitor.  It comes in 5.62 x 3.79 inches in size and is compatible with chromecast, Nest, Philips Hue, SmartThings, IFTTT, WeMo and Honeywell. But it lacks ports and battery back up.
The google home smart hub has a built-in speaker and can respond to voice commands. Moreover, the hub can control both smart home appliances and stream music.
But the best thing about Google Home smart hub is its ability to search for everything and anything you want, which is enabled by Google Assistant. And if you have a chromecast, you can control google assistant  through voice via Google home
Best homekit smart Hub-apple TV 4K reviews
Apple TV 4K smart hub is relatively affordable. The hub has a size of 3.9 x 3.9 x1.9 inches and works with Homekit. It has ethernet, HDMI and micro USB ports but lacks battery backup.
Even though the main purpose of stream apple TV 4K smart home hub is to connect to your television, it can also be a gateway for a small but growing list of smart home gadgets.
You can manage HomeKit compatible appliances remotely from your smartphone or tablet  if connected via Apple TV- moreover, you can use Siri to control them too. You will be happy to know that Apple TV 4K supports 4K content.
The best smart hub and Wi-Fi router in one – Samsung connect home 
If you want to invest in a Wi-Fi router and smart home hub in one, then look for Samsung connect home hub-its mesh router has its SmartThings hub built in.
Users of the samsung connect home hub, highly rated it as it has an easy setup and has the capability to expand its reach with extenders. Moreover it is fairly speedy throughout. 
The best part about the samsung connect home is that it offers speeds up to 86 Mbps/5GHz and 400 Mbps/2.4 GHZ or the connect home pro (1733 Mbps/5GHz and 800 Mbps/2.4GHz).
---
What is Zigbee smart home hub?
What is Zigbee and why you need it for your smart home hub?
Generally, Zigbee is a specification which is considered as an alternative to Wi-Fi and bluetooth for some applications which includes the low powered devices that do not require more bandwidth-like your smart home detectors.
Am example of a Zigbee smart home hub is an enabled light bulb and a Zigbee enabled light  switch and you need the light switch to control the light bulb. Zigbee enables the two appliances even if they are from different manufacturers to speak the same language so that there is no communication barrier. Typically, the Zigbee smart hub will not focus on point-to -point communication, such as Bluetooth, where on high-powered device will send information to another high powered appliance over a short period, puts it operates in a mesh network, which makes it great for smart home.
If you are creating a smart home, a device which powers Zigbee protocol may still be siloed but having less wireless protocols for your smart devices is more advantageous. This is so especially if you are going to avoid many hubs which are connected to your router. However, it is important to know that not all smart home devices will work harmoniously with Zigbee. 
Which devices work best with Zigbee smart home hub?
Some of the great users of of Zigbee smart hub include; Amazon,comcast, Honeywell, huawei, philips, smartThings, Texas instruments, Amazon, Belkin, Ikea, Lutron and Nokia.
Other users are; Osram, Bosch, Indesit, Samsung, Velux, Humax, Panasonic and Miele just to mention a few. Philips Hue uses Zibgee to connect its bulbs, however it does not always mean you need to add in additional bulbs from a different manufacturer.
But with amazon echo plus, you can expect to approach Zigbee devices as you can have Alexa controlling all the different types of appliances, without requiring the hubs or smartphone apps from each manufacturer. For instance, the Echo Plus can be told to search for devices and would find a Philips Hue bulb and also be able to control it, even without requiring any input from Philips at all.
The best part about Amazon Echo devices, Google Home or Apple HomeKit is that they are smart artificial intelligent devices which will control more appliances. For instance, the Echo Plus can control Zigbee appliances directly, and will also let you control devices running on other standards such as a Ring Video Doorbell.