Cloud communication technology: How do they work?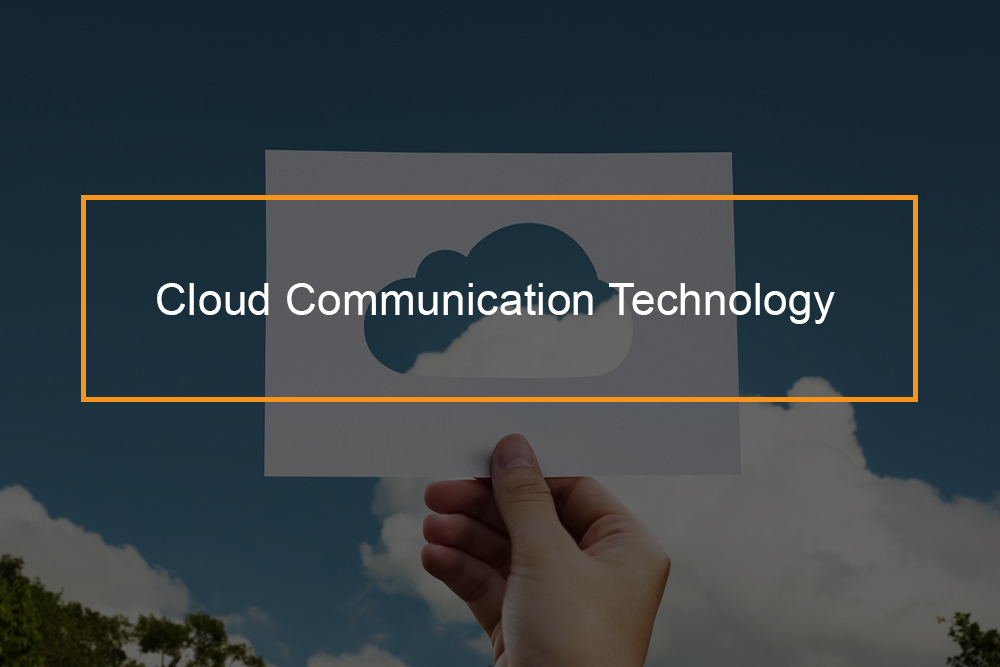 Through an internet service connection, cloud communication technology works by enabling users access and download data on any chosen device, like a laptop, smartphone, or tablet. Cloud communication users can also edit documents concurrently with other subscribers as well, making it easier to work away from the workplace.
Depending on specific business needs, cost varies for cloud storage. As an individual subscriber, you can usually get initial amounts of cloud storage for free-like 5GB with Apple iCloud, which not long ago dealt with some highly publicized cloud security problems. You have to pay a charge for extra storage. Common charges models include monthly or yearly rates, depending on the services you are using.
---
What is cloud communication?
What is cloud communication? The term "cloud" when addressing technology or communication, is not new. 'Cloud' is a metaphor for the Internet. Cloud symbols are often used to outline the Internet on diagrams. If you reflect the Internet as a virtual 'space' that connects users from all over the world, it is like a cloud. It shares information by way of networks.
Thus, if we go back to the question of what cloud communication is, refers to sharing resources, application, and information through a network, in this case, the Internet. The data is stored on physical servers maintained and controlled by a cloud computing provider, like Apple and Amazon, in regards to iCloud. As a subscriber, you access your stored information on the cloud through the Internet.
By using cloud storage, you do not have to store the information on your hard drive. Besides you can edit files like Word documents or PowerPoint presentations, concurrently with other subscribers, making it easier to work away from the workstation.
There are different kinds of cloud communication services available to suit different needs. Whereas some cater to individual users who want to store photos, videos, and documents, others are destined for organizations that require great sites to develop IT software.
---
Why is cloud communication important?
How can cloud communication benefit your business?
Advance in technology increases business productivity and lower operational costs for business. With the right implementation, new business solutions such as cloud communications allow for greater work efficiency and data security, whereas reducing human error through automation.
Typically, cloud communication allows users to access business communication tools anywhere as long as they have a working internet connection. Today, in a continually evolving business landscape, it is vital that businesses can access information anytime, on their tablets, mobile phones, and laptops. This is the type of convenience that cloud communications offers.
Businesses that adopt cloud communication enjoy the following benefits:
Cloud communications enhance remote work
Most companies operate from different regions. Remote work configuration indicates the ability to collaborate via audio and video conferencing and cloud apps and is essential for the growth and success of modern businesses.
Cloud communications allow staff to work anywhere and anytime, which has proven to increase efficiency and improve the output quality.
Businesses are decentralizing work by employing more full-time remote employees. This indicates companies have a more exceptional ability to employ great talent from anywhere. Almost every remote office now accesses video conferencing and other cloud communication services, and the need for similar services is expected to keep on growing. 
Cloud communication reduces cost
Cloud communication technology is often affordable. The application is already installed online, so you will not require to fix it yourself. There are many cloud communication software accessible for free, such as Dropbox, and increasing storage size and memory is affordable. In case you require to pay for a cloud communication service, it is paid for incrementally on a monthly or annually basis. By choosing a program that has no contract, you can terminate your use of the services at any time; thus, you only pay for the services when you require them. 
Cloud communication allows staff to work on multiple devices
Cloud communication service providers are regularly making sure that their software can work on any device. Information stored in the cloud is not only accessible with desktop computers, but also on mobile devices.
Typically, it is possible to work using mobile devices, particularly with 4G and LTE networks. This kind of connection lets users run data-heavy software and exchange large files easily. Real-time communication is essential when conducting business, and faster networks enable professionals to use their tools to conduct key business procedures with ease.
You can sync your data or access your company phone anywhere as long as you have an internet connection, enabling you to improve your office communication.
Cloud-based communication removes the need for a traditional desk phone system
When companies use cloud-based communications systems for calling, they eliminate the need for constant maintenance or hardware upgrades, as with traditional landline phones. With VoIP phones, the service provider hosts maintain and upgrade all of the PBX technology for you. You can configure the system for your company, all from your computer.
Besides, the cloud allows small and midsize businesses to add new lines easily and offers quick access to new features. Organizations are also charged an affordable monthly fee on per user basis. This option has been beneficial for business that does not have a budget for an IT staff to operate and maintain the PBX hardware. Subscribes can fast access the phone system feature, even though they are various locations since the system is all on one platform.
Cloud communication offers more storage
Previously, memory was limited by the specific device in question. In case you run out of memory, you would require a USB drive to backup your current device. Cloud communication device increased storage, so you will not have to worry about running out of space on your hard drive.
Cloud communication technology allows small business to compete with more prominent companies
Cloud communication services provide small and midsized businesses a competitive edge with bigger organizations. Cloud communication is cost-effective and can be customized to any size company, making it possible for small companies to scale up their operations faster.
Small companies can begin and rapidly increase their usage over time, depending on the growth of the company. Besides, cloud communication service ars self-managed so the business does not need to hire IT staff to set up and run their communication systems. 
Allowing small and mid-sized companies to deliver faster, cheaper, and with more quality is core to providing them the competitive edge they require to compete with bigger organizations.
---
Disadvantages of cloud communication to a business
Cloud communication can cause security issues to a company
When using a cloud communication service, you are handing over your company data to a third party. The fact that the company and users from all over the globe are accessing the same server can lead to security issues. Organizations managing confidential information may be particularly concerned about using cloud communication service since viruses, and other malware could probably destroy data. But, some servers such as Google cloud connect come with customizable email encryption, spam filtering, and SSL enforcement to safeguard HTTPS access, among other safety measures.
Cloud computing has privacy issues
Cloud communication service comes with the risk that unauthorized subscribers may access your information. To protect your company against this, cloud communication service provides password protection and work on secure servers with data encryption technology.
With cloud communication, the business loses control
Cloud communication services control users. This comprises of not only how much you have to pay to use the service, but also what data you can store, where you can access it from and many other elements. Your business will depend on the provider for updates and backups. In case for any reason, the provider server ceases to operate; you are at risk of losing all your information.
Cloud communication re dependent on the Internet
If your area has an internet problem or you have a power outage, you will not be able to open any of the documents you have stored in the cloud.