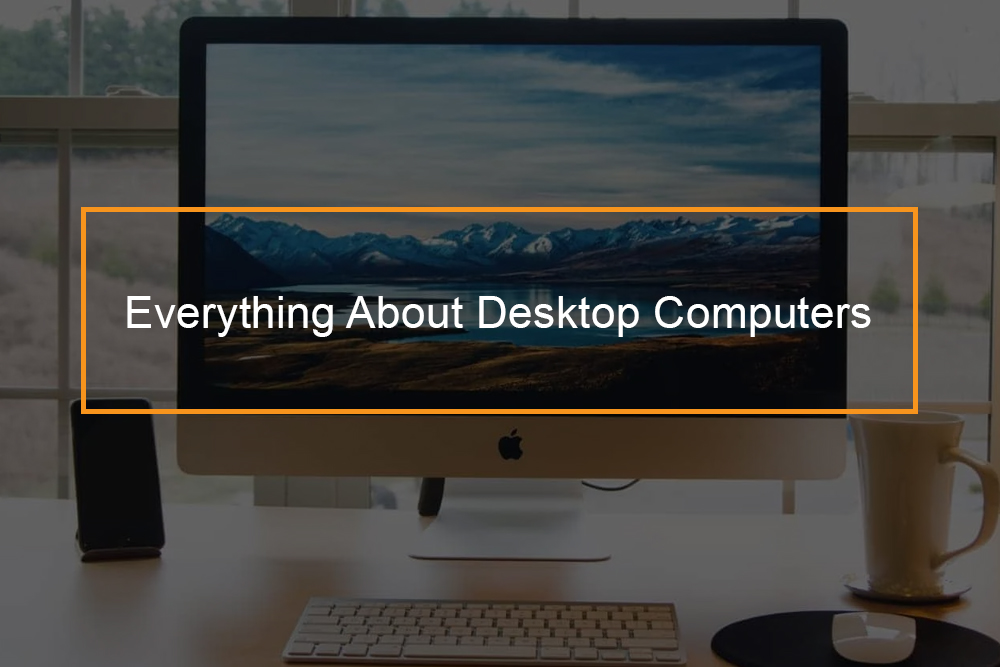 Packing more power and versatility than laptops, and sleeker styles than ever, desktops still have a lot of appeal. Here are some of our current favorites and some in-depth evaluations and shopping guide.
---
Why settle for a desktop?
All about the power
With sophisticated laptops, why would you want to purchase a desktop PC or Mac in 2018? Simply put, it is for the sheer power and computing comfort. There are some jobs that mobile devices like laptops and tablets can't handle as well as a powerful desktop.
Desktop-class CPUs and graphics processors are more effective than their mobile equivalents that are priced the same. They allow you to finish whatever task you're dealing with in as little time as possible. Your money gets you more with desktop parts in general, too, so instead of purchasing a $500 laptop with a competent Intel Core i3 processor, you can buy a $500 desktop with a powerful Intel Core i5 desktop CPU in it and maybe even squeeze in a devoted graphics card.
You can get PCs with screens that are already integrated into them or that can be connected externally to a display. In either case, you can get a bigger display screen than even the largest laptop, which peaks at about 18 inches in size. Also, expandable desktops can accommodate multiple graphics cards to support higher frame rates for competitive video gaming or powering multimedia editing through the latest super-fine 4K displays.
In some circumstances, buying a desktop gives you physical control of the computer and its use. Limiting access lets you control who sees confidential company information, and the combination of a desktop PC and a big screen allows parents to monitor what their children are doing online.
---
The best desktop computers
A list of the best PCs 
Apple iMac Pro
Rate: $4599.00.
It is best suited for CPU-Intensive Creative Work. It has a processor Speed- 3.2 GHz, 32 GB RAM, Storage Capacity of 1 TB, AMD Radeon Pro Vega 56 Graphics Card and runs Apple macOS High Sierra. The Apple iMac Pro is a stunning ode to creative professionals, combining remarkable computing power with the same fantastic 5k display screen and sleek design of the iMac.
Pros:
The Intel Xeon CPU and AMD Radeon Vega give it major computing power. Gorgeous style in Space Gray extends to the wireless peripherals.
Cons: 
It is quite pricey and its performance gains depend on workflow. It has an uncomfortable keyboard.

Apple iMac 21.5-Inch with a 4K Retina Display (2017)
Cost: $1299.00.
Best for Light Video and Photo Editing.
It has an Intel Core i5-7500 processor, 8GB RAM, a storage Capacity- 1TB, an AMD Radeon Pro 560 graphics card and runs Apple macOS Sierra.
Pros:
A bright DCI-P3 4K screen. Compatible with  4K or 5K external displays. Discrete graphics. Hybrid SSD/HDD Fusion Drive. USB-C/Thunderbolt 3 ports. Wireless keyboard and mouse.
Cons: 
It has a shallow keyboard. Its ports and SD card slot are on the back panel. Lacks HDMI-in and DisplayPort-in ports.
Styled the same as all Macs, the most recent 21.5-inch Apple iMac with 4K Retina display boasts an upgraded CPU, Thunderbolt 3 connection, VR-ready graphics, and a brighter screen. Despite these small updates, it's midrange all-in-one to beat.

Apple Mac mini (2018 )
Price: $799.00.
Best For Space-Strapped Content Creators with a processor Speed of 3.6 GHz, 8GB RAM, a storage capacity of 128GB, an Intel UHD Graphics 630 graphics card and runs Apple macOS Mojave OS.
Pros:
It has a deep connection for its size, including 4 Thunderbolt 3 ports. Memory is SO-DIMM, not soldered. Configurable as much as six cores to 12 threads. New storage (2TB) and RAM (64GB) ceilings. Superior pre-installed software.
Cons:
RAM not technically upgraded. There is no alternative for the 2.5-inch hard disk as internal mass storage. Scanty SSD on a base design.
Apple's iconic Mac mini compact desktop provides more core-processing, storage, and memory potential than ever, in a sleek box overflowing with cutting-edge connections.

Azulle Byte3 Fanless Mini Desktop PC
Cost: $199.99.
Ideal for Kiosks, Kids, Home Theaters. It has a processor Speed- 1.1 GHz, RAM of 4GB, a storage capacity of 32GB, an Intel HD Graphics 500 graphics card and runs on Windows 10.
Pros:
It is 4K video capable; It has five USB ports; HDMI 2.0 port; IR remote is fantastic.
Cons:
Can't upgrade RAM.
The Byte3 is a tiny, versatile, semi-powerful Windows 10 desktop PC for $200 … if you can believe that.

Corsair Vengeance Gaming PC 5180
Rate: $2399.00.
It is best for hardcore gamers with a processor speed of 3.2 GHz, RAM of 16GB, a storage capacity of 2.48 TB, a Nvidia GeForce RTX 2080 Graphics Card and runs on Windows 10.
Pros:
Great gaming performance. Plenty of fast SSD storage. A well-designed case with tempered glass and appealing personalized lighting. Roomy interior.
Cons: 
The etched text on the glass is a bit tacky. It is of a bulkier make compared to some microATX PCs.
The Corsair Vengeance 5180 has a smooth, sleek design, is an upgrade-friendly video gaming desktop packed with the power to play any game efficiently.

Dell Inspiron Gaming Desktop (5680 )
Rate: $599.99.
It is ideal for gamers on a budget. It has a processor speed of 3.2 GHz, 8GB RAM, a storage capacity of 1.25 TB, it has a Nvidia GeForce GTX 1060 graphics card and runs on Windows 10.
Pros:
It is affordable. It is appealing with subtle case lighting. Smooth HD video gaming performance. Rapid new Intel "Coffee Lake" processor with a lot of storage (boot SSD and a disk drive).
Cons:
Messy interior. Only 8GB memory in the test model.
The configurable Dell Inspiron Gaming Desktop has a 60fps refresh rate, 1080p resolution and a Core i7 processor at $999, making it an attractive option to players on a budget.

Dell OptiPlex 7760 All-in-One
Price: $1289.00.
Best suited for business power users. It has a processor speed of 3.2 GHz, 16GB RAM, a storage capacity of 256GB, it has a Nvidia GeForce GTX 1050 graphics card and runs on Windows 10 Pro.
Pros:
It has a strong performance because of the core i7 eighth-gen CPU and GeForce GPU. A lovely 4K screen on a durable, versatile stand. Surprisingly strong audio output. Connectivity alternatives are plentiful.
Cons:
No touch assistance on test system.
An alert CPU and committed GeForce graphics power the 4K display screen of the Dell OptiPlex 7760 All-in-One, a versatile organization desktop for designers and creative types. Plus, it places among the best AIO stands we've seen.

HP Z2 Mini G4 Workstation
Cost: $799.00.
It is ideal for architects, engineers, financial Analysts, etc. It has a processor speed of 3.7 GHz, 3GB RAM, a storage capacity of 1.5 TB, it has a Nvidia Quadro P1000 graphics card and runs on Windows 10 Pro.
Pros: 
Small footprint. Great Xeon multicore computing efficiency. ISV accreditations. Reasonably inexpensive for a desktop workstation.
Cons:
Large external power brick.
It is a mini desktop that performs like a far bigger workstation, complete with Xeon processor options and ISV certifications.

HP EliteOne 1000 G1 (34-Inch)
Cost: $1699.00.
It is ideal for small businesses. It has a processor speed of 3.4 GHz, 8GB RAM, a storage capacity of 256GB, it has an Intel HD Graphics 630 graphics card and runs on Windows 10 Pro.
Pros:
Expansive, curved WQHD screen. Comfortable mouse and keyboard. Two cams. Easily add parts for upgrades and dedicated media controls. It has panels that swap out for repair or replacement.
Cons:
No touchscreen. Does not support Thunderbolt 3. Screen tilt adjustment only, you can' t modify the screen's height.
A 34-inch curved display is the PC's most significant feature, but this all-in-one computer includes simple interior access for upgrades and even screen swapability.

Intel NUC Kit NUC8i7HVK (Hades Canyon)
Cost: $899.00.
Best For VR, Light Gaming, 4K or 5K Digital Signage. It has a processor speed of 3.1 GHz, 16GB RAM, a storage capacity of 118GB, it has a Radeon RX Vega M GL graphics card and runs on Windows 10 Pro.
Pros:
Compact and quiet-running. Outstanding CPU and GPU efficiency. AMD Vega graphics are VR-ready. Bristling with connectivity for its size. Dual M. 2 slots. VESA-mountable chassis.
Cons:
It is quite pricey when you consider all parts. It needs a large external power adapter. No 2.5-inch bay.
With Intel Core i7 processor and AMD Vega graphics power, found in the Intel NUC Kit NUC8i7HVK, is a super-slim bare-boned desktop that loads punchy, VR-ready efficiency and remarkable connection.
---
Choosing the ideal desktop computer
Factors to consider when selecting a desktop
Which OS to go for Windows 10, macOS, or "Other"?
The Mac vs. PC dispute is among the oldest in modern innovation, and we're not picking sides here. However if you're of an open mind, not wedded to one or the other by years of practice, and are thinking about a switch, here's a quick rundown of your options.
Windows 10 retails at $139.99 at Microsoft and it is the latest version of Microsoft's OS. Desktops that utilize it and previous variations of the OS are what the majority of people generally depend on, so you'll be guaranteed of the best compatibility and most comprehensive selection of third-party software. It also uses web browser plug-ins, given that some only deal with Windows.
The existing version of Apple's OS is macOS Mojave. It's an outstanding option if you're currently in an Apple-centric household, given that it interfaces effortlessly with gadgets like iPads and iPhones, with all your iTunes purchases and memberships, and lets you receive iMessages on any device linked to your iCloud account.
Although it's less common than Windows or macOS in desktop PCs, Google also has its PC os, called Chrome OS. Many apps designed for Windows and macOS likewise have Chrome OS variations now, consisting of the popular Microsoft Office suite. A lot of the Chrome OS-powered PCs can also run any Android-based app offered for download from the Google Play store, which shows the OS can now run millions of smart device apps. Laptops running Chrome OS, dubbed Chromebooks, are simple to come by; however, desktops running the OS (" Chromeboxes") are less common. The majority of them are tiny, low-cost PCs with low memory and storage.
While it is popular, Linux is more of a do-it-yourself operating system, where you'll need to depend on your others for installation, sourcing programs, and support. Chrome OS, macOS, and Windows are indeed much easier choices if you wish to buy a desktop and use it right away.
Just how much desktop space and memory do you need?
If all you require to do is surf the internet, write Word documents, or make basic spreadsheets, then an entry-level desktop is the way to go. You will have to compromise in regards to graphics, power, RAM, and storage compared to higher-end systems, but then again, you will not be paying as much as entry-level PCs usually cost less than $600.
You'll find a wide array of Intel and AMD processors in this category, from the cheap Intel Celeron and Pentium CPUs to the more expensive (and more powerful) Intel Core i3 or i5 and AMD Ryzen 3 or Ryzen 5 processors. You need to try to find a minimum of 4GB of RAM (practically all desktop-size makers will have at least this much, but 8GB needs to be your standard), though you may have to make do with 2GB if you're restricting your search to extremely compact, budget-friendly devices under $300. When it comes to storage, a paltry 32GB of eMMC flash storage is found on the least-expensive desktops. (These are all compact budget designs, usually far smaller than a laptop computer.) However, a 1TB hard disk is more widespread as a baseline for bigger desktops and a much better choice for most. 
Midrange desktops will function longer, thanks to more CPU power and speed, memory for multitasking, adequate storage, or a bigger integrated screen. Finding a midrange system that will last at least five years, you will have to compromise. Try to find a capable Intel Core i5 or AMD Ryzen 5 processor in this class of machine, along with 8GB to 16GB of memory, and a 1TB hard disk drive or 256GB solid-state drive (SSD) storage. Some makers will offer both an SSD and a hard disk, with the SSD as the boot/program drive and the disk drive predestined for mass storage. This is a perfect arrangement.
High-end desktops use state-of-the-art parts, such as the most recent CPUs that will give you all the power you need for multimedia jobs, loads of storage (a 512GB SSD or a 1TB hard disk, but generally 2TB or more, often in an SSD-and-hard-drive combination), 3D graphics capability for video gaming, or a mix of all three. These high-performance devices typically range from $1,500 up to $5,000 and beyond for workstations or gaming rigs with personalized paint jobs and several GPUs. Expect to see the Intel Core i7 or AMD Ryzen 7 CPUs in lower tier computers here, and the high-end filled with systems based on Intel Core X-Series and AMD Threadripper processors.
While sticking to the three cost ranges, we suggest that you get a computer that can do a little bit more than you need for the tasks you perform currently, if you can. That way, you won't have to purchase a replacement for some time.

What do you need to do?
General-purpose PCs

, which are the kind you typically see in stores, are meant for general office jobs, surfing the internet, video conferencing, and the like. They're created to be jacks-of-all-trades: proficient at many jobs, but hardly ever great at customized functions such as multimedia development or gaming.

Efficiency PCs

that include multimedia makers and workstations will provide you more power for complicated innovative or mathematical and clinical tasks. Faster processors with four, six, and even 18 cores make working on your tasks easier. More RAM (8GB to 64GB) is put in, so you can keep bigger images in memory for quick improvements while editing a video, rendering a 3D model, or processing a massive spreadsheet full of numbers you have to graph. Large hard disks and SSDs can provide you with extra storage that will let you store more work and program library files.

Workstations

are specialized devices made to do the heavy lifting of high-end media creation, scientific estimations, and challenging work tasks that have razor-thin due dates. You'll discover multicore Intel Xeon processors and ISV-certified graphics options from AMD and Nvidia in this class, as well as the potential, in some cases, the alternative to install enormous quantities of unique error-correcting memory more than 64GB.

Business PCs

are generally practical in appearance; however, they use work-friendly functions such as easy serviceability and upgradability, extra security in the kind of biometric sensing units and Trusted Platform Module (TPM) assistance, software/hardware accreditation programs such as Intel vPro, and software assistance. Some even come with on-site tech support.

Gaming PCs

have even quicker modifications of multicore processors found in the performance PCs. Plus, they have devoted graphics cards, so you can easily see and interact with the virtual worlds that the game designers produce. Fancy design elements like automobile paint, several graphics cards viewable through clear plastic or glass case doors, and complex liquid-cooling setups are available, for a price. Upgradability is almost (but not quite) a must. The most pricey video gaming systems can cost upward of $10,000, but they can provide you with an excellent gaming experience only possible on a computer with multiple 1080p HD, 4K, or 5K resolution, or when using a VR headset like with the Oculus Rift or the HTC Vive Pro. That said, even midrange gaming systems can deliver a very acceptable experience with a single 1080p screen or a VR headset.

The physical space for the body
Desktops nowadays are no longer the uniform metal boxes that they used to be. Even the tiniest PCs nowadays have enough built-in parts to compete with the high-performance PCs of the past. Choosing one nowadays is a matter of space constraints and purpose.
If you live or work in genuinely cramped places, an ultra-small-form-factor (USFF) or small-form-factor (SFF) PC is what you need. USFF (or mini) PCs occupy the least amount of space and don't have much expandability. Even so, they contain a decent processor, good memory and storage, and ports to attach displays, keyboards, and mice. They are generally the most economical to buy and run because they utilize power-saving components and processors. The overall volume of one of these systems is seldom bigger than that of a little jewelry box.

Recently, we've seen PCs as little as USB flash drives, like the Intel Compute Stick. These have the advantage of vanishing behind an HDMI-equipped display or HDTV. You might be limited to one or two configurations and will need to give up expandability and I/O port choice. However, stick PCs and a little bigger mini desktops, like those in the Intel Next Unit of Computing (NUC) series and the like, are the most flexible way to play web streaming media and gain access to cloud computing in your living-room or meeting room.

SFF desktops have more internal space, enabling you to attach extra hard disks and potentially even a gaming-grade graphics card. You'll likewise find more powerful CPUs here, with their more demanding cooling requirements.

Conventional tower desktops, including mini, midsize, and full-size towers, have the most internal space, so you can set up multiple hard disk drives, even add more RAM, or several graphics cards, depending on your requirements. They are the most flexible, and the bulkiest.

An all-in-one (AIO) desktop computer will save you some space since the display screen is integrated into it. With a couple of exceptions for business-oriented all-in-ones, you will discontinue expandability compared with the standard desktop, however. A lot of AIO screens come in sizes from 22 to 34 inches, and support up to 5K (5,120-by-2,880- pixel) resolution.