Voice over Internet Protocol benefits: Why VoIP phones make sense for business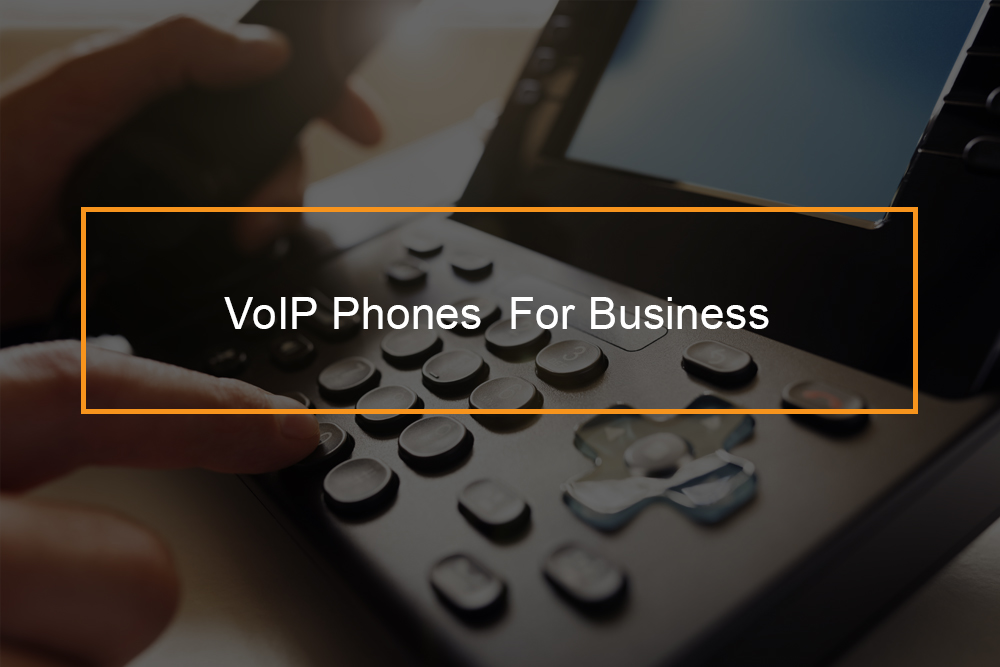 Most businesses use VoIP to save costs. Because you will be receiving phone calls over the internet, you will cut the expense of telephone lines altogether and instead consolidate both your internet and voice communication costs.
The telephone is a vital part of the communication toolkit in any business. However, in today's business world, the costs of traditional phone systems can drag down your organization. The best part is there is a better alternative, VoIP technology. The number of advantages of VoIP makes it essential for many businesses in today's modern world. Here is why most businesses use VoIP.
---
Why is VoIP phone system used?
Advantages of using VoIP business phone
To truly understand why voice over internet protocol VoIP can assist your business, you must first know what it is. VoIP solutions mean that you can place calls over the internet connection rather than a traditional phone line. You can still use your real phone handset, computer, or your tablet. The main difference is in the way the call is transferred. VoIP phone is sometimes known as internet telephony. Let us now explore the benefits of VoIP.
VoIP phone calling lowers costs 
The main advantage of VoIP system for your business is that it will save you cost. VoIP enables efficiency. Since you will be receiving phone calls over the internet, you will reduce the expense of the phone line. To do this, nonetheless, you will require to upgrade a high-speed Internet connection, which will cost extra money. However, knocking out the expense of your phone line will possibly be much more cost-effective for your business overall.
In case your business places international calls often, VoIP is, even more, cost saving. With VoIP, international calling costs are significantly decreased, and in some instances, even free. Skype, which is an example of VoIP, offers free services.
Statistics show that VoIP services have helped many businesses reduce costs. Cost savings in VoIP come in two forms: indirect and direct.
Direct cost savings
In traditional phone service, a business incurs a lot of initial costs. Particularly in the name of the business VoIP phone and PBX hardware.
A Private Branch Exchange is an on-premise physical part of the hardware. It links many landline phones in an office and is expensive. You may think that analog phones cost about the same as IP phones. The exact cost will differ based on the desired features.
However, onsite PBX installations are a costly capital undertaking. It can range anywhere from $500 and $2, 000 for every user. So even a small business with few employees requires to invest in physical hardware.
VoIP networks eliminate the need for extra hardware because of broadband connection powers the service. To ease the upgrade process in, such companies can use Session Initiated Protocol, known as SIP trunking. A SIP trunk behaves as a digital pathway for your voice services, whereas maintaining existing phone hardware in your office.
The additional wiring since VoIP networks enables both voice and data on the same channel. In telecom and IT circles, the correct word for this is the entire full-duplex. Most VoIP desk phones require only one ethernet to be connected to it. Power over Ethernet (PoE) allows officers to be modular with their office's staff. Besides, those offices will not make changes to the building's electrical wiring.
Direct cost savings also come in the form of the cost of calling. VoIP calls are less costly compared to the Public Switched Telephone Network (PSTN), or the traditional circuit switched telephone network by a stretch. Initially, data was expensive for most small businesses.
Even for big companies, users had to contend with capping on enterprise internet bandwidth and broadband. Nonetheless, internet speeds have improved while data costs have also reduced.
A VoIP telephone systems also allow businesses to cut other ongoing expenses like taxes, repair, and maintenance charges. VoIP providers often roll these costs into subscription plans. All these costs, mixed, make VoIP service an appealing proposition for growing startups.
Indirect cost savings
Indirect savings are more challenging to quantify. But, that does indicate they are any less vital for your business. Below are some of the ways VoIP can lower cost indirectly.
VoIP for businesses can save you money when you are working remotely
Switching to VoIP allows employees to stay linked to the business phone system while working remotely. This is due to VoIP features such as auto-attendant, call waiting, instant video calling, conference calling, and others not offered by traditional phones. Such features do not only increase employee productivity, but it can also reduce utilities and office space.
Add on features at no additional cost
Even though traditional PBX powers remote working via functionalities such as group ringing, call transfer, call queuing, and others, in essence, these functions and features are not inherent in a standard PBX system. Instead, they are add-on features which you are charged separately. By comparison, Voice over IP services includes many of these features at no extra costs. You do not have to pay an additional fee for whatever feature you think could be useful for your business.
In case your company depends on the secretary to manage phone calls and take messages, the auto attendant features allow you to repurpose that role at no additional cost. For example, you can cut down the costs of a secretary. Nonetheless, smaller businesses may find it challenging to justify big salaries. However, with the auto attendant feature, you can do away with the costs.
Advanced features compared to conventional phone
Besides decreased costs, VoIP also provides a wide range of innovative features that cannot be matched by those of the traditional phone line. The notable ones include virtual numbers, improved conference calls, caller ID, instant messages, call recording, unified communications capabilities, video conferencing, and call routing. All these features are ideal for the contact center.
Virtual numbers- a virtual phone number allows you to have a local number anywhere in the globe easily. This means you can easily place long distance calls. If you have a large market in California, you can get a local number with the area code of your choice. When someone in the USA dial this number, it will transfer to your phone. This makes it simple for your clients to call you.

Call routing- In case you are worried about missing an essential phone call, call routing is a feature you need. With call routing, you experience total call control; an incoming call will be transferred to several devices of your choice. Therefore, if your office desk phone rings when you are not there, the same call will then ring on your home phone, mobile, iPad, and other devices before going to voicemail.

Better conference- With VoIP and high-speed internet connection, you can have an unlimited number of employees on conference calls. Besides, you can also use video conferencing so you can see your customers or colleagues.
Enhanced flexibility
VoIP can be used over Wi-Fi and just about any networks. Therefore complications because of incompatibility are removed, resulting in an integrated yet flexible infrastructure capable of supporting many kinds of communication.
Real-time fax transmission
With traditional phone systems, long distance fax servers are costly and often suffer from poor data quality as a result of weak analog signals. Besides, specific devices may be incompatible with each other, resulting in further breakdowns in the procedure.
VoIP resolves all this by utilizing a fax interface to change data into packets that ensure complete and reliable delivery of data. In fact, with a VoIP phone system, you will not even require a fax machine for sending and receiving faxes.
Clearer voice quality
When VoIP service first was established, one of the most significant disadvantages was its weak call quality. This made most companies reluctant to switch to VoIP. VoIP calls would drop for no reason, the voice quality was bad, and latency was common.
However, today, VoIP becoming reliable, provided you have a fast and stable internet connection, voice quality should not be a problem. VoIP calls tend to be clear with no latency problem or call dropouts. We possibly have all experienced a miserable voice and conference phones before.