Vanity phone number: How to get a custom phone number for your business?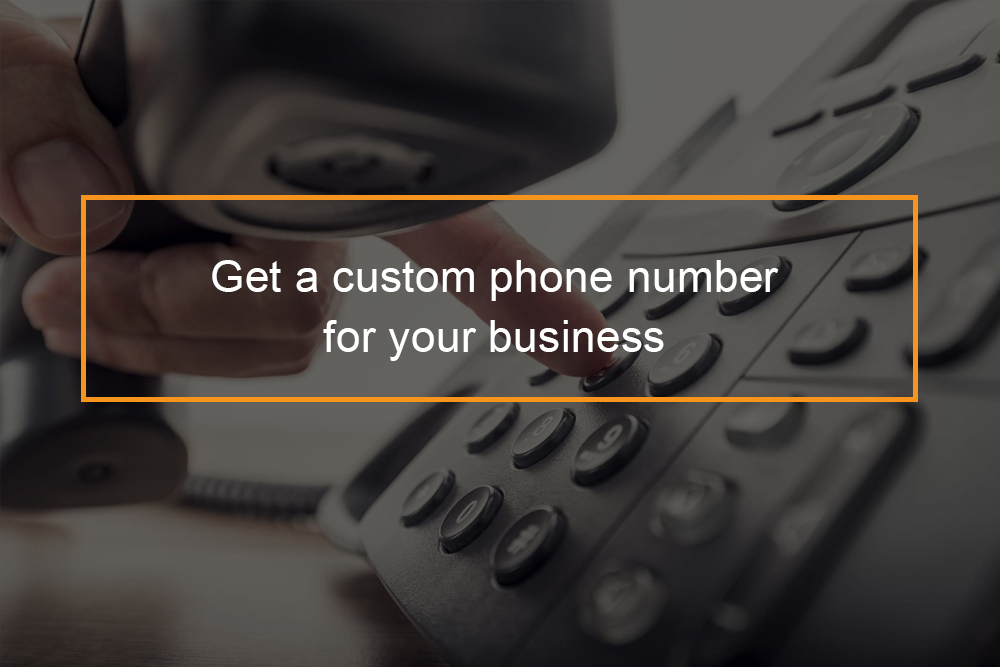 A custom phone number is also known as a vanity phone number. The local phone company provides it. However, some phone companies do not support custom numbers, so it is easier to get a custom toll-free number.
Custom phone numbers can have huge benefits for the brand's marketing- especially when integrated into wider marketing efforts. They can be an excellent way to grow awareness for your company and bring in new clients. Nonetheless, the effectiveness of a custom number depends on what number you choose and how well you use it.
If you are interested in the practical facet of getting a custom phone number for your company, then keep ongoing.
---
How can I get a custom phone number for my business?
How to get a custom phone number?
You can purchase a custom-number from a toll-free number provider. To get a custom phone number to follow the following steps.
Determine the custom phone number you want
The first step is, naturally, finding a phone number that is suitable for your business. Note that you can only work with the last seven digits of the number. Your physical location determines local number area codes. For toll-free numbers, the selection of area codes is limited to 888, 800, 877, 866, or 855.
Look at dial pad and write down the numbers
You can now check the dial pad, and note down the numbers that correspond to the phrase or word that you need. There are three letters allocated to the numbers 2 through 6 and 8, and four allocated to numbers 7 and 9.
Find out if the custom number is taken
Noting that the numbers on the dial pad correspond to multiple letters, another business may be already using the number. Or maybe someone just chanced upon the digits and liked them. Either way, most custom phone number providers have search tools on their websites that will tell you if a number is being used or not. For local vanity numbers, you will require to contact your local company.
You can also check if a particular custom number is available by using their Numbering System database. You can also search their database by number, for example, by using numerals, or by phone word such as using digits. Their lookup tool will show the number's status. In case a number is located, that means it has been bought and is in use; an assigned, it has been bought but not in use. If you find your number is taken, how do you go about choosing an alternative? In case you do not have a backup choice, below are a few tips to brainstorm a few ideas.
Choose what your consumers are looking for. Your product, such as SLACKS would be easier to remember than your brand not unless you are a leader in your industry, such as PIZZA-HUT.

Do not allow a few digits to limit you. You may have realized that 1300-PIZZA-HUT, among other numbers, has more than six digits after the prefix. Going over the limit is also fine. Numbers after the sixth digit are disregarded, so calls will complete as they normally would.

Consider using patterns. Recurrent digits can be just as memorable as phonewords. Even better, callers do not have to look up letters on their keypads.

Do not use words that sound like other words but are spelled differently. Otherwise, you might end up with your customers dialing the wrong number. You can look up a list of words with homophones to see if the potential phone word poses a risk.

Use your numbers as words. The digits 4 and 2 are often used rather than using 'for' and 'to' to come up with a wider range of phone word possibilities. You can also use other digits in this way if they are suitable for your brand.

Avoid hybrid custom phone numbers. You have possibly seen hybrid custom 1-800 numbers that combine letters with numbers such as 1-800-983-DOGS. Try to avoid such numbers when marketing with a custom phone number. Do not make customers remember random numbers and only use letters after the 1-800 part of your custom phone number. One of the best real-life examples of custom phone number is 1-800-FLOWERS.
Keep the above tips in mind, and you should be able to find a number that is suitable for your needs.
Determine how many minutes you will use
Review your phone bills for the past several months to determine how many minutes you will use. Check the volume of incoming calls and examine how many minutes of phone calls would be to your custom number. Then get the standard number of minutes by the number of months.
Review packages from custom phone number service providers
Custom phone numbers are free for the call; however, not for the number's owner. The service provider will charge your account based on the number of minutes your callers use. You can opt for a flat per-minute rate, or you can purchase the package that offers you a set quantity of minutes and charge you an inflated price for overage.
Contact the toll-free provider or local company
You can find the toll-free or local company contact number on the organization's web site. Some businesses also have online forms that you can use to apply.
Set the custom number up
After you have found an available number you like and you have contacted your provider, you will have the phone number rights as soon as the purchase is complete. To use it, you have to activate it.
The choice of the service provider will have weighty consequences for your business. The provider that you choose will determine your call rates, as well as additional and advanced features and services that can be integrated into your number. There will also be fees of maintenance, upgrades, and troubleshooting. So will want to choose a reputable provider with a good record of customer service.
Act fast
Whereas company and customers alike have more options to communicate, phone calls remain a widely-used medium. Smart numbers go fast, so in case you need one, do not put off the purchase.
---
Why do businesses need a custom phone number?
Advantages of a custom phone number to a business
Even though it might appear small, your dial code provides a lot of information to your clients. The first few digits in your business phone number tell customers how to contact you, where you are from, how credible is your business, and if you can get them specialized customer support.
Top reasons why you need a custom phone number
Your clients will not pay high fees to call you
With 0800 number, your customers can contact you for free, even from a mobile. Even if your business number redirects to your landline or mobile, your customers will not be charged for contacting you.
Custom phone number enhances credibility
With a custom phone number, your customers will know they are dealing with a trusted business. A customs number will convey that you are established and calls can be redirected straight to your mobile allowing you to keep your business flexible.
Custom number makes customers know you have local expertise
If a consumer has the same dialing code as your business, they will know you are familiar with their community. By choosing a local phone number, you allow your customers to know they are dealing with knowledgeable business about the local area.
Your clients will reach a specialized support line
You can configure different phone numbers for various arms of your company. This allows you to make sure leads who need pricing information do not get directed to your support line.
You can allocate different phone numbers to various media
A custom phone number will allow you to see how many calls you get from a google search. An easy snippet of code on your site will show a different phone number to those who come in from a search result. If you create a virtual number and direct the calls to your regular number, you can track the effectiveness of your SEO or SEM efforts.