SIP trunk Pricing: Understanding cost and how to get the most value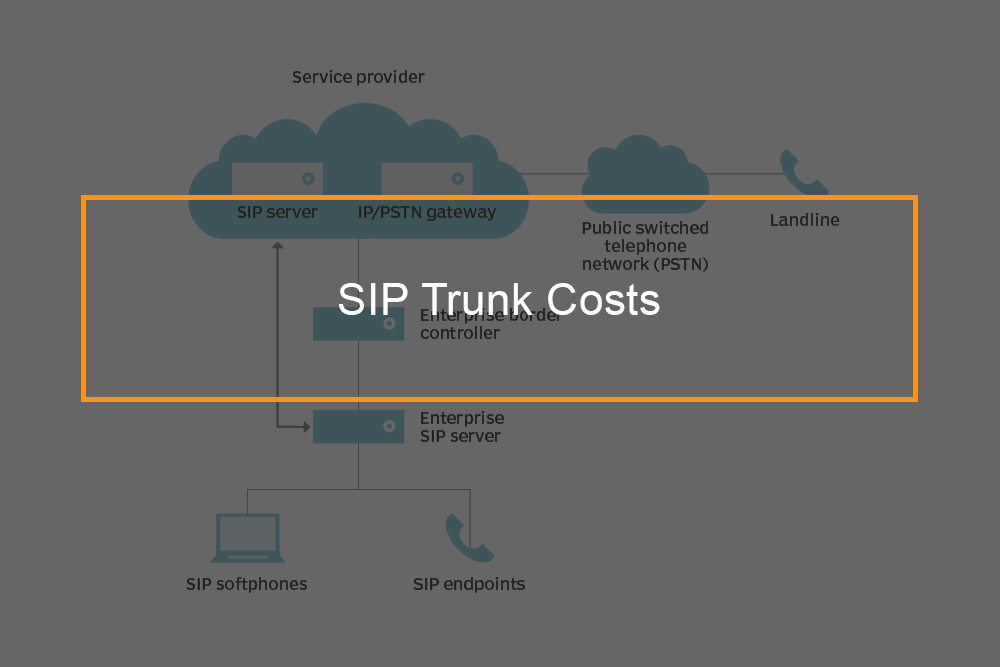 SIP trunk costs anywhere from $0 to $150 for one time or from $25 to 450 per trunk for a month. However, the price of a SIP trunk depends mostly on your business needs. 
Many businesses use SIP trunking service to cut down communication costs. But, finding the best SIP trunk, pricing can be challenging. For the right SIP trunk cost comparison, you will need to consider outbound call rates, monthly cost per SIP channel, setup fees, add-on features and more.
There are a lot of SIP trunk service providers in the market, providing their services at lower rates. However, you should always choose the one offering the best network quality together with scalable service and reliability.
---
What are the costs of SIP trunks?
SIP trunk pricing
For most businesses, buying SIP trunk means upgrading the entire communication system. It coincides that along with purchasing and setting up SIP channels; the company may also be upgrading the PBX system, buying new phones and numbers, among other things. Even though these equipment are not directly associated with the SIP trunk itself, the resources for the entire investment will have to be shared among various elements.
When it comes to SIP trunk alone, the direct costs fall into divisions-monthly expenses and initial or setup fees. Note that some vendors will charge number portability, new DIDs, and set up prices for the trunk. Other vendors will not charge upfront while rolling the charges into the monthly billing. There is no definite answer to which provider is better, but depending on the capabilities of the company, they may opt one over the other.
SIP trunk costs
Set up fees
Depending on your vendor, SIP trunk set up charges can vary from $0 to $150. Typically, this is a fixed fee which does not change regardless of how many channels you buy. But, for large deployments, vendors may offer custom quotes with various setup fees.
411 Directory listing
When you set up phone numbers, the law requires you to notify all the phone directory service of the change. The notification will help to ensure your white and yellow page information is accurate. 411 directory listing costs anywhere from $10 to $50.
New numbers or porting
Channel, the SIP trunk set up fees and call charges make up the bulk of SIP trunk expenses. However, there are various features or alternatives that the vendor will provide. Based on the needs of the organization, a number of these options may have to be bought, which can increase the total price. 
In case a business wants to maintain the old phone numbers, there you move to your new SIP trunking provider. The costs for every number moved ranged from $12 to $25. Moving over a large volume of DID numbers is a considerable up-front charge. Some vendors will negotiate a lower cost per number for large volumes. Number porting is a one-time fee while new numbers will incur ongoing monthly charges. Again these prices depend with the vendors pricing.
New DIDs
If your company wants to establish new DIDs (direct inward dial) service, there is a one time charge to build these numbers. The basic cost is between 0.25$ to $1.00$ per number. DIDs are used to help every employee have their telephone.
VoIP gateways costs
The company has an IP enabled PBX system, the SIP trunks can be connected directly, and there is no additional hardware to be bought. However, if the company has an existing older generation PBX, most probably it will not be compatible with SIP. Moreover, SIP trunking on an analog legacy PBX (NEC, Avaya, Mitel, Nortel, etc.) may be prohibitive: you will have to buy a gateway which can change SIP to PRI. In that situation, VoIP gateways will have to be bought to enable the conversion between SIP and traditional calls. 
If you have the newer IP PBX like Shoretel or Cisco, your cost will be the cost of a SIP card or license and installation. It is worth noting that in case you already own a PBX that natively supports SIP, the cost to change will be minimal. It will be easy for your business and the vendor.
In some situations, the cost might be prohibitive enough that the business might want to buy a new IP PBX even though the older one is still working. The price of SIP trunks is only one section of upgrading to Voice over Internet Protocol, and the company can expect to uncover additional costs, such as upgrading internet bandwidth as adoption goes forward. Nonetheless, upgrading to VoIP calling is the more cost-effective option in the long run.
Ongoing monthly SIP trunking costs
Monthly SIP Trunk Groups
This is a variable fee and depends on how many SIP Trunk Groups the organization needs. Even though the vendor will assist you in identifying how many SIP Trunk Groups you need, the company should check its historical call records and calculate the necessary number of groups by themselves. It enables a business to be sure of its requirements and prevents over or under-provisioning.
The more SIP Trunk Groups you have, the more call capacity you have. Therefore, depending on your call volume, you might have one to various SIP Trunk Groups. Providers will typically charge you from $10 to $50 per month.
Call charges
As with most of calling levels, SIP trunks can be bought with unlimited or metered calling alternatives. The former usually comprise unlimited outbound and inbound domestic and long-distance calls. Metered calling engages paying for every minute that is used for calls. Organizations with big call volume typically opt for unlimited calling options and vice versa.
International calling rates will not be the same in every country, but some providers will include certain countries such as Canada in the unlimited calling plan. Typically, SIP trunk providers charge 10% to 30% less than a traditional carrier. Regardless of the real number, VoIP calls via SIP trunks are basically cheaper than international calls from analog carriers.
Call Paths charges
A call path is used for every phone call connected to the outside globe. You will require as many call paths as you need concurrent phone calls. SIP trunk providers provide call paths in two forms:
Metered Call Path: On a metered call path you pay for your phone calls on a single minute basis, much as you did with your traditional phone service. The cost per month of a single path ranges from free to $15 per month. The cost per minute will cost anywhere from two cents to four cents for a minute.

Unlimited Usage: Such paths cost more but come with unlimited domestic outbound and inbound calls. The range is from $30 to $49 per path for a single month.
Toll-Free numbers and 911 service
Providers charge monthly for every toll-free number you have. Prices vary from $1 to $5 for a single number per month. For 911 services expect to pay about $2 for a month and a fee for every 911 call.
Both these alternatives will have monthly recurring costs, and charges can vary between vendors. Presently most providers provide some form of e911 calling, but it may need individuals subscribers to register their location and keep it rationalized for it to function. Some vendors even charge extra for actual 911 calls made, apart from the monthly charge for offering the service.
Surcharges, fees, and taxes
You cannot avoid taxes, surcharges, and fees with SIP trunking service. However, you can reduce them significantly with SIP trunking systems because they are based on your monthly costs. Lesser monthly charges mean lower surcharges, fees, and taxes.
Surcharges, fees, and taxes are frequently needed because of federal and state laws and vendors typically cannot waive or negotiate them out.