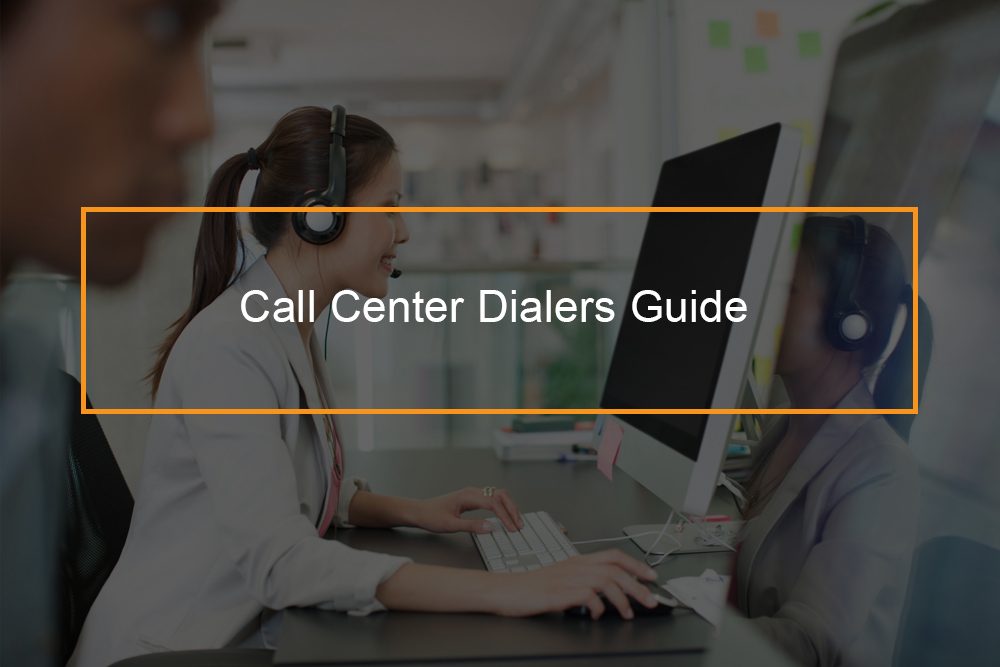 A dialer in a call center is an application that automates outbound calls. Dialers come in different types – all configured and usually integrated with the CRM system. A call center sales dialer is one of the best business tools to invest in when you make a lot of outbound calls. It is not just a dialer for outbound call centers. Automated dialers can potentially improve the productivity of your call center agents or sales agents.
If your company is at that point where you need to begin ramping up sales calls or lead conversation by making the outbound phone dialing process more efficient, this post is a great place to begin. It can assist you understand the main types of auto dialing software and assist you in deciding where to place your next outbound sales investment. In this article, we will discuss the different types of contact center solutions and also offer advice on when to use each dialing software.
---
Outbound call center software

Which dialer is right for your outbound call center?
At the basic level, a dialer is a software that places outbound calls from a call center to clients. The aim is to reduce the cost of phone dialing when increasing talk time between agents and customers. An auto dialer system also improves efficiency by directly connecting call center agents to customers as they become available. Below are types of call center dialers.
Manual dialer
A manual dialer is the most basic dialer. Today, manual dialing is hardly used in a call center setup since it is the least efficient way of doing outbound calling campaigns. All you require is a keypad (on your business phone system or monitor) and your fingers. Look up the phone number you need to reach and start dialing. Manual dialing mode is best for very small operations that deal with low volumes of both outbound and inbound calls.
Power dialer software
A power dialer is an automated dialing system that does the dialing for you while allowing the sales agent to focus on the live, automated phone calls at hand. After the automated call is done, the agent has time to enter notes, fill up the survey, and indicate that they are ready for the next phone call. The power dialing mode then auto dials the next person in the queue. Power dialing is convenient for sales teams and campaigns where the cost of not talking to contact is very high.
Power dialer automatically recognizes phone numbers on your prospects' website and adds them to your calling queue. These numbers are immediately added to contact synced in Salesforce, or any other application that aids in integration, such as Zapier integrations or the dialer CRM of your choice. The term power is sometimes used to refer to all types of phone dialers or voice dialers. Technically though power dialer, progressive, and preview dialers are somehow similar. Nonetheless, be prepared to experience a lot of idle time, no answers, and busy signals. One of the best vendors of dialers is the talk desk; the AutoReach app is available through AppConnect.
Preview dialer
A preview dialer is a click to call dialer that allows you to preview details about the contact before dialing. The agent initiates dialing with a click, which saves them the time it takes to punch out individual phone numbers. Preview dialer is ideal when you use lead scoring and require to prioritize the best leads to automated calls. A preview dialer also enables you to prepare for your calls, which is suitable when making B2B sales calls or if you are dealing with significant accounts. Features that make preview dialer an essential tool for call centers include:
Answering machine detection
Preview dialer detects and removes the answering machines to make sure that the call center agent should be on the user numbers only while outreaching clients.
Preview dialer easily integrates with CRM to ensure every customer information stays handy to the sales agents for purposeful interactions.
Appointment scheduling and appointment reminders
You can schedule a call back for all those outbound calls that were not unattended, or even for those you had called.
The call monitoring feature allows you to check if your outbound calling campaign is heading in the right direction and make informed decisions based on the insights coming from the data and other analytical results. Preview dialers also support call recordings, campaign and list management, call routing, caller ids, CRM system integrations, and historical reporting. Five9 cloud contact centers and Aircall are some of the best preview dialers.
Predictive dialer
Predictive dialing collects a large amount of info about the agents handling calls and places outbound calls just before the agent becomes available. They automatically dial various contacts at the same time until one answers; and then transfers the call to the most appropriate agent. By analyzing the call data predictive dialer filters, busy number pre recorded voicemails, no answer calls, and prerecorded message. These dialers can reduce idle time and increase efficiency and thus are great for small sales forces that need to maximize the time they spend on the telephone. Some of the best predictive dialers include kookoo cloudagent, Five9 omnichannel contact center, and Adversus dialer.
Predictive dialers features
Predictive dialers are built with phone messaging and calling features that can help increase the dialing rate of any outbound call center. Below are some of the features of predictive dialers:
For every call center manager, it is essential to track the analytics behind the automated outbound calls. After it is adequately monitored, the manager can make some informed decisions to make the outbound calling campaigns successful.
Answering machine detection
Allow transferring only those calls to the call center agents that are answered by a live person.
This feature indicates the dialer systems, by how much it can vary from other predefined parameters like Max Pacing Rat.
Other features of predictive dialers include:
Calling campaign management

Call recording

Call monitoring

Call transfer

Automatic call distribution software integration

Interactive voice response

Audio messages drop
Auto dialer software for a call center: What is progressive dialers?
A progressive dialer is an automated dialing system that provides the contact information to the agent before dialing the phone number. Based on the pace of the cloud call center operations, an agent is provided enough time to review the contact information portrayed on the computer screen before the dialer automatically dials the call. This guarantees a constant pace of calling while enabling agents to prepare for a call. Progressive dialers run through the calling lists offered by the company. This telemarketing software waits until an agent is free to take a phone call, and then progress by automatically dialing the next number on behalf of the call center agent. Progressive dialers basic features include: Workflow automation tools, call routing, voice broadcast, integration with virtual phone banks, touch tones, and call transfer.
---
How do auto dialer software help sales team?
Noting that most sales transactions today are made over the phone, sales agents must ensure they use their time keeping the phone calls rolling and reducing downtime. Auto Dialer software helps to maintain a high level of efficiency and output: agents can place thousands of calls using auto dialers. From cloud contact center, omnichannel solutions to emergency notification solutions auto dialing systems are widely used today.
Having an automated system in place helps decrease the downtime which translates to less wasted calls and time, predictive progressive calling, increased sales, and easier workforce management. By automating the procedure of dialing calls, the call center agents spend less time managing their phone call lists and more time talking to customers. With automation comes enabled reporting. Reporting comes with management control, which makes sure a sure-fire way of increasing sales teams' productivity and efficiency.