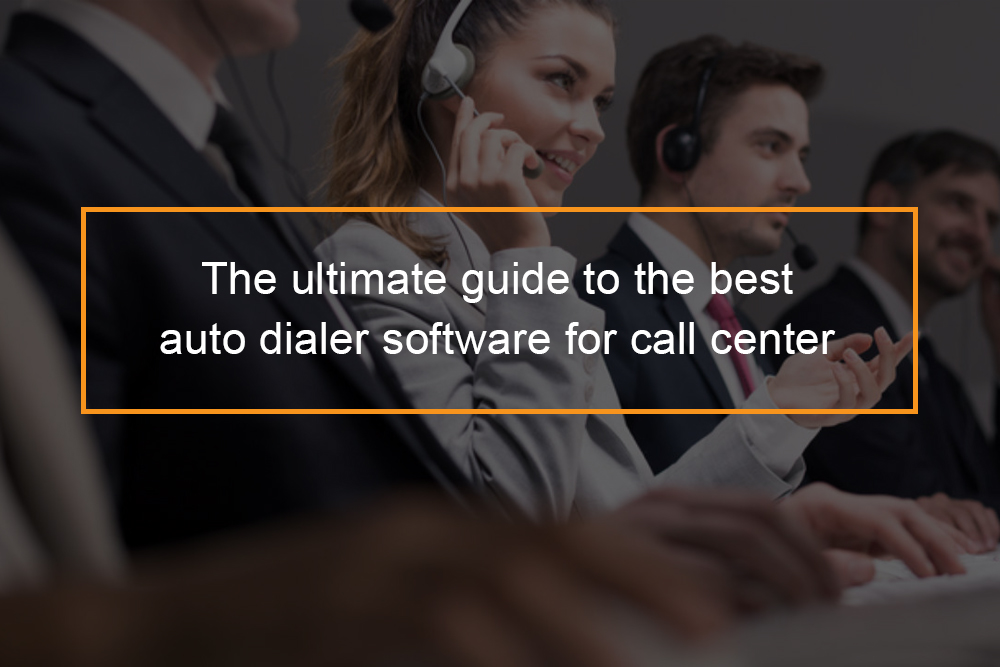 Some of the best auto-dialers in the market include talk desk, Kookoo Cloudagent, Zapier integrations, Genesys PureConnect, Five9, PhoneBurner, and Adversus dialer, just to mention a few.
Auto dialer software is also known as phone dialers, voice dialers, or dialer software. It automatically dials telephone numbers pulled from a list and connects either to a live agent or prerecorded voicemails. Auto dialers remove the tedious task of manually dialing phone numbers, allowing representatives to instead focus on the content and delivery of their text and audio messages. Typically auto dialers increase the dialing rate of a contact center. Auto dialers are used in a wide variety of settings and industries, including sales, health care, hospitality, and education. For example, a school can use autodialer systems to send emergency notifications to students and parents.
Most autodialer products integrate directly with existing CRM software or are built into contact center infrastructure software or telecom services for call centers. However, there are also various standalone options, as well. Auto dialer software also has extensive overlap with outbound call tracking software. They are unique in that auto-dialers will automatically call phone numbers from a list while outbound call tracking software required to be prompted to call is focused around storing data from the call itself.
---
Auto dialer system: Best Inbound and outbound call centers auto dialers
Best auto dialer software in 2019
The best auto dialer software increases agent talk time and saves money by automating the dialing procedure. Auto dialers play prerecorded messages to answering machines, call to agents, route live, and skip non-serviceable or busy numbers. Auto dialers can increase the call connect ratio, resulting in higher agent productivity and increased sales. In this feature, we will explore a range of best auto dialer software based on price, features such as call analytics, touch tones opt-out options, automated outbound calls, automated messages, and call routing and customer support. The best part is most of these automate dialing software come with a free trial- no credit card required.
Kookoo cloudAgent call center software
Kookoo cloudAgent auto dialer is a cloud contact center solution that operates both standalone or blended solutions. Advanced tools allow intelligent call routing, abandoned call management, inbound calls management, and outbound dialing. Kookoo's open platform blends into any existing business application you may have. This includes database system integrations, ticketing, or dialer CRM integration (ready integrations with Salesforce, Zoho, or Sugar). Social media integrations, Shopify, email plugins, phone messaging plugins, call recordings are accessible to offer a seamless omnichannel contact center experience.
Kookoo cloudagent offers features such as skill, call conferencing, caller ids, calling campaigns management, automatic call distribution, call distributions, abandoned call alerts, live call monitoring, outbound interactive voice response, and various reports. Kookoo CloudAgent is an Ozonetel product. Ozonetel is a Unified Communications company that also provides Artificial Intelligent for contact center applications with speech analytics and voice bots.
Newfies dialer
Newfies-dialer is a cloud based voice broadcast, autodialer, and phone survey solution that assists businesses to control sales calls from a centralized location. Newsfies dialer features live call transfer, which allows users to pull up contact lists by importing the data directly from users' CRM solutions.  The Do Not Call functionality of the application automatically checks contacts to make sure that the call center agents do not call blacklisted contacts. After a list is created, the solution can be used for appointment scheduling or scheduling agents for calls. News dialer is accessible on a monthly subscription basis that includes support through email and phone.
Talkdesk Enterprise Cloud Contact Centers
Talkdesk enterprise empires companies to make the customer experience their competitive advantage. With enterprise-class performance and consumers like the ease of use, Talkdesk easily adapts to the evolving needs of sales teams and their end customers, resulting in increased talk time, customer satisfaction, cost savings, and productivity.
CrazyCall auto dialer software
CrazyCall is a cloud call center software solution. Key features include agent panel, live analytics reporting, workforce management, call recording, and a dialer that matches agents with leads. CrazyCall's sales agents panel automated dialing and emails. Agents do not have to copy and paste numbers from their CRM software or emails from outlook. Users can create guided scripts for agents and store them in the system. CrazyCall auto dialer is your simple solution to outbound sales, smart dialing, and telemarketing.  In CrazyCall, a call center manager and agents can see how all agents are performing, and high performing agents are matched with better leads. The system sets a slower pace for new agents, and it assigns leads of varying quality to assist them in learning. CrazyCall can determine which contacts are new, and it can schedule calls automatically in a call list. 
Five9 cloud contact center software
Five9 auto dialing software is an all in one cloud contact center solution for inbound, blended, outbound, and omnichannel contact centers. Supported by practical AI, Five9 allows sales agents to offer customer experiences across email, phone, chat, mobile, and social.
The AI-driven Five9 Engagement workflow deploys NLP and intelligent routing to allow customers to the right agent while Five9 genius derives customer intent data from offering agents with next step guidance before they pick up the phone. Four adjustable dialing modes skip no-answers and busy signals to increase agent talk time. This feature makes Five9 suitable for marketers looking for marketing workflow automation solutions.
Five9's IVR with speech recognition can be deployed for common customer inquiries to free up agents for high-value interactions. Analyze, monitor, and report on the contact center's performance with real-time metrics and dashboards, as well as automatically sync all interactions with CRM. The contact center can be up in several days and can be scaled up or down based on business needs.
Virtual contact center by 8×8 auto dialer software
The virtual contact center by 8×8 is a cloud based call center solution for small to midsize business. Besides call center functionality, this solution also supports other interaction channels like email, voicemail, web chat, web callback, and more.
The virtual contact center provides a universal queue feature that allocates interactions through skill-based routing. This directs customers to agents with the right skill set, reducing transfers. Call center operations can be monitored in real-time, with historical data accessible for metrics analysis. Virtual Contact auto dialer system provides a personal agent connect feature that assists in building a relationship between agents and customers. This dialing software allows agents to share their contact numbers with customers to avoid resolve tickets. It also provides other call center functionalities like IVR, CTI, call recording, and integrates with automatic call distribution software.
One call now autodialer software
One call now is one of the cloud based emergency notification solutions in the market that provides auto dialer functionality through contact imports, audio library, and more. It best for web-based auto dialer tools for schools, businesses, churches, and non-profits companies that use phone banks temporarily. One call Now features include; emergency notification, push notification or appointment reminders, call center management, call reporting, lead management, power dialing, predictive dialing, and call recording.
---
How to choose the best dialer for your business?
Auto dialers| Predictive dealer tips for choosing the best dialer
There are various mistakes companies make when choosing a dialer. Selecting the right dialer technology and the right provider can make the difference between a business phone system that works and one that fails. There are many phone dialers in the market, and mixing them can be disastrous. Finding the right solution and procedure can be overwhelming. In this section, there are tips and suggestions to help you choose the best dialer for your business.
Dialer technologies
Automated phone systems have become almost ubiquitous in our society, and many people often interact with them. Automated phone calls essentially relay a prerecorded message to the customer. Basic dialer technology comprises the ability to automatically dial phone numbers. This is frequently called click to call or an automatic dialer. More powerful phone dialing technologies include the ability to recognize a pace of calls and to enable loading and dialing from a list of leads in sequential order. These are known as predictive dialers and power dialers. There are also progressive dialers and preview dialers in the market.
Predictive dialers vs. power dialer telemarketing software
Predictive dialers dial many lines at a time to amplify the chance that an agent will find someone to talk to. The agent does not hear dialing; rather, the predictive dialer tries to route answered phone calls in a split second to a live person. Power dialers have been developed and refined more recently than predictive dialers and allow sales agents to listen throughout the whole dialing procedure.
Predictive dialers are specifically designed for business to consumer applications since they need short and consistent lengths of calls and direct-dial phone numbers. They are best when used in one close call type of telemarketing, pre-qualification of consumers, or quick surveys. Predictive dialers are not designed to navigate the phone systems, receptionists, or auto attendants for a business environment. It is not recommended to use the predictive dialer to call expensive leads.
Preview dialer vs. progressive dialer
Progressive and preview dialers are all automated dialers you might have heard concerning call center productivity. Preview dialer means your call center agents can see whose number will be dialed next, providing them a chance to open the relevant client file or any other information specific to that person. A preview dialer introduces a necessary delay, as the operator must activate the call once the relevant information is to hand. Still, in various call centers, this may be a worthwhile sacrifice in return for having all of the data accessible in advance.
The call center manager may even want to make it possible for specific names to be skipped in the list, moving the preview dialer on the next number without placing the call, if he trusts his agents to make that decision for any reason. Progressive dialers, on the other hand, is a classic auto dialer concept. When one call ends, the progressive dialer system automatically dials the next phone number without waiting for the go-ahead from the operator. Thus a call center can place thousands of calls. Progressive dialers remove some of the risks of wrongly dialed numbers and much of the time taken up by manual dialing.