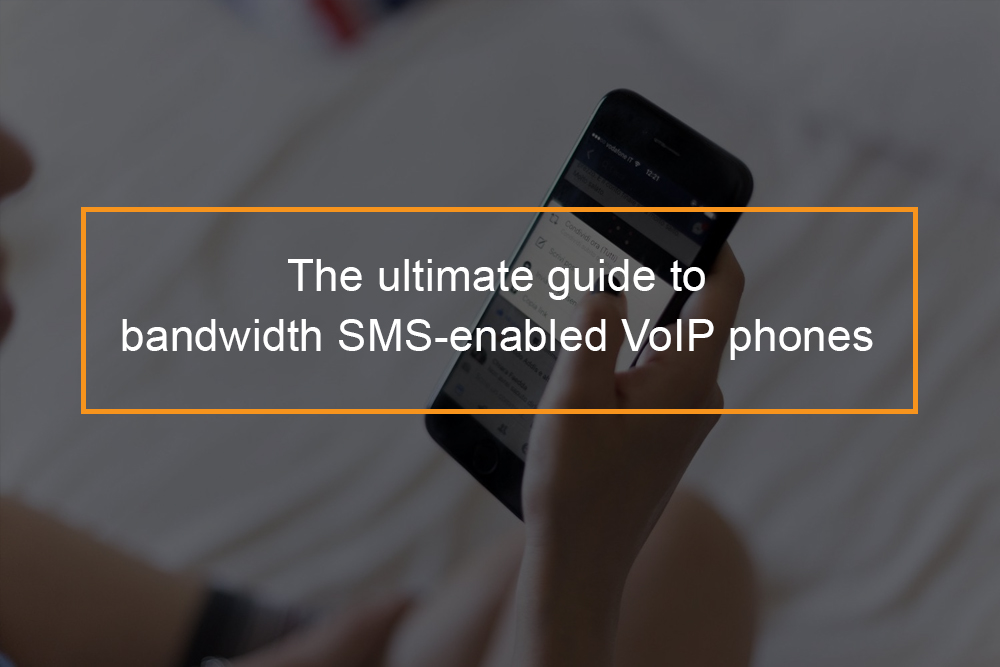 Bandwidth SMS enabled VoIP, also known as bandwidth long codes, are phone numbers that have been particularly configured to operate with SMS, it is offered by bandwidth company. Contrarily to short codecs, bandwidth SMS enabled Voice over Internet Protocol (VoIP), are formatted like traditional phone numbers since they are phone numbers. Service providers and developers use bandwidth SMS enabled VoIP for voice traffic and texting. They bring the wireless and wired worlds together, allowing people to communicate one-on-one through SMS across wireless communication and IP based platforms.
Bandwidth is a national communication and VoIP service provider mainly serving business clients. Voice over IP uses the internet to send telephone voice calls instead of traditional circuit-switched transmissions through the Public Switched Telephone Network (PSTN). With these APIs, Bandwidth can provide services for voice, access, and messaging. Bandwidth is the capacity or width of a communications channel that determines your internet connection speed.
When it comes to breaking into SMS enabled the market for VoIP based messaging providers, it is not easy. In the United States, two messaging aggregators own the binds with wireless operators. The two aggregators are highly selective about their network traffic originates, therefore working through them directly to reach the carriers they support is basically not an option.
It is worth noting that some Tier I wireless carriers are equally selective about who they will not accept messages from in case they do not know you, they will treat your SMS traffic as suspect and might block its delivery to their users. These dynamics can build main hurdles for those interested in using SMS-enabled VoIP phones in their service or application.
---
What is an SMS enabled phone number?
SMS enabled phone number meaning
SMS enabled phone number is commonly known as texting. SMS stands for short message service and is currently the most common and influential way we communicate as an increasingly technology-dependent community. As the demand for mobile technology rises, in both public and private sectors, SMS enabled phone is changing the way companies do business with their customers and colleagues.
How do SMSenabled VoIP phones work?
There are two methods you can use to get started with VoIP texting. For method one, you can use it if you want a VoIP number that can both place or receive calls as well as texts. Method two is ideal if you are interested in simply text-enabling your company.
Method 1 (For text and calls VoIP communication platforms)
Below is how it works when you change your whole business to internet-powered telephones.
Step 1: Look for a VoIP service provider and choose a tier that changes your company's number into an internet-powered system.
Step 2: Register your service and make the necessary hardware changes needed by your provider
Step 3: Familiarize yourself with your provider's platform. They will most probably have space where you can upload contacts and begin sending text messages as your business as well as place voice calls from the device of your selection.
Method 2 (SMS enabled only VoIP phones service)
In case you are just looking to text empower your company, the procedure can be a lot easier and a lot less costly. It all starts with a few steps.
Step 1: Look for a text marketing platform
Step 2: Work with the provider to either text enables your existing ten-digit number, get configured with a toll-free line, or providing a shortcode.
Step 3: Within minutes, your business will be up and ready to receive and send texts.
Note that route one may actually save you cost but opting for a Voice over Internet Protocol provider for calling, and your SMS needs.
---
What are the features and functionalities of SMS enabled VoIP?
With SMS enabled VoIP feature, users can:
Receive and receive SMS messages on all national mobile networks

Experience high-quality international termination at competitive charges

Forward inbound messages to any email or phone number using local numbers

HTTP REST API interface connection

Inbound and outbound SMS on all service provider numbers

Automate buying SMS enabled VoIP numbers

Long message support

Add emojis and pictures

Global reach

Redundant network

PIN codes and notifications

Bi-directional Unicode

Dependable delivery

Add pictures, emojis, pictures, and audio

Reliable delivery
---
Advantages of SMS enabled VoIP phones
SMS enabled VoIP phones can be used for many various reasons, including direct communication with customers. Most people are using SMS enabled VoIP. Below are some of the benefits of SMS enabled VoIP:
SMS enabled VoIP allows you to reach customers immediately, communicate in real-time, and assist them in solving issues. The service is ideal for sales, customer service, and other areas of your business that interface directly with customers.
Accessible and affordable
Most SMS enabled VoIP plans are affordable. Therefore most people can use SMS enabled as part of their phone service. With the rise of mobile phone use, VoIP SMS enabled phone is developing in terms of value and importance. 
SMS enabled VoIP is fast and easy
With the broad acceptance and adoption of cell phones and text messaging, it has become effortless and fast way for businesses to text. It is a preferred way of communication, and it takes less training. In case any at all, for users to start working with SMS enabled VoIP. You possibly will not need a lot of resources training employees on how to text, which is an excellent benefit for a company.
SMS enabled VoIP is a popular means of communication
Texting is popular with clients, staff, and others. The public can informally interact with your company, making it easier for them to contact you directly.
SMS enabled VoIP services to lack pretension and is informal, making it simpler for customers to get a hold of your organization and communicate with you regularly. It removes many barriers that would normally prevent people from being involved in your business directly since it so simple and unpretentious. Customers or employees who may not be willing to call telephone number and speak with a representative by telephone may be very comfortable quickly sending text messages to connect with you.
SMS enabled VoIP are great for sales
Texting can assist you in making a sale by providing you with an opportunity to rapidly engage your clients and encourage people who are on the fence to make that buy rather than keep on waiting for another time or a different opportunity.
Makes your company more competitive
By assisting you to reach new audiences, Voice over Internet Protocol can help your business to become more competitive and attain market share. For small to mid-sized businesses (SMB), it can be particularly essential to win advantages over competitors and reach new clients.
Although the cases of SMS being intercepted via traditional mobile carriers is not high, digital security should always be a concern. By partnering with a Voice over IP friendly provider, you can combine your in-house security measures with theirs for an additional layer of protection.
Bandwidth SMS enabled VoIP phones works well with SIP trunking
SIP trunking delivers the flexibility, functions, and features you require to compete in today's market, including SMS and SMS enabled VoIP numbers.
Typically SIP trunking helps you reduce communication costs.
Virtual phone number services
With SMS enabled virtual phone number, you can access the SMS forwarding feature. SMS forwarding is a service feature that forwards incoming SMS messages from a virtual phone number to any email address globally.
---
Is bandwidth SMS enabled VoIP right for your business?
With the increasing demand of the rapidly evolving global economy, SMS or texting is not going away any time soon; it will become more and more an integral part of the business communication tools implemented to communicate and market their products. That is why it is essential to consider using bandwidth SMS enabled to your VoIP telecommunications.
More and more businesses are seeing value in the way text messaging enhances their ability to get essential information from one place to another. In case you are looking to enable your business communications, using toll-free/ local phone numbers with SMS capabilities is the right choice. SMS enabled VoIP direct inward-dial, and toll-free phone numbers will let customers activate text messaging on any landline phone number.
SMS forwarding for SMS enabled VoIP gives you the alternative of receiving your messages on one number whereas keeping your personal cell number private. This way, your office number can be implemented for forwarding messages to your personal device and email without sharing your private phone number.