What is the best phone system for small business?
When it comes to a business phone number, you have the option of choosing a local number, 800 number, or vanity number. Each of these numbers has its advantages and disadvantages. The numbers are also best for different scenarios such based on the structure of your business, budget, and size.
---
What is a business phone number?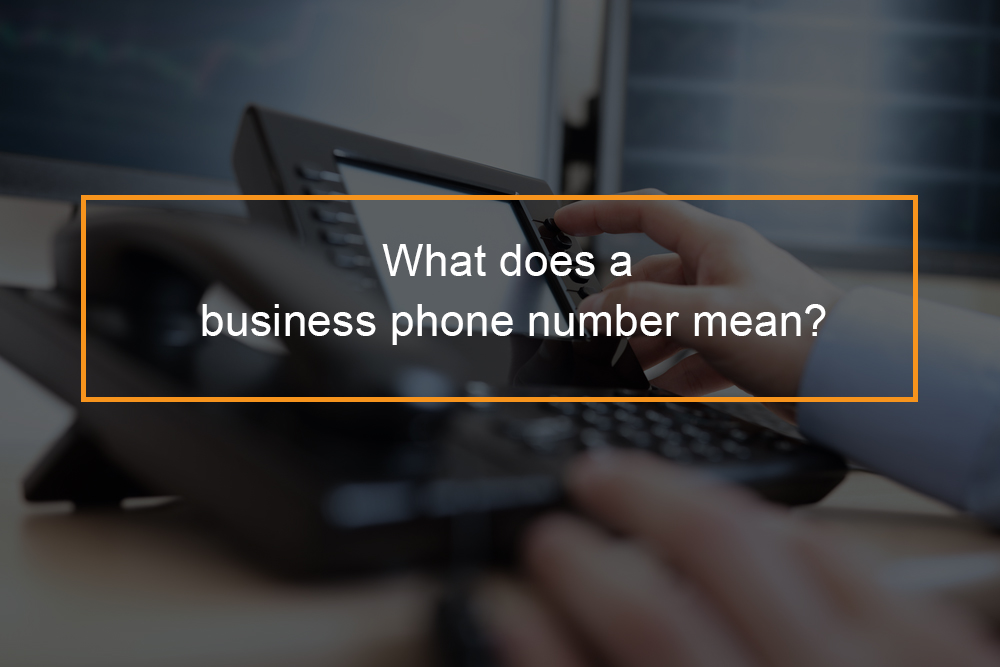 A business phone number allows users to place and receive calls via the internet. It is supported by Voice over Internet Protocol(VoIP). Technically you can think of a business phone number as an advancement of traditional phones and landlines- it has sophisticated features and benefits. 
A business phone number keeps your business calls separate from your personal ones, allowing your company to appear more professional. Typically, business phone numbers are easy to set up and can range in price from free to more than $50 in a month.
---
What are the types of business phone number?
Types of business phone number
The main types of business phone number include; toll-free number, local, and vanity number.
Companies also have an extra option for phone numbers, which is virtual phone numbers. Virtual business phone numbers are toll-free, local or vanity phone numbers which are forwarded to an existing phone line. Whereas Virtual phone numbers are not exactly a kind of phone number on their own, they are an essential option for new businesses that want to build a more professional image for their company without incurring the cost of a more expensive system.
Let's look at the various types of business phone number.
Local business phone number
A local number is the most used business number. They are easily accessible and can be acquired for free. However, the price can go up to $39.99 or more in some cases. Local business numbers begin with an area code, which makes it familiar for the locals. 
The three-digit area code corresponds to your region or city. This makes local phone numbers ideal for businesses operating at the local level or those that require connection with their community. Google Voice and RingCentral are some of the best providers of a local business phone number.
Toll-free phone number
A toll-free, also known as 800 phone number, allows customers to call a business without incurring long distance fees. Toll-free is suitable for a company that operates nationwide. These numbers are inexpensive with programs starting as low as $10 per month. 
The main aim of a toll-free number is to provide a business with a bigger and more professional brand image. Nextiva and RingCentral are some of the best providers of 800 phone number today.
Vanity phone number
Vanity phone numbers are based on the fact that customers are more likely to remember a vanity phone number vs. a numeric phone number. The reason is vanity phone numbers use words and phrases which are easy to remember. For example, 1-800-Flowers would be the perfect number for a flower shop.
Vanity phone numbers prices range from $10 to $50 per month. These numbers can also be used as a marketing strategy in case you want to set up a distinct number for a promotion or a product. Most business phone system providers provide vanity phone numbers and will let you select a vanity number for free or a small extra monthly fee. RingBoost and Grasshopper are some of the effective vanity phone number service providers.
---
How do I choose the right phone number for my business?
The best business number for your business
A phone number for a company depends on how you will be using the number and the frequency of making and placing calls. Below, we discuss the type of phone number that suits your business best.
Local phone number: the best phone number for a local business
Local phone numbers are often associated with small businesses that serve a local community. For example, if you operate a retail shop or a catering hall and you want to promote a sense of community or appear more customer service-centric, then a local phone is more suitable for you.
The locals will become familiar with your business, trust you, and feel comfortable when you choose a business number with an area code with identity to the local area. It also gives a personal touch.
Toll-free numbers: best phone number for national companies
Toll-free or 800 numbers are suitable for companies doing business outside their local region. If the scope of your company is a national, you need a number that will suggest you to a specific region. This would make customers believe that you do not operate outside your local area.
If you want your customers to know you are a large company such a consulting firm, and you want people to know you are large, reputable, and well connected, a toll-free number can give that impression.
Vanity business number: Best business number for promotion and marketing
Vanity phone numbers are best for radio, print, billboards and television advertising. A phone number such as1-800-CARHIRE is easy to remember if you want to market your car rental services.
However, vanity numbers are not useful for online advertising, which is very significant for Millenials customers today. For online marketing, memorability is not as essential as web and mobile users and press a button to call your business. This true for Google, websites, Facebook, and Instagram. So if your number is based online, a local or 1-800 number may be best for you.
Virtual numbers: Best business phone number for new business
Typically virtual phone number is not a type of business phone number. It is any type of number that forwards to an existing line. Virtual phone numbers are suitable for new businesses that are yet to set up a phone system. They are also convenient for entrepreneurs who are not planning to set up a professional phone system but do not want to give out their personal number either.
Virtual phone number prices can range from free options such as Google Voice or cost as much as $39.99 per month. It can be local, vanity, or toll-free. Virtual phone numbers make it possible to add business phone numbers to your existing device or personal line. This makes virtual numbers suitable for new businesses wanting to use a new phone number as opposed to a personal number but lack the funds to set up a full-scale phone system.
However, most businesses switch to a small business phone system as they expand so that they are not dependent on employees using their personal devices or smartphones.
---
Essential business phone number features
One of the most appealing features and services of business include:
Number portability, voice messages on-hold music, call queuing and call forwarding
Other benefits that come with business phone numbers include:
Reduced call costs, ease of use, scalability and phone mobility, affordable customer communication, call clarity
---
Why you need a business phone number?
Advantages of using business phone systems
No matter what your business wants, you will experience the following benefits.
You will look like a professional business 
A business phone makes your business look professional and successful, improving your credibility. A business phone number- if it's a local phone number or 800 numbers, is just something that people expect to see on your business website, cards, brochures, and other branding material. Customers are usually reluctant about buying products from companies without a professional image. 
Ensure that all your calls are received professionally to suit your branding.
Provide better customer care
A recognizable business phone number assists customers to reach you when you require help or assistance. Combined with our answering service, this dedicated phone number can assist you to offer the best customer care a small business can offer today. There are various options and features from a business phone number that provide better customer service. These features include voicemail, call forwarding, on-hold music, caller ID, and call queuing. Generally, the customer has a better experience when they call a business phone number.
Manage your data
Call records provide valuable information that assists in customer relationship management and lead generation. Business phone number can easily integrate call-related data into a CRM of your choice and be used in a productive way.