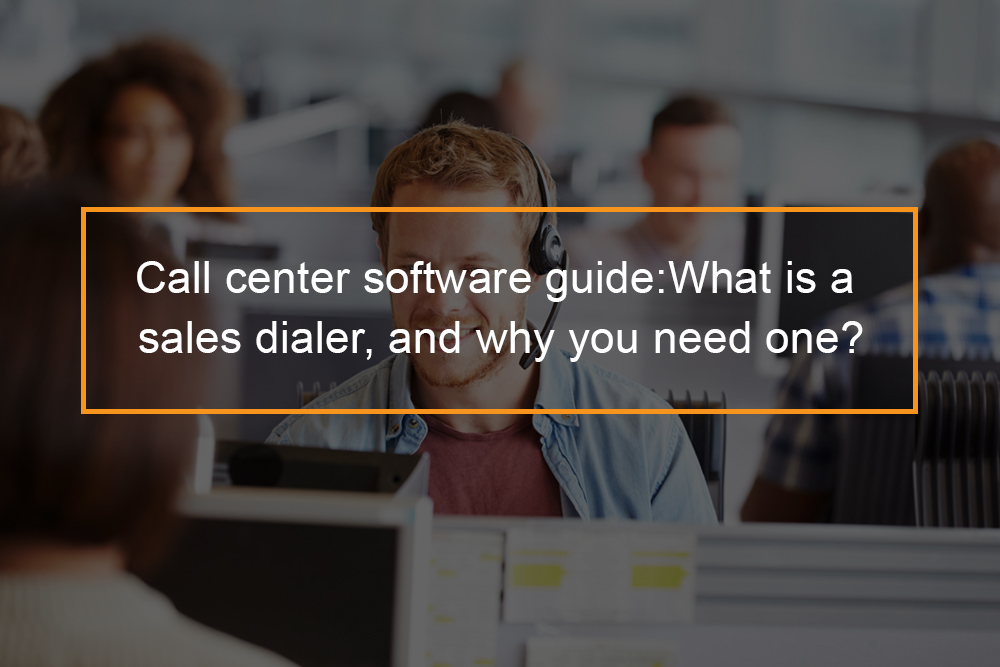 Dialer software is an application that automates the procedure of dialing numbers in a call center. Contrarily to manual dialing, it auto dials the phone numbers pertaining to a selected list of contacts on behalf of call center agents. Basically, a dialer is a system that enables outbound and inbound calls in a call center. The aim is to reduce the costs associated with phone calling and remove repetitive work. Dialers also increase agents' talk time to customers since they do not spend any time physically inputting telephone numbers.
After a call is answered, the call center dialer, also known as an auto dialer software or voice dialers, connects the customer to either a live person or interactive voice response. The right auto dialing software is much more than just an automatic dialing solution since it brings intelligence and analytical functionalities to the outbound process to improve agent productivity and call center efficiency.
---
Why call centers need an auto dialer software?
Benefits of implementing a dialer to an outbound call centers
Outbound contact center sales teams engaged in manual dialing usually end up having about ten to fifteen agent talk time per hour as most of their time is wasted in unproductive tasks such as manually dialing the contact numbers and disposing of calls, coming across busy touch tones, disconnected calls and answering machines. Automated dialers are operationally and commercially viable for a call center. The dialers boost the sales agent productivity by reducing idle time and proportionately increasing the talk time per hour.
Main benefits of a call center dialer over manual dialing include:
Call monitoring and real-time reporting
Cloud call center dialer software aids to give real-time insights into call center operations and agents activities via customizable dashboards. Real-time dashboards and reports improve the decision-making ability of both call center managers and agents by recognizing the problem at the earliest. Call recordings also aid managers in monitoring agents' performance. Dashboards assist track and measure key call center metrics daily for higher operational efficiency.
Improved conversion ratio 
Adopting an automated call center dialer system for outbound sales procedures involving high-level leads enables agility to the outbound calling procedure. Automate dialing that provides the quick preview of contact details before dialing the call, assist the agent in preparing before an automatic call is connected. Also, with prior info at the agent's disposal, he or she can drive a personalized conversation, which assists in engaging and increases the chances of lead conversation significantly. 
High operational efficiency
Agents who use auto dialers can place thousands of calls in a day. Using an auto dialer software means no more manual dialing, therefore, removing the various call center deterrents such as excessive wait time, call drops, and misdialing. By automatically dialing numbers, dialer systems ensure only answered calls are routed to the agents; automated call center dialers can detect pre recorded voicemails, busy signals, and serviceable numbers. More connected sales calls result in higher agent productivity and increased operational efficiency.
Better conversation ratio
Adopting an automated call center dialer system is for complex sales processes engaging high-value leads, results in agility to the outbound calling procedure. Preview dialers that offer the quick preview of contact details before dialing the call, help agents to prepare before a call is connected. Besides, with prior info at the agent's disposal, he or she can drive a personalized conversation, which aids in engaging the customer and increases the chances of lead conversation significantly.
---
Types of phone dialers and automated dialing
Types of auto dialer software technology
There are several various phone dialer vendors and dialing systems available today. Some of the best phone dialer vendors in 2019 include Kookoo Cloudagent, Five9 omnichannel contact center solution, ChaseData, Zapier integrations, Adversus dialer, and RingCentral. In this section, we discuss the various types of sales dialers you may want to check when upgrading your system.
Predictive dialers for contact center: What is a predictive dialer?
Predictive dialing is an auto dialer system that automatically dials numbers from a contact list. As soon as the automated phone calls connect, the dialer routes them to an available agent to take the interaction forward. As the name suggests, a predictive dialer comes with an inbuilt algorithm to predict when the next call should be placed, since it analyzes when agents will be free to receive the next call.
How predictive dialing works?
Predictive dialing deploys a dialing engine based on an algorithm that kicks off automated outbound calls for calling campaigns in the background for call center agents before connecting the calls to a live person. A predictive dialer engine begins auto dialing numbers for a list of contacts, in particular, calling campaigns.  The dialer also allows the call center manager to tune the different dialing modes parameters for customized call dialing rate based on the requirement.
Progressive dialer: What is a progressive dialer?
Progressive dialers are the type of call center dialer where the call center agents are already active on the line prior to placing a call. The agent starts the phone dialing session, and when a call is connected, he answers the call. Noting that the agent is already live, there is no need for call routing or call transfer. Unlike predictive dialers, in the case of progressive dialers, there is hardly any possibility of call abandonment.
Preview dialer: What is a preview dialer?
Preview dialer is a kind of auto dialer that empowers the call center agents by providing them with a quick information update about the next contact, which lets them prepare prior to placing the call. As a result, it connects the sales agents first before connecting the call to the customer. A preview dialer also allows calling flexibility to the agent by offering the option to skip any number from the list and move to the next contact. This call center dialer is suitable to meet the challenges of the complex outbound sales process that require higher quality sales touch-points. A progressive and preview dialers are similar.
What is a power dialer?
A power dialer is an automated phone dialing system that connects customers with agents more efficiently by enabling agents to focus on live connections rather than manual dialing. Power dialing differs from progressive and predictive dialers in that it uses a manually configured call to agent ratio. When an agent is available, the system automatically dials the next contacts based on the ratio. With this configuration, the contact center is provided ultimate control over the automatic dialing rates.
Through automating outbound dialing, the power dialer increases the amount of time agents spend talking to customers. A call center manager can throttle dialing rates up or down by selecting between predictive progressive and power dialing modes. Most of the power dialers offer time zone rules together with phone messaging and calling features. This allows you to customize dialing behavior to your business phone system and compliance.
---
Key features of auto dialer software
What are the features of auto dialer software?
Call center dialers and telemarketing software have different features. The basic features include: Audio messages recording, answering machine detection, call recording, workflow automation, caller ids, dialer CRM integration, and automatic call distribution software integration and other business system integrations. Let's explore the features.
Click to call: This feature allows agents to dial all those numbers whose details already exist in the CRM without manually punching the number in the dialer.

Parallel predictive dialing: This feature is designed to execute targeted outbound campaigns; it operates well where every segment requires predefined call management parameters to deliver a personalized dialing campaign. PPD feature is common in emergency notification solutions.

Appointment scheduling and reminders: This feature allows you to set a callback or appointment reminders, which is verbally agreed upon by the business and the prospect during an earlier interaction.

Voice broadcast: This is a guided pre recorded message system, and allows callers to send thousands of voicemails at one time.

Workforce management: increase agent productivity and help your business generate leads.