A simple guide to installing and use residential VoIP system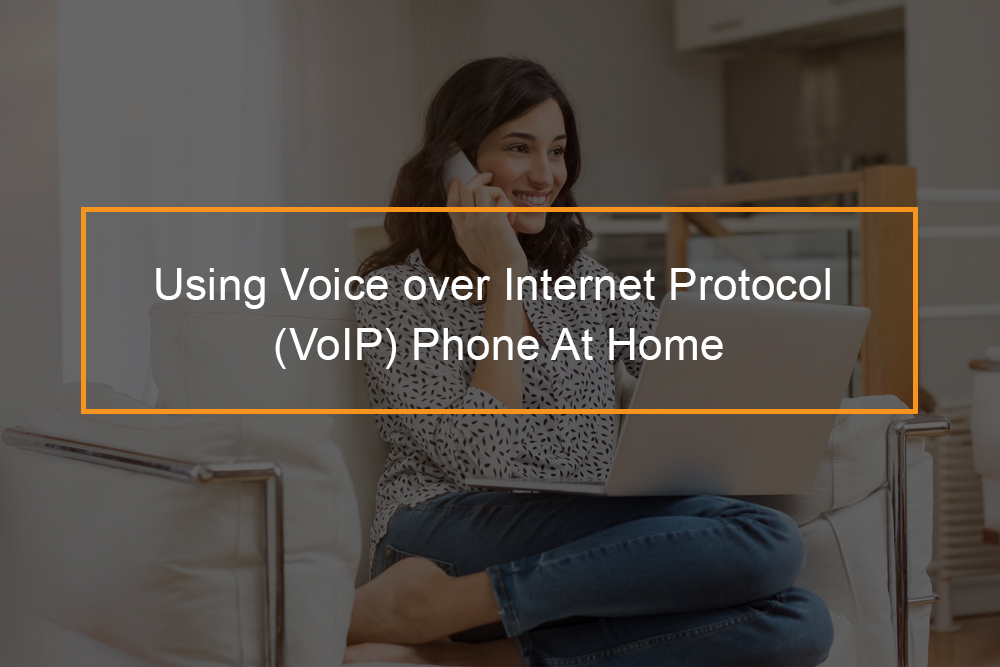 To configure a Voice over Internet Protocol (VoIP) phone at home, first, get your VoIP phone adapter out of the box, and switch off fall the devices. Then, insert one part of the ethernet cable in the Local Area Network (LAN) port of the adapter and link the other side of the cable with your networking modem or router. After that, insert the telephone cable modem into the telephonic port of the Voice over Internet Protocol (VoIP) adapter, and put the other side of the cable to any kind of accessible landline phone. Finally, connect the Alternating Current power adapter to the Voice over IP adapter.
When you finish, carefully turn on your internet connection. Once you are done, pause a little, turn on the VoIP adapter as well. You will see a green light flickering that will show connection status. When the light flashing finishes, your connection is ready to make VoIP calls.
VoIP is also referred to as internet telephony, broadband phone, IP telephony is a way of making phone calls that it does not use a phone line. If want to switch to VoIP this guide will take through the basics.
---
How to set up your own VoIP at home?

Setting up VoIP phones
Voice over Internet Protocol is a convenient and cheaper way of placing calls over an internet connection. There are lots of service providers that host this communication platform and provide cheap connections to make internet telephoning a possibility. After you have selected a provider, you can then go ahead and install your business VoIP VoIP phone or residential.
Of course, before installing your Voice over IP phone, you require to know the requirements for setting it up.
What equipment do I need to set up a VoIP phone system?
The exact equipment you require for VoIP installations depend on which method of VoIP solutions  you are using. 
A good broadband internet connection
The first thing you will need is a broadband connection- preferably a fibre optic one, so it is more reliable, and ideally an unlimited one so you can talk as much as you require to. Selecting your provider and testing your internet with VoIP speed tests  is essential in securing a stable broadband connection for your hosted VoIP system. 
The larger your expected call volume is, the faster your internet connection should be. You will a wired ethernet router. AVPN router is commonly used for an ethernet connection as it accommodates several devices at a time. The VPN function is especially deployed when you are trying to access your VoIP system remotely from a different location.
You will get the absolute best VoIP experience possible with a full FTTP or an ethernet connection, which is accessible with some business broadband providers.  Note that unlike traditional phones your call quality depends on the choice of internet service.
A PBX server
For those who are expecting a huge number of volume of calls using a computer as a PNX server is very much recommended. The suitable computer to use should have a 3 GHz processor with one GB RM and 10/100 ethernet port. You might also need SIP trunking and hosted PBX.
VoIP adapter
For a VoIP with a telephone adapter, you will need a VoIP adapter (of course), and a compatible phone. In case it plugs into a router, you will require a compatible router too.
A laptop or desktop computer or mobile VoIP
For a Voice over Ip with a computer, you will require a laptop or desktop computer with an internet connection, the appropriate software, and whether a headset or speakers and a microphone. Headsets are better for clarity and sound quality and have the added bonus of sparing everyone around you from hearing your entire conversation, but you can get by just fine without. For VoIP apps set up, this may be the only requirement and internet connection.
Updated PBX server software
Of course, your local phone network require a command center that can serve as the brain to all the operations.
Reliable VoIP provider
Ensure that you get a reliable local phone company to buy your VoIP phone. Of course, you cannot get your telephone system up and running in case there is no connection available. VoIP companies offer you the service that you can subscribe to so that you can make inbound and outbound calls. 
Ip phones for VoIP calling
IP phones are an essential component of the entire VoIP phone system. These are hundreds of models of IP phones in the market, and choosing the right Voice over Internet Protocol can be tricky. 
Some VoIP service providers may do things differently and may need specific equipment. Contact your telephone company  for more info on installation. Do not worry; they will provide you everything you need to start and guide you via the setup when you sign up.
---
How do I connect my VoIP phone to my router?
How to connect VoIP to router step by step?
After you have ensured you have all the VoIP devices, you can now proceed to set the single phone. This section teaches you how to connect the VoIP phone to a router. VoIP phones are designed to carry telephone calls through the internet, rather than a land lines. VoIP phones can be easily connected to a router or modem using an ethernet cable. The best part is VoIP providers offer instructions for setting the phone.

Method 1: Using an ethernet cable
Step 1: Power off the router and modem
Before you start installing a VoIP phone, unplug the router and modem and any devices connected to them.
Step 2: Connect the Alternating Current adapter to the base station
The alternating Current adapter is the cord you implement to cork into an electrical outlet, o power strip. Search for the Ian port on the base station that matches the shape and size of the AC adapter input connector.
Step 3: Link the handset to the base depot
 The handset to an RJ-11 phone jack on the base station if it has a cord. In case it is a cordless phone, place the handset in the base depot and let it charge. Put the batteries in the handset if the handset requires them.
Step 4: Link an ethernet cable to the base deport
Explore for the ethernet port on the base deport of your telephone and connect the ethernet cable that came with your telephone to the port. Some Voice over IP phones provide an ethernet pass-through alternative. This enables you to connect another device, like a computer, to your telephone so that you only require to use one port on your router to connect two devices. In case you wish to use this alternative, connect your computer's ethernet cable to the port on the base station that indicates 'PC' or anything close to this. Cable connect the ethernet cable that came with your telephone to the lan port that means 'SW' 'switch, internet, or anything close to this.
Step 5: Connect the ethernet cable to the modem or router
Typically most dsl modems and routers are four numbered ethernet ports on the back. Cork the ethernet cable to any one of the ports on the back of the router. Search for a message that reports initializing network or something similar on the screen.
Step 6: Time to power the modem and router
In case you have a separate modem and router, cork in the modem first and wait for some time for it to resync with the network. Then cork in the router and wait for thirty seconds.
Seven 7: Cork in the base station of a telephone and power it on
Put the handset in the base station and plug the base station. In case required, let the handset battery to charge for a while. Power on the telephone and wait for thirty seconds.
Step 8: Check for a dial tone
This is the last step, when you see the screen turn to the standard home screen, choose the telephone and select for a ringtone. You can also check and set other features such as call forward, caller ID, mobile phone bill and others.
Method 2: Connecting to a DECT Router
Step 1: Evaluate your router's capabilities
Some router's like the TP-Link 1900, have a DECT    built capabilities. This lets you connect the handset of the voice over IP phone directly to your router. Evaluate your router's capabilities in the subscriber's manual. When you buy a VoIP phone, check the box to see in case it powers CAT-IQ or DECT capable routers.
Step 2: Charge the batteries
In case the handset deploys AAA batteries, put a fresh set in the handset. Allow the handset rest for a while so that the batteries can charge.
Step 3: Power on the phone handset, then press and hold the dect button on the router.
Once you hold the DECT button for some time, the lights on the router will flash.