The basics of SIP trunks: What is SIP trunking?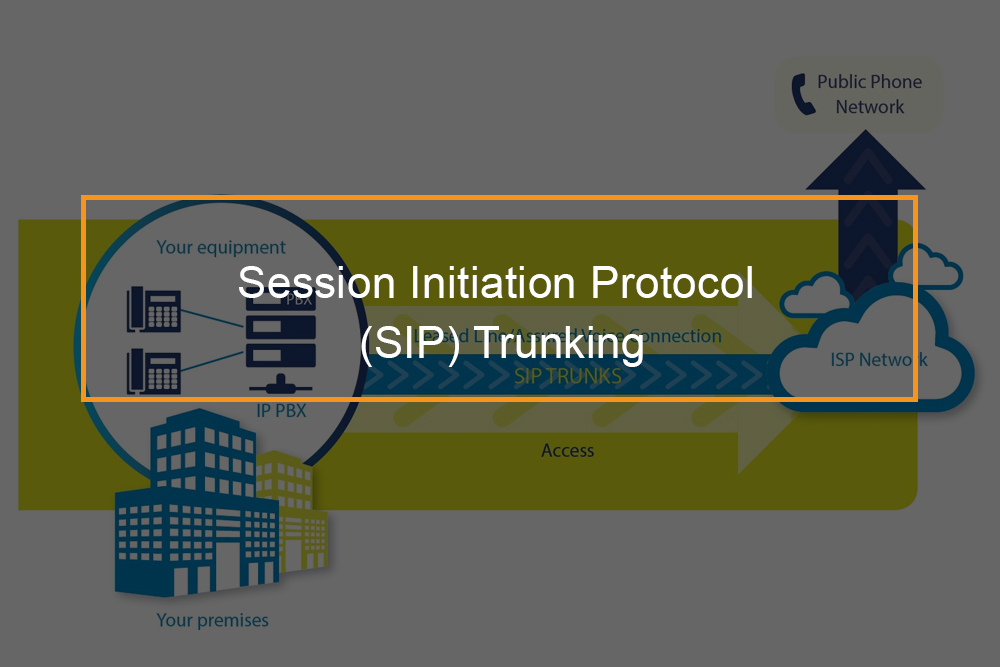 Session Initiation Protocol (SIP) trunking is a facility provided by a communications service provider. It uses the protocol to provision Voice over Internet Protocol connectivity between an on-premise phone system, and the Public Switched Telephone Network (PSTN). SIP can be used for call establishment, management, and teardown.
SIP trunking is sold as a replacement for digital Primary Rate Interfaces (PRIs), which are centered on time-division multiplexing (TDM). SIP trunking is broadly utilized in communication service providers across the world, many of which are using it to replace their TDM-based services. By delivering SIP trunking over existing Multiprotocol Label Switching (MPLS) network infrastructure or Ethernet, the providers decrease the cost and management complexity linked with legacy digital sites, while also providing additional features.
---
What is SIP Trunking and how does it work?
How does SIP Trunk work?
SIP Trunk serves as an intermediary between your phone systems to an Internet Telephony Service Provider (ITSP) using a Mediation Server- software that controls signaling and voice access to a centralized resource, while in this case is the Enterprise Voice IO network or an IP-PBX. Trunking is when tangible lines attach switching equipment.
What a SIP trunk does is act as a virtual connection between an organization and an ITSP either via lines that link SIP trunks to other IP traffic or via the internet through a Virtual Private Network (VPN).
Adopting SIP Trunking in your daily business operations greatly eases the flow of communications between your clients and agents. Besides, these primary benefits of SIP trunks come with others that will assist in the overall growth of your business. These functions assist help to reduce costs when it comes to contacting customers from all over the world. In the US, phone service providers would charge between USD 6¢/minute to USD 4/minute per month. It is worth noting that these prices are exclusive of fees such as taxes and surcharges- an aggregate of costs such as Universal Sevice Fund, regulatory charges, administrative charges, and state/local fees by region. With SIP trunks, Canada, USA, and Europe would cost you USD 1.9¢/minute with no hidden fees, and that comes with free calling features such as call forwarding, voicemail by email, and caller ID.
---
What is the difference between SIP trunking and VoIP?
SIP trunking vs. VoIP
SIP trunking and Voice over IP(VoIP) have some similarities, but they have main differences in origin and functions. VoIP vs. SIP is not necessarily a direct comparison. Whereas VoIP can be used to describe any internet-based phone service, SIP trunking is a communication protocol which is used for most kinds of VoIP deployments.
The table below summarises the main differences between SIP Trunking and VoIP.
| | |
| --- | --- |
| VoIP | SIP Trunking |
| VoIP sends only voice messages. | SIP Trunk sends all types of media |
| VoIP is a family of technology within telecommunications. | SIP Trunk is a single signaling protocol within VoIP |
| VoIP hosts filter, plan, and direct traffic from one central network | SIP Trunk applies a peer to peer style system that can manage a lot of data |
| VoIP devices and headsets require to be connected to a computer that is on | SIP Trunk similar to the traditional phone requires a modem only |

VoIP is a broad terminology which can be used to refer to any phone call placed via the internet instead of analog telephone lines. VoIP depends on a data connection to transfer voice packets, rather than the public switched telephone network (PSTN). While SIP is a protocol utilized to start, maintain, and eliminate multimedia communication sessions in VoIP software. SIP protocols support signaling and control of video, voice, and messaging software. A clouded SIP trunk is provided by a hosted Unified Communications vendor who may provide VoIP and Unified Communications as a facility of UCaaS.
On efficiency SIP is used to support and scale VoIP; not all VoIP is backed by SIP technology. SIP is one protocol which can be used in business Voice over IP to scale communications beyond voice-only calling to support video conferencing, immediate messaging, text and other multimedia communications. SIP is the most prevent protocol, even though some vendors interpret SIP in various ways.
---
Why do I need a SIP trunk?
SIP trunking benefits
SIP provides a range of benefits, mainly by connecting a variety of devices to connect individuals and companies locally and globally via video, voice, and text. SIP simplifies business communication systems and ensures businesses technologically competitive.
From the customer perspective, SIP trunking provides greater purchasing flexibility than TDM. TDM trunks support a minimum of twenty-three voice channels, while SIP trunks can be brought in any increment without needing a dedicated wide area network (WAN) circuit. Customers may adopt SIP Trunks over existing WAN services, dedicated WAN connections, or even the public internet.
We go into some specific features; here are some of the benefits of SIP trunking:
SIP trunking has low-maintenance: You do not need an extra IP infrastructure

SIP trunking is cost-effective: With SIP trunks, you will pay for the number of lines you require.

SIP trunks are scalable: Removing or adding lines on lines a virtual system is easy

SIP trunks are reliable: SIP trunking with VoIP comes with data redundancy.

SIP Trunk has better customer service: SIP offers better customer service by adding more geographical and international numbers. Faster and easily add numbers to your SIP Trunk and eliminate them on your IP PBX- you can offer customers more alternatives to dial in at a significantly lower price, even long distance. Clients can contact you more efficiently, and sales will increase.

Eliminate VoIP gateways: SIP Trunks will remove the need to buy and manage VoIP gateways. All phone calls come in through IP. No additional conversion often indicates better quality too.

SIP trunking is more flexible: It is easy to add channels to your SIP Trunk to cope with increased calls. A simple phone call will let you add channels, and frequent this can be done immediately. Compare that to the delay in having extra lines installed and then having to upgrade your old PBX to manage more lines.


---
SIP Trunking and Contact Centers
In the previous customer call centers, clients had to phone overstretched phone operations. This inefficient system indicated overloaded staff and impatient clients. Today, there are contact centers, where clients can call, submit messages or texts, email to contact service agents.
There are automated services, where clients can deal with bills, ask queries, and check balances with fast, self-service. Contact centers can be categorized in such a way that a customer agent may deal with just email inquiries, billing issues, troubleshooting, purchases, or incoming phone calls.
Another division may deal with outgoing customer contact, in regards to services, announcements, or surveys.
---
Cons of SIP trunks
SIP trunks require adequate internet bandwidth to support quality service

The features offered by SIP vendors vary, and may not include complete Unified Communications offerings

The quality of service provided by SIP trunking providers can vary

SIP over public internet service, as opposed to dedicated fiber optic internet service provided by the same vendor as your SIP carrier
---
SIP trunking features
SIP trunking offers various features, including:
Routing of calls to 911 services, with right caller location information

Encryption of voice calls to meet security requirements

Failover to backup locations and trunks

Usage and performance reporting

Denial-of-service (DoS) protection

Ability to provision trunks through a web-based interface

Ability to route calls to several locations based on call volume, source of call or other policies

Protection against toll fraud

Interconnection with cellular networks, so a call made to a cell phone also rings on a desktop phone

Virtual inbound phone numbers, including 800-number services
---
How are SIP Trunks delivered?
SIP trunking delivery
There are many ways in which enterprises can get SIP trunking in their businesses. Since it is a logical connection, nothing needs to be delivered physically. Typically SIP trunk is an access link between a service provider's network and the enterprise communication system. SIP channels can be bought in multiples of one instead of the traditional multiplier of twenty-three for analog lines. Therefore, SIP access link can be whatever size as needed by your organization.
SIP trunks can be used as a single replacement for existing PRI lines. In case an organization has offices in six to seven different locations, individual SIP trunks can be connected to every office. If one SIP trunk is having issues, it does not affect the other locations.
Another alternative is centralized the SIP trunks in a single data center. Every location could be connected to the data through an internet backbone. Internal calls can be connected directly, whereas external calls will be routed via the consolidated data center. Some companies opt to use a hybrid approach combining both the above options.