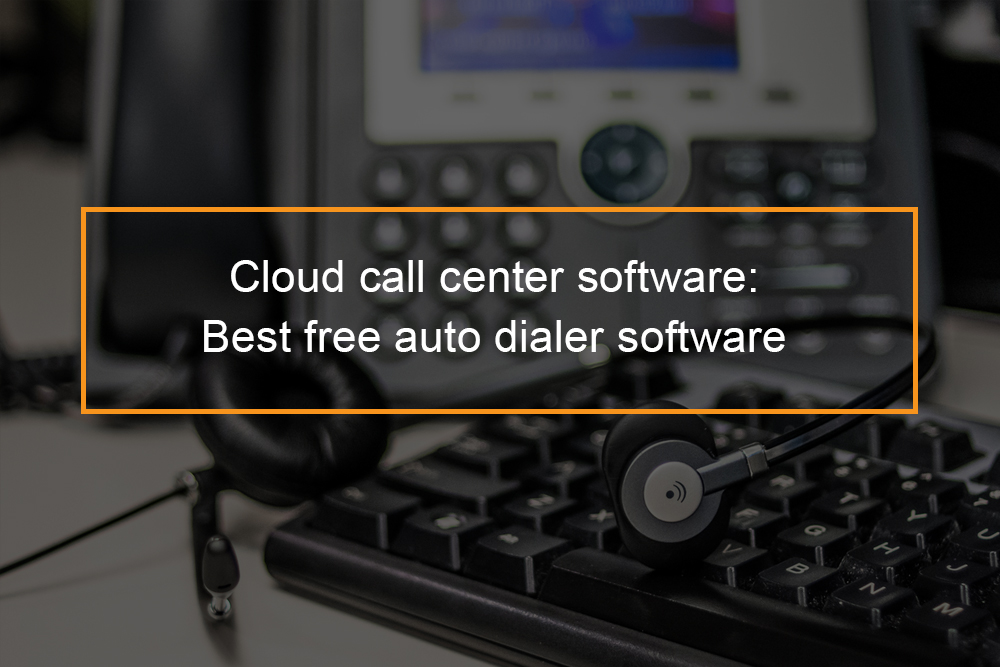 Some of the free auto dialing software in 2019 include CallHippo, Fenero, Bitrix24, VICdial, and Freshcaller.  Outbound call centers are sites of opportunity, places where companies can solve customer issues, close dials, and secure new customers. Every conversation counts in these interactions, so businesses require reliable contact center solutions that can increase outbound sales, efficiency, and ease of call center agents workload. Given the stakes of these interactions, many companies are willing to shell out big bucks for the most advanced telemarketing software offerings in the market. However, you do not have to spend to get a robust cloud call center system. In fact, various great auto dialer systems options that cost absolutely nothing to use while others come with a free trial- no credit card required.
---
The best free auto dialer software
Free automated dialers
In this section, we will evaluate the various call center software solutions. For every contact center solution, we have shared the advantages and disadvantages. It is worth noting that while the phone dialers are free, phone calling is not. All the software below offer free access, but you will still have to pay usage rates.
Bitrix24: More than outbound call center
Bitrix24 is a free tool. It is suitable for workforce management, human resources, and homeowner's associations. Bitrix24 is made with CRM integration, sales teams communication, and project management in mind.
Advantages of Bitrix24 
Bitrix automated dialing software that is suitable for small teams in need of a one-stop-shop solution. The free version of Bitrix24 has several call center features like:  caller ids, call routing, call transfer, one hundred call recordings per month, dialer CRM integration, and phone messaging features such as automatic replies and greetings.
Disadvantages of Bitrix24 dialer free version
The free version of Bitrix24 only allows twelve users and has one telephone number rental limit. Besides, some features like the automatic dialer, automatic call distribution software, and interactive voice response are only accessible with paid plans. Bitrix24 monthly billing costs $69 per month for up to six users and $199 per month for unlimited users. Every upgrade level comes with its own set of feature upgrades.
CallHippo: For cloud call center purists
CallHippo is a simple contact center solution, making it ideal for call centers that do not require or want a lot of unnecessary functionality. For call centers that already have a CRM, CallHippo is also configured for many popular system integrations.
Advantages of CallHippo
 The free version offers features including inbound and outbound SMS messages and a click to call chrome extension. For those new to call center and workflow management, the free version also comes with email and 24/7 chat support, so you are not on your own.
Disadvantages of CallHippo
The free version only incorporates two users and no concurrent automated phone calls, so it's not viable for large center teams with high phone dialing traffic. Some features, like IVR, are only accessible on paid plans. CallHippo upgrades are centered on extra features. When billed monthly, the three package upgrades range from $10 to $40 per user.
Fenero
Fenero has its system of cryptocurrency to reward call center managers, agents, or customers. Fenero also has built-in CRM and workflow automation tools. 
Advantages of Fenero dialer
The free version of Fenero comes with all accessible features and unlimited users, making it a robust and scalable free option of call center solution.
Disadvantages of Fenero
Fenero client support is mostly limited to self-service options in the free version. This call center solution is also not built for any out-of-the-box integrations. Since Fenero offers all features and unlimited users in its free version, paid upgrades are focused on the level of customer support access.
Cheap predictive dialer software for outbound call center
Kookoo Cloudagent
You can easily upload and Kookoo Cloudagent and dial fast across multi[ple calling campaigns. Kookoo four-mode dialer integrates with CRM and accepts multiple data formats. Sales agents get connected to live leads or click to leave audio messages or text messages. Kookoo supports call monitoring and appointment reminders and appointment scheduling. Kookoo CloudAgent pricing begins at $45 per month for one user, and there is no free version of the Kookoo Cloudagent.
Agile CRM predictive dialers review
Agile CRM auto dialer software helps automate and manage your telephone outreach. Take client interaction to the next level with the Agile CRM industry-leading power dialing feature. Agile CRM Auto-dialer software helps Automate, streamline, and manage your telephone. Agile CRM supports manual dialing and automatically dialing modes.
Agile CRM features include:
Call recording, call reporting, lead management, power, progressive, and preview dialing modes. 
Agile call center features include:
Automated outbound and inbound calls, interactive voice response, call recording, calling campaign management, and queue management. Agile CRM pricing begins at $8.99 for every month. There is a free version of Agile CRM, and it offers a free trial.
Newsfies dialer
Newsfies dialer is suitable for companies and political campaigners wishing to call their customers with a prerecorded message or pre recorded voicemails, who need the option to transfer to a live person in their call center.  Newsfies dialer is an SMS and voice broadcast auto dialer solution for flexible outbound IVR.
Newsfies call center features include:
Call recording, call scripting, call center management, call reporting, and predictive progressive dialing mode. Newsfies dialer pricing begins at $99 per month. It does not have a free version. Newfies-Dialer pricing starts at $99.00 per month. There is not a free version of Newfies Dialer.
Adversus dialer
Adversus is a web-based autodialer and practical CRM solution. Adversus offers a free trial, but it does not have a free version. Adversus dialer begins at $150 for every month for every user. 
---
What is an auto dialer software?
Auto dialer software explained
The definition of auto dialers or voice dialers describes a system that automates and expedites the dialing of phone numbers. While auto dialers started as hardware solutions, currently, auto dialing software is far more common from emergency notification solutions, omnichannel contact center solutions to telemarketing software. Auto dialers are often used as a blanket term for dialers that may include predictive dialing, progressive dialers, hosted dialers, and Robo dialers.
Power dialers for sales teams
If you want to help your sales team's place, thousands of calls and decrease manual entry into your CRM, use a power dialer. A phone dialer is a significant business phone system feature. A power dialer automatically recognizes phone numbers on your customer's website and then adds them to the calling queue. These numbers are added to contacts synced in CRM or Salesforce of your choice. You can connect power dialing to the business tools that you love using Zapier integrations. Power dialers come with features such as call routing, click to call, answering machine detection, touch tones, and other advanced features to help you boost your call center dialing rate.
Progressive dialer
Progressive dialers cover the gap between manual dialing and the more advanced predictive dialing. Progressive dialers, just like predictive dialers, are implemented to enable automated outbound calls to avoid manual dialing. Predictive dialers are used in any vertical for sales, customer service, collections, and any other industry that can benefit from automated calls. Progressive dialers will wait for sales agents to finish their current call before dialing the next number on the list; this increases agent to customer talk time.
Preview dialer
A preview dialer enables each contact record to be automatically delivered to call center agents based on your sales calls settings, like ratios, and list priority. Preview dialer allows agents to review contact details before placing a call, making sure they are fully prepared before engaging the customer. Typically a preview dialer presents the call center agents with the information about the customer or to be called and requires a response either to make the call or not to make the call.