What kind of business phone numbers would best suit your business?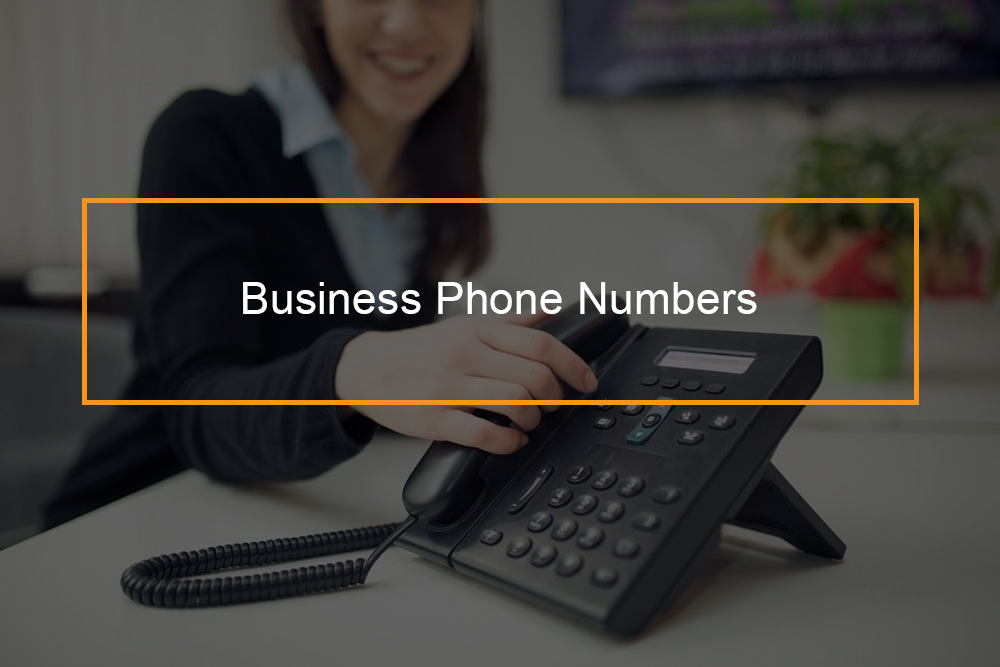 A business phone number uses internet connection to make and receive calls. It is supported by Voice over Internet Protocol (VoIP). Having a business phone number can help your enterprise appear well established by offering modern features and benefits. Business phone number is sometimes known as a virtual phone number.
---
The different types of business phone numbers
Kinds of business phone numbers
There are three types of business numbers- local, vanity, and tollfree number. Adopting any of the three numbers for your business depends on the business needs and market which it operates.
Each business number has its own merits and demerits. Companies also have an extra alternative for phone numbers, which is virtual phone numbers.
Local phone numbers for business
A local phone number starts with area code, making it more familiar to the locals. These numbers are cheap and can easily be acquired without any charges. 
What is a toll-free phone number?
A toll-free phone number enables clients to call a business for free. The primary purpose of toll-free numbers is to give a company a professional image. Toll-free phone number is also known as 800 phone number.
Vanity phone numbers for business
Vanity phone numbers use words or a phrase of words which is memorable rather than complex numbers. An example of a vanity phone number which would be excellent for a bakery shop is 1-800-BAKERY.
---
How to choose the best phone number for your business?
What type of business phone number should your company opt for?
If you have to choose which business phone number suits your business, the decision solely depends on your business needs and the frequency of making and receiving phone calls.
Local phone number: best phone number for small and midsized businesses 
If you have a small business, such as Pizza-inn, that serve the local community, a local phone number is the best option for you. The local number will enable your customers to become familiar with your business and build a public image.
Toll-free phone numbers: best for nationwide businesses
Toll-free phone numbers are suitable for companies that operate at the national level; such companies want to avoid being suggested to work in a specific region.
Vanity phone numbers: Best for promotions and brand marketing
Vanity phone numbers are more suitable for businesses that are looking for a catchy phone number for advertising for their company on Television, billboard, print media or radio. You need a number that customers can remember easily.
Virtual phone number: best phone number for a beginner
Virtual phone numbers are very suitable for new businesses who have not yet set up a phone system. Virtual phone numbers are not really a kind of business phone number; they forward call to an existing number.
---
Top 10 features business phones must have
Top ten features to look for in a business phone
Voice messages

On hold music or hold message

Call queuing

Call-ID and call forwarding

Number portability

Scalability

Voice clarity

Decreased call costs

Ease of use, run and maintain

Affordable client communication
---
Why you need a business phone number?
The advantages of a business phone number
Below are the key benefits of having a business phone number.
Business phone number makes a business look professional and offers credibility  
Entrepreneurs, freelancers, and startups can make their business appear more professional by registering a business phone number.
Business phone numbers enhance customer support
A recognized business phone number allows customers to reach you when they require help. Combined with answering services and features such as call forwarding, on-hold music, voicemail and caller ID, business phone numbers can help you offer the best customer care, a small business can provide today.
The business phone number will help you manage data and CRM
Call history offers valuable information that assists in customer relationship management and lead generation. Business phone numbers can easily integrate call-related data in the CRM of your choice.
---
How to select the best business phone system?
4 tips when choosing a business VoIP service
There are a number of elements you should consider when picking the right business phone system. When it comes to your business, consider your development potential, business budget, number of employees, and the size of your business. This section, we are going to map the factors you should prioritize when choosing a suitable VoIP provider.
Know the cost of the VoIP provider and the feature it offers
The cost of the phone system should be equivalent to the value of the service you get. Compare and review VoIP providers since while some providers will charge an additional fee for a service, others will offer it for free or as a standard.
Consider the customer service of the VoIP provider
You would always want a customer service that is reliable for your business. Choose a VoIP provider who has a clear track record of excellent customer support.
Go for the VoIP provider with high-quality features
It is not good to have numerous features that you do need. Opt for a VoIP provider who has strong signals and high-quality features which can be productive for your business.
Look for VoIP providers with customized packages for scalability
Businesses require operational agility, whether they are expanding or downsizing. Thus, you need a package tailored to suit your business needs, especially if your business fluctuates with the season.
---
The best business number providers for 2019
What is the best business VoIP provider in 2019?
RingCentral is rated as the best VoIP provider in 2019
It tops in features, ease of use, and reliability. However, it is expensive compared to its competitors. But it is worth the extra cost.
RingCentral comes with three pricing plans- The essential plan, RingCentral Standard plan, and Premium package. The essential plan will cost you $19.99 per user per month if it is billed yearly while the standard plan costs $34,99 per month and Premium package, which is designed for large enterprise costs $44,99.
Ooma office: the best VoIP provider for small business in 2019
Ooma is the best phone system for small business. Thanks to its affordable prices, ease of use, and scalability, it is able to offer room for business growth.
Ooma has two pricing plans. The first program is the Office plan, which comes with unlimited domestic calls in the United States and Canada, three-way calling, and other features. This plan starts at $19.95 per user per month. The Enterprise plan comes with unified communications applications that can be customized. 
However, Ooma has high hardware costs. 
Nextiva: the cheapest VoIP provider in 2019
Nextiva is the best VoIP provider when it comes to the balance of service and features at affordable prices. Nextiva offers features such as unlimited calling, auto attendant, conference calling, and voicemail to email transcriptions.
Nextiva is regraded cheap compared to other VoIP providers since it offers similar features and has no plan above $50. Moreover, if you subscribe to long-term contracts and have more users, then the charges become even less expensive.
8X8: the best VoIP provider for international calls
8X8 is the best VoIP provider for a company that depends mainly on making international calls. 8X8 provides unlimited international calling plan for up to forty-seven countries. However, this business phone service may not be economical when it comes to local calls.
Grasshopper: the best VoIP provider for mobile business
Grasshopper is the best VoIP service for an outdoor kind of business. Grasshopper business phone has Android and iOS apps built for making and receiving calls on your mobile phone using the business number. This also indicates you can use your phone for business and private purposes without mixing them up.
---
How can I get a business phone number for free?
7 ways to get a business phone number for free
You can get a business phone number for free. The providers provide toll-free numbers or local numbers.
FreedomPop: FreedomPop basic program is free. When connected to WiFI, users can get 200 minutes call time, 500MB LTE data, and 500 text messages.
Google Voice: You can make free calls and send messages with Google Voice app on your computer, Android devices, or Apple device.
eVoice: eVoice offers free local number for 30 days. However, you will have to pay after thirty days.
FreedomVoice: FreedomVoice offers a thirty-day free trial.
CallCentric: CallCentric offers a free business phone number. But, you can only receive calls for free. In case you want to place calls, you have to pay for that.
iNum: iNum can be called for free using numerous free international call apps.
Phonebooth: Phonebooth is a VoIP application that provides free business phone numbers. But, Phonebooth is not really a free service since there is a $20 monthly fee per user.