The best call center software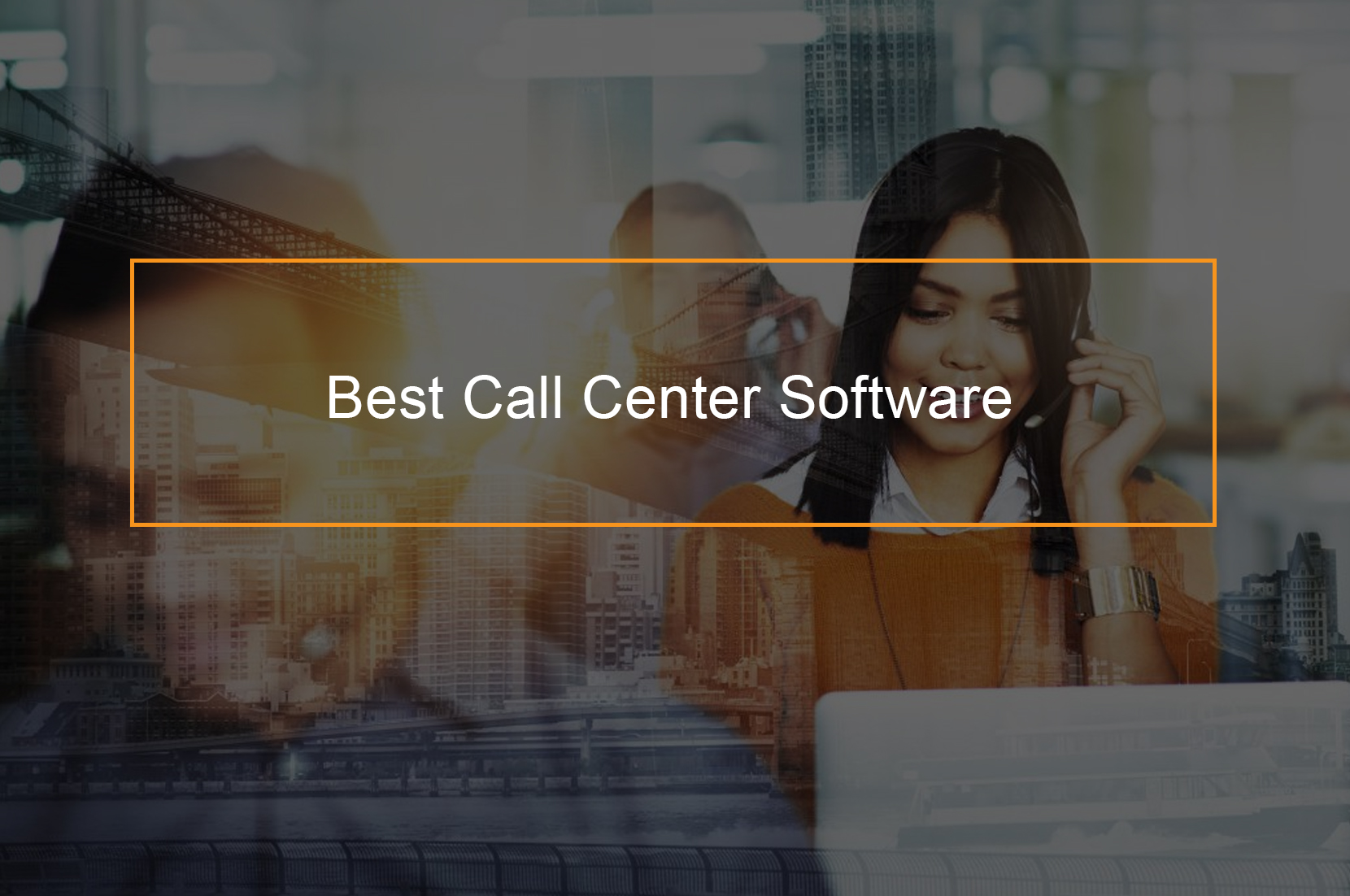 There are many call center software that serves the various needs of businesses. Some of the popular software used in call centers include HubSpot, Bitrix24, TalkDesk, Five9, Zendesk, Dixa, ServiceCloud, Liveagent, and Avaya Contact Center. This list of call center software is not comprehensive as there many different software and new ones are coming up every month. 
Call center software helps businesses to unify their customer support services across different channels, thereby resulting in better experience generally. 
The need for call centers
Handling communication needs becomes a challenge once a business starts to grow and expand. Smaller solutions can handle calls and provide virtual assistant and help push your business. However, a decent call center is necessary for a larger volume of communications.
Conventionally, call centers are designed to handle phone calls; however, call centers now call additionally provide email support, work with social media, and provide live chat services with customers that visit the company's website. 
The sheer number of call center software available out there can be overwhelming. Choosing the right software will depend on your business needs, such as the volume of clients that reach out and the number of sales you plan to initiate. 
---
What is the best call center software?
Top software used in call centers
This list contains call center software that are established and would serve your business well. 
HubSpot
HubSpot Help Desk software is connected to HubSpot sales and marketing software and is built on top of its CRM. This, therefore, means that the front line agent has all the information needed on their fingertips no matter which platform the customer talks to. This gives the agent an easy time solving client complains and hence offering superior customer support.
HubSpot boasts of having a call center software with insightful reporting and advanced automation tools. These tools work to improve customer service. The software also includes live chat software, shared email, and self-service tools. They all integrate with Aircall for phone support.
This combination offers comprehensive customer experience across different channels. Aircall will cost you $30 per user per month while the HubSpot software is free. 
Five9
https://www.youtube.com/watch?v=t4m-1bP_L9I
With Five9, your business has a comprehensive sales call center and customer service. It is all the service your business may need. Five9 is mainly focused on enterprise businesses, and it includes computer telephony integration (CTI) screen pops, workforce management tools, and predictive dialing. All these are designed so that agents do not miss a chance to upsell. Five9 pricing depends on your needs. 
Bitrix24
Bitrix24 is designed to work with your to-do list by helping employees to work together and get their work done. Bitrix24 offers numerous customer service channels, such as live chat, email queues, and rentable telephone lines. All these integrate into CRM and the Bitrix24 task management software. Bitrix is free. 
Zendesk
Zendesk is built on a very extensive customer service platform. Businesses of any size can enjoy call center services from Zendesk Talk. With services like automatic ticket creation and other slick features, customers across every channel can be easily served. Zendesk will cost you $29 per month. 
TalkDesk
TalkDesk is a robust call center service for enterprises. Its features are customized to help big enterprise teams to manage phone support. It is also designed to work in a fast-paced environment. TalkDesk helps the workforce with everything required to provide top-class customer support at a large scale level. Its features range from industry-specific security features to workforce management features. TalkDesk prices also vary depending on your needs. 
Avaya contact center
Avaya is a very popular call center service provider because it has been a heavyweight in the industry for a while. Its standard platform alone offers multiple advanced features, and with this solution, you can be assured of enterprise-level services. Avaya prices also vary depending on your needs.
Dixa 
https://www.youtube.com/watch?v=NoW4CHGxayE&t=13s
This simple contact center runs completely in the browser. Dixa has advanced features such as caller recognition and call distribution algorithms. This call center solution is designed to better the experience of both the call center administrator and the customer. Dixa's price is $19 per month. 
ServiceCloud
This call center solution is built on the Salesforce platform. ServiceCloud brings your call center and CRM together for better customer experience. ServiceCloud is also full of features that improve the efficiency of agents through processes and workflows. The aim is to help businesses serve their clients over a variety of channels. ServiceCloud is also very customizable but requires a lot of resources. Hence, the huge monthly fee of $75.
LiveAgent
LiveAgent is another call center solution that can be used to help customers over any channel. It is built into their multi-channel service desk. LiveAgent can boast of not charging per minute, the only call center service on our list that can do that. This effectively makes LiveAgent a lucrative choice for small and medium-sized businesses. LiveAgent does, however, charge a monthly fee of $39.
---
Features of a call center software?
What call center software offers?
Every call center software has its benefits and also shortcomings. No tool or software is completely perfect, but it can suit your business perfectly. Therefore, the right software will depend on your business needs. 
To choose the best or rather the right call center software for your business, you need to come up with essential features the business will depend on. If the solution offers your top features, then it will most likely be a good choice. Below are some essential features offered by call center software. 
Call routing
A basic feature that all call center software are expected to have is call routing services. This allows callers to be connected to the right department or person very quickly when they call. Call routing can be automatic where calls are routed to the right place without having to select an option. Some call routing involves pressing a number out of the provided options. Each number corresponds to specific departments or offices that can deal with your query. Whichever the case, call routing feature is a must if you have many departments. For small businesses that only have one office or line, then they can do without. 
Omnichannel
This is an advanced feature that you want in your call center software. Chances are you not only want to connect to your clients via phone calls but also through social media, email, and live chat. Omnichannel is a feature in call center software that allows you to integrate all your other communications channels under one roof. 
A unified solution does not only offer better customer service but also increases the efficiency of work. Any incoming calls are always recorded on your help desk, and this makes follow-ups very easy. Moreover, any other employee of your team can see the history of client interaction on different channels.  With this feature, consistent customer experience is guaranteed no matter the channel a client used to interact. 
CRM integration for customer context
According to research, it takes about six interactions to completely resolve a problem from a customer. From the customer's view, this can be very frustrating. You have to explain the same problem or a follow-up problem over and over again to different people or event the same person. The reason is the agent who is supposed to help you does not have any context for your problem. They most likely do not also remember your complaints. 
However, if they have a record that gives more context about the calling customer, then the help can be quick and precise. A quick look at the previous interactions with the customer will save time and the frustration of having to repeat themselves. This is a benefit of having a call center software with integrated CRM. There are many more CRM benefits.
Outgoing calls
Call centers are not just about receiving calls to attend to customer queries and complaints. There might be a handful of reasons for agents to also make calls to clients. This feature is very crucial for sales teams. They may need to make calls to prospect clients and pitch their products. The call center agents also need to make follow-ups and offer proactive customer support options. Being able to make outgoings calls can make so much difference in a business.
Reporting and analytics
The software in call centers should have a feature that lets the management measure performance and have access to other important insights. Metrics such as call volume, agent efficiency, and call trends are very important. With such figures in hand, planing for the future becomes simpler, and targets can be more realistic. These figures will also tell you the problem areas that need to be improved and the employees that are slagging off. Reporting features in your call center software can, in the long run, determine the direction of your business. 
Pricing of the call center software
Price is always a key factor when selecting a service. When it comes to call center software, it varies depending on how the software assigns your phone numbers. You can find yourself overcharged for every minute on the phone. Before getting a new line, you should also confirm your package and the cost of the call per minute.