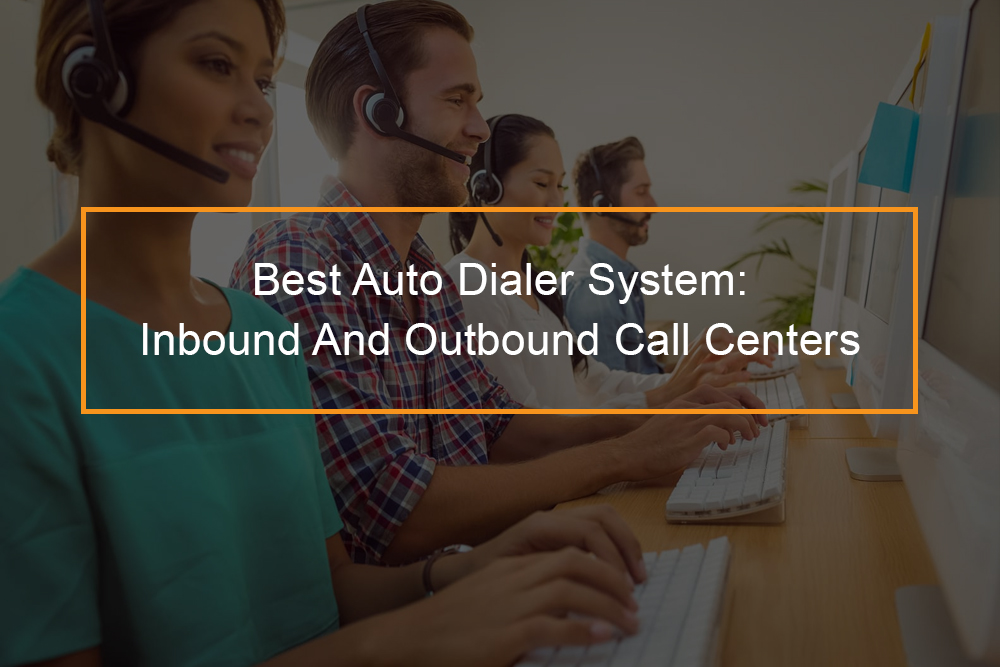 Kookoo Cloudagent, Adversus dialer, Five9, and Genesys PureConnect are some of the best auto-dialers in the market in 2019. This auto dialer software has positive reviews from users. An auto dialer system, also known as voice dialers or phone dialer, is a system that automatically dials telephone numbers gotten from a list. An auto dialer connects a live agent or pre recorded voicemails to the caller. The primary purpose of an autodialer is to get rid of the tiring work of manually dialing phone numbers. By doing so, it allows call center agents to focus on the content and delivery of audio messages or text. An auto dialer also accelerates the dialing rate of a contact center. Phone dialers are utilized in various industries, such as hospitality, health care, and sales. For instance, a hospital can use emergency notification solutions to alert people within the hospital of a fire case.
---
What is the best auto dialer software in 2019?
Call center software: What are the best auto dialer vendors in 2019?
The best automated dialers accelerate agent talk time and also saves money by automating the dialing process. The software can also stimulate the call to connect ratio, leading to higher sales agent productivity and increased outbound sales. An auto dialer system plays prerecorded messages to answer machine detection, route live, call to agents, and skip busy numbers and are non-serviceable. In this section, we will explore various leading auto dialer software based on cost, features, and functionalities such as automated outbound calls, call analytics, touch tones opt-out options, call routing, customer support, automated outbound calls, and automated messages. Most of the automate dialing software discussed here comes with a free trial (no credit card required).
Kookoo Cloudagent review
KooKoo CloudAgent is a cloud contact center solution that works bot blended and standalone solutions. Advanced KooKoo CloudAgent features allow:  inbound calls management, abandoned call management, intelligent call routing, and outbound dialing. Kookoo's open platform seamlessly blends into any existing software you could have. That includes database system integrations, dialer CRM integration, phone messaging plugins, and call recordings. All these features offer a seamless omnichannel contact center experience to KooKoo users if your system does not integrate well with the software, you can use zapier integrations. KooKoo Cloudagent provides features such as: Call conferencing, calling campaigns management, caller ids, automatic call distribution, live call monitoring, abandoned call alerts, outbound interactive voice response, and other reports.
Newsfies cloud contact center software reviews
Newsfies dialer is a voice broadcast, phone survey, and auto dialer solution that helps companies to manage sales calls from a centralized point. Newfies dialer comes with live call transfer, which enables users to access contact lists by importing data right from users' CRM solutions. The autodialer also comes with call functionality, which automatically checks contacts to ensure that the sales agents do not call blacklisted contacts. After a list is designed, the application can be utilized for callbacks, appointment scheduling, and appointment notifications.
Talkdesk enterprise review
Talkdesk is famous for empowering organizations to make the customer experience their competitive advantage. Talkdesk adapts easily to the evolving needs of outbound sales teams and their end clients, leading to increased talk time, cost savings, customer satisfaction, and increased productivity.
CrazyCall auto dialer software review
ClazyCall cloud call center software features include and are not limited to: Agent panel, call recording, workforce management, live analytics reporting, and phone dialer that matches call center agents with leads. CrazyCall agents do not have to copy and paste numbers from their dialer CRM software or emails from outlook. In CrazyCall, a call center manager and sales agents can see how all the agents are fairing. The system can evaluate which contacts are new, and it can schedule calls automatically in a call list.
Five 9 cloud contact center software review
Five9 auto-dialing application is an all-round cloud contact center solution that is suitable for blended outbound, inbound, and omnichannel contact centers. Five9 enables call center agents to provide customer experience across social media platforms and other sites. Four dialing modes skip no-answers and busy signals to increase agent talk time. This feature makes Five9 suitable for marketers looking for marketing workflow automation solutions. Five9's IVR with speech recognition can be deployed for common customer inquiries to free up agents for high-value interactions. Analyze, monitor, and report on the contact center's performance with real-time metrics and dashboards, as well as automatically sync all interactions with CRM. The contact center can be up in several days and can be scaled up or down based on business needs.
Virtual contact center by 8X8 auto dialer software review
8X8 auto dialer, a virtual contact center, is a cloud-based solution ideal for small to midsize businesses. Virtual contact by 8X8 auto dialer offers call center functionality and supports other media sites such as email, voicemail, web callback, and webchat. Virtual Contact auto dialer systems offer a personal agent connection functionality that aids in creating a relationship between call center agents and customers. This auto-dialing software enables agents to share their numbers with customers to avoid resolving tickets. Virtual by 8X8 offers other call center functionalities such as CTI, call recording, IVR, and integrates with automatic call distribution software.
One call now review
One call now is one of the most popular cloud-based emergency notification solutions in the market that offers autodialer functionality via contact imports, audio library, and more. Features of one call now include: call center management, call reporting, emergency notification tools, appointment reminders, power dialing, call recording, and lead management.
---
How do businesses choose the right dialer?
Predictive dialer auto-dialers: Tips for selecting the best auto dialer for your contact center
It can be challenging to shop for a suitable dialer for your business. Choosing dialer technology and the vendor can make a business phone system work or fail. In this area, we will look at tips and suggestions to aid you in selecting the best dialer for your business.
Understanding sales dialer technology 
Automated phone systems are very common in society today. Automated phone calls essentially relay a prerecorded message to the client. The basic dialer technology incorporates the ability to automatically dial phone numbers. This is often known as click to call or an automatic dialer. More advanced phone dialing technologies incorporate the ability to identify a pace of automated calls and to allow loading and dialing from a list of leads. Such dialing technologies are known as power dialers and predictive dialers. Other dialing modes include predictive progressive dialers and preview dialers.
What is the difference between predictive dialers and power dialer telemarketing software?
Power dialers have been established and refined more recently than predictive dialers. Predictive dialers allow sales agents to listen throughout the whole dialing process.   Predictive dialers dial multiple lines at a period to increase the probability that a call center agent will find someone to talk to. The call center agent will not hear dialing. Instead, the predictive dialer attempts to route answered phone calls in a slipt to the alive person. A predictive dialer is mainly developed for business to client applications because they require short and consistent lengths of phone calls and direct-dial phone numbers. Predictive dialing is not designed to navigate the phone systems, auto attendants, receptionists, or a business environment. Typically, it is not advisable to use the predictive dialer to dial expensive leads.