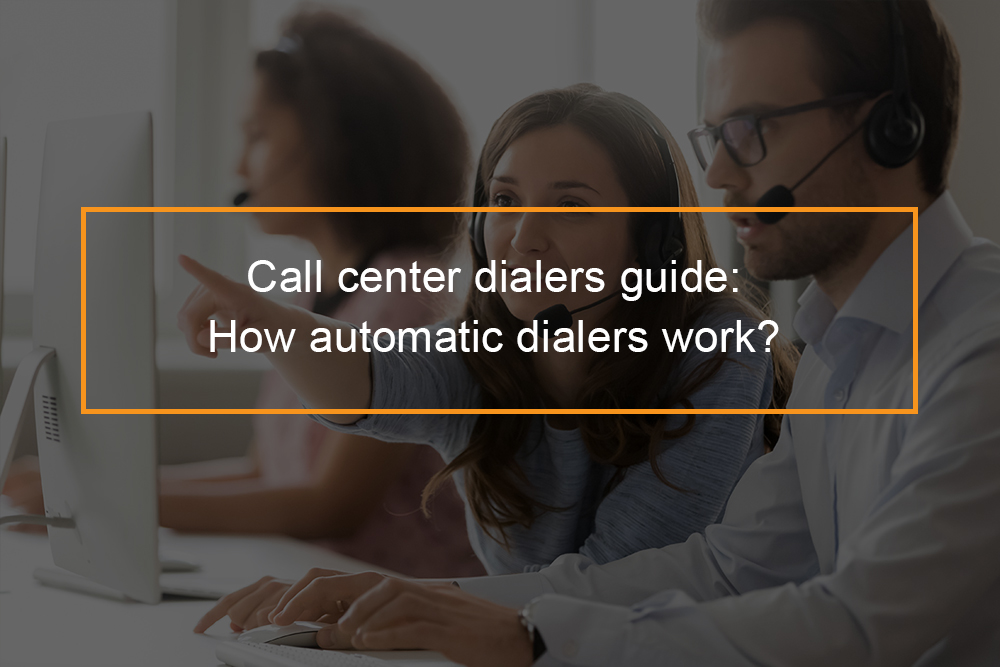 Automated dialers or phone dialers using special software, a computer and modem can be programmed to automatically dial multiple phone numbers. Based on the software's complexity, the computer can detect if a live person answers the telephone and then transfer the call over to a human operator. The PC can also be programmed to play a prerecorded message, leave a message on an answering machine, or offer a menu of options to the person who answers.
Auto dialer systems are not bad. Some organizations indeed use auto dialing software to power annoying telemarketing campaigns, but they have many benefits as well. A school could use an auto dialer system as emergency notification solutions: to alert students and parents of a fire outbreak in the school. A doctor's office could place thousands of calls to senior citizens to remind them when to take their medication.
---
How an auto dialer software works for outbound call centers?
A simple automatic dialing system is not complicated to set up. You need a computer, auto dialing software, voice modem, and an active telephone line. A voice modem enables a computer to play or record audio messages over a telephone line. On a standard computer, there is room for two to four internal modem cards. Every internal modem can only be connected to one business phone line. More modems support more phone calling. If the voice dialers are going to be used in a cloud call center with multiple live operators, then each operator will require his own telephone with a headset connected to a dedicated phone system. Automating dialing systems can work over both the regular public switched telephone network or Voice over Internet Protocol.
How do predictive dialers work?
One of the most interesting developments in automatic dialers is predictive dialing. A predictive dialer is the most useful solution in an outbound call center setting, where call center agents are making simultaneous calls. Predictive dialers use a complicated algorithm to anticipate when an operator will be free to place another call. The predictive dialer calculates exactly how frequent to start automatically dialing a new number to increase talk time between operators and customers. The system will frequent dial numbers when no sales agents are available, knowing that a human operator is likely to end a call immediately after another call starts. Interactive voice response is an autodialing technology that supplies interactive menus on automated outbound calls. For instance, a marketing company can autodial consumers and present them with an interactive poll they can answer with their telephone keypad.
---
What are the features of call center dialers?
Call center software: Features and services of a dialer
Most call centers run multiple calls at a time. The outbound calling campaigns differ from each other in various aspects, including scale, nature, and goals. In the era of omnichannel contact center solutions, no call center can run varying outbound calling campaigns effectively without switching from conventional outbound dialing systems to cloud-based auto dialer software.
Most basic features of auto dialers
Dialer CRM integration
A company can integrate the cloud-based auto dialers with its existing customer relationship management system seamlessly. Most companies today use CRM systems to control customer data and streamline customer interaction. They can update client data automatically by integrating the CRM system with the cloud-hosted auto dialer software.
Voice broadcast
Voice broadcast is one of the basic features of the contact center solution. Voice broadcast is an autodialing with pre recorded voicemails. It is predominantly for sales calls and marketing. Using interactive voice response, an organization can include an option for pressing a key to speak to a live person. Another benefit application of voice broadcast is for appointment scheduling and appointment reminders. Reminders and notifications can be automated and customized using text to speech technology.
Answering machine detection
The auto dialing services deploy advanced technologies to detect answering machines, voicemail, no answers, unanswered calls, and busy numbers. Hence, they transfer only answered automated phone calls or live calls to a call center agent. The feature assists call centers to boost agent efficiency and productivity by detecting and avoiding unproductive numbers.
Call transfer option
The call center agents can access the cloud-based auto dialers over the internet. Call transfer assists call centers to run outbound calling campaigns without investing in expensive equipment.
Call recordings
Besides facilitating real-time call monitoring, the cloud-based auto dialer software also records each inbound call. The call recording feature enables phone systems to record audio format in HD and store the audio files in the cloud. Call recording feature aids call center managers to measure agent performance and recognize agent inefficiencies by reviewing recorded conversations between sales and customers. 
Data security
The cloud-hosted auto dialer software assists call centers to control contact lists and customers efficiently. Besides storing data centers, they enable managers to impose data access restrictions. The built-in security features offered by the new age auto dialer software assist call centers in preventing data breaches and data loss while making sure business continuity and accelerating disaster recovery.
Downtime minimization
Both power dialing and predictive dialing assist outbound call centers in improving agent and sales teams productivity by reducing the time gap between two consecutive outbound and inbound calls. Power dialers reduce downtime by placing outbound calls as soon as an agent is available to handle the next automatic call. Similarly, the predictive dialers boost agent productivity by dialing multiple numbers at a time. They further dial the numbers before agents complete the current automated calls.
Broadcasting phone messaging feature
Besides expediting outbound calling campaigns, the auto dialing service assists businesses to broadcast various audio messages to a large number of customers and leads at a time.
Speed customization and dialing rate 
The cloud based auto dialers are simpler to deploy, customize, and extend than conventional outbound dialing systems. They allow call center managers to adjust the rate and dialing speed concerning the precise needs of a specific outbound calling campaign.
Other features and services that are offered by call center dialers include: Call routing, caller ids, touch tones, click to call, automatic call distribution software, workforce management, workflow automation, and lead management.
---
What are the most common types of automatic dialer software?
Top auto dialer software for call center
The auto dialer software differs from each other in various aspects, including dialing mode support. The call centers need to deploy the appropriate dialing mode based on the needs of individual outbound calling campaigns. For example, some calling campaigns may need customer interaction personalizations, whereas others may need enhancing customer connections. Thus, decision-makers must understand various kinds of automate dialing software before comparing their features.
Preview dialer
Unlike manual dialing mode, a preview dialer provides sales agents with options to place outbound calls or skip telephone numbers. This kind of phone dialing mode enables agents to preview key customer information before initiating the outbound call. This type of auto dialer enables agents to preview key customer information before initiating the outbound call. But a call center can't use a preview dialer to connect with a large number of customers in a short amount of time. Most companies these days use preview telemarketing software for running small-scale outbound marketing campaigns and make outbound calling procedure result-oriented. A preview dialer further makes it simple for agents to manage complex customer situations.
Power dialer (progressive dialers)
Unlike preview dialers, a progressive dialer does not allow an agent to decide about calling or skipping a contact. Rather, the auto dialer software places the next outbound call as soon as an agent ends the current call. Thus, progressive dialers are more effective than a preview dialer in an increasing number of connections between clients and agents. Many call centers use progressive dialers to boost outbound sales activities. Progressive and preview help call centers to increase customer experience by reducing the number of abandoned calls and silent calls.
Predictive dialer
Unlike power dialers and preview dialers, predictive dialers auto dial multiple telephone numbers at the period. They further use a pacing algorithm to decide when an agent will be available to manage the next outbound call. Typically predictive dialers are more effective than any kind of auto dialer software in enhancing connections between clients and outbound agents. Most predictive dialers come with features such as caller ids, CRM system integrations, call routing, unproductive number detection, and registry list filtration. Also, some are compatible with most business applications, such as zapier integrations.
Most call centers today use predictive progressive dialers to expedite large scale outbound calling campaigns by contacting more clients in a short period. However, call centers need to have adequate agents to reduce call drops. The new age predictive dialer software vendors include: kookoo cloudagent. Voicent dialer, Five9 dialer, and Adversus dialer.