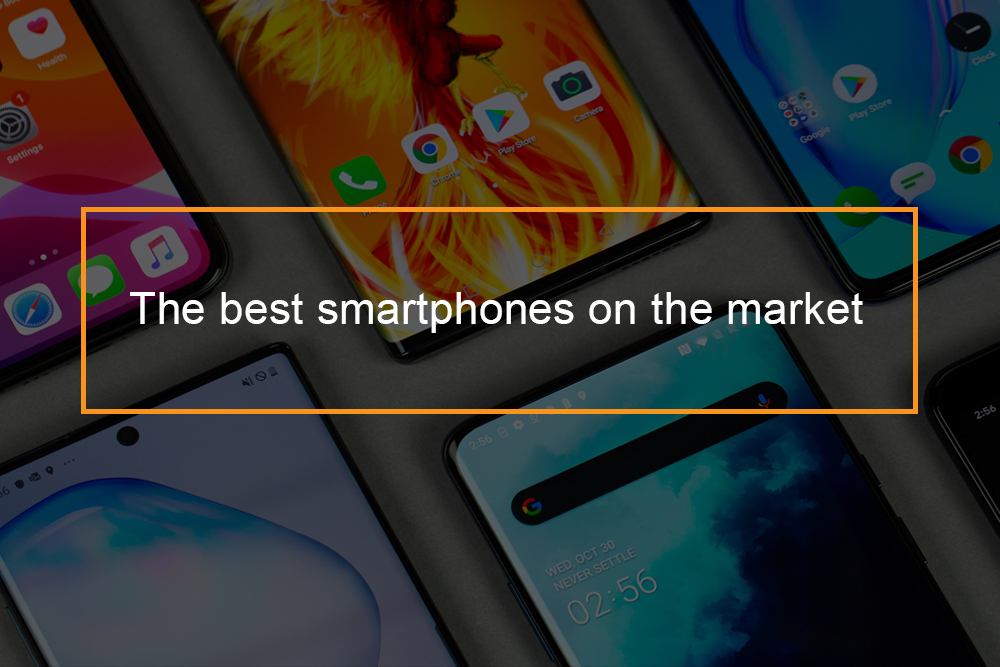 With excellent new phones from makers like Apple, Google and Samsung and the rest, all vying for your attention, plus dozens of high-quality options for those on a budget, choosing the right smartphone has never been more challenging.
---
Factors to consider when buying a smartphone
Choosing a smartphone
To aid you in making the decision, here are a few useful pointers on elements you need to consider:
Cost
This is among the first things to consider. Smartphones come at prices that vary significantly. Certainly, prices tend to increase as you go higher up the value chain in terms of processor speeds, memory, cam, and screen size. If the cost is not a major concern, then you can begin considering other specifications. Otherwise, it is necessary to stick within your budget.

Battery
Are you the kind of user who has several apps open concurrently? Do you use video-streaming apps or play video games? Heavy online use tends to drain phone batteries much faster. If you belong to this category, then it is better to opt for a phone with a lasting battery.

Memory
Phones have two sorts of memory, Random Access Memory (RAM) and Read Only Memory (ROM). RAM, along with the phone's processor, determine the speed of the phone and its ease of operation. ROM is what the majority of people describe as storage. It's the memory that is used to save the OS, apps and all the videos, pictures and songs that you wish to keep on the phone so, it stands to reason that phones with greater RAM will be faster and those with higher ROM will have more storage. An average user will be satisfied with a 2 GB RAM, 16 GB ROM phone. However, if you are a heavy user, choose a phone with a minimum of 3-4 GB RAM and 64GB ROM. To extend your ROM you can use a micro SD memory card, but remember apps that are saved on memory cards tend to be slower.

Camera
There is a great deal of hype surrounding built-in cams on phones with brand names trying to outshine each other by using more megapixels. Do not let this fool you. By itself, a video camera with more megapixels doesn't result in much better images. Apart from megapixels, good quality pictures are a function of aspects like ISO levels, the aperture in addition to the speed of autofocus. If you take a lot of photos, then go for a phone with a 12 or 16 MP electronic camera that has an aperture of f/2.0 or lower, for good outcomes even in low light. If your use of the cam is not as heavy, a phone with an 8-12 MP camera and aperture of f/2.2 ought to be great for you.

Processor
Just like smartphone video cameras, there is a lot of hype about processors with lingos like quad core, octa core, Snapdragon, MediaTek and the rest. Here is a basic thumb guideline. Take a look at the processing speed that is revealed in terms of GigaHertz (GHz). The higher the speed, the faster the processor. If you are going to do a great deal of photo/video modifying or play online games and stream videos, choose a faster processor.

Display/Screen Size
A phone with a 5.5, 6-inch HD or QHD display screen is usually an ideal choice. This will let you enjoy an abundant media experience while being easy enough to carry in your pocket or bag.

Operating System
There are only 2 Operating Systems (OS) to pick from, Android or iOS. If you select iOS, then you are by default choosing an Apple iPhone. All other smartphone makers operate on the Android OS. However, they come in an array of names and variations. Frequently the Android OS is tweaked by producers to add features which could also result in bloatware, therefore slowing down the phone. So, try the phone out before deciding.
---
The best smartphones you can buy today
Our top smartphone picks 
APPLE IPHONE XS/ XS MAX
Price:$ 1145.77
SPECIFICATIONS
Weight: 177g/ 208g

Phone size: 143.6 x 70.9 x 7.7 mm/ 157.5 x 77.4 x 7.7 mm

OS: iOS12 Screen size: 5.8 inches/ 6.5 inches

Screen Resolution: 1125 x 2436 pixels/ 1,242 x 2,688 pixels

CPU: Apple A12 Bionic

RAM: 4GB Storage: 64/256/512GB

Battery: 2658 mAh/ 3174 mAh Rear

camera: Dual 12MP

Front video camera: 7 MP f/2.2.
REASONS TO BUY
Incredibly beautiful and sleek.

Quite effective and quick.

Fantastic HDR screen.
REASONS TO AVOID
Is it the best phone you can currently buy? Yes. However only by a hair. The Huawei Mate 20 Pro is, in regards to the hardware bundle, the best phone ever made. In general, it's the ultra-desirability of the iPhone XS and larger-screened iPhone XS Max that takes the smartphone throne.
The thing that strikes you about the style is, clearly, the gorgeous Super Retina OLED screen. It's certainly true that the edge-to-edge display looks stunning, both from a style point of view and from a technology perspective. Watching films on the screen is excellent: all of Apple's OLED phones support Dolby Vision, which is the most innovative sort of HDR, and it supports Netflix and iTunes movies, too, so there's lots of content.  Aside from the display, you've got Apple's blazing quick A12 Bionic processor, a wonderful dual 12MP electronic camera with portrait lighting mode, and FaceID (which actually works remarkably well).
We'll start by saying; if you think that it is too costly, then the iPhone XS/ XS Max isn't for you. Are the prices justified? Well, just like a Louis Vuitton Bag, there are more affordable alternatives that do the same task; however, it's about the brand.
Apple has gradually been morphing into a high-end goods business for a while now, and the iPhone XS/ XS Max is also a step in that direction. It's basically a luxury phone from a designer brand, with Apple successfully creating an extremely desirable package that comes in 2 different screen sizes.

HUAWEI MATE 20 PRO
Price:$ 999.99.
SPECIFICATIONS
Weight: 189g

Phone Size: 157.8 x 72.3 x 8.6 mm

OS: Android 9.0 Pie, EMUI 9.0

Screen: 6.39 inches

Screen Resolution: 1,440 x 3,120

CPU: Kirin 980

RAM: 6GB

Internal Storage: 128GB

Battery: 4,200 mAh Rear

video camera: 40MP + 20MP + 8MP

Front electronic camera: 24MP.
REASONS TO BUY
Kirin 980 CPU is insanely quick.

The Leica-made camera system is excellent.

Futuristic in-display fingerprint reader.
REASONS TO AVOID
The Huawei Mate 20 Pro provides an experience that leaves nothing to be desired and, for all real-world intents and purposes, it is best. With the world's fastest CPU, the lightning quickly Kirin 980, a stunning OLED, HDR screen, a knock-out Leica-made video camera system, a next-gen in-display fingerprint reader, a large and long-lasting 4,200 mAh battery, in addition to Android 9.0 Pie out of box, it is easy to see why it is a favorite.
Indeed, the entire Huawei Mate 20 Pro design is so sophisticated, sleek and impeccable, that it is hard to choose anything else if you are buying from the premium end of the Android phone market, and specifically so as the phone also has that hyper-desirability that is typically the domain of Apple's flagship iPhones alone.

SAMSUNG GALAXY NOTE 9
Price:$ 768.01.
SPECIFICATIONS
Weight: 201g

Phone Size: 161.9 x 76.4 x 8.8 mm

OS: Android 8.1

Size: 6.4-inches

Screen Resolution: 1440 x 2960 pixels

CPU: Qualcomm Snapdragon 845

RAM: 6GB Storage: 128GB

Battery: 4000mAh Rear

video cameras: 12 MP f/1.5 -2.4 + 12MP f/2.4

Front Camera: 8 MP f/1.7
REASONS TO BUY
Good hardware.

The 6.4- inch Super AMOLED screen is spectacular.

New S Pen digital stylus works superbly.
REASONS TO AVOID
The 4,000 mAh battery is only competitive, not a standout.

The Bixby AI assistant is still a work in progress.
With its stunning 6.4-inch Super AMOLED screen, powerful internal hardware suite, and advanced new S Pen digital stylus, the Note 9 is among the best Android phones available today and, basically has good features throughout the board. Certainly, when you factor in the phone's exceptional electronic camera system, competitive battery, and audiophile audio qualifications, you understand that this isn't simply a work-focused efficiency powerhouse, but rather a do-anything powerhouse.
It is by far, the most functional, feature-packed, and premium Android smartphones in the world before concluding that, if you're buying a flagship-level new phone, and you do not mind its high price, then you need to count it among your top contenders. And, while it is undoubtedly pricey, and the Android platform; if you are used to iOS, might deter most, you simply cannot overlook what an elegant and highly helpful gadget the Note 9 is.

APPLE IPHONE XR
Price:$ 930.
SPECIFICATIONS
Weight: 194g

Phone size: 150.9 x 75.7 x 8.3 mm

OS: iOS 12

Screen size: 6.1 inches

Resolution: 828 x 1792

CPU: Apple A12 Bionic (7 nm)

RAM: 3GB Storage: 64/128/256GB

Battery: 2,942 mAh

Rear electronic camera: 12MP

Front video camera: 7MP
REASONS TO BUY
It has a modern, intense design.

It features a liquid Retina screen.

It has excellent build quality.
REASONS TO AVOID
The camera system might be better.

It lacks 3D Touch.
If you're an Apple fan and can't spend on the iPhone XS and iPhone XS Max, then a terrific, cheaper option is the iPhone XR. The iPhone XR can be found in a range of appealing, intense colors, it includes a quality 6.1-inch HDR Liquid Retina screen, Apple's most current and biggest A12 Bionic chipset, 3 Gigabytes of RAM, a 2,942 mAh battery, and 64 Gigabytes of storage space in the entry model (which can be expanded up to 256GB with extra spend). It is, throughout the board, a well-equipped and well-made phone that, right out of the package, feels great in hand.
What you do not get in the Apple iPhone XR is the same versatility of electronic camera that you have in the iPhone XS, and while the screen is larger and clearer, it is surpassed by the XS variety and some other, equally-priced gadgets. Regardless, though, the iPhone XR delivers a complete 2018 iPhone experience at a great rate. It gives a worthy performance with a finely balanced experience that takes most of that phone's feel premium while throwing in a couple of tricks of its own to stand away from the shadow of the iPhone XS.

HUAWEI P20 PRO
Price:$ 729.
SPECIFICATIONS
Weight: 180g

Phone size: 155 x 73.9 x 7.8

mmOS: Android 8.1

Display: 6.1-inches

Screen Resolution: 1080 x 2244 pixels

CPU: Kirin 970 RAM: 6GB

Storage: 128GB

Battery: 4000mAh

Rear video camera: Triple 40MP + 20MP + 8MP

Leica Front camera: 24MP f/2.0.
REASONS TO BUY
It has a premium design.

It has good battery life.

It has an awesome camera.
REASONS TO AVOID
The software could be better.

It has an ordinary HD screen.
The Huawei P20 Pro, regardless of being passed by the Huawei Mate 20 Pro, stays one of the best phones if you're trying to find a premium alternative to the iPhone X and Samsung Galaxy S9. We love the P20 Pro's Leica-branded triple video camera. Yes, you read that right, this cam has three cam sensors, a 40MP RGB, 20MP Monochrome, and 8MP telephoto. The 3 lenses can be utilized to capture some very pleasing images.
The OS is good, and the style and feel of this gadget is wonderful. 
But it's not ideal. The UI still drags behind its competitors, and some won't be too keen on the iPhone X-esque style. Regardless of its drawbacks, we believe it's a dazzling smartphone, thanks to a neat mix of style, features, and the video camera. Plus, the battery life is top notch, too, capable of lasting around two days.

GOOGLE PIXEL 3 XL
Price:$ 990.
SPECIFICATIONS
Weight: 175g

Phone size: 158 x 76.7 x 7.9

mmOS: Android 9.0 Pie

Screen size: 6.3-inches

Resolution: 1440 x 2960 pixels

CPU: Qualcomm Snapdragon 845

RAM: 4GB

Storage: 64/128GB

Battery: 3430 mAh

Rear camera: 12.2 MP f/1.8

Front video camera: 8MP +8MP f/1.8 + f/2.2.
REASONS TO BUY
It has a superb camera.

It comes with Android 9.0 Pie out of the box.
REASONS TO AVOID
No on-screen fingerprint reader.

Battery life is unspectacular.
The Google Pixel 3 XL is among the best smartphones, and especially so if you prioritize camera quality and want a software experience that comes straight from Google. It isn't inexpensive, but it provides Apple levels of distinction and premium. Indeed, whether it's the excellent cam, the metal-and-glass case, the power included or simply the reality that the software and virtual aide work in perfect consistency with the hardware, Google gets a lot right with the Pixel 3 XL.
Certainly, pure Android 9.0 Pie out of package partnered with Qualcomm's really capable Snapdragon 845 processor, 4 Gigabytes of RAM, and 128GB of internal storage area is a really delicious combination in terms of UI speed and app efficiency, and the engorged 6.3-inch, 18.5:9 aspect ratio screen makes looking at anything a pleasure, too.
It's the single-lens, 12.2 MP rear camera though that is the real star of the Pixel 3 XL program and, somehow, delivers genuinely excellent information, color and image sharpness. It's not a huge enhancement over the Google Pixel 2 XL, but that phone's electronic camera was currently amongst the very best in class, so this unit truly is something unique.

SAMSUNG GALAXY S9
Price:$ 720.
SPECIFICATIONS
Weight: 163g Phone size: 147.7 x 68.7 x 8.5 mmOS: Android 8.0 Screen size: 5.8-inches Resolution: 1440 x 2960 pixels CPU: Exynos 9810 OctaRAM: 4GB Storage: 64GB Battery: 3000mAhRear electronic camera: 12 MP f/1.5 Front cam: 8 MP f/1.7.
REASONS TO BUY
It has an amazing design.

It is now available at low prices.
REASONS TO AVOID
The Bixby AI is half-baked.

It is quite similar to the Galaxy S8.
The Samsung Galaxy S9, despite being outperformed by the sensational Galaxy Note 9 and even more fantastic Huawei Mate 20 Pro, is still a quality Android phone, boasting a brilliant Infinity Edge display which inhabits 84-percent of the body. Yes, this futuristic smartphone is one heck of a looker, and Samsung managed to withstand the temptation to include an iPhone X-style notch, too, which is a good thing as it assists the phone to maintain its own identity.
The S9 provides an outstanding overall package. Having an amazing display screen and industry-leading specs, this handset also has decent battery life, an outstanding electronic camera, and fast performance. With all of that integrated, you get one of the best-looking smartphones on the marketplace. We believe the 5.8-inch S9 is perfect, but if you're after an even larger smartphone, Samsung has the Galaxy S9+, which features a larger 6.2-inch screen.
---
The Best Camera Phone
Google pixel 3
Price:$ 799.
SCREEN SIZE (PIXELS) 5.5-inch OLED (2160 x 1080)

CPU Snapdragon 845.
RAM4GB.
STORAGE/ EXPANDABLE 64GB, 128GB/ No.
CAMERAS (BACK/ FRONT) 12.2-MP/ Dual 8-MP.
WEIGHT5.2 ounces.
BATTERY LIFE (HRS: MINS) 8:27.
The Pixel 3 is the best camera, purely Android phone we have seen. Google has found fantastic ways to utilize AI on this 5.5-inch handset, consisting of a Top Shot feature for the electronic camera that immediately takes the best picture and a screen calling function that uses Google Assistant to transcribe calls on the fly. The photo quality here is just sensational; you can even get optical zoom effects without a second lens. Add in the equally smart and valuable Android Pie OS and an enhanced OLED screen, and you have one heck of a phone.
---
The Best Value Phone
Oneplus 6t
Price:$ 549.
DISPLAY SCREEN SIZE (PIXELS) 6.4-inch OLED (2340 x 1080).

CPU Snapdragon 845.
RAM6GB, 8GB.
STORAGE/ EXPANDABLE 128GB, 256GB/ Yes.
CAMERAS (BACK/ FRONT) 16-MP, 20-MP/ 20-MP.
WEIGHT 6.52 ounces.
BATTERY LIFE (HRS: MINS) Not Yet Tested.
The phone delivers a couple of key features first at a terrific price. It's the first in the U.S. with an on-screen fingerprint reader, and it works almost immediately. The 6T is also the first OnePlus phone sold through a U.S. mobile service provider, T-Mobile. Whether you buy new or opened, you'll be more than happy with the OnePlus 6T's strong efficiency, stunning 6.4-inch OLED display, and improved dual video cameras. You get terrific specs for the cost: a Snapdragon 845 processor, 6GB of RAM and 128GB of storage for simply $549 or you can upgrade to 8GB of RAM for simply $20 more at $579.
---
The Best Big-Screen Phone
Galaxy Note 9
Price:$ 870.
SCREEN SIZE (PIXELS) 6.4-inch OLED (2960 x 1440).

CPU Snapdragon 845.
RAM6GB, 8GB.
STORAGE/ EXPANDABLE 128GB, 512GB/ Yes.
VIDEO CAMERAS (BACK/ FRONT) 12 MP and 12 MP/ 8 MP.
WEIGHT 7.1 ounces.
BATTERY LIFE (HRS: MINS) 11:26.
Samsung has joined the iPhone X in the $1,000 phone club with its Galaxy Note 9. But this handset is worth the price if you desire the very best big-screen phone around. The 6.4-inch screen is beautiful, and you get brand-new AI-assisted cams that immediately recognize numerous scenes to get the best image. Other features include a Bluetooth-enabled S Pen, which makes it simple to remotely manage the phone for taking selfies, changing music tracks and more. Add more than 11 hours of battery life, and the Note 9 deserves the splurge for power users.
---
The Best Phone Under $250
MOTO G6
Price:$ 240.
SCREEN SIZE (PIXELS) 5.7-inch LCD (2160 x 1080).

CPU Snapdragon 450.
RAM3GB.
STORAGE/ EXPANDABLE 32GB/ Yes.
ELECTRONIC CAMERAS (BACK/ FRONT) 12MP, 5MP/ 8MP.
WEIGHT5.89 ounces.
BATTERY LIFE (HRS: MINS) 8:35.
Motorola's G Series has been the go-to phone for people who don't wish to shell out a great deal of cash for their smartphone but still expect a solid performer. With its vibrant 5.7-inch display, capable processor and welcoming design, this year's Moto G6 continues to live up to that standard. You'll have to deal with below-average battery life and a just-OK camera, but the G6 provides adequate features to make it a great value. What's even better is that the G6 works on both GSM and CDMA networks, so you're not limited to utilizing select providers.
---
The Best Small Phone
Apple iPhone 8
Price:$ 550.
SCREEN SIZE (PIXELS) 4.7-inch LCD (1334 x 750).

CPU A11 Bionic.
RAM Unknown.
STORAGE/ EXPANDABLE 64GB/ Yes.
ELECTRONIC CAMERAS (BACK/ FRONT) 12MP/ 7MP.
WEIGHT5.22 ounces.
BATTERY LIFE (HRS: MINS) 9:54.
If you do not like phablets, the iPhone 8 provides you with the most power per inch of any phone on the market, especially now that Apple's new phones all boast screens sizes of 5.8 inches or bigger. In addition to a still magnificent A11 Bionic chip that runs circle Android phones, the iPhone 8 takes advantage of a larger and faster camera sensor that takes fantastic-looking images, including Live Photos with new effects in iOS 11, add an above-average battery life and access to fun new increased reality apps, and you have the best smaller sized phone.
---
The Best Phone for Gamers
ASUS ROG Phone
Price:$ 889.
SCREEN SIZE (PIXELS) 6-inch AMOLED (2160 x 1080).

CPU Snapdragon 845.
RAM8GB.
STORAGE/ EXPANDABLE 128GB, 512GB/ Yes.
ELECTRONIC CAMERAS (BACK/ FRONT) Dual 12-MP/ 8-MP.
WEIGHT 7.05 ounces.
BATTERY LIFE (HRS: MINS) 8:59.
For those into gaming, the Asus ROG Phone is tailor-made for you. This beast has a gorgeous 6-inch OLED screen, a Snapdragon 845 processor with four cores that run at overclocked speeds and 8GB of RAM. In addition to awesome performance, the ROG Phone has a head-turning design with great picture quality. Other highlight features include a vapor cooling system and even has an active cooling accessory with its own fans. Include a bunch of accessory options, and you have the best video gaming phone yet.
---
The Best Phone for Kids
iPhone 7
Price:$ 449.
SCREEN SIZE (PIXELS) 4.7-inch LCD (1334 x 750 pixels).

CPU A10 Fusion.
RAM2GB.
STORAGE/ EXPANDABLE 32GB, 128GB/ No.
VIDEO CAMERAS (BACK/ FRONT) 12MP/ 7MP.
WEIGHT 4.87 ounces.
BATTERY LIFE (HRS: MINS) 9:03.
With the slow disappearance of the iPhone SE  from Apple's lineup, the iPhone 7 takes its spot as the best smartphone you can hand over to your kids. At $449, it's now the cheapest iPhone Apple has to use. And while you're getting 2016's A10 Fusion chip, only 32GB of storage and a 4.7-inch LCD screen, you're not compromising too much. The iPhone 7 has IP67 dust- and water-resistance, meaning a splash of water will not damage your kid's phone. Access to Apple's App Store means your kids can download an excellent variety of video games and social networking apps, while the phone's assistance for iOS 12 puts you in control of just when and how they can use those apps.