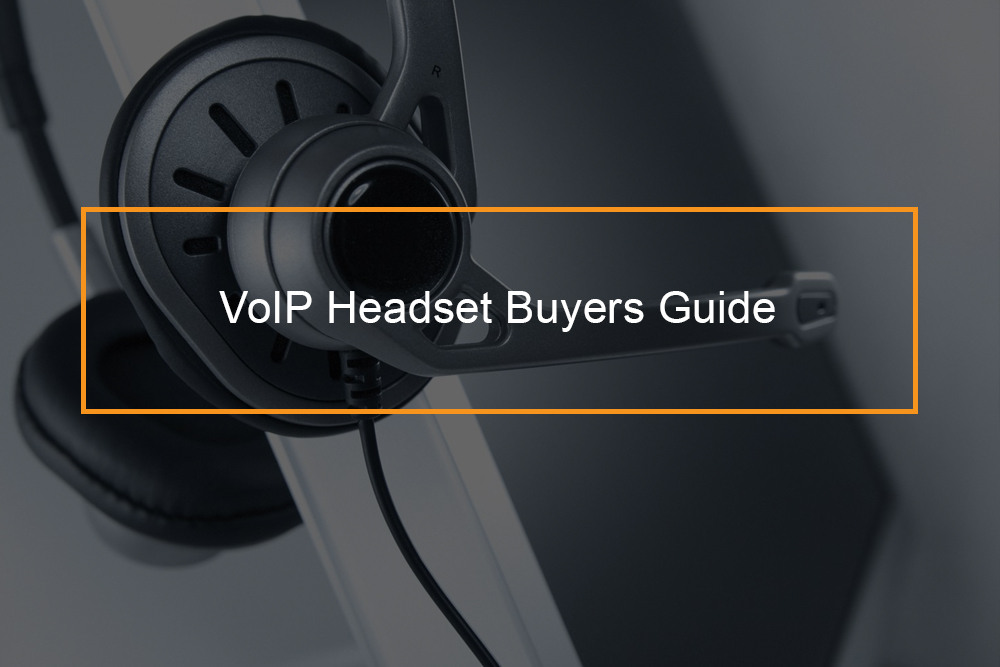 A Voice over Internet Protocol (VoIP) is a part of audio hardware that is worn around the head (thus its name) to provide a hearing in the ears and to capture voice from the mouth. A VoIP headset is optimized for VoIP communication. Simply stated, a VoIP headset is a pair of earpieces and one microphone built together in one piece.
Although VoIP headsets are easy and come packed with benefits, most people may not understand the essential aspects of VoIP headsets. This can cause frustration during a VoIP headset selection. To avoid frustration when choosing a VoIP headset, pay attention to the following elements.
---
How does VoIP headset work?
VoIP headset system explained
To understand how VoIP headset let's look at its components.
A Voice over IP earpiece is responsible for delivering the return audio of your conversation. There are various styles of earpieces, including over the ear, earbuds, and even custom-molded.
The VoIP microphone is responsible for capturing your audio. The two main kinds of microphones are your regular standard voice tube and those that offer noise cancellation.
VoIP headset connection cord
The connection allows you to connect the Voice over Internet Protocol headset to the device. There are many various types of connection cords because of the different kinds of headset jacks. The most common sort of connection cords includes 3.5mm, 2.5mm. Micro-USB and USB.
Each of these sections is essential since they determine the quality, style, and compatibility of the VoIP headset. Within each of these three components, you have enormous choices you can make when it comes to the style you can select.
---
Why use VoIP headsets?
Benefits of VoIP headset
To use VoIP on hardware instead of other phones (traditional phones, VoIP phones, or mobile phones), you must have output and input devices for voice. You can use your system's speakers and microphone, but that would make your conversation public. VoIP headsets enable you to communicate discreetly. Besides, you would experience quality issues because what comes built-in your PC is not the best voice component you can have.
Discretion exists with regular telephones as well, but with a headset, your hands can be free, unlike with a phone, and you will not require to dock the phone between your ears and shoulders should you need your hands for something else.
Moreover, wearing a headset for a whole day, as it is the case with contact center operators, customer service receptionists, or agents, for example, is reasonably bearable. This is not true for phone sets.
Wireless headsets, which are becoming so popular now, enable you motion during VoIP communication, such that you can even leave your desk, or even the office or room while talking.
VoIP headset also prevents muscle soreness and discomfort that comes with improperly holding a Voice over IP phone headset. Lastly, VoIP makes you remain fully connected. With VoIP headset you will speak at a moment's notice, without requiring a continuously pick up and put down the phone all through the day.
---
Types of VoIP headset
The handset comes in various looks. Besides the looks, multiple considerations govern the nomenclature of VoIP headsets.
monaural or binaural (One ear or two ears) 
Monaural headsets offer voice output to only one ear, and therefore only one side of the headset. With this kind of headset, you do not get stereo sound. The other free listener is justify for whatever noise that comes from the environment. This kind of headset is ideal for people who need to be all ears to bother people around them and people on the line. One earpiece is also suitable for those who only want to sound like operators and not appear like them.
Binaural VoIP headsets provide voice output to both the right and justify ears. Use this in case you want full voice quality, and in case you do not wish to be disturbed by the surrounding noise.
By origin and by default, VoIP headsets are headbands that are worn around the head. However, you have those with only earbuds and nothing on the headband. You also have those that are flexible and can be utilized either way.
Microphone styles
Voice tube
Voice tube Voice over IP headsets feature standard microphones that do not cancel out any background noise.
Noise-canceling
Noise-canceling VoIP headsets come with a microphone that uses noise filtering technology to reduce background noise.
Wearing styles
Headband Style
Headband style Voice over IP headsets enables you to customize the fit and feel of the headset.
Over the ear VoIP headset style
With over the ear, VoIP headsets usually rest on the outside of either or inside of the ear, earbuds.
Convertible
Convertible Voice over IP offers you the flexibility to wear it as either over the ear or headband style.
Connection type
Connection type determines how your headset is connected to your PC. You have the following types:
Wired connection type


Wired Voice over Internet Protocol headsets can connect to an amplifier or special connection cord before connecting to a phone. Using 2.5 mm or 3.5 mm wires to connect directly to your computer or an amplifier before being connected to an

IP phone. Some wired headsets use cables that are specific to the manufacturer. This can be challenging, and it is a good thing that this type of restricted cabling is leaving room for standard means. Within the wired headset connection style, you can select from the following jack kinds:
USB and Micro-USB

Proprietary Vendor specific

3.5mm

2.5mm
USB
USB is cabled into your computer. This kind provides more features than the one above since it can carry digital data.
Wireless VoIP headset
Headsets free of wires enables you the freedom to move around during communication. This is a tremendous advantage over other kinds of headsets and is suitable for use at home bust, mostly in offices and corporate environments where mobility is inevitable. The disadvantage of wireless headsets is that, first, they cost two to three times more than cables ones, and that you will be bothered about recharging the batteries, with all that this indicates. Also, give some thought to the possible ( although not yet proven) health hazards linked with the use of wireless communication tools close to the brain. Two standards (protocols) are used for wireless headsets: DECT and Bluetooth. Bluetooth has the advantage of enabling your handset to be paired to your mobile phone together since it covers only a range of about ten meters. DECT covers around ten times that range.
---
What is the best USB headset for VoIP?
Best wireless VoIP headset
There are many USB computer headsets for your Voice over IP softphone. Below are some of the best in the market.
Jabra Evolve 40 UC USB Headset
This is a regular corded USB headset that has several great features. The best part with Jabra Evolve is beginning at the Evolve 40; they have great busy light that lights up red on the side of the headset.
Blackwire 5210 UC USB Headset
Blackwire 521o UC is a corded USB headset from Plantronics and has a lightweight and comfortable design. Fit with volume control; it can disconnect there and change into 3.5mm headset, usable with a tablet or smartphone. It has a great flexible noise-canceling microphone, wideband audio, and an affordable price.
Plantronics Blackwire USB 7225 stereo corded headset
This is the newest edition to the black wire series. It is a unique corded USB headset. Not only is it great for communication, but also it is excellent for listening to music. It also has a Hi-Fi stereo sound. The best feature of the headset is the newly added active noise canceling.
Jabra Evolve 65 Wireless USB/Bluetooth Headset 
This is a wireless USB headset, with the same functionality and features to the Evolve 40 above. The wireless USB Dongle, at the bottom of the headset, enables the headset top to connect to your computer with up to 100ft of range. The VoIP headset also has Bluetooth capability; you can connect to a mobile phone or tablet through this headsets Bluetooth connection.