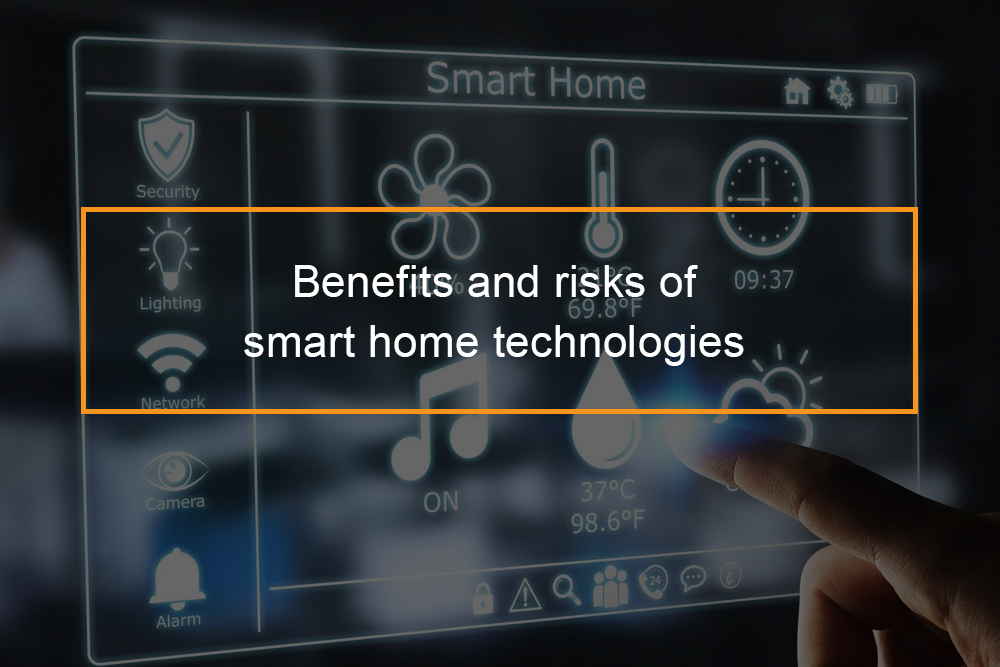 We all love the charm of a historical home-but with technology the houses of yesteryear have nothing on today's advancements. Products such as smart bulbs,speakers with digital voice assistants have gained a lot of popularity making life easier.
There are a lot of ideas for turning your house into a smart home. In this article, you will learn more about creative ways that experienced smart home owners and professionals use to create a smarter home.
---
What can smart houses do?
How do smart home technologies work?
With a smart home, you have nothing to worry about. You can connect all the devices and appliances such as coffee makers, security alarm and even your kids activities so that they can communicate with each other and you.
Smart home technology enables devices in your home that uses electricity be put on your home network and at your command.
Most of these applications relate to:
Lighting

Home security

Home theatre

Entertainment

Thermostat regulation
Actually, people with resources can link up their entire houses, but as an average person, it is best to stick to what is already in the market.
---
Wireless smart home technologies
Wireless home automation systems are common for homeowners with big houses which have multiple rooms, where signals to and from various devices have to travel longer distances.
In such cases smart home technologies which rely on hard-wired connections may not be efficient. This is because signals growing weaker and the resulting inconsistent performance from the connected equipment.
How does wireless smart home technologies work? 
Wireless home automation often include Internet of Things or IoT. IoT refers to the wireless devices that homeowners use to access data and send commands from a remote through the internet.
Wireless home technologies works by deploying low-power equipment that can send and receive information.
For instance, you can turn off lights in an upstairs room, while downstairs via wireless control. Also a light sensor that detects the rising sun and sends a command to open your bedroom curtains automatically.
Wireless technologies which have been developed for use in smart home automation
Bluetooth smart home technology
Bluetooth is one of the best choices and developers continue to improve this technology, with a data rate of Bluetooth version 4 and the latest version 5. Bluetooth technology can be used to connect items such as external speaker or wireless headphones to your smartphones.
ANT network automation technology
This technology is similar to Bluetooth in that it runs with low power requirements. Originally, ANT network was designed for fitness and sport data purposes but is now being used in home settings. The technology works in 2.4 GHz band and is considered an ultra-low power protocol for wireless smart home technology connections.
Wifi automation technology in your home
You are likely familiar with wifi technology, as it is widely used to connect mobile phones, laptops, tablets to the internet. With wifi technology, more power is consumed as this technology is usually used to sustain high bandwidth connections such as watching videos from a streaming service. 
Zigbee wireless smart home technology
This smart home technology was developed for mesh networking and works in the 915MHz. Zigbee allows your device to have several channels to communicate over by letting each piece of equipment connect with one another.
The best part about ZigBee is that it uses less power and achieves better coverage in the home. Bur, it is more versatile for short range connections.
---
What is the purpose of home automation? 
Advantages of smart home energy management systems
First thing first-what is a smart home? The answer to this could vary depending on who you ask but basically smart home is a residence which is equipped with several devices that automate tasks which are normally handled by humans.
The devices could be built in the structure itself, while others could be added later and the users operate them with voice commands or by artificial intelligence.
Why should I have a smart home?
Now that you understand what a smart home is, why should you set up your residence with smart home products?
Smart home devices help you save money and energy
The main reason why most people build a smart home is the capability to save energy and money with automated heating and air conditioning systems.
Products such as Smart thermostats help to reduce electric bills by quickly automating the heating and cooling of a home. 
Other products which help to reduce power when not in use include; connected lights and appliances.
Smart home security devices improve residence security and your safety
Most people use alarm systems to protect their homes, but with smart homes alarms are almost becoming outdated. Smart home products such as connected lights, cameras and doorbells  provide added security and make homes much safer. Such devices often scare away thieves and other people with ill motives.
Home automation systems make household regular tasks easier
Can you picture a laundry machine which automatically washes your clothes and dries them. Yes, such machines make tasks less tedious and faster. 
Most common automated devices which make household tasks easier include: Roomba robot vacuum along similar products. A fridge which orders products online when it senses you are low also falls under this category.
Smart home connected devices keep you entertained and relaxed
Smart homes products can also keep you entertained and relaxed. You instance you can play music, listen to news and sports scores on connected speakers combined with AI-based digital assistants. The best part is connected speakers can also help you control other connected devices as well.
Additionally, you can watch a film both at home and real movie theater using connected devices.
---
Dangers of smart homes
An increasing number of electronic devices serve to enhance smart home technology. New products keep popping up in the marketplace offering better ways to smarten your home.
Unfortunately, nothing comes 100% perfect- with new technology advances, smart homes users may experience some risks. Take a look at the three most common dangers that come with smart homes technology and how you can mitigate them to keep your home safe.
Your IoT devices and smart home apps are prone to break-ins and fires
As bad as this may sound, the very smart home devices that you rely on, could put you at risk of fire break up. Smarts apps such as the ones used to turn an oven on and off, lock and unlock a door, switch on lights if not used carefully can be risky.
It is safer you have all the apps you need to avoid confusion or overloading your IoT with information that it cannot load properly. 
Smart home devices can expose you to identity theft
Today, thanks to technology hackers can tamper with various smart devices, especially through Wi-Fi networks and cause serious problems for house owners.
Smart home technologies which can easily expose you to technology theft include: smart doorbell, smart garage door, smart cameras and smart door lock.
To stay ahead of identity theft risks you can:
Update your smart home devices and apps regularly

Check apps recommendations before using them

Invest in high quality identity theft protection software
Most of smart home automation systems are vulnerable to unapproved access
Beware that if your children, housemates or any other person, orders something you have not approved then someone can easily hack your device. Most smart homes devices provide all banking and vendor information, thus giving the device unlimited access.
To limit your devices accessibility:
Avoid using the voice activation mode rather use remote feature-this will give you better control

Allow purchases through pin activation only for devices with disable the voice order feature
---
What are the best smart home devices?
The best smart home devices
Smart homes devices give you the ability to control items around the house from window shades to pet feeders with just a simple command.
Some activities are cheap while others could be expensive. Today, there are various smart home product categories from lights to temperature to locks and security in your residence.
Best smart home devices
Smart home surveillance cameras
Smart homes surveillance cameras have useful features such as image sensor, motion and sound detection, video recording and a motion tracking feature which enables the camera to follow a person around the room.
The camera functions as a security camera but can be incorporated into a security system.
Some of the top rated smart home surveillance cameras include:
Wyze cam V2

Netgear Arlo Pro 2

Skybell HD
Smart home hubs and controllers
The Echo is a bluetooth speaker enabled by Alexa.  Alexa works with various smart home devices directly, to control other devices in your house via voice sound. An example of device which Echo can connect to and add Alexa functionality is a speaker.
Also, if you want to touch screen and see results and even make video calls you can use Echo Show or Echo Spot.
Top rated smart hubs and controllers include:
Wink Hub 2

Brilliant Control

Logitech Harmony Elite
Smart locks and home security devices
Smart lock pro is one of the latest smart home devices. It offers bells and whistles and adds new features such as August's DoorSense technology, Z-Wave compatibility and Wi-Fi connectivity. The device is easy to install and can be controlled remotely or with Alexa.
Some of the best smart locks include:
ADT Pulse

Simplisafe home security system

Adobe home security
Smart home heating and cooling devices
Smart heating and cooling devices help reduce hot or cold spots in different rooms. Actually, you can have the thermostat do all activities such as control smart devices, shop, play music and listen to news.Top rated heating and cooling devices:
Ecobee 4

Nest learning thermostat

Hisense portable air conditioner
Home automation lighting devices
This wireless automation technology allows to control not only the intensity of the light but also the color. Most of these devices are expensive. There are both outdoor and indoor bulbs. Some of the best smart home lighting products include:
Ecobee Switch

Eufy lumos smart bulb white and color

Philips Hue white
Smart home kitchen appliances
There are various smart homes cooking devices such as Culinary Precision Cooker. The cooker uses Wi-Fi connectivity and you can control it even when you are not at home. You can put the desired temperature , and can keep you notified of the cooking process. Another smart kitchen appliance is the microwave, coffee maker, rice cooker and sous vide cooking-where food is sealed in plastic  and put in a hot bath to cook to perfection.
Top rated cooking gadgets include:
Perfect bake pro

Traeger Timberline 1300

Anova Culinary Precision Cooker Wi-Fi
---
How much does smart homes costs? 
The average cost of turning an average house to a smart home
Most people's  idea of transforming average homes to smart homes, is adding a smart speaker, smart hub and control basic devices.
But if we are talking about smart home it is about replacing almost every device with a smart home device.
And the truth is such a project cannot be cheap. Even if it is a small house, the cost of replacing bulbs could go upto $1000.
But if you want to get your house smart, the following are the estimates of the devices you will need to install.
Smart

home

hub or smart

home

sneakers- For this upgrade all you will need is a hub, $99 Wink 2 or $ 80 smartthings hub. You can use the hub as a central controller for all of your home devices, like lights, locks, cameras and alarm systems. You will need a hub for bedroom, lounge, kitchen and dining.

Smart

home

lighting devices-Home smart lighting starts anywhere from $25  for a single white bulb. The bulb connects to Wi-Fi and can be controlled with a smartphone or Alexa.

Door locks

automation systems

– Ideally you will have to buy two smart door locks to complete your house-front and back which roughly cost $279.

Video doorbell smart

home

devices- A doorbell costs $199, Ring video Doorbell Pro $249 and Skyball HD $ 199.You will only need one.

Thermostat smart

home

devices-Thermostats are quite cheap and one which should save you money on your energy bills. It costs $250, simpler Next E costs $229 and the Ecobee 4 is $249.

Home

Security cameras- This will cost you anywhere from $20 for the Alexa-controlled Wyze Cam, while pricer options (with more features) include the $120 Amazon Cloud Cam, while options from Nest and Netgear's Arlo system starts at $200.
All the above devices come with installation fees, which varies with professionals, areas, number of devices to be installed and quality.