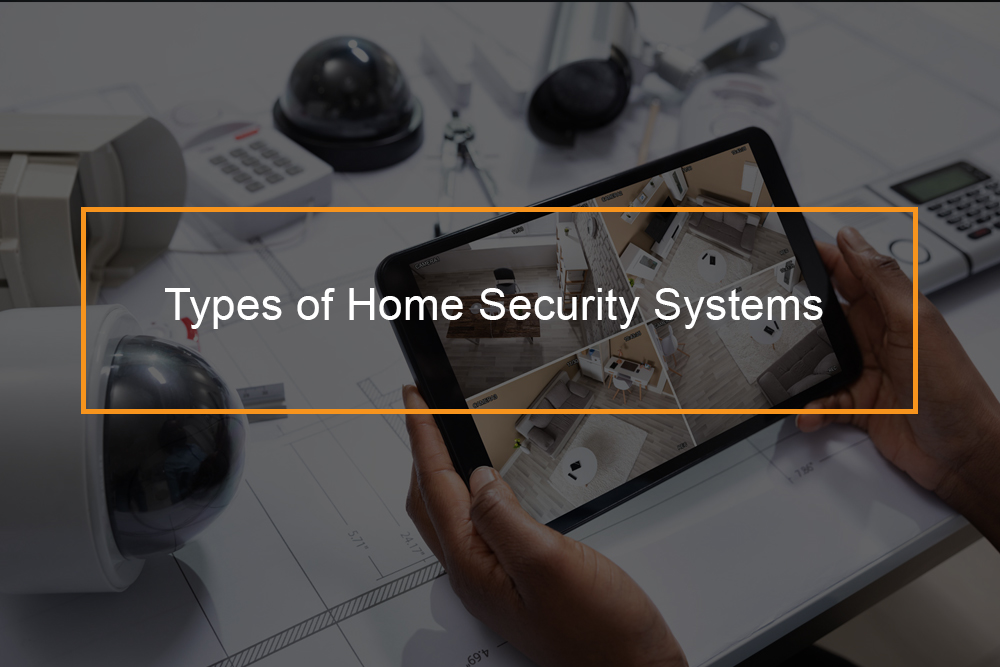 Your home is your castle-it is one of the biggest investments you can ever make. Keeping it safe and secure is a top priority for many.
Thanks to technology advancement, today there are various smart home technology and home automation security products, which provide security solutions, no matter where you are in the world.
If you want to purchase a home security system, you can now have a piece of mind. Best part is this article will help you get all the information you need before you can choose which security system set up is right for your home.
---
What are the different types of home security systems?
Types of home security systems
Home security systems provide security to your home by deterring intruders. In this section we will look at common burglar alarms-wired wireless and monitored. We will also cover various outdoor security lighting options.
Discover which home security systems are available and the best option for your needs.
Burglar alarms home security systems
There are different types of burglar alarms and they all work differently to detect an intruder. They also have different ways of raising the alarm.
Some systems can raise an alarm by producing loud noises, while others can have very bright lights,use of bells, inform your security centre or even send you an sms to your mobile phone.
Others may include a combination of all the above. The following are the common alert types for home security systems.
Secure your home by installing bells only burglar alarm systems
Just as the name suggests, this security system only features ana alarm system. When a detector is tripped such as movement the system will then trigger the alarm bells to start ringing thus alerting anyone in the area. The problem with this system is that it depends on whether anyone does actually take notice and respond.
Home security systems with notification alarms
This type of alarms responds by sending you an email or text message incase of a potential break-in. The text message is usually sent to a designated phone number. Speech dialers also use this technique. The dialers call a series of phone numbers until they receive a response in case of potential break in or can leave a message.
Home security systems using magnetic contacts to sense intruders
These types of sensors have magnetic contacts on doors and windows attached to either side. That is the fixed window or door frame and the opening section, when closed a circuit is created but if they are separated the circuit is broken and the alarm is activated.
Home security systems using interior passive infrared detectors (PIR's) to sense potential break-in
These home security alarms sense movement and body heat within a defined area and then activate an alarm. It is the most popular detector used in home security burglar alarms. The best part is they can be wireless or hard-wired.
Stay in control by having monitored alarms home security systems
The best part of using a monitored alarm is that you know if it goes off it will not be ignored. 
A monitored alarm home security system, is linked to a security centre which is manned 24-hours-a day. The alarm alerts one or more of your nominated key holders. You are required to pay a monthly fee depending on the service you choose. 
This type of home security is more expensive compared to its counterparts, but if you live in a vulnerable residence to break in then it is worth the investment. The following are the types of monitoring services offered.
Keyholder home security monitoring systems
Basically, this type of service is normally supplied through your monitoring company and depends on the level of support you have. The company sends out one of their own security officers to inspect your property or contact your nominated keyholder. It is your responsibility to keep the company up to date with change of locks, and personal details such as phone number.
Keep your home safe by using police monitoring home security systems
The best part about this security system is that it ensures that both your monitoring company and the local police are notified of any breaches in your security system. However, your monitoring company must be registered with the local police and the police may not attend in a timely manner.
Gather the evidence of home security breaches by fitting CCTV camera systems
A CCTV camera simply means Close Circuit Television. If you own your residence it is legal to install a CCTV system. 
However, the surveillance should only be trained on your property o not on your neighbor's. When installing a CCTV system, check planning permission and that it is only pointing on your property boundary as pointing beyond your area could result in fine.

Use exterior light systems to improve your home security
Lighting home security systems are simple, pocket friendly and protects your property from intruders effectively. Well it is much easier to say burglars would like to operate in darkness. The various types of outdoor security lighting include: 
Use PIR security lighting equipment to keep intruders away from your home
Passive infrared sensors is usually activated when someone walks within the detection area. The light remains on a set time period, and if there is no more movement it will turn off till it senses movement again.
Secure your home with systems using dusk to Dawn Security Lighting
These kinds of home security systems provide all-night illumination. The light is set by a timer or activated by a light sensor when it comes. Unlike alarm home security systems, dusk to dawn equipment do not alert you of any movement on your property, but they make your less vulnerable to burglars.
Home security Hi-Lo lighting systems
The system switches on automatically at dusk using a light sensor. The light is less bright than the full setting, which is triggered if it detects movement. For better results combine with back doors and side alleys when you are fitting security lighting.
Stay in control by having the best secure door entry systems, so you only let in people you trust
As well as having a burglar alarm, it is important to have home door entry systems which allow you to monitor and control who comes in and out of your house.
With a secure door entry system, you are able to:
See who is outside

Verify corporate identification badges

Verify if your visitor is who they say they are

Open your door conveniently from your kitchen, living room-just where you are
Secure you home against fire outbreaks with guardian fire system
If you are to prevent fire from causing serious outbreaks in your home, you have to catch it early. It is therefore important to fit your house with guardian fire system. A guardian fire system saves lives and prevents the destruction of property.
Moreover monitored  fire system ensure a quick response even if the property is empty. The following are the different types of guardian fire systems.
Optical fire detectors guardian fire home security systems

Ionisation fire alarm systems for security homes

Carbon monoxide detectors type of guardian fire home security systems
---
What are the top 10 home security systems?
Best home security system
It is important when purchasing home security systems to dig deep into customer's reviews.  With the information provided you can find a system that is tailored to your needs. It is also important to understand the factors to consider when evaluating security companies which you should buy your home security system from.
How to choose a home security system?
When purchasing a home security system this is what to look for:
What is the overall price that come with the home security system
Look for an organization that offer a reasonably priced plan with practical features which serve your needs. Check that the monthly costs are also reasonable. Other price to consider include: home security installation fees, activation fees and equipment fees.
Consider purchasing home security system from a business with good customer reports and services
Good customer reviews show that the product as well as the selling clients are worth the investment. It is also important to consider quality of customer service such as hours of availability, equipment warranties, cancellation policies and contract requirements. 
Choose a home security system which is easy to use and has all the features you need
Consider buying security equipment from a company which provides dependable and user friendly system. Also check that the equipment is easy mobile access. These factors should be primarily to your choice and not the look of the equipment or bonuses.
---
Best home security system based on customer reports
Vivint home security system
Vivint is the top rated security system in the market. It is best known for its high-end equipment, easy home automation integration and flexible payment options. The best part is the prices are fair compared to many competitors. Vivint offers plans such as smart home devices like thermostats, garage door controllers and automatic door locks.
Their customer services are also available 24/7.
Frontpoint home security system customer report
Most customers loved frontpoint home security systems because they were easy to install and high quality customer service support. In addition Frontpoint offers a discount on the equipment while signing up, on top of their affordable prices. The best part is Frontpoint recently added a sleek security hub that learns their customers day to day patterns and adjusts accordingly.
Choose ADT home security system to keep your home safe 
 If you are looking for a home security with best customer service  and high quality equipment look no more. ADT does not only offer the above qualities but also is dependable monitoring and has high home security experience.
ADT offers affordable prices but if you want to purchase a security system with features such as mobile access, smart home integration and video monitoring, you are likely to pay more compared to its competitors.
Consider link interactive equipment as one of the best home security systems
Link interactive home security is also one of the best rated by customers. Link interactive has reliable customer service support with professional monitoring. The best part is the company has shorter contracts.Also the equipment have fairly standard price. Moreover, the equipment is compatible with most smart home devices.
Simplisafe home security system customer reports
Simplisafe are best rated for their flexibility nature. The advantages of using these systems among other factors include the fact that no contract is required, low monitoring fees, and lower equipment costs compared to its competitors. However, Simplisafe offers 
Limited home automation support and no self monitoring plan without higher tiering plan.
Protect your home with the best landline option – protect America
Protect America is one of the best cellular monitoring systems, but is not available in most rural areas.
If you are looking for a home security system with best value go for Brinks plans
You may not like the price of Brinks plans but you will definitely love its features such as mobile access and home automation support, which are features that most companies reserve for higher tier package.
Nest secure home security system best rated by customers for interconnectivity
If you are looking for a great security system and you have already fitted one in your property, instead of getting a separate security system, you can connect with Nest secure.
Use scout home security system for low monitoring prices
Scout home security system, provide low monthly prices. The system does not provide as many equipment as other companies, but the ones it offers have the best quality.
Self monitor your home security with Abode system
With Abode home security system, you can self-monitor your system for free using your mobile phone.
---
What are the best wireless home security systems?
Best wireless home security system
Below are the five top rated wireless home security system. Most of them have already been discussed in the section above.
Vivint wireless home security system
Uses cellular monitoring type and requires professional installation.
Use Frontpoint wireless security system to protect your home
Just like Vivint the system uses cellar monitoring but does not require professional installation.
ADT wireless home security system
It uses both cellular and landline monitoring type and requires professional installation.
SimpliSafe wireless home security customer reports
The system is a great option as it requires no contract policy, uses cellular monitoring sensor and easy to install.
Use Link interactive wireless home security system to improve  your home safety
This system uses cellular sensor to secure your property and does not need professional skills to install.
---
Why should I use wireless home security system?
The good thing about wireless home security system is that it cannot be disabled by someone cutting your phone line or any other activity. If such is detected the system will automatically alert the central monitoring center.


Most wireless home security systems are easy to instal and does not require professional skills. This makes installation cost cheap.

You can take your wireless home security system with you if you move. This is great for renters who might switch apartments periodically.