4 Key Types Of Supply Chain Strategy
You might have a winning supply chain model in place with all of the best tools in the industry,  but you are bound to hit a costly snag before too long without a proper management strategy in place. Much like the tools and kinds of supply chains, no method can solve the problems of every industry. Before jumping on a particular strategy, ensure you speak to your logistics partners to figure out the best method of approaching streamlining your supply chain management. Meanwhile, take a look at the four methods of supply chain management.
---
What Is A Supply Chain?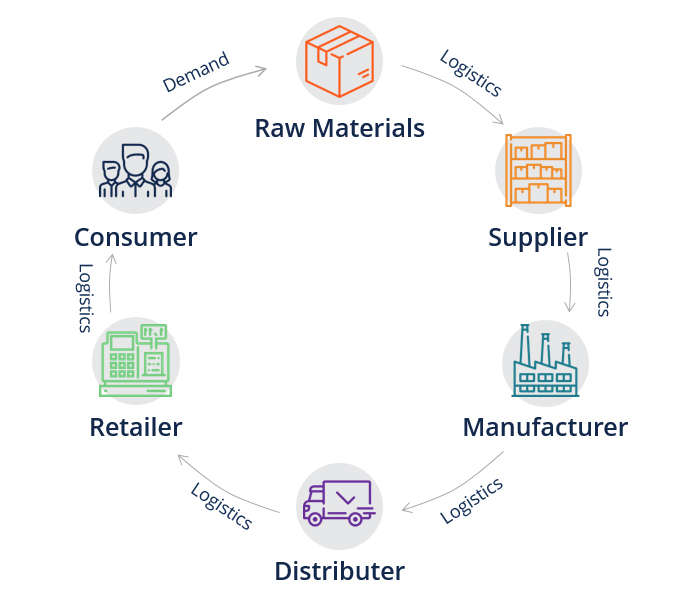 Many definitions define what a supply chain is but none simpler than it is a sequence of events that helps a community move from manufacturing to market. The supply chain contains equipment, people, transportation modes, and technology.  Every field has a supply chain. Supply chains historically were straight-line models that looked like this:
| | | | | | |
| --- | --- | --- | --- | --- | --- |
| Raw materials | Supplier | Manufacturer | Warehouse | Shipping | Consumer/End user |
Today, as a result of the global economy, the supply chain looks like a web with the manufacturer in the middle of the web. Logistics and supply are the backbones of every business. It can impact the success of a business and unluckily also be the downfall of a company. Without a strong supply chain strategy in place, a company will not thrive.
---

The 4 Types Of Supply Chain Strategy 
Let us get right to it. The four supply chain strategies are:
1.

Client-centricity:

Plan and deliver for the segment of one
In a digital economy, client-centricity is more than just an aspiration. It requires to be integrated with digital supply chain capabilities to serve segments of one continuously.  The experience begins with a touchless supply chain, where you automate wherever possible and manage by exception. This method allows supply chain practitioners on the ground to concentrate on the value-added processes and activities that focus on clients first.
Automation at this level needs an accurate picture of real demand. Maximizing forecasting accuracy remains vital, but it is not enough. You have to capture demand signals in real-time from various data sources. These sources incorporate structured data- such as point of sale, orders, and Internet of Things (IoT) sensor data- and unstructured data- including social media, e-mails, predictive algorithms, and sentiment analysis. All of this information should be brought together to deliver a real picture of actual demand to yield insights that facilitate superior customer service and improved business performance.
This demand drives integrated business planning processes that should be responsive and flexible to changes in demand, supply, and other signals across the supply chain. These improved processes allow companies to better manage collaboration across partner networks and more efficiently handle everything from a shipment of one thing to multiple truckloads headed across borders. The result is the ability to deliver the outcome clients want- even as requirements, preferences, and the digital economy keep evolving.
2.

Predictive business:

Plan, make and maintain the product of one
In the face of rapid change and growing complexity, how do you keep pace? One way is to see what is coming before it happens:
Realigning manufacturing to adjust to sentiment analysis

Adjusting shipments to avoid weather problems or traffic issues

Fixing machines before they break down

Addressing issues before they become a significant concern
Thanks to the emerging technologies accessible in the digital economy, all of this is possible. The leading edge practice for a predictive business is to build and manage networks of digital twins. A digital twin utilizes IoT sensor data to maintain a direct connection between a physical asset or product and its designed, manufactured, and employed digital representation. By utilizing digital twins, you can achieve a 360-degree view of your whole network's equipment, assets, and products- from products running in customers' homes and full deployments of commercial-grade assets out in the field to equipment and machines operating within your business.
However, visibility has little value in and of itself. You need to use the data accessible to create true product and asset intelligence and then act on it. The more knowledgeable you are about how products perform and how they are used, the more accurately you can project service disruptions and detect what consumers want most. By capturing and incorporating client demand and usage data across a network of assets and products represented by a digital twin, you can create valuable insights about what is on the horizon. This benefit can lead to more relevant product design, improved customer service, and higher availability in the field with consumers' outcomes.
3.

Total visibility:

Examine and manage the supply chain of one
In addition to the automation, individualization, and responsiveness needed to succeed in the digital economy, it is crucial to provide real-time visibility to every role across the extended supply chain. But do you achieve that?
Typically, total supply chain visibility requires nothing less than a digital mirror of your company. The aim is to see everything- from the movement of goods in production or transit to demand signals and relevant information from point of sale systems, sentiment analysis, and other critical sources. Total visibility also indicates the ability to see accidents, traffic jams, and weather patterns that can impact sales and deliver or result in supply chain disruptions.
Because modern supply chains always extend beyond the four walls of your company, you need to flexibly collaborate and coordinate across sophisticated business networks of partners, warehouses, manufacturing facilities, and distribution centers. With a digital mirror of your expanded supply chain, you can connect the real world to the planned globe, allowing you to:
Reduce exposure when performing product recalls

Streamline cross-border transactions

Assist ensure ethical product sourcing

Maximize sustainability and compliance across your global supply
The aim is to identify potential disruptions and sense surges in demand. Gaining this ability will help you minimize risk across the supply chain, improve business responsiveness, and provide the kinds of experience and outcomes that clients crave.
4.

Smart automation:

Ensure You Manufacture The Lot Size Of One
Generally, automation is everywhere across the supply chain, from autonomous forklifts and robotics in the warehouse to the potential of drones delivering products. However, when it comes to smart automation, manufacturing leads the way-motivated in large part by moving from mass production to mass customization of personalized and individualized products.
To seize this chance, leading companies are rethinking their manufacturing, design, and logistics processes. A key trend is a transformation from continuous production lines to flexible production cells that can be moved and utilized in a near plug-and-play manner. Smart sensors that offer critical status data can help in the automatic routing of products to the next cell in the production process.
As a result, businesses can better manufacture the lost sizes of one that personalized products demand. In conjunction with more agile manufacturing processes, companies are also retooling their delivery and distribution processes. Historically seen as cost centers, distribution centers are now seen as strategic assets that can present a competitive advantage for savvy businesses. A range of powerful emerging technologies is allowing organizations to realize this benefit. To improve flexibility without carrying the cost of large amounts of inventory, for example, many companies are turning to 3D printing to generate products on demand. Other enterprises are turning to technologies like IoT, robotics, and machine learning.
---
Supply Chain Management Tools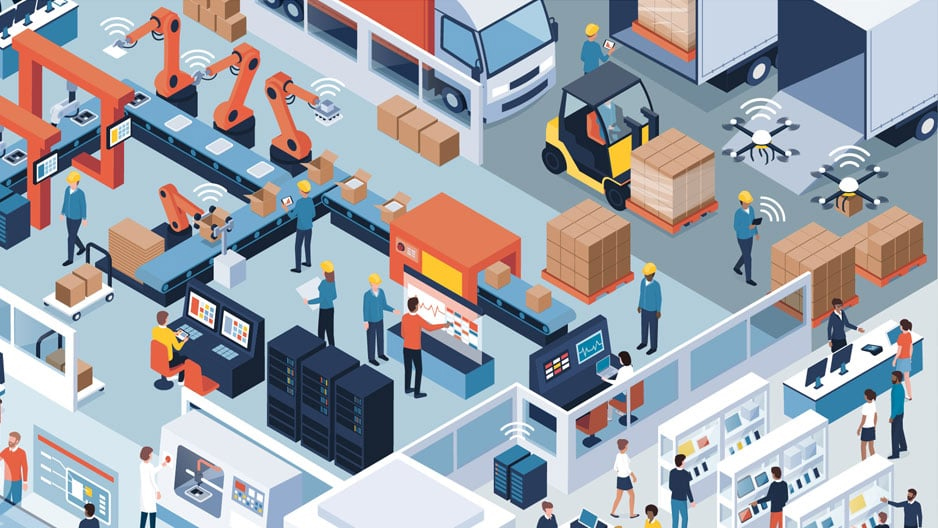 Established supply chain management techniques and specialized tools make it possible for users to lower errors and costs while optimizing the whole supply chain. Let us look at various supply chain management tools that make these solutions valuable to businesses:
Shipping Updates and Status Alerts
An increasingly common tool, real-time alerts offer timely information on all shipping activities. Generally, large businesses have high-volume supply chains with many different kinds of cargo shipped to clients around the country or around the world.
 Whereas these factors allow for growth, they also leave your supply chain vulnerable to more mistakes. Real-time updates keep business owners in the know so that they and other stakeholders can take action before small problems become much more extensive. Moreover, these alerts can be sent to your mobile device to inform you of the status of your supply chain at any time, night and day.
Order Processing
Order processing is massively significant to any supply chain, and as such, solutions offer the tools required to make this task more efficient and easier. These tools support all tasks across order processing, such as sales order processing, order fulfillment, order management, order to cash, and billing.
 These supply chain optimization tools can automate most tasks engaged in order processing utilizing EDI software and similar technology to directly capture order information. This lowers the time it would take to traditionally process an order by getting rid of the need to generate and send invoices and POs manually. It also decreases the opportunity for human error because there is no need to manually takedown order information and re-enters it into various systems.
Warehouse Management
Based on the solution you select, these tools might also help manage your warehouses' daily operations. Solutions offer a wide array of warehouse management capabilities as wide or specific as your business requires. Some solutions offer advanced supply chain planning tools, enabling users to handle sophisticated logistics related to product tracking, receiving, route planning, cycle counting, and more.
 Additionally, warehouse management tools assist in managing the kitting and bundling process as well as many warehouse locations. This is mainly useful when you need to bundle many products that are kept at different warehouses.
Lean Inventory
Lean production is a term that dates back to the 1940s, designed by Toyota and inspired by Henry Ford's just in time production; The concept is that businesses create only what is required at the moment, determined by present and projected customer demand. Before lean inventory, manufacturers would create and house huge surpluses of products. This led to massive inefficiencies, wasting effort and time.
The main aim of this practice is to optimize your production planning by cutting down on inventory costs, warehousing space, and the different procedures of storing excess inventory. Lean inventory tools can offer quite a bit of return on investment for a company, decreasing the need for warehouse capacity and streamlining their labor force.
Whereas lean production principles can be adopted without these tools, this kind of supply chain management takes efficiency to the next level. By utilizing demand forecasts, scheduling, simulation, materials planning tools, you are able to gain a much broader insight into the future of the supply chain. Typically, these tools make planning production in alignment with lean manufacturing principles much simpler.
Supplier Management
Tying in strongly with spend and bid tools, supplier management is a must have when it comes to procurement. With assistive functionalities for cost issues, supply chain management tools can also assist businesses in understanding how they relate to their suppliers. These tools depict the history of a business partnership and how it impacts the supply chain. Utilizing supplier performance analysis, users can see how any given supplier has contributed to a business model.
With the ability to continually evaluate your partners' contributions, decision-makers can act more confidently to change or otherwise manage supplier relationships. Besides, supplier management tools usually provide a workspace to perform bids, negotiations, and auctions for more centralized procurement.
In conclusion, think about how these supply chain strategies and tools could empower your business operations in the digital age. If what you are thinking is where you would like to see your business in the near future, it is high time you invested in a solution. In order to choose a system with the tools your company needs most, you will have to create a list of requirements. Note that careful consideration of your business needs among all parties will make sure you get the right supply chain strategies and tools to support your operations.