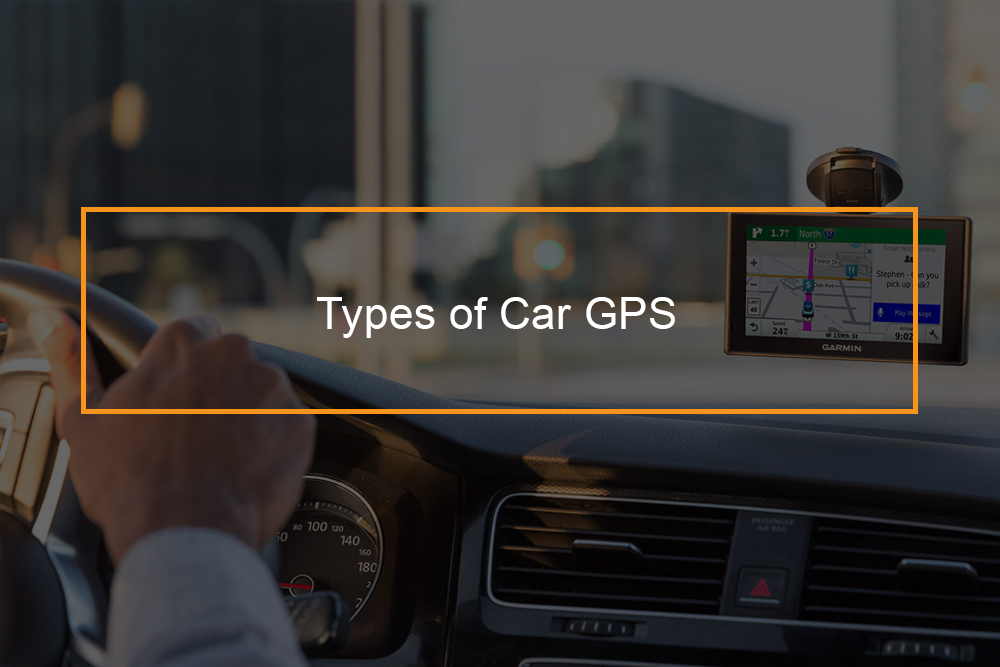 Do you want to go driving without worrying about getting lost? Then this post is for you. With GPS navigation system in your car, you can navigate the streets of almost everywhere in the world.
The car GPS has the usability of maps and directions with improved accuracy due to high technology advancement. They are simply an upgrade you can not afford to miss your car-when you get stuck, you get a message and there you know everything will be well. However, there are various GPS systems for your car in the market. This post will help you choose the best one.
---
What are the different types of GPS?
Different types of tracking device for cars
Global Positioning Systems were basically designed with military applications in mind but have gradually evolved into something people can not do without. 
Today, with a GPS you can drive comfortably any street, whether you are familiar with it or not. But what are the different types of GPS in the market and how do you choose the best one for your car?
Three GPS categories
In-dash systems

Smartphones GPS apps

Standalone handheld GPS devices
The three GPS systems are great for navigation, to choose the best one, you just need to understand what features you need.
In-Dash GPS Systems
The In-Dash GPS systems are common in modern cars. The best part about these systems is that they are big in size hence giving you a large and clear picture. For a GPS size is the most important feature-allows for a wide variety of extra information and you can view the information on the screen at the same time.
A good GPS should be big enough to give a driver detailed turn-by-turn list, clear view of the road ahead, detail of upcoming turn, time, mileage destination and the information is not limited, without detracting  from the driving directions to destination. This is how In-dash GPS systems work.
In addition, if you are using a In-Dash GPS System, you  do not have to worry about incoming calls or texts shutting off the navigation system, the car adjusts itself automatically. The radio system, GPS system and your phone work together as one.
Cons of In-Dash GPS Systems 
They come preloaded with maps, this can pose a limitation to only those maps for your car depending on the age of the vehicle and manufacturer . With time these maps can become outdated.

In-Dash systems are not portable- they are fixed in your own vehicle. In case you are using a borrowed vehicle, or if you decide to buy a new car, you lose the GPS. The worst part is you will not only lose the functionality of the GPS but also the saved addresses, points of interest and your favourite routes.

They are the most expensive systems among the three car GPS types.
Smartphones GPS apps
This navigation system is the easiest to install as it is accessed through a mobile phone, without the need to invest in any additional equipment.
The best part about smartphone GPS apps is that unlike In-Dash Systems they update their maps regularly. 
The GPS apps are also pocket friendly.  
In addition they tend to have access to more details such as hotels and shops along the route you are driving, while some even include reviews and websites together with address.
Most drivers like the smartphones GPS apps due to their simplicity in operation, especially because many motor manufacturers upgrade their smartphone integration offerings, which you can be able to use even with an old vehicle. 
Downsides of Smartphones GPS apps
Smartphones GPS apps users are prone to lose of navigation especially if you drop your phone, if your phone goes off or lose service.

Smartphones GPS apps tend to drain a phone's battery power faster, this can be a challenge to a driver of an old car, especially those without USB ports.
Standalone handheld GPS
The Standalone handheld GPS were the first navigation system to be designed. They were first created for military and were later used by civilians in the 1980s. The GPS which was the only choice for anyone who wanted navigation then was expensive initially but the price has dropped with time. 
Today you can purchase a good handheld GPS for around $100.
The biggest advantage of handheld GPS, which is the worst downside of In-dash systems
Is their portability. You can your handheld GPS with you when you buy a new car, or even when you rent one. In addition, you do not lose the addresses you have saved they always have a familiar system to guide you along.
This type of GPS is created for nothing but provision of navigation. Basically it has more features and options for personalization.
A single charge can be enough to get you to your final destination without any complications, but this depends on the make and model of the GPS.
---
What is the best GPS system for your car?
Best GPS tracker for a car
Having a dedicated GPS system for your car or truck is the best way to get to your destination safely and easily. Even better than smartphones Google Maps, or Apple Maps. Below are the top best GPS for your car in the market and their features-turn to them next time you think you could get in a sticky situation.
Magellan RM6220-LM GPS Navigator
These GPS systems are the best pocket friendly navigation systems on the market today. The best part is that they are big in size with a 5-inch touchscreen and have the ability to display the latest full 3D maps. 
In addition it is portable, can be taken from car to car. The Magellan navigator costs less than $65 and has features such as 'ever-changing landmarks'. With this GPS, you do not have to worry about traffic reports as it is fitted with  "Traffic Camera Alerts by PhantomALERT," feature.
Garmin DriveSmart 51 NA LMT-S
Garmin DriveSmart system is the best navigation device for daily commuters. The GPS  cost around $ 200 and have a five-inch touchscreen. The handy touchscreen connects to a smartphone through bluetooth giving the driver a hands-free option to place phone calls, be able to read the message, and even get calendar reminders without detracting the driver from the road. A feature which makes them reliable for someone getting from home to work. Moreover, the GPS has a Garmin's detailed travel and traffic maps.The traffic maps is a special feature which will show you when and where you might be faced with traffic.
It also comes with free lifetime updates.
Garmin Drive 60 USA LMT GPS
This is a model by Garmin and is the best utility GPS system as it features various safety features. The GPS has driver alerts feature for oncoming traffic and fatigue warning, Garmin Drive for when you're about to reach a school or hospital zone and Up Ahead milestones and landmarks during journey.
The best part is with this app you can never be caught in "speed trap" as it features free details for current streets and current speed limits.
The system also features locations of popular restaurants and stores. 
This device is a system with nothing fancy but quality of maps and directions.
Garmin speak with Amazon Alexa
This is the best voice activated navigation-it is completely hands-free GPS. The navigation is simple to use and pairs directly to your smartphone and the Garmin app through Bluetooth. The non touchscreen GPS incorporates the Amazon Alexa with the reliability of Garmin.
You just need to ask directions and the assistant will give you turn-by-turn directions. Generally, you will be having an Echo Dot on your dashboard. Moreover, you can get news and weather, your playlists, and order items from Amazon.
You can also record and save car footage with voice command.
So if you are looking for a GPS which is hands free solution-getting directions and driving at the same time and any information on the internet- Garmin speak with Amazon Alexa is for you.
The Garmin Drive GPS is the leading seller on Amazon as it is easy to set up and reliable. The GPS which comes with free lifetime map updates,offers clear turn-by-turn directions at a friendly price.
The GPS has features such as drivers alerts which let you know when you are in a school zone, lane departure warning that is if you are veering off the road, a solid dash cam to record potential collisions and the speed limit to alerts you if speed changes suddenly. 
Moreover it has a 5-inch touchscreen which is clear and bright. 
It also features voice search and commands.
Tom Tom is the leading brand of GPS devices in Europe and is based in Amsterdam.
It is different from Garmin but still good quality. 
It is light and has a 5-inch touchscreen display. The navigation is fitted with interactive maps which come with free lifetime updates. The best part with Tom Tom GPS you will not drive aimlessly looking for a parking spot as it comes with parking assist feature.
The device provides minute traffic reports via smartphone tethering and almost all map coverage of North America.
Garmin Nuvi 57LM  GPS features real-time traffic updates, while giving you easy and simple directions to popular locations around you, such as shopping malls and airports. It also gives access to highly-rated restaurants and shops . 
The GPS has free lifetime map updates of all fifty states and maps of Canada and Mexico. 
This device is specifically designed for professional drivers and for commercial purposes for recreational vehicles and long-haul semi trucks. 
The GPS is best for navigation in less known areas and truck-related restrictions such as short bridge heights and weight limits.
The FourSquare powered device is best for navigating truck stops, rest areas, weigh stations and repair shops for bigger vehicles.
The device which costs around $375.66  comes with lifetime maps and real time traffic reports.  It avoids sharp curves and narrow lanes and can stay with your vehicle's driving limits as it accounts for your own vehicle after you plug in its length and weight into the device itself.
---
How does a personal GPS tracker work?
Car GPS features and functions
Below are the essentials parts of GPS based vehicle tracking systems which will help you choose the right navigation that fits your needs and budget.
Basically, most GPS systems are enabled with real-time monitoring. The location of the car is navigated on the map as it moves from one point to another.
The GPS location of your vehicle will be shown on a map along with the speed the vehicle is moving at, if the vehicle is moving. 
The map markers show the current state of the car that is if it is moving, parked or idle. You can also manage and group multiple vehicles simultaneously using simple to use interface.
It is possible to track all the trips made by car graphically on the map. Distance travelled, stoppages, idling, engine time and average speed is displayed on the map. Over speeding and overdrive stretches are also highlighted on the map.
Some cars come with an option to replay the entire trip which a great feature to business owners and chauffeur driven car owners.
You can analyze driver behavior, fuel usage and workforce using alerts. Features like over speeding alert, start of day alert, route deviation alert, and excessive stoppage can be configured depending on your need.
If you are personal car tracking system features like maintenance alerts and fuel pilferage can be very useful.
It is important to invest in a GPS tracking system which is accessible on the web and smartphone- they keep you abreast with your car movement in real time no matter where you are.This is important when the car tracking system is used by discerning parents to track school bus or chauffeur driven cars carrying children. 
You can build geographical boundaries known as Geofences on the map around a landmark. These geo-fencing will take alert customization to the next level. An alert will be sent out every time the vehicle enters or exits the Geofence.
This monitoring information can translate into increased operational, efficiency, workforce optimization and elevated security and safety levels for the user.
Some GPS tracking systems come with innovative enterprise solution created to harness the power of location-based services and integrating it with cloud computing  to make actionable fleet data available at the operator's fingertips.