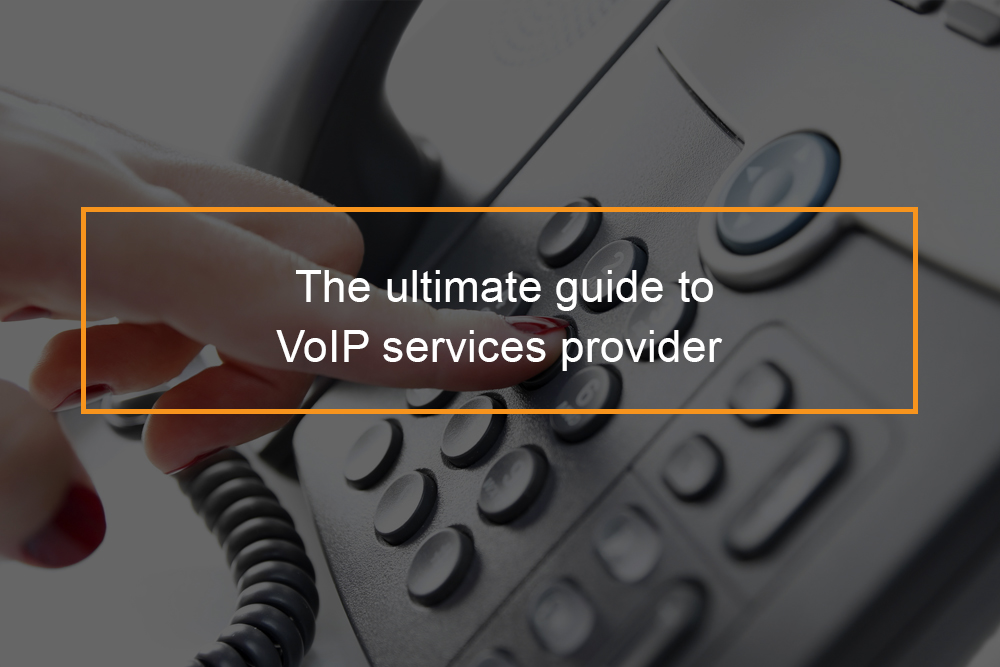 A voice over Internet Protocol VoIP provider provides VoIP internet telephony solutions to both residential and commercial customers. Also referred to as internet telephony service provider, a VoIP service provider typically offers the VoIP hardware and services to users at a monthly charge, even though IP PBX and hosted VoIP services are very common.
As with all VoIP solutions, VoIP telephony service providers use packet-switched telephony to transmit calls over the internet contrary to the circuit-switched telephony used by the traditional Public Switched Telephone Network (PSTN). VoIP calls are like traditional analog telephone calls, but they are made over internet high-speed broadband connections instead of regular telephone lines.
The main benefits of VoIP phone calls are advanced features and that unlike regular international calling, calls made via VoIP service providers are free, better voice quality, and there are no charges beyond the cost of your internet access. The disadvantages of VoIP are limited, but they include internet reliability and data packet loss and latency.
---
Do I need Voice over Internet Protocol (VoIP) provider?
Do I need to register with a VoIP provider to access VoIP service?
VoIP is a great technology that enables you to make free and affordable calls locally and internationally and provides you a handful of other benefits and improvements over a landline phone. VoIP uses various protocols such as realtime transport protocol, SIP trunking, session initialization protocol, and others to be able to work. To be able to use a VoIP system, you need VoIP service.
VoIP service is the service that you get from a company (known as VoIP service provider) that allows making and receiving VoIP voice calls. It is similar to the internet service you get from an internet service provider or the phone service you get from a Public Switched Telephone Network line telecom.
You thus need to be registered with a VoIP service provider and use its service to place VoIP calls. For instance, you need to register with Skype, which is the most common VoIP service on the internet, and use your Skype account to place VoIP calls to people online and on telephones.
---
Is VoIP service enough?
What kind of equipment do I need to use a VoIP phone system?
After you are registered with a VoIP service, you need other equipment to get started with VoIP. First, you need a phone to make and receive calls. That can be any type of phone, depending on the kind of service you are using. It can be an analog traditional phone set, which you can use with residential VoIP solutions, such as Vonage or a VoIP business phone system such as Nextiva or RingCentral, for example. For services that are based online such as Skype, you will require an application that primarily stimulates the functionality of a physical phone and also provides many other features. This type of software app is known as a softphone.
For any VoIP voice call, you must have internet connections or a connection to a local network that, in turn, connects to the internet. Note that your internet connection affects the call quality. VoIP utilizes IP network to remove and channel calls, which is what makes it so cheap.
To be able to deploy VoIP technology, you need an additional piece of hardware known as analog telephone adapters or just telephone adapter. This is the case only with services that use traditional phones such as residential services.
In case you use your computer, you will require some software and a cheap microphone. Special VoIP telephone connects directly into your broadband VoIP connection and operates mostly like a traditional telephone. In case you use a telephone with a VoIP adapter, you can dial just as you have always had, and the service provider may also offer a dial tone.
---
Types of VoIP phones services
Dependant on the way you will communicate, you will require to choose which kind of VoIP services is ideal for you, among the following:
Home phone replacement residential VoIP services
This type of service replaces your traditional landline phone and enables you to keep your current phone together with a phone adapter. It is the same for businesses where many opt to use an internet phone. The service is paid monthly.
No monthly bill-services: Unlimited phone calling only
This service provides you with special hardware which you pay only once. You will then access unlimited calling without any other service.
Software-based VoIP service
Like with the Skype app, you install a VoIP app on your computer or portable device and register with the service. You can then utilize the app to place and receive calls, and you use your prepaid credit to place calls to landline and mobile phones. Calls of individuals using the same service on their computers are free. The apps are frequently provided free with the VoIP service.
Voice over IP services for businesses
VoIP services for businesses are frequently based on the internal mobile network and virtual PBX. A hosted PBX is a kind of cloud PBX or hosted PBX, indicating that the VoIP provider performs all of the routing services.
They also provide many business-related advanced features and outsourcing for the business VoIP system's hosting and management.
Mobile VoIP services
Software-based services which are designed to be adopted on mobile phones, tablets, and other portable communication devices. You need to install VoIP apps on your telephone system or portable device to use the service. Phone carrier or W-Fi connections are used rather than cellular calling minutes.
---
How to choose the best VoIP provider?
What to look for in  VoIP provider?
The globe is getting more and more interconnected as the years pass by. As a result of that, international calling and distance calls is going to keep on becoming more essential for all kinds of businesses. Each VoIP provider is going to have varied plans based on various needs.
Looking for the right VoIP provider for your particular needs can be challenging since you need to look at various factors. Let us see specifically what to look at to evaluate if your VoIP provider is good.
VoIP calling service packages
One of the greatest deciding metrics of VoIP service is the packaging option they offer. Many VoIP telephony providers will provide very competitive rates to consumers willing to sign up for one or two year contract. However, note that cancellation charges are quite high. As for subscribers who choose monthly calling plan, they are generally given the freedom to opt-out anytime they need but will pay more for the service. Note that each VoIP provider has different charges, while some have a flat rate depending on the features you choose.
If long distance calls and international call rates are your big elements, make sure you go through the fine print closely on the specific features when comparing different Voice over IP telephony providers.
Evaluate important features
Most VoIP providers offer the following basic features. Note that the list is not limited
Web conferencing

Enhanced 911 dialing or emergency calling that associates with your IP addressing

Call return

Ability to block calls

Call forwarding

Call waiting

Caller ID

Ability to keep your current phone number

Voicemail options
VoIP companies all offer basic Voice over phone service, so what needs to stand out truly is the extra features they provide. For example, some VoIP providers can provide video conferencing that can handle more people. While call transfer allows the user to send a call to a different telephone entirely, indicating that the various individual phones will each require extensions. Other providers offer extra features that enable unified communications. Make sure you use a speed test to evaluate your data bandwidth connection so that you can enjoy your features without efficiently. 
VoIP provider technical support service
A good VoIP service must have good technical support. Ensure you look around for reviews of the company to make sure the service provider provides is reliant, fast, and effective. Look at the website to ensure that there is email, live chat, or over the phone support. Also, check there is a knowledge base configured to assist customers in working on issues. The VoIP service provider should also secure VoIP customers' details from cybercrime.
---
Does the Federal Communications Commission regulate VoIP providers?
The Federal Communications Commission (FCC) was imposed 911 obligations on VoIP telephone company that enable users to typically make calls to and receive calls from regular telephone networks in 2005. However, emergency calls using Voice over IP phones are managed differently than 911 calls using a landline telephone service.
Internet telephony service providers have to comply with the Communications Assistance for Law Enforcement Act apart from FCC. They also have to contribute to the Universal Service Fund, which powers communications services in high-cost regions and for income-eligible telephone users.