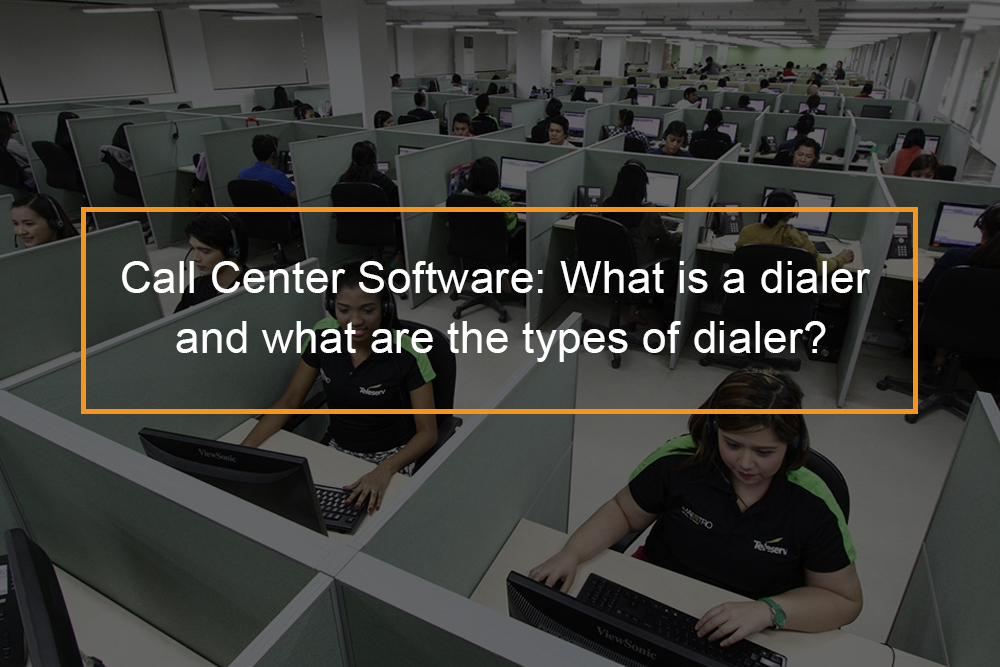 There are three main types of dialers for call centers, namely preview dialers, also known as power dialers, progressive dialers, and predictive dialers for call centers or business. Each dialer has its own strengths and weaknesses when you attempt to dial your leads. In this article, we will outline these three types of dialers for contacting leads. We also provide details of how automated dialers can improve your business phone system.
---
Sales dialers for outbound call centers and business
Types of call center dialers explained
A dialer is an electronic appliance that is deployed to monitor the numbers dialed from a telephone, and alter them to offer services that would otherwise need long national and international access codes. A dialer is typically connected to a telephone line. The numbers are inserted and modified automatically by the auto dialer software based on country, area code dialed, and the time of the day.
Often contact center software is integrated with a dialer system, which is a computer program. There are various dialing modes, and these are programmed in a contact center based on how the call is placed. A dialer automates the process of phone calling in a contact center. By automatically dialing phone numbers on behalf of the agents, automatic dialers increase productivity.
Power dialer software
Power dialers are also called preview dialers. They are the slowest option among sales dialers. Power dialing calls using one to one calling ratio, which enables your sales rep and call center managers to preview the lead. The call center agent can look through the lead information and decide if they need to reach out and call. In case they choose to reach out, then they simply click to call. Similar to manual dialing, the agents can be well prepared to deal with the customer with preview dialing as well, but without the hassles of placing the call manually.
The sales agent may reach the consumer, or they can access pre recorded voicemails. In case the agent reaches an answering machine or a fax machine, then he or she can disconnect the call manually. In case you use a consultative sales approach, preview dialers, or power dialing is a great solution. One incredibly essential thing is that the leads that are being provided up have some high logic behind them. As a result, good workflow automation is critical.
Progressive dialers
Progressive dialers are a little bit more efficient and effective than a preview dialer. However, progressive and preview dialers are similar. Progressive dialers also use one to one call ratio. The main difference is that the phone call information is passed to the call center agent when making a phone call. The sales ep does not have an option to choose which lead is being dialed. Predictive dialers contact the leads without discrimination. The progressive dialer is ideal for inbound and outbound call centers that have a more scripted type of sales process. In fact, this telemarketing software is suitable for all campaigns. You can select a dialer that is more suitable for your contact center, one that can offer you maximum productivity. 
Predictive dialers for call centers
Predictive dialing offers all the speed. A predictive dialer is an advanced dialer system that can be used to place thousands of calls in a short period. Predictive dialers free the agents from phone dialing and decrease the ideal time between connected calls. In a case when the call is ready, and there are no available agents, the predictive dialer will automatically terminate the call. A predictive dialer is also known as a hosted predictive dialer. It functions on an algorithm. The efficiency of the dialer works on a number of factors such as cloud contact center agents, job type, average call length, and so on. A typical predictive dialer system uses answering machine detection. On automated outbound calls, the dialer connects with the lead.
Auto Dialer Software
Auto dialers are also known as phone dialers, voice dialers, and automate dialing. The auto-dialing software dials a series of phone numbers that are already uploaded to the database automatically. After the auto dialer system dials the phone number of a particular customer, the sales agent can see the information about the customer on his computer screen. After the customer answers the call, the auto-dialer will either play the prerecorded message (this often referred to as robocalling or voice broadcast) or connect the call to a live person. Autodialer software helps to increase the productivity of agents.
Manual dialer
The contact center industry began with a manual dialer. Normal telephone lines are used to place automated phone calls to customers. This contact center solution allows contact center agents to place sales calls manually. The agents have absolute control in this dialing mode. The main demerit of manual dialing is that unlike dialer systems, agents have less talk time since they have to scour the paper records, find the number, dial the number and proceed after the call is picked up.
---
Best call center dialers in 2019
Choosing the best dialer for your business and call center
Finding a call center solution can be overwhelming. Call center software advice has assisted thousands of call centers to select the right dialer software so they can automate dialing and distribute answered calls.
Kookoo dialer is a cloud contact center solution that operates both standalone or blended with your existing call center solution. Advanced tools allow intelligent call routing, call recordings, inbound management, and abandoned call management. For the software that is challenging to integrate, you can use Zapier integrations to connect such apps. Kookoo's open platform blends into existing business systems that you may have, these include: Automatic call distribution software, emergency notification solutions, call center workforce management software, call monitoring software, and interactive voice response system.
CrazyCall cloud call center software
CrazyCall is a cloud-based call center software solution that can help you increase your contact center dialing rate. Key features include live analytics reporting, appointment scheduling, and appointment reminders, touch tones, caller ids, and workforce management. CrazyCall's also supports dialer CRM integration. Call center agents do not have to copy and paste numbers from their CRM software or emails from Outlook.  In CrazyCall, call center managers can see how all agents are performing and high performing agents.

RingCentral engages voice is a cloud based contact center solution designed to assist businesses to automate and streamline outbound and blended communications between customers and call centers. It comes with a configurable dashboard, which aids users in monitoring key performance indicators and simplifies all outbound and inbound calls. Key features of RingCentral include phone messaging features, call transfer, automatic call distribution, call recording, answering machine detection, and interactive voice response. The centralized platform offers users with an administrative interface to develop outbound calling campaigns and detect voicemails.
Add virtual contact center by 8×8

Virtual contact solution 8×8 is a cloud based call center solution for small to midsized business. The software provides features that help sales teams to increase their production. 8×8 comes with features such as call recording, caller ids, call routing, CRM integrations, and others. It offers system integrations such as IVR, CTI, logging, and recording of audio messages. Besides, to call center functionality, this solution also supports other interaction mediums like email, voice, mail, and more.
Increase your outbound sales with Five9 cloud contact center
Five9 dialer is an all-in-one cloud contact center solution for outbound, inbound, blended, and omnichannel contact centers globally. Supported by practical AI, Five9 allows agents to offer customer automated calls experience across phones and other platforms. The AI-driven Five9 engagement workflow uses intelligent routing to get clients to the right agent. Other dialers you can consider include: Adversus dialer, PhoneBurner, Talkdesk enterprise cloud center, and ChaseData call center. You can choose a dialer that is most suitable for your business or call center, one that can offer you maximum productivity. You can even begin with a free trial (no credit card required) before you commit to a plan.