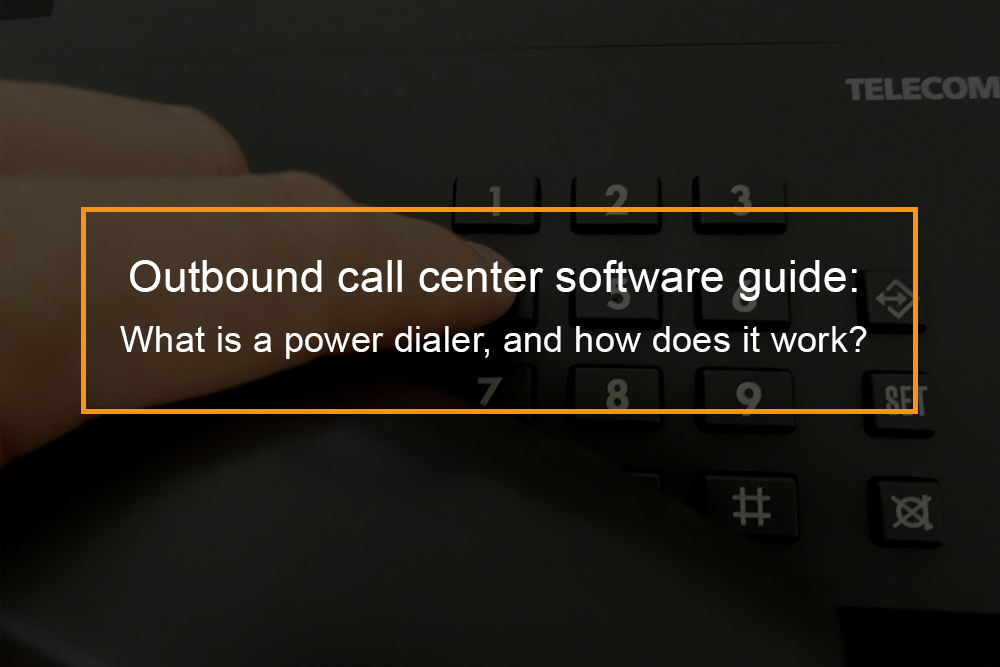 Power dialing is a type of call center dialer where the call center agent is already active on the line at the time of the call. The sales agent activates the phone calling session, and when a live person is detected, he answers the call. Since the sales agent is already living here, there is no call transfer needed. Power dialing is ideal for single-agent cases or in remote-agent environments since it does not need multiple agents to transfer calls to. Dialing rate is high here and the possibility of abandonment is less since the system auto dials one line at a time.
---
What is a power dialer software?
Power dialer explained
A power dialer is an automated phone dialing system that connects customers with sales agents more effectively by enabling agents to focus on live connections rather than manual dialing. Power dialing differs from predictive progressive dialer in that it uses a manually set automated phone calls to agent ratio. When the agent becomes available, the system automatically dials the next contacts based on that ratio. With this setting, the cloud call center is provided ultimate control over automatically dialing rates.
By automating outbound and inbound calls, power dialers maximize agents' talk time to real prospects and customers. The power dialer is particularly useful when a contact center has a small number of sales teams and a large number of prospects. You can increase your outbound sales by choosing between power dialing, progressive and preview dialer. Besides, power dialing has a list of phone messaging and calling features so that you can customize dialing behavior to your business phone system and compliance.
---
Outbound contact center: Why do you need power dialers?
Advantages of power dialer
A power dialer is convenient for sales teams, political groups that need fundraising and advocacy. Below are some of the benefits of this dialing mode.
Gives a call center full control: Power dialing enables you to set sales calls to agent ratio manually, so you can take advantage of automated dialing benefits while maintaining control over dialing rates.

Multiple dialing modes: Power dialing offers various dialing modes to suit your needs. 
---
What is the difference between predictive dialer and power dialer?

Predictive automated dialers are a type of auto dialing software that uses predictive statistical analysis to evaluate if a call should be placed to leads. Compared to 'regular' auto dialer software that dials numbers only when an agent is free, predictive dialers dial a number before a sales agent is free to take the call. When an auto dialer system was first invented, predictive dialing became more complex. Besides detecting how many agents are accessible, predictive auto dialers deploy real-time call statistics analysis to see the average handling time and answer time for automatic calls.
Even though power dialers and predictive dialers have some differences, they have some similarities. For example, both dialers help call centers place thousands of calls. When compared to the traditional way of phone calling customers, the automation of dialers speeds up the procedure. Aside from that, they have common features such as dialer CRM integration, call transfer, caller ids, call routing, call recordings, touch tones, and interactive voice response. Typically, both dialers have similar goals: to allow sales reps to call as many prospects as possible. The difference between the two dialers lies heavily in the methods they use to try to reach these goals.
The difference between predictive dialers and power dialing
A power dialer queues up an automated call after a call is done. On the other hand, predictive dialer systems do not wait for the call to end before dialing another number. Another difference is a power dialer dials another call once the current call has ended. While a predictive dialer calls regardless of call center agents availability. Some of the best predictive dialers in 2019 include: Adversus dialer, Five9 omnichannel contact center solution, and Kookoo Cloudagent.  Some of the best power dialers in 2019 include: PhoneBurner cloud based call center, Vicidial, VoIPtime, and AMG.
---
Auto Dialer software for a call center: Features of Power dialers
One of the most popular sales acceleration technologies that increase dialing rate and revenue also eases the work of call center managers is autodialer, also known as voice dialers or phone dialers. The current marketplace proposes thousands of available outbound call centers dialers. So, it can be challenging to choose the best one and implement it. Therefore, we have outlined the main and basic features of power dialer to help you in selecting the right solution for your company. Note that the solution you choose should fit your business needs, cost, and should have excellent customer support. Most sales dialers come with a free trial or free version- no credit card required. Thus, you do not need to spend to enjoy the benefits of automated dialing.
Outbound calling campaigns for multiple users
You can easily create an outbound campaign to automate dialing to big leads. Choose needed leads and check minimal settings of call campaigns. You can assign multiple users to campaigns so that automated outbound calls will be distributed among them.
Workforce management
Power dialing allows you to view the status of each call attempt and restart the campaign in case the redial of the client base is needed. It also supports live call monitoring.
Call recording
All call recordings are automatically recorded and attached to the customer's card so that they can be played and reviewed later. Call recording is useful to call center managers to check and monitor agent performance.
Advanced power dialing features include:
Appointment scheduling and appointment reminders

Automatic call distribution software integration and other business application and system integrations

Click to call

Answering machine detection

Voice broadcast (useful or emergency notifications, announcements, and alerts)

Workflow automation tools

One-click audio messages| pre recorded messages|pre recorded voicemails
And this is not all an auto dialer has to offer you can try other dialing modes.
---
How Progressive dialers work for call center?
Progressive dialers reduce wasted time between calls by automatically dialing a number from the call list immediately; an agent becomes available. Unlike predictive dialers, which make many calls at once before a call center agent is available, progressive dialers place calls one after the other, and only when there is an agent ready for a client to answer. Progressive dialers do not make as many calls as predictive dialing, but it does make sure that customers do not answer calls without an agent ready to pick up. This is better for facilitating more productive interactions between your call center agents and customers. And though this telemarketing software makes fewer calls than predictive dialers, they still increase agent efficiency and connect your agents to more customers than would otherwise be possible.
---
How to preview dialer works for call center?
The preview dialer is the most straightforward outbound dialing mechanism. The preview dialer chooses a customer record from a call list and proposes this call record to a call center agent. The agent can then look at the client record (the preview phase) and decide to call this customer. With preview dialing at the end of a call, your agents can see the next phone call on the list. It is up to the call center agent to make the call, and they may also be able to skip the next name on the list. Preview dialer is ideal for more complex sales where a bit of research is needed between calls to increase the chances of success. When choosing a preview dialer to look for one that combines your office phone with your CRM, whether you are scheduling appointments, sending emergency notifications, sending appointment reminders, or calling prospective clients, the preview dialer should simplify the process. Organizing information from your office calls should be easy with sales dialers.