VoIP vs. Landline phone comparison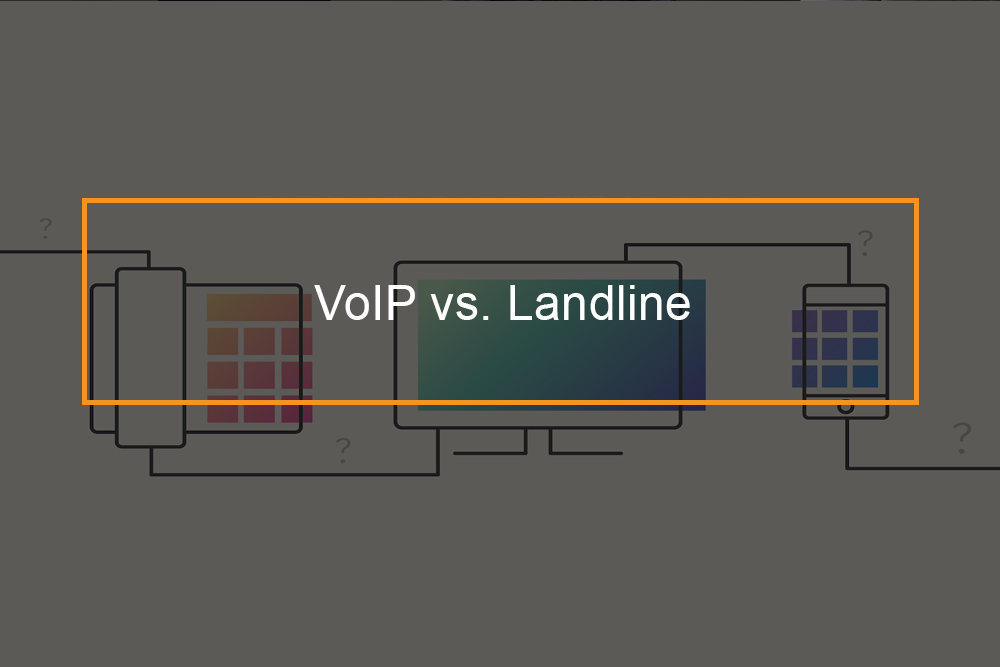 VoIP is better than landlines in terms of cost, features, technology, and reliability. Landlines have higher maintenance and setup and cost, whereas VoIP phone systems allow you to save almost sixty percent of that. When it comes to features VoIP has great number features accessible at no additional cost such as call forwarding, call waiting and call parking among others. While landlines phone systems have limited options for adds-on, most of which will cost you extra.
Voice Over Internet Protocol (VoIP) is also called internet calling. It uses your internet connection to make calls whereby your voice is transmitted as data over the internet.
A study conducted by Google Study shows that seventy percent of mobile users usually click on the call feature from their mobile phones when they look for a business. This has made companies switch from a landline to a VoIP phone system.
---
What is the difference between VoIP and landline?
How a VoIP phone system is different from a landline?
Today, businesses all over the globe are using VoIP telephone, and it is expected to keep on growing rapidly now and the years to come.
The switch that both businesses and households are making from landlines to business VoIP phone systems is mainly as a result of the features and benefits not accessible on landline phones. Let's go into the comparison;
VoIP features vs. Landlines
Generally as far as features are concerned VoIP phone systems are better than landlines.
Landlines features
A landline phone system is a telephone connected to copper wires. These wires run underground and connect to each landline telephone across the globe via networks also referred to as POTs and PSTN.
This communication approach has been in application since the 1800s and is regarded to be quite reliable. One of the main features of utilizing landline phones is that it is a tried and tested technology that has proven to be stable and reliable over the years.
After you have a landline phone in your business office or at home, you can relax since it will connect without issues. Power failures do not affect landline's connectivity, not unless you are using a cordless device.
Below are some of the vital features of a landline phone;
Call conferencing, voicemail and call forwarding, and several other features are accessible with a landline connection; however, they come at an extra cost

Less maintenance- After you have a phone set, you can apply it for years. It is worth noting that this does not include 

On-premise PBX systems which do not need extensive maintenance.

Stable and secure
VoIP phone features
When it comes to features, landlines are better than VoIP. In case you opt to have more control over your calling experience, VoIP telephone is the best phones.
With VoIP, you can use your computer, desk phone, or mobile phone to place phone calls; the device only requires a stable internet connection.
Below are some of the most popular VoIP phone systems features and benefits.
Auto Attendants

Anonymous call rejection

Voicemail to text

Voicemail to email messaging

Call analytics

Call recording

Call forwarding

Portability and mobility- this is what makes VoIP phones an excellent choice for businesses. You don't have to be in an office to place or receive phone calls.

Scalability- Adding lines does not need traditional copper wiring on on-premise changes

Business integrations. The VoIP phone system can be integrated with various third-party tools and software like the customer relationship management tool, email marketing application, and sales application.

Softphones capability-Generally you can make any device to be a phone. This comprises of everything from your mobile phone device to your laptop or tablet.
2. VoIP technology vs. landlines technology
Both VoIP phone system and landlines use different techniques. VoIP uses the internet, making it the updated technology, hence taking the lead. Let's look at how these technologies differ and which one is better.
Landline technology
Landlines work through circuit switching via a public switched telephone network, PSTN. To connect one phone to another, the phone call is moved from various switches at local, regional, national and international levels. This is referred to as routing. A PBX applies for extensions from the primary phone numbers for routing within a company.
The phone numbers or extensions act as a coded map for routing a call. Immediately after you dial a number, it moves via many switches and reaches the destination within a few seconds. The area code is represented by the first three digits of a landline number, while the next three numbers are the exchange, and the last four digits show the subscriber number.
Below is how the landline phone works
The landline telephone set changes your voice into electrical signals which are then transferred to the terminal through cable.

The terminal sends the electrical signal to the central office. Then the electrical signal is coded, and the call is then routed to the pertinent exchange instantly.

A tandem office is then used to transfer the electrical signal to a distant central office.

When the signal is received at the appropriate central office is routed to the right terminal.

Lastly, the terminal routes the call to the wished-for number, and the telephone changes the electrical signal back to sound waves.
This technology itself depends on a difficult network of cables. In present's wireless age, this has become a dated technology. This is the main reason why landlines are regarded as reliable in the long-run.
VoIP phones technology
VoIP functions differently since it applies the internet for all communications. Your phone is linked to the internet via your network, and when you place a call, data from your device is transmitted in the form of data packets across the web;
This is how it works;
The voice signals are changed into packets of data

The packets move via the internet to the VoIP provider and reach the destination

The VoIP provider then applies the cloud-based PBX to route the call

From the hosted PBX call data can be sent to any landline or VoIP phone

After the data reaches its destination, it reorganizes and changes back into voice signals.
---
Why is VoIP cheaper than using a telephone?
VoIP cost vs. landlines cost
In terms of price, VoIP is better than a landline phone. Switching to VoIP can offer a business a competitive edge over competitors that are still applying traditional systems.
Landline costs
The setup fee for a landline is generally below $100. Then add in the monthly charge, which can go beyond $100 for every line, this makes the cost go up. For instance, in case you require ten lines for your business, you can spend $1,000 every month since every line is regarded as unique.
In case you require functions or features for your telephone system like call queuing, call transfer, and intercom, you will need to install a Private Branch Exchange( PBX). A PBX controls and manages in-house and could cost you several thousand dollars. Besides, you require an expert to install it and fix inevitable problems. This is why most businesses find using VoIP cheaper than landlines.
VoIP costs
In case you want to save on charges, go for VoIP. For example the initial cost of Netiva's business phone lines which is the best VoIP phone in the market is; basic business service goes for $20 per user in a month, pro-business phone service goes for $25 per user in a month, and enterprise business phone service costs $30 a month per user.
Note that there are no setup fees and you get all the extra features and benefits that you cannot get when using a landline. Further, you get your cloud PBX with your monthly level.
---
Are VoIP phone systems reliable?
VoIP reliability vs. landline reliability
Reliability is performing consistently well or being trustworthy. Landlines used to be reliable; however, they are not being invested anymore. They have become obsolete. On the other hand, VoIP is generally where the telecom sector is spending, making it more reliable in terms of long term reliability and call connectivity.
Landlines phones are reliable since as a consumer, you can get a separate line for every connection resulting in inconsistent performance. But people have stopped using landlines today making them obsolete.
For VoIP, as long as it keeps evolving and growing, it will stay reliable. Basically. Broadband, 4G, and 5G are there to make your internet stable and dependable, which leads to development in the overall VoIP phone system.