Cheapest VoIP providers in 2019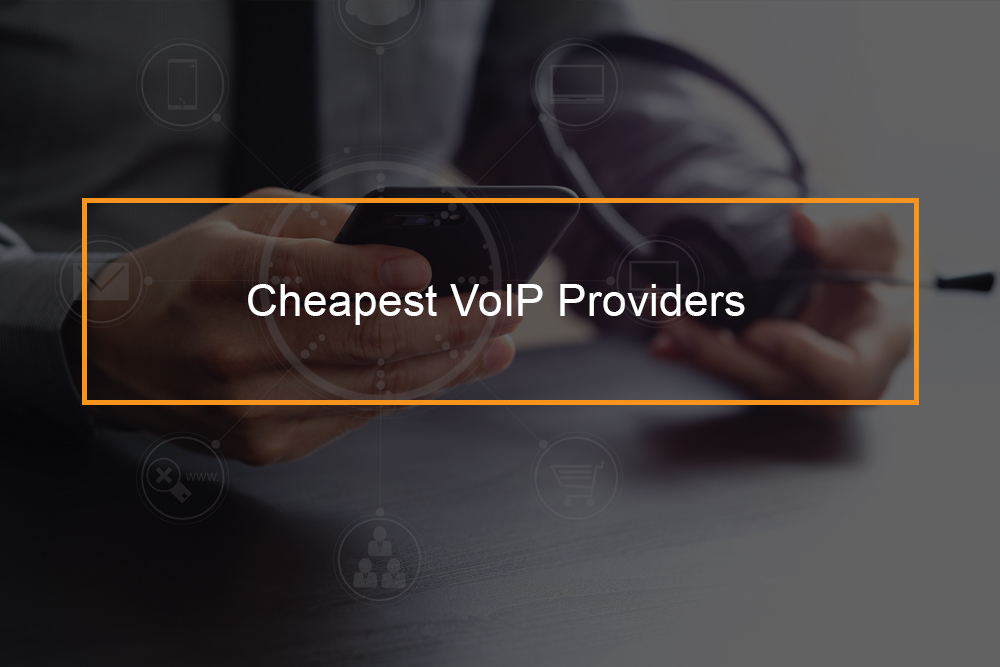 OnSIP, 8X8 cloud communication, Grasshopper, Ring Central, and Google Voice are some of the cheapest VoIP providers in 2019. 
Communication is a significant part of a system, whether it is a system or a community. Most notable, communication becomes more integrated and needed for smooth business operations. In case you are an enterprise company or a small business in need of a cheap VoIP service provider, then you are lucky. In this post, we have discussed the most reliable and affordable VoIP provider in the market in 2019. 
---
What is the best VoIP service?
5 cheapest VoIP business phone service
The VoIP providers discussed below were evaluated based on affordability, features, and ease of use. It is worth noting that reliable customer support and high-quality integration tools were factors used to determine the cheapest and best VoIP business phone service for this article.
OnSIP is the best yet cheapest VoIP phone service for small and mid-sized businesses. In case you get a limited level, you can access integrations, extensions, and additional features. This plan makes OnSIP the best selection for companies that have a tight budget yet have high-quality features for VoIP.
The main features of onSIP include; conference suite, call recording, auto-attendant, and additional voicemail box. The services OnSIP provides are easy to use and come with a tutorial for creating the account and using the tools. 
However, OnSIP lacks an SMS feature and a free conference call for any of its subscription plans. If the conference call is an essential feature for your business, you can consider trying RingCentral.
OnSIP pricing
OnSIP has two pricing tiers which you can choose from. The unlimited level offers $18.95 for every person in a month, but it also needs a minimum of five users for credit approval, which indicates the real cost for a team is $94.75 in a month. In this plan, you will have unlimited access to all the features of OnSIP and a free Polycom phone for every user.
The second pricing tier is the basic plan. OnSIP basic costs $49.95 per month. However, there is an additional credit for analog calls and from domestic numbers. OnSIP will charge you 2.9¢ for every minute for inbound calls and 3.9¢ for outbound calls. The basic level only provides limited features of OnSIP. The level is only best for businesses that make in-network calls yet wants to have an option to make external calls.
Besides, in case you are not yet convinced of the feature of OnSIP, you can try the thirty-day free trial of all the features. Nonetheless, in case you still do not have sufficient budget for VoIP phone service, OnSIP has a free account. All you have to do is organize the features and add a la carte features.
Grasshopper is a VoIP service that offers voicemail, unlimited calls, and auto-attendant. The main features of Grasshopper include; mobile app, voicemail, custom greetings, extensions, call transfers, automated attendant, call recording, and call management. 
When it comes to set up, everything is easy to find and use in Grasshopper. After you have inscribed an account, you will have your new number and virtual phone system. The best part is, the features alluded above are present in each tier level of Grasshoppers. Besides, you can revise the number of toll-free, local numbers, and vanity.
Grasshopper pricing
Grasshopper VoIP service offers three levels for its consumers. The first plan is the solo plan, which is suitable for businesses that have a sideline. It only provides one number and three extensions. In case it is billed monthly, you will have to pay $26 per month.
Partner plan is the second and the most popular plan. The tier is best for growing businesses with only three people in a team. The plan only has three numbers and six extensions accessible. For this plan, you have to pay $49 per month in case it is billed monthly, and only $44 per month in a case billed yearly.
The last plan is the small business plan, which is a flexible option for those businesses that require flexible call routes. Nonetheless, you can still enjoy each feature of Grasshoppers with all of the plans. The small business level is a bit costly. For example, when billed monthly, you will pay $89 per month. However, if you are billed annually, you will pay $80 per month. Therefore, it is cheaper to get a subscription plan billed annually than per month. That way you can save up to 10 percent for annual billings. 
But, Grasshopper lacks free international shipping and free desktop phones. Nonetheless, in case you feel the need to have these features, you can consider trying 8X8 or OnSIP.
8X8 Global Cloud Communication
The 8X8 Global Cloud Communication is not as cheap as the VoIP providers in this list. However, unlike the other VoIP services, 8X8 is the only VoIP phone system provider that offers unlimited calls to forty-seven different countries with its X Series X4 to X8 level. Besides, users can send SMS, record calls, and do conference calls and more.
8X8 has four pricing plans that are affordable and suitable for most business needs. All subscription plans include unlimited calls to forty-seven countries, apart from Series X2 and X3, which is limited to fourteen and thirty-two countries respectively.
8X8 Global Cloud Communication pricing
According to 8X8 Global Cloud Communication company, its best selling tier is the X Series X4 that provides enterprise-grade security (HIPAA, GDPR, ISO 27001), phone number, auto attendant, G Suite, extensions, Salesforce, Zendesk, Netsuite Integration, supervisor and service quality, Virtual Office Analytics and more.
The X Series X8 is the most costly plan and is recommended in case you are managing a big business. Contrast to X6; the X8 comes with social media integration, AI dialer, and co-browser. 
RingCentral is the oldest VOIP service among the services in this list. It offers affordable rates of cloud-based and collaboration applications that are excellent for business.
Features of RingCentral include; 
Cloud phone system- You can choose to have service on your computer, phone, and tablet through your cloud phone system.

Meetings- This feature is a catch. You can host call meetings and host video and webinars.

Message and collaborate

Security 

Analytics
RingCentral Pricing
RingCentral has four pricing tiers that you can select to either pay per month or annually. In case you opt to pay annually, you can get thirty-three percent off your annual bill, which is a significant saving considering the features and service you get from RingCentral.
Every subscription offers similar services with a difference in the number of allowed users, in minutes and conferencing. Even though there are some distinct services that you can only get with ultimate and premium tiers, fortunately, in case you cannot decide which is the perfect tier for your business, you can opt to use the fourteen-day trial.
RingCentral is the most popular cheap VoIP service because of the reasons below.
RingCentral offers the subscription tier at an affordable charge

RingCentral has a number of subscription tier options you can select from

RingCentral is user-friendly; you can quickly learn how to use its features.
Google Voice is a free VoIP phone system provider that works with most, if not all, smartphones.
Google Voice is suitable for entrepreneurs or small scale businesses that need a business phone number. This way, they have a separate line for business-related questions without using your personal number. One of the best features of Google Voice is the ability to transcribe Voice messages into readable texts.
However, the free version of Google Voice is not ideal for a growing business or company. Companies can use Google Voice for business. It has similar features that you get from the free version of Google Voice but with extra features designed for business operations. The main features of Google Voice include; Voicemail, Mobile App, call recording, Call management, and automated attendant.
Google Voice pricing
Google Voice business has three pricing tiers. The first plan is the starter, which cost $10 per user per month. The second is the Standard plan, which cost $20 per user, for a month. Lastly, the premier plan which cost $30 per user per month. 
---
Are there free VoIP services?
Free VoIP phone service
Yes, there are free VoIP services. Some of the free VoIP phone services are Line2, Viber, Skype, WhatsApp, Messanger Lite, Gimo5, Hangout, among many others. 
Skype and Rebtel are two of the biggest free VoIP services that offer free video calling and voice calling in between computers. You may also download the softphone application for every service to use your smartphone to place calls to other people's phones. 
However, free VoIP has poor voice quality, which can be improved with a stable net connection.