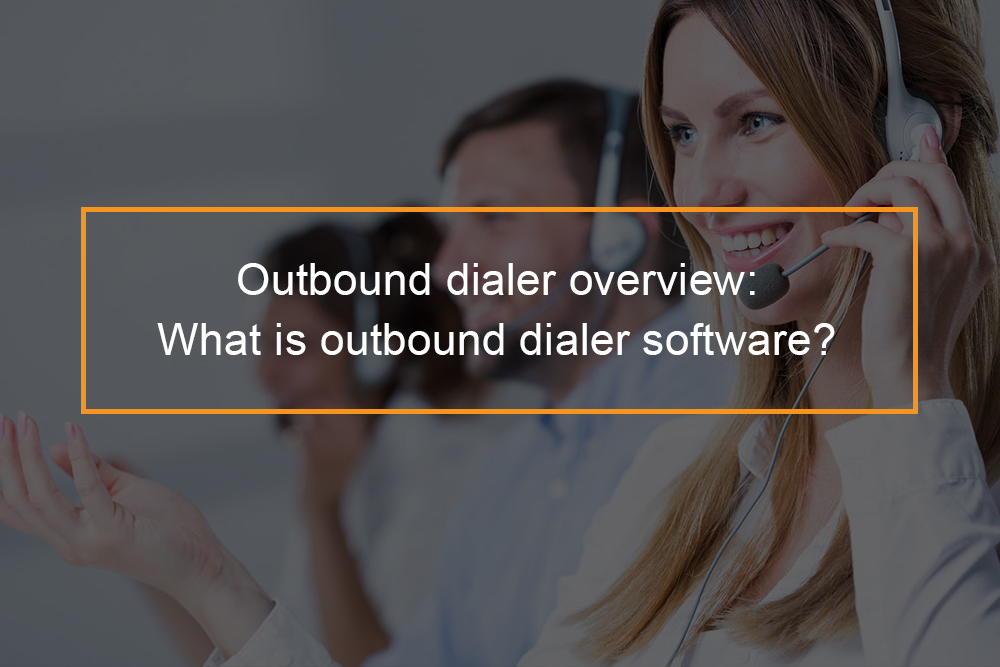 An outbound dialer is any technology that lets your agents make outgoing calls in your contact center. There are many types of automated dialers that you can choose from. Each dialer system has its benefits depending on what size and style of contact center you operate. Manual dialing was once the standard in call centers, but are no longer used for the most part. This outdated technology utilizes little more than a telephone touchpad and the hands of the call center agents. Not unless your sales agents are working remote, manual dialing is inefficient for most operations today.
Power dialing or preview dialers are more efficient and more ideal for today's contact center solution operations. The word power dialer is often used interchangeably with any type of auto dialer system. Specifically, though, power dialer is a preview dialer, a type of outbound dialer that provides click to call dialing efficiency. By automatically dialing numbers, this type of dialer not only increases talk time but also provides you the advantage of giving you information about the contact you are about to place. This assists in preparing your agents for the exchanges they are about to have with potential clients or customers, making it easier to land sales or closeout collections accounts.
---
Advantages of outbound dialer for call center
Building a better call center with the right call center software
Noting that contact centers want to increase the productivity for every agent they have employed, they monitor the time spent by an Agent to talk to a prospective customer. So, when the call center agents are offered a database and asked to call various prospects, it appears that the effective time spent in talking to the customers is very low as many calls are not picked up, busy signals, or answered by fax machines. Thus the agents spend more time dialing numbers than actually talking. This is why many outbound call centers use dialers that automatically dials the telephone numbers on behalf of the call center agents to increase their efficiency.
Driving successful telemarketing and sales teams operations demand the integration of market-leading outbound dialer technology. Our outbound dialer solution allows you to guide your leads via our active loader. After your agents log on, they can immediately begin connecting with customers by answering their calls. Cloud call center solution eliminates delays, costs, and headaches. Here are some of the pros of using outbound dialers.
Blending sales calls efficiently
Call blending ensures both inbound and outbound calling are seamless to the agent. Outbound dialers regulate outbound calls based on inbound calls volume. When inbound traffic picks up, the dialer dynamically slows the number of automated outbound calls to meet the inbound service level. The outcome includes increased agent productivity, improved customer service, and streamlined staffing.
Answering machine detection
Contact centers no longer have to waste time on answering machines while outbound phone calling. Immediate detection ensures the auto dialer software moves on the next number.
Increased dialing rate for outbound call center
If you do not have an automated outbound dialer in place, your sales agents are placing all of those many calls by hand. Each contact the agents reach out to must be selected from a list, their number identified, and then dialing manually. This may take a lot of time for each call. But with outbound dialers, you can place thousands of calls. Most preview dialers allow you to create call queues, which can assist you in prioritizing your workload.
Progressive dialer benefits
Progressive dialers are some of the most intuitive automate dialing systems available for outbound contact centers. Similar to predictive dialing, these programs are designed to make connections to contacts from the agent's list automatically. But, these connections are made only once an agent indicates that they are accessible to take the call. Progressive and preview dialers are continuously updated, so that call center agents who are already engaged with contact will not be matched up with another. A call center manager can also monitor agents on live calls.
Predictive dialers benefits to outbound call center
Predictive dialers provide some of the most powerful technology for today's contact centers. This technology shifts via the long list of contacts that centers often have and makes connections for agents automatically. This saves sales agents the time of manually dialing numbers, as well as the hassle of searching for contacts individually from listings.
---
What are outbound dialer features?
Typical auto dialer software features
Automated dialers, also known as phone dialers or voice dialers, deliver a wide range of features to support outbound contact management. These features can be considered in the following categories.
Phone system features
Many contact center operations now have the technology that allows them to:
Record and playback call recordings of both inbound and outbound calls (including the bits of the call when the customer was on hold or navigation via (interactive voice response)

Call monitoring (where an automated call can be observed by a call center manager or sales rep without the knowledge of the agent) 

Silent whisper- where the call center agent can get real-time advice w on managing a customer inquiry without the customer being aware.

Barge in or take control- where the sales rep can, after silently monitoring the automated phone calls, take control of the call and release the agent to handle another call.

Call management reporting tools that allow call center managers and team leaders to see at a glance- who is engaged in every activity and who is not. 

Create voice broadcast messages without needing to record a voice.
Other business phone system features include: Integration with automatic call distribution software, caller ids, call routing, call transfer, touch tones, workflow automation, emergency notification, and workforce management system integrations. 
The dialing engine
The dialing engine is at the heart of the system, automatically dialing numbers on behalf of the contact center.
The dialing engine offers various range of dialing modes usually set for calling campaigns:
Predictive dialing- predict when agents will be accessible

Power dialing- predict when agents will be available

Power or progressive dialers- wait for agents to be available.

Preview dialers- allow the agents to review contact and press dial
The dialing engine may also support:
Agentless- automated phone messaging and outbound IVR

Text message delivery- sends text messages to customers and adds SMS contact to outbound campaigns

Email delivery- as an alternative to telephone contact

Pre Recorded voicemails and prerecorded messages- plays recorded audio messages
The dialing system performs call analysis to evaluate the result of a call attempt:
Failed

Busy signal

No answer

Answered
The phone dialing engine may also use answer machine detection to determine if an answered phone call has reached an answering machine or live person.
Call campaign and data control
Dialers offer mechanisms to manage, maintain, and optimize outbound sales activity. Features under this category include: List import, list validation, call campaigns flow, appointment scheduling, and appointment reminders.
Call center agent support tools
To increase campaign effectiveness, the call center agent needs the tools to conduct the conversation. At a minimum, the call center agent needs to know who they are trying to contact. The information may be presented to the display but is more commonly delivered to desktop with advanced features:
An outbound dialer CRM integration

Screen pop of the contact's information

Call recording and controlling promises to call back
---
Which type of outbound dialer is right for my contact center?
Different kinds of outbound dialers, you might be wondering how to select between them to find the right one for your center. Let's break down the various dialing modes.
Power dialer
Power dialers are most suitable for small to medium-sized contact centers. Power dialers only offer the time savings of not having to type in the phone number of the contacts on your list. Thus in case, your list is very large, this may not save your agents enough time to be worth your investment.
Predictive dialer
Predictive dialers are suitable for very large contact centers. These dialers make moving via massive lists of contacts a breeze, saving you tons of time. When your sales agents are making thousands of calls, a predictive dialer that makes connections automatically may be the outbound dialer for you.
Progressive dialer
Progressive and predictive dialer is the best choice for large contact centers that are looking for the best technology. Predictive, progressive dialer offers you speed, efficiency, and the chance to be ready to speak to every connection before the line becomes active, so you are never unprepared. When you are ready to see the benefits of using auto dialing software with the best outbound dialer systems in the business, look for one with a free trial. This can be two weeks to a month- no credit card required. Some of the best providers include:  Kookoo cloud agent, Zapier integrations, ChaseData omnichannel contact center solution, and Adversus dialer. Talk to experts and read from various postings to learn more.