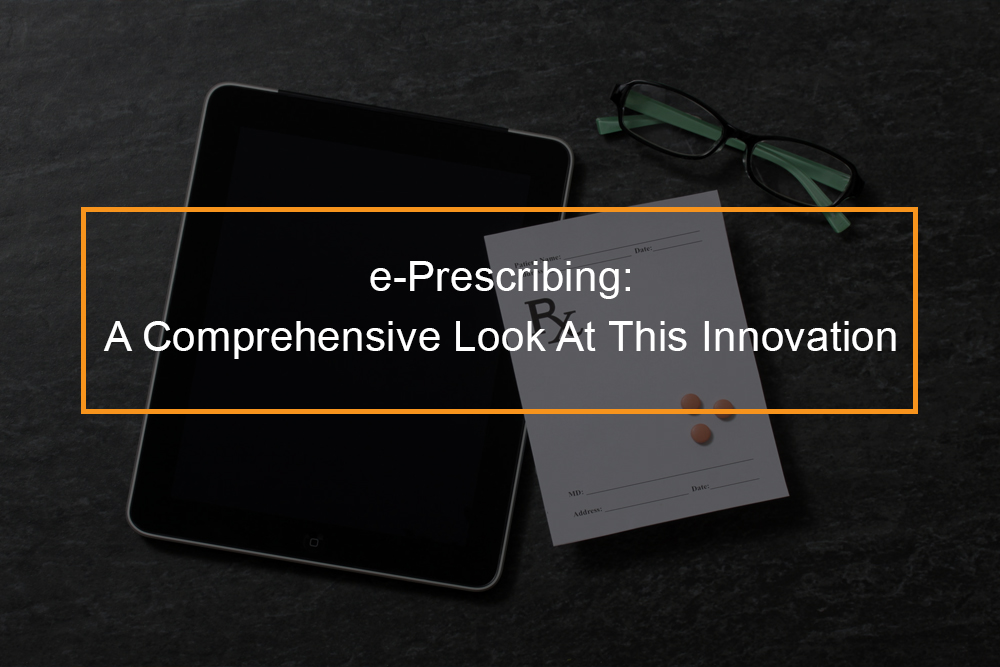 Electronic prescribing is the next evolutionary step in healthcare thanks to all the technological advancements being made today. We are going to go over a few of these systems and their benefits.
---
What is e-Prescribing?
Understanding e-Prescribing
Electronic prescribing, or e-Prescribing, enables a doctor to send out prescription info to a drug store digitally. e-Prescribing gets rid of the need for handwritten or faxed prescriptions and phone calls, reducing errors due to unreliable prescriptions or incorrect doses. These systems can alert doctors and pharmacists of potentially dangerous drug interactions, generic options, and patient insurance coverage permission terms. Since physicians have all the patient's information electronically given while prescribing, much better choices can be made about the most effective care. Some electronic systems can also inform doctors when patients have actually gotten prescriptions, permitting physicians to monitor to some extent the patient compliance with medication.
The Need for Trained Professionals
There has been some resistance to e-Prescribing because of IT problems and the sensitive nature of patient medical data. The lack of adequately trained IT specialists within the healthcare field has had a negative influence on the e-Prescription field. The lack of training and awareness of the workings and functions of e-Prescribing software, its security features, applications, and general cost-to-benefits has slowed the adoption of e-Prescribing policies worldwide. The demand for professionals that can train physicians, nurses, and pharmacists in the procedures and advantages of e-Prescribing is at an all-time high. There is a great need for specialists that can comprehend the particular requirements of the healthcare field and consult with IT specialists to establish better software and procedures for e-Prescribing.
Development of e-Prescription systems
In 2013, the e-Prescribing market was estimated to be worth over $250 million and is estimated to reach almost $888 million by the year 2019, a development rate of 23.5 percent. Europe currently has the most significant share of the e-Prescribing market; however, North America, especially the United States, is presently leading the development in this area. Currently more than 70 percent of doctors e-Prescribe and 96 percent of pharmacies are wired to accept e-Prescriptions in the U.S. In spite of these high numbers, just 57 percent of all brand-new and refilled prescriptions are being sent electronically, and only 40 percent of states show physician e-Prescribing rates above 70 percent (with three states; Minnesota, Iowa, and Massachusetts above 95 percent). The four states with the highest variety of prescriptions; California, Texas, New York and Florida, are all listed below the nationwide average for e-Prescribing. These numbers reveal that although the development rate of e-Prescribing is outstanding, there still is room for improvement.
What does e-Prescribing do?
e-Prescribing includes the capability to carry out all of the following:
Access a patient's medication history.

You can see the individual patient's active and previous prescriptions, dosage and frequency, including medications prescribed by other doctors.

See patient allergic reaction details and drug-reaction history.

See information on the patient's prescription insurance coverage.

See the patient's insurance plan structure, consisting of tiered medications.

Know which drugs will be covered and at what cost to the patient

See any preauthorization requirements and, in some cases, finish the process.

Pick a medication appropriate for the specific patient

View signs, signals or alerts related to the specific medication and/or the patient's medication history.

View numerous medication options to prevent prospective cross-drug or other harmful reactions.

See the type, dosage, and administration information.

Generate a prescription for the patient

Send the order electronically, directly from the point of care

Communicate directly with the drug store's e-Prescribe computer application. Get rid of paper, phone and fax from the process

Automate refill permissions

Get refill permissions directly from the drugstore to your computer system or handheld device

See fill up requests at once using the refill line in your e-Prescribe application

Authorize or reject refills in seconds. 
---
Advantages of e-Prescribing
How physicians and clients gain from electronic prescribing?
E-Prescribing is growing, not just because the innovation has actually improved, but because of its benefits for clients and doctors. Every state in the U.S. now allows e-prescribing.
Regarding the e-prescribing of illegal drugs
A major hindrance to the growth of e-prescribing was removed when the Drug Enforcement Agency (DEA) executed the Electronic Prescriptions for Controlled Substances (EPCS) interim last law in 2010, providing professionals the option to electronically transfer prescriptions for Schedule II-V illegal drugs (10-11 percent of all prescriptions). The guidelines also permit drug stores to get, dispense and archive electronic orders. As an outcome, three states (New York, Maine, Minnesota) require virtually all drugs to be digitally recommended.
The DEA's policy shift has actually triggered doctors and clients to recognize some key advantages of e-prescribing:
Benefits of e-prescribing systems
Avoids prescription drug mistakes
E-Prescribing removes handwriting errors/illegibility and offers both physician and pharmacist access to a patient's prescription history to lower the possibility of the wrong drug being given out. According to the FDA, 95,000 and prescription drug mistakes have actually happened, generally due to errors when reading a handwritten prescription and giving a similar-sounding, but a different drug. Brintellix, for example, is a brand drug used to treat depression, while Brillinta is a drug that treats acute coronary syndrome. You would not want to confuse the two.
Automated clinical choice support
Medications are available in varying strengths or types. E-Prescribing eliminates the guesswork by prompting prescribers to fill out the dosage, direction, strength, and frequency and offering drop-down lists of the most typical sig details. It likewise consists of dosage checking and duplicate treatment information. Most e-prescribing applications, including Dr First's Rcopia, utilize basic drug dictionaries, select parameters from lists and have required fields. This helps to minimize some of the dangers related to creating and filling prescriptions.
Accelerate the medication reconciliation procedure
Clinicians can quickly view a patient's medication history and will not need to manually reconcile medication lists or dedicate clinical information to memory, such as drug-drug interactions. Tools like Rcopia automatically pull 12-24 months of data from the most extensive medication history network available on the marketplace, including pharmacy fill information, drug store benefit management (PBM) information, hosted payer and data from 55,000 medical practitioners and 340 EMR/EHR partners using the Rcopia e-prescribing platform.
Helps fulfill significant use requirements for electronic prescriptions
Electronic prescribing (eRx) is a fundamental foundation of significant use.
Stage 1 of significant use needs that 40 percent of prescriptions be sent out electronically.

Stage 2 requires that more than 50% be sent out digitally.

Stage 3 requires that 80% be sent out digitally.
Instant notification of allergies, drug interactions, alternative therapies, and other clinical signs
E-Prescribing offers physicians complete access to a patient's recorded allergies and previously prescribed drugs and will notify the physician if a newly recommended drug has any potential for unfavorable reactions. Information in the system will alert the prescriber of allergic reactions, interactions with other medications the patient is taking, duplicate treatment, in addition to pediatric, pregnancy and geriatric concerns that would prevent a patient from taking a specific drug.
Track patient fulfillment of prescriptions
Once a physician provides a patient a handwritten order, there is no efficient way to track whether the prescription was filled. Patients typically forget to fill prescriptions, can't afford the drug, lose the piece of paper, or begin to feel better and decide not to take the medication. E-Prescribing allows doctors to confirm whether patients fill prescriptions, and to counsel patients on medication management if they have not. Physicians likewise gain insight into the frequency with which clients are filling prescriptions for controlled substances, making it much easier to spot potential substance abuse.
Minimizes the number of lost prescriptions
When clients receive paper-based prescriptions, they are sometimes forgotten and never filled, or are lost by the patient and should be re-written or called into the pharmacy. E-Prescribing sends out the prescription straight to the drug store.
Allows doctors to prescribe controlled substances in a single workflow electronically
E-Prescribing software such as EPCS Gold allows providers to flawlessly send electronic prescriptions for controlled substances to retail or mail-order pharmacies within the very same workflow used to e-prescribe standard drugs. It makes the workflow more efficient, supports medication compliance, and increases convenience for patients.
Makes it possible for better monitoring of illegal drug prescriptions
With e-prescribing, doctors can track how many controlled substance prescriptions a patient has received, decreasing the probability of over-prescribing or professional medical shopping. It's likewise simpler for states to track this information across several drug stores. In New York, for instance, where e-prescribing of all drugs has been required since March 2016, the majority of prescribers are required to speak with the state's prescription monitoring program (PMP) pc registry when prescribing Schedule II, III, and IV controlled substances.
Personnel invests less time responding to prescription refill requests
One of the most significant administrative burdens to physicians and medical workplace staff is the requirement to respond to prescription refill requests. E-Prescribing allows providers to examine, authorize and transfer 20-30 refill authorizations immediately. It's also simpler to perform an emergency refill for a patient who is taking a trip and runs out of medication.
Decreases the risk of readmissions
Built-in security functions such as medical notifications and replicate treatment information, lower the risk of adverse drug reactions. Roughly 20 percent of all medical facility readmissions can be traced to unfavorable drug responses.
Improves medication compliance
Chronic underuse of medications is the most typical kind of non-adherence, with patients using a lower dosage than was recommended or stopping treatment too soon. Research studies have revealed that e-prescribing increases first-fill medication adherence by 10 percent. That's a huge step in the right directions, because about one in five prescriptions are never filled, and about half are not completed as recommended.
Makes it easier to confirm insurance coverage
E-Prescribing tools make it simpler to select medications that will be covered by the patient's insurance. Prescribing medicine the patient can afford makes it most likely that the patient will fill it and take it.
---
Different electronic prescribing software
A listing of these software choices
AdvancedMD EHR Software
AdvancedMD is an integrated software suite for independent practices. Features consist of practice management, electronic health records, patient engagement, telemedicine, rooming, account management, financial analytics and service intelligence reporting that work together to automate workflow.
Mobile users can use an iPhone and iPad. The cloud platform allows access anywhere, and it has excellent data security readily available. AdvancedMD is web browser compatible for Mac and Windows operating systems and runs on nearly any device.
Integrated workflow automates the patient visit, beginning with self-scheduling onsite or telemedicine appointments. Visit suggestions can be sent out to clients via text or email. Insurance eligibility confirmation for next-day clients runs immediately and notifies staff of possible issues. Permission forms are sent out through a patient portal and gathered into the patient chart. Rooming helps manage patient boarding and circulation. Charting and prescription of medicine can be done from anywhere. Charge capture takes place during the charting procedure without billing staff needing to copy or paste.
DrChrono EHR Software
DrChrono's iPad and iPhone suitable EHR and medical billing platform enables users to handle patient intake, scientific charting, billing, and revenue cycle management. It consists of adjustable medical orders, e-prescribing, scheduling tools, real-time patient eligibility checks, and a patient website. The DrChrono App Directory likewise provides a wide range of apps and a medical API for healthcare app designers.
The DrChrono EHR uses completely adjustable orders or prebuilt orders. Any prescription, consisting of Electronic Prescribing Controlled Substances, can be sent out electronically through an iPhone, iPad, or the Internet. Lab orders can be sent digitally to over 40,000 laboratories around the United States; results can then be uploaded directly into the patient's chart. Customized vitals give suppliers the ability to create standard health data and keep an eye on each patient's health status over time.
Providers can use the  Free Draw function to annotate on diagrams, x-rays or other files; they can likewise utilize the iPad's built-in cameras to take photos and embed them in the patient's record. The system comes pre-installed with billing codes and is incorporated with Box, a HIPAA-compliant cloud storage system.
Kareo Medical Billing Software
Kareo is an online practice management and medical billing service used by pharmacists and doctors throughout the United States. The system fits little practices and billing companies. With Kareo, practices can arrange patients, validate insurance coverage, handle delinquent accounts and the collections process, shop patient documents, develop tailored reports and more.
Kareo assists practices handle the issues associated with insurance coverage billing. Medical personnel can go into patient data and validate their insurance coverage instantly. Kareo also provides a schedule and visit suggestions that helps practitioners schedule appointments with their patients and send out visit reminders to minimize no-shows. The built-in messaging feature permits practices to communicate with their billers, patients, and employees. Other features include billing analytics, advanced claim processing, file management, and agenda planner.
Kareo is an ICD-10 certified medical service used throughout a wide range of medical specializations, consisting of psychological health, household medicine, pediatrics, cardiology, chiropractic, podiatry and more.
NextGen Healthcare
NextGen Healthcare provides options for electronic health records (EHR), practice management and more. NextGen EHR solutions are suitable for ambulatory services of all sizes and make it possible for users to coordinate patient care while abiding by health care reform demands such as the Merit-based Incentive Payment System (MIPS), population health and other value-based care requirements. NextGen Enterprise EHR is ideal for big medical practices and provides a scalable system that helps users achieve interoperability, patient engagement, regulatory compliance, and value-based care delivery. NextGen Office (formerly MediTouch) EHR is a cloud-based service that integrates with a variety of product suites to make it possible for point-of-care charting with talk, touch and type abilities. It offers laboratory result management, patient workflow tracking and e-prescribing.
Athenahealth EHR Software
Athenahealth is offering cloud-based services for electronic health records (EHR), revenue cycle management & medical billing, patient relations, care coordination, and population health management, in addition to Epocrates and other point-of-care mobile apps. Athenahealth presently deals with a network of more than 99,000 service providers. The EHR uses a homepage that allows users to review the daily schedule and patient information, handle orders, and view new lab results. Its billing module can be used in tandem with the EHR or by itself and includes a patented and continuously upgraded guidelines engine. Medical practice management tools include presence into daily responsibilities, custom-made benchmarking, proactive trends analysis, and more. Clients can make use of a patient website to evaluate history, pay bills, sign forms, and schedule consultations. Notifications can be provided through phone calls, e-mail, or text; clients can even see when test results are expected in the patient portal.
PrognoCIS by Bizmatics Software
It is a cloud-based ICD-10 compliant and MU accredited EMR option which assists medical centers and professionals to manage patient medical recording. The software comprises of incorporated modules for EHR, Practice Management, Patient Portal and Revenue Cycle Management. PrognoCIS EHR provides flexible EHR workflow and content for clinics and healthcare facilities. Medical professionals and hospital staff can quickly generate an electronic prescription for their clients and share it with them and their pharmacy. The built-in e-signature feature enables both medical professionals and patients to electronically sign medical costs and other files within EMR or patient portal. A dedicated patient website allows medical professionals to interact with their clients securely, share lab results, set consultations and more. PrognoCIS assists in recognizing and validating patient insurance advantage eligibility rapidly. Centers can also reconcile patient accounting and insurance billing. Utilizing PrognoCIS, doctors can record patient information through numerous information entry methods. PrognoCIS works with a range of devices, laptops, desktops, tablets, and smartphones by utilizing any basic web-browser. Medical professionals can also gain access to patients' records on their iPhones through PrognoCIS iOS app.
Compulink Healthcare Solutions
Compulink Healthcare Solutions is an interconnected hybrid medical service that provides medical provider functionalities such as electronic health records (EHR), practice management, income cycle management, inventory management, optical POS and practice automation, which aid them to manage patient care and practices' revenues. The solution can either be hosted on-premise or in the cloud. Compulink Healthcare Solutions can be tailored to match numerous specializations such as chiropractic, dermatology, eye care, gastroenterology, ophthalmology, orthopedic, otolaryngology, podiatry, rheumatology, and urology. The service features laboratory integration, patient scheduling capabilities, electronic billing, patient registration, reporting, and a HIPAA-compliant patient portal. Compulink Healthcare Solution's billing module uses functions such as eligibility inquiries, credit card processing, EDI support, inventory control and more. The automated practice application includes electronic pharmacy connection, automatic renewal processing, and multilingual patient handouts. Services are offered on a monthly membership basis. Private modules for on-premise deployment can also be purchased for a one-time fee. Support is provided via phone, email and other online resources.
The Valant Behavioral Health EHR
Valant's EHR for behavioral health provides tools for healthcare providers to simplify documentation, boost efficiency, and enhance the performance of their practice or company. The incorporated suite consists of safe and secure patient records, documents, scheduling, practice management, and a patient portal. Because Valant focuses solely on behavioral health, users do not need to browse through billing codes and documents design templates made for other specialties. Valant has a library of results for practitioners to use and track over time. Clients might finish these assessments from the convenience of their own house through the Patient Portal, or in session with the doctor. In either case, outcomes are recorded in medical notes and securely kept in patient records. Documentation design templates include click-to-narrative innovation to reduce typing and simplify the development of a structured note. Because the software is completely integrated, details like medical diagnosis and medication is pulled straight from the patient chart. The practice management suite permits users to create entries directly from the file, removing manual data entry. The extensive reporting function allows users to manage all aspects of the income cycle along with other scientific and appointment reports. Clients can view their balances and receive statements digitally in their patient portal.
Aprima EHR Software
Aprima EHR is made to take advantage of mobile hardware consisting of the Aprima Mobile mobile phone app for tablets, touchscreens and smart device gadgets. Aprima is suitable for doctors in medical care and more than 70 specializations with a design that adjusts automatically to a physician's workflow. The system uses EHR, PM, population health and RCM solutions.
Aprima EHR's navigation function provides scientifically relevant findings based on visible signs, medical diagnosis code, and chosen treatments. Constructed on a single database, the Aprima EHR and PM systems are fully integrated. The solution features distinct Replication technology to let users work from anywhere, anytime, with or without an Internet connection.
Aprima EHR allows users to select the installation option to suit the special requirements of their particular practice, either cloud-based or on-premise. Also, users can also sign up for the Aprima Financing module to handle the funding needs of their medical practices.
CareCloud Charts Software
CareCloud Charts is a unified electronic health recording (EHR) option offering collective advantages of EMR, practice management, and medical billing services. The service assists doctors to enhance medical operations and make ensure paperless workflow. CareCloud Charts is an MU-certified EHR option that offers precise tools to supply much better patient care and practice management. The in-depth reporting feature tracks practice's development path. The alternative uses pre-built templates for prescription, reporting or billing which can also be personalized based on the need of specialty, clinic or specific requirement. CareCloud's patient portal enables physicians to engage with their patients. Centers can streamline their everyday activities digitally, beginning with a patient application to final billing. CareCloud dashboard shows the complete patient info, from their medical history to scheduled appointments on a single screen. Practitioners can also handle their daily work and gain access to patient records on their smart devices by installing the CareCloud mobile app on iOS devices.
Practice EHR Software
Practice EHR was designed to accommodate the needs of small to midsize services. The platform is adjustable to internal medicine practices, chiropractors, physiotherapists, family medicine, podiatric doctors, psychiatrists, and various other specialists. Core features of Practice EHR include electronic medical records, medical billing, patient scheduling, and medical billing services. These applications are available as part of one incorporated suite. Electronic medical records are used as a stand-alone function for practices that need a simplified option. Users can also have access to e-prescribing, laboratory integration, procedure workflows, narrative reports, tablet PC assistance, patient portals, and ONC-ATCB accreditation. Eligibility inquiry, claims, and workers' compensation claims are provided for practices that select to make use of the medical billing application. Practice EHR is an entirely cloud-based service. It is available through mobile phones and remote desktops.