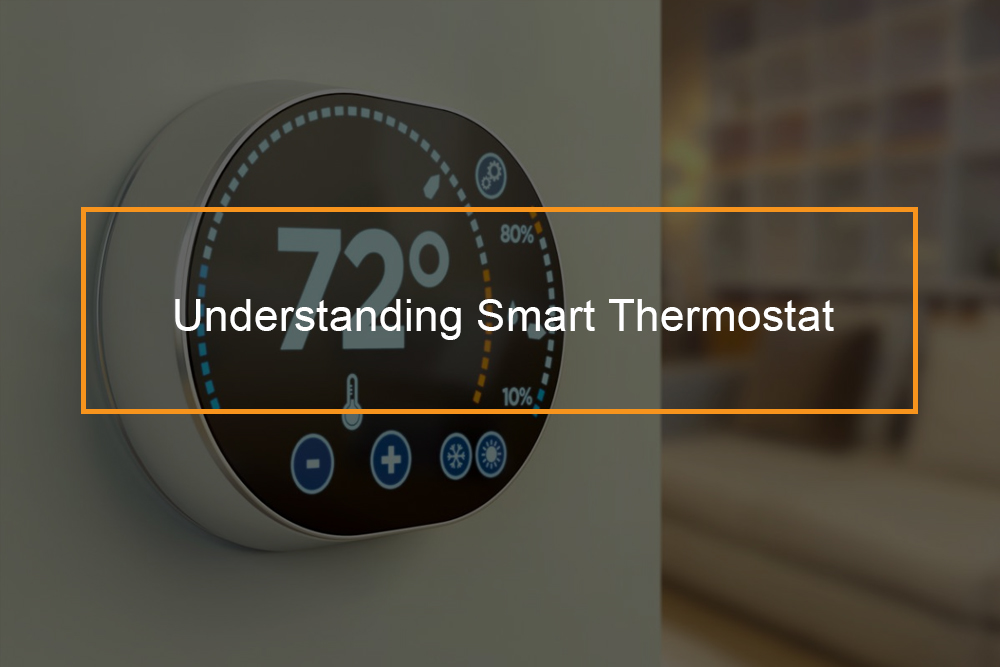 To keep indoor temperatures in control, most homes rely on some sort of heating ventilating and air conditioning system. A thermostat acts as the main point of access for this system, enabling you to determine when and at what temperature air is circulated. The best part is today's thermostats are different than the traditional thermostats. 
This is why this buying guide is here. In this post we will explore various thermostat markets and various trends in the market today, so that you can decide which model is the best option for your home.
---
What can a smart thermostat do?
How do smart thermostat work?
You must have heard a lot about smart thermostats such as Nest, how they can help you save money and energy and that thermostats are programmable. But, are all these true? What's really special about smart thermostat and why should you buy one?Here is what a smart thermostat can do for you. 
You can adjust the temperature of your home using a smart thermostat. A smart thermostat is a control panel for heating and air conditioning system. The unique part about smart thermostat is that it allows you to set the temperature and even alter it depending on the time of the day. Basically, what makes a smart thermostat smart is their capability to learn from behaviors so as to enable you to control the climate in your home remotely. Moreover, a smart thermostat is able to show you your energy consumption and change themselves based on ambient conditions such as humidity.
For instance you can set a smart thermostat to shut off when you leave your house, and then spring it on enough time just to keep the house cool depending on the season. The best part is most smart thermostats will show you the time it will take to make the changes you have requested. A technique which saves you from turning a thermostat all the way to keep your house cool. In addition, thanks to smart thermostat you will be able to know how much you are spending on heating and cooling using smart thermostat phone app. This helps you to save money as you can see results immediately.
---
How to install smart thermostats?
In this section we are going to show you how to install and use a smart thermostat.
Follow the steps carefully. 
Step 1: Turn of the service switch on the side of the furnace
Step 2: Take away the faceplate from the existing smart thermostat
Step 3: Capture a digital photograph of how the wires are connected
Step 4: Using a screwdriver loosen the screw terminals on the thermostat lowest part (base plate) 
Step 5: Now pull out the end of each wire of the terminal
Step 6:  Unscrew and get rid of the base plate from the wall
Step 7: Ensure the base plate is on level then screw the base plate of the smart thermostat (new) to the wall
Step 8: Time to refer to the photograph you took at step 3, connect each wire to the appropriate terminal on the base plate. Let the photograph guide you.
Step 9: Now snap the smart thermostat onto the base plate
Step 10; Switch on the service switch at the furnace
Step 11: Follow the touch screen prompts at the smart thermostat, to select both the preferred language and internet setting. This will enable you to control the thermostat remotely using your tablet or smartphone.
Step 12: Next, key in the year when your house was remodeled lastly, then choose a name for your smart thermostat.
Step 13: Choose the lowest and highest room temperatures for your house when you are away from home.
Step 14: Lastly adjust the thermostat setting every time you leave your house and return. You will not do this step forever as after a few days the thermostat will learn your behavior and automatically adjust the heat.
---
Does a smart thermostat really save money?
How does smart thermostats save money?
Smart thermostat sound like a great investment that is if you are in the market to upgrade to the latest one, or you just simply want to make your life easier. But does it really save money? 
Considering smart thermostat are expensive compared to the traditional thermostat.  While most of the smart thermostats cost about $250 while you can get a traditional one with as low as $25. 
Basically, the extra power that you get such as smart access, usage history , ability to have your thermostat adjust temperature settings for you while you are in the house or not, among other features come at an extra cost. If you think of it this way a smart thermostat may not save your initial cost but will save you money in the long run and energy costs.While you might want to consider the price, it is important to know that, smart thermostat comes with the efficiency of learning your adjustments behavior and optimizing the heating and cooling down temperatures when you are not at home. This can be difficult for a regular thermostat. A smart thermostat such as Nest, are much faster and easier to program and can even operate automatically.
Generally, smart thermostat are worth the investment as it can program itself, that is if you do not have the time to program your regular thermostat. The features too which come with smart thermostat such as remote access is worth the extra cash. It is actually easier to full manual control over your thermostat -you just need to open your smartphone app or tablet and change the temperature to your preference on the thermostat, no matter your location.However, you may not need a smart thermostat if it is not obtuse that you are programming it optimally as it will not necessarily save you money or energy bills. But, smart thermostat are very convenient, and time saving. And if you are not using your traditional thermostat the way it was designed, or simply wanted to upgrade, smart thermostat is what you need.
---
How does a Wi-Fi thermostat work?
How do smart wifi thermostats work?
In the quest to create better, more efficient and smart home technologies have seen great growth in the past years. Almost everything in your home from your fridge to your car can be controlled by a tablet or smartphone app, or even fingerprints recognition. All these are available and make everything digital.
One of the exciting smart home appliances is wifi thermostat. This may sound a small innovation until you understand how it works and the benefits it will bring to your home.
What is a wifi thermostat?
A wifi thermostat is also known as wireless thermostat, internet thermostats or smart thermostat. It is a thermostat which provides homeowners with more control over the temperature, both heating and cooling at their homes. 
The wireless thermostat is able to control temperatures using its remove device which provides all the basic control of a wall mounted thermostat-it improves the functionality of smart thermostat by being available remotely.
The WiFi thermostats also provides improved functions such as temperature scheduling and routines.
How does  WiFi thermostats work?
Internet Protocol network (IP) is the basic part of the connection between your smart thermostat -the same way a laptop or personal computer accesses the internet.
The WiFi thermostat uses this connection to access the controls of your HVAC system  directly and also set up programmable routines to regulate the temperature in your home. A smart thermostat is also able to compile different forms of data, to aid homeowners achieve more effective, stable temperatures.
Moreover, the Internet Protocol network connection can be used for simple commands, which include but are not limited to shutting the system off or switching it on. The best part is you can utilize different methods to interface with your WiFi thermostat including your tablet, laptop, computers applications.
How will I benefit if I use WiFi thermostats?
Basically, a WiFi thermostat comes with efficiency through greater control. Access of information enables you to control temperatures in your home better thus improving efficiency.
If you equip your home with WiFi thermostat you will not only save energy but also money.
In addition smart thermostats can demonstrate impact on the comfort of your home, formulating simple, effective heating and cooling year round. 
---
What is the best smart thermostat to buy?
Best and cheap smart thermostats
Whether you are looking for a smart thermostat to control your home heating or cooling with your phone or voice, there are various options you can choose from and at an affordable price. 
Most popular smart thermostats
Ecobee4 smart thermostats customer review
The Ecobee4 smart thermostat is made in alexa voice technology, and has an integration with connected home products.It is easy to install and comes with a remote room sensor. The best part is it comes with various wiring options.
It is relatively cheap and will cost you anywhere around $ 231.72. However, it has a middling audio quality.
 Nest learning smart thermostats (3rd generation)
The nest  learning smart thermostats has many smart features such as larger display, geofencing support, furnace monitor and detectors.
The Nest can support Alexa, Google Home and IFTTT. However, the thermostat does not have remote room sensors.
Control your home temperature with Lux/Geo Wi-Fi thermostat 
The Lux/Geo WiFi smart thermostat is easy to install and offers plenty of scheduling options. If you like style this is the thermostat for you as it comes with various stylish designs.  Lux uses geofencing to automatically switch between heating modes depending on your location. 
In addition, Lux/Geo smart thermostat has a mobile application and web browser support. The downside of Lux/ Geo Wi-Fi thermostat is that does not have room sensors and does not support IFTTT.
Lux kono smart thermostat customer review 
With Lux kono smart thermostat you can control your home temperature with a number of voice assistants or just with a thoughtfully designed mobile app.
Lux kono has a sharp looking, is stylish, has a customizable design and is easy to install. Moreover, it is compatible with Apple Homekit, supports reporting and geofencing.
The advantages of lux kono smart thermostat is that it does not integrate other small home devices, does not have IFTTT support and has no external room sensors.  
Upgrade your traditional thermostat to nest smart thermostat  and save energy
The nest smart thermostat comes at a reasonable price, is easy to install and has a stylish design. The thermostat can work with other third party smart home devices. Moreover, it supports Alexa and Google home voice commands and IFTTT applets.
Even though the nest smart thermostat offers similar features as most of its competitors, it can control complex multi stage HVAC systems.
Despite the top quality features Nest smart thermostat has a frosted display thus it can be difficult to read. Moreover, it  does not support many HVAC components as the Nest learning thermostat and lacks detectors.
Honeywell lyric T5 Wi-Fi smart thermostat customer review
The honeywell lyric T5 smart thermostat comes at a reasonable price and uses geofencing. The thermostat supports Siri and Alexa voice commands.
Honeywell lyric is easy to install but does not have many of the features you get with more expensive brands.
You can get honeywell lyric T5 on Amazon at around $ 129.99.
Bosch connected control BCC100 smart thermostats 
Priced at $169.99 Bosch connected control BCC100 thermostat, is easy to install and has a large color touch screen. It also supports Alexa and has threshold alerts. However it is not quite as smart as its competitors and does not integrate other home devices.It lacks IFTTT support and geofencing capabilities.