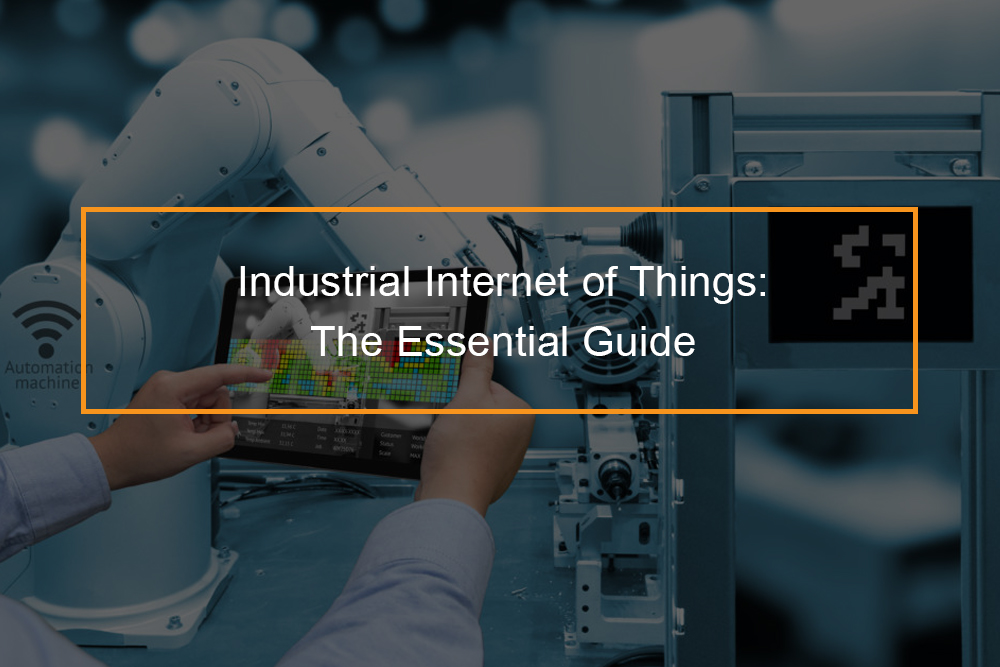 Industrial Internet of Things is part of a larger concept known as the internet of things (IoT) which is a network of computers, devices, and objects that share large amounts of data. IIoT is the industrial application of IoT. It contains great potential for quality control, sustainable and eco-friendly practices, supply chain traceability and overall supply chain efficiency in the transportation, energy and industrial sectors. There is great potential for this technology, but also a great amount of risk is involved.
---
What is Industrial Internet of Things IIoT? 
Defining IIoT
The term refers to the application of instrumentation, connected sensors and other devices to machinery and vehicles in industrial, energy and transport sectors. It can also be defined as the scope of IoT applications outside of the consumer space, across several sectors. It is the enabling of intelligent industrial operations by people and machines, using advanced data analysis for better business results.  Its application can range from simply tracking a fleet of delivery trucks or fully automating an assembly line that tracks maintenance, productivity, orders and shipping information across a large multi-layered network.

The main difference between IIoT and  IoT
Most people are aware of the internet of things, IoT – smart thermostats, internet-connected fridges, smart bulbs, smart home solutions, etc. IIoT is a subset of IoT that has industrial applications. It has an important role in the day-to-day workings of a business, safety, and efficiency.
IoT
Refers to the grander scale of communication between devices through IP networks with various communication protocols. It synergizes vertical software stacks to automate and manage communications with multiple devices.  The data relayed between the devices must be hosted in the cloud, meaning the connected devices need an active internet connection. It has unlimited integration options but needs a solution that can manage all the communication. It includes consumer-level devices like fitness bands, smart home devices that typically will not create emergencies if something goes wrong. 
IIoT
Refers to an industrial framework where devices or machines are connected and synced through software tools and third platform technologies in a machine-to-machine and IoT context, later an industry 4.0 context. It brings computers from IoT to operational technology, opening up more possibilities for instrumentation, which results in more efficiency and productivity gains for the operation. Industry 4.0 is the evolution to cyber-physical systems, representing the fourth industrial revolution on track to an end-to-end value chain with Industrial IoT and decentralized intelligence in manufacturing, production, logistics, and industrialization. Industrie 4.0 is a collective term for technologies and concepts of value chain organization. 
M2M or machine-to-machine communication refers to isolated instances where devices communicate with each other. IIoT, on the other hand, has more at stake when deployed. If these systems fail or experience downtime, it can result in life-threatening or high-risk situations. For instance, if the IIoT system in a hospital fails, the personnel can be unable to provide the proper care to the patients as they will not have access to important data or even operate some machines. If the IIoT system at a manufacturing plant fails or malfunctions, it can result in the halting of manufacture which can cause delays in turn costing the company money due to missed or delayed deliveries.
It is crucial to make it clear that the relevant technologies are used for purposes distinctive to industry, thus enabling us to distinguish between IoT and IIoT devices.
IIoT: How it works?
IIoT is a network of devices connected via communication tech to make up systems that monitor, collect, exchange and analyze data. These systems deliver valued insight that allows industrial companies to make smarter business decisions. The main aim of most Industrial Internet of Things deployments in the majority of companies is operational efficiency, along with cost optimization.
An IIoT system is made up of:
Intelligent machines or assets

– that can include applications, sensors, controllers and security elements- that can sense, store and transmit information among themselves.

Communications and Data infrastructure

like cloud storage

Applications and analytics

that can produce business relevant information from raw data and personnel.

Devices or pieces of hardware

that control data flow at the edge or boundary between two networks, serving as entry or endpoints are known as edge devices. These devices together with intelligent assets transmit information to the data communication infrastructure, where it is converted into actionable information on the operations of a certain piece of machinery or a process, for instance. This can be used to monitor operations, predict maintenance needs as well as optimize business processes.
---
IIoT Infrastructure
A typical IIoT system is made up of the following parts
Database

This is a collection of all the information collected from data processing, analytics, business application integration, and automated business databases.

T

he IIoT platform

It is a set of hardware and software facilities that aid and backup applications for companies using the internet to link devices and equipment. They provide an operating environment, computer processing capability, data storage structure and the building blocks for application makers. They are mainly cloud-based, meaning they use the internet to share the information with the connected devices. There are however On-premises server hosted options too. The devices can access the data by connecting to the closed company network. They are set up to utilize internet connectivity and provide applications with the kind of tasks that networking tools make possible. Below are some of the advantages of these platforms:
Data handling of the huge amount of data generated by the machines, tools, and devices in the system. The data is managed and stored allowing other devices connected to the system to view the data for analysis. It also protects the privacy and security of the data.

It can host special applications used by a specific group of users.

It has the computing power needed to generate insight from the huge amounts of data collected from the machines, for example, the capability required to link process monitoring and condition diagnostics across many machine tools and components.

Predictive maintenance, process optimization, tracking, and comprehensive lifecycle administration all get a power boost as a result.
Gateway

This can either be an IoT or edge gateway. This is how data is inputted or accessed from the system.

Sensors, Actuators and edge nodes

They collect data and transmit it to machines and devices in the system.
What makes it so unique?
The philosophy behind IIoT is that smart machines are better than humans at capturing and transmitting accurate and consistent real-time data. While its technologically similar to other IoT tech, the scale at which it is implemented, with hundreds possibly thousands of endpoints make IIoT unique.
---
IIoT Advantages
The power of the IoT comes from the ability to collect a lot of data and convert that into useful information.
Predictive maintenance: it is one of the selling points of IIoT. It involves companies using real-time data collected from IIoT systems to predict problems like machinery defects before they happen. This allows them to take action before the machine breaks down.

Improved field service: IIoT help field service technicians spot potential issues in customer equipment before they turn into major issues. They can fix them without inconveniencing the consumer.

Improved industry safety: with predictive maintenance accidents caused by faulty machinery or equipment can be prevented. This provides a safe environment for personnel to work in.

Asset tracking: suppliers, makers, and consumers can use this feature to keep an eye on the location, status, and condition of products in the supply chain. It alerts the stakeholders if the goods are damaged, or at risk of damage enabling them to take action.

Enhanced customer satisfaction: when products are connected to IoT, the makers can collect data on how consumers use their products. This lets them design and tailor future products with this information. It gives insight to customer demand, which influences product production.

Facility management: as manufacturing equipment is prone to wear and tear and other conditions in the plant. Sensors can monitor vibrations, pressure, temperature and other factors that can affect the operating conditions.

Human error reduction: since the data is collected and transmitted directly to the machines and equipment in the system, the margin of error greatly reduces because the human element is reduced or removed completely.  

Increased efficiency: with the reduction of the human element, fewer errors occur, and manual labor reduces. This means more productivity, improving overall efficiency. There is also a reduction in operational costs because of savings made in terms of time and money. It also provides better quality assurance and workforce productivity gains.

Creating new business opportunities: with the increase in efficiency, companies can take on more workloads and have the confidence to deliver on time.

Maximize asset utilization

Ability to sell products as a service

Reduced asset lifecycle costs

Save energy

Improves services

Allows for the production of revolutionary products to fit any gaps identified in a system.
---
IIoT Applications and Examples
Industrial Internet of Things uses across major industries
Here IIoT plays a major role in the analysis of the raw data collected. Since data is a key asset, it takes center stage as part of an integrated approach.  Instrumentation for production lines can allow companies to track and analyze their manufacturing processes on a grand scale, asset tracking can give quick, accessible overview of huge amounts of material, and predictive maintenance can save companies a lot of money by identifying and addressing problems before they have a chance to become grave – the number of potential uses is vast, and grows daily. We will look at the application of IIoT in three major areas:
Manufacturing
This is the largest market for IIoT deployment regarding software, hardware connectivity and services. In 2016, manufacturing operations accounted for an IoT spend of $102.5 billion out of $178 billion, all IoT use situations in manufacturing combined. With a total spend of $178 billion, manufacturing is by far the biggest industry using the IoT and of the IIoT and the segment of manufacturing operations outweighs all other IoT investments across all industries, consumer included.
Two IoT applications which are relevant in manufacturing from a spending point of view, other than operations, are production asset management, maintenance, and field service, according to research.  Manufacturing covers many types of products, operations, processes and a vast array of activities, components, machines, people, partners, information systems, etc. Turning raw materials to finished goods is a long process, and it is interconnected to supply chains, logistics, and transportation. It also is an integrated approach, that includes technologies such as big data analysis, cloud, robotics and, most importantly, the integration of IT (Information Technology) and OT (Operational Technology).
In some industries, there are so many opportunities to use the Internet of Things in connecting physical and digital assets, such as machines, other production assets as well as a variety of product and manufacturing process parameters to a vast information network. This is an essential element as with manufacturing we typically tend to think about goods and products, but the bigger chance for manufacturers lies in cyber-physical systems, a service economy model and the information opportunity.
Industrial IoT application areas

Digital/connected factory

Facility management

Asset management

Safety/security and operations

Logistics and ecosystems

Customer preference and behavior

Services and predictive maintenance

Quality control

Packaging and shipping preparation

Production flow monitoring

Condition-based alerts
Examples of the uses of IIoT beyond manufacturing
Smart factory warehousing applications

Predictive and remote maintenance.

Freight, goods and transportation monitoring.

Connected logistics.

Smart metering and smart grid.

Smart city applications like lighting and traffic lights management.

Smart farming and livestock observation.

Security systems for various industries

The optimization of energy consumption. 

Industrial heating, ventilation, and air conditioning

Monitoring manufacturing equipment 

Asset tracking and smart logistics.

Monitoring ozone, gas and temperature in industrial environments.

Safety and health (conditions) monitoring of workers.

Asset performance management.
Logistics and transportation
The transportation market reached an IoT spend of $78 billion and is positioned to continue to grow rapidly, just like the IoT manufacturing market. The main usage in transportation is freight monitoring. It has led to the emergence of a digital supply chain and linked logistics reality. This is a major challenge as a lot of the companies don't have a digital strategy in place.
The IT security, communication systems, supply chain surveying systems, storage, analytics, and transport tracking are some of the parts of the logistics landscape connected by IIoT.
Energy and Utilities
Oil and gas, smart grid and other evolutions in the energy and utilities market generally are also a major part of the Industrial Internet of Things market. The IIoT plays a vital role in the overall digital transformation towards a digital supply chain in many parts and value chain components of the large ecosystem, which also touches on retail/consumer-facing aspects. However, from the Industrial Internet perspective, smart grids are vital in supply and network transmission or distribution. Others include plant effectiveness, maintenance, and data-driven opportunities as a result of smart grids and IoT-enabled operations and services.
Other applications
Maintenance and services

Predictive maintenance, data-enabled services, and remote control, from service to control and optimization of operations, also come back in many other IIoT uses across industries such as healthcare (remote health monitoring, equipment maintenance, etc.), aviation, robotics, oil and gas, mining, metals and more. As mentioned, the broader context of IIoT is also often used in areas such as agriculture, smart cities and so on.
---
IIoT challenges
The infrastructure used in IIoT has to have a longer lifespan than consumer gadgetry.

It has to be able to handle a huge amount of data.

Its implementation and deployment can be problematic, because of the kind of back-end needed to make most of the data collected useful information, is a laborious process that has to be undertaken carefully and in coordination with the rest of the enterprise. It requires a dedicated method of data collection from the endpoints and storing them in the right format.

There is a wide range of different formats and tech that handle the various elements of machine-to-machine communication between the connected devices. The IIoT software used has to have the different layers needed to function fully

Infrastructure employed has to handle the big data challenges that come up due to the large amounts of data processed.

Lack of skill to properly handle and access the systems. There are very few skilled workers with the skills and expertise needed to handle IIoT systems. There is a lack of these specific skills in general, but at the same time, it might also be necessary to look for more external help to get access to the right skill set. One thing is clear in this age; it's that no organization can do it all alone and that networks, ecosystems, and platforms are extremely important to succeed.

IIoT security concerns.
By far the biggest challenge for executives is cybersecurity and data security. It's why companies who are active in the Industrial Internet of Things as service providers offer hybrid IoT connectivity solutions for industrial applications, ranging from cellular and low-power wide area networks to industrial connectivity solutions, fixed and beyond.