Best auto dialer software in 2019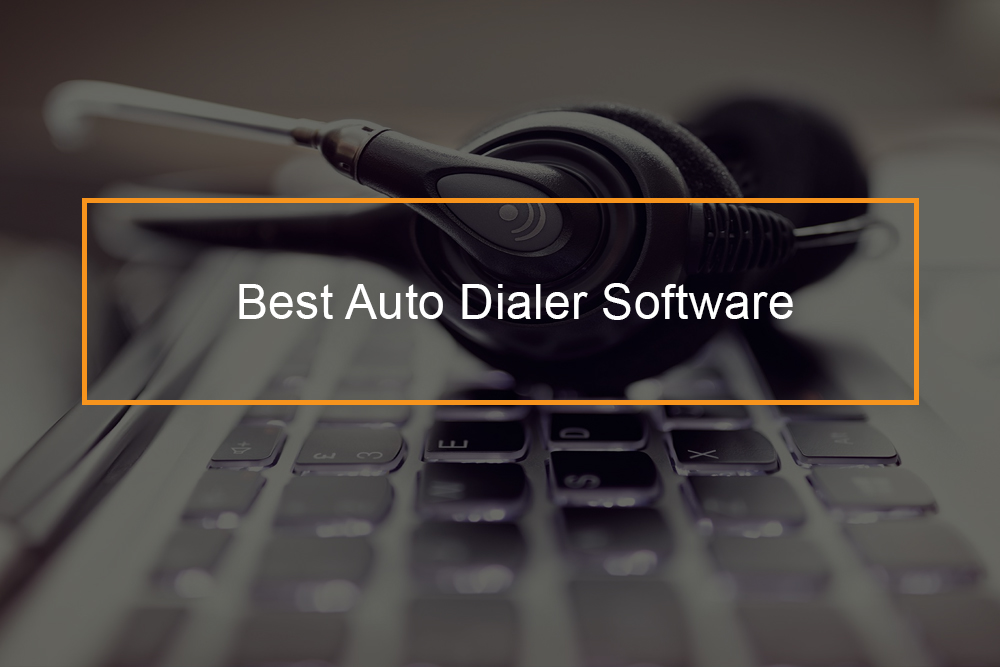 ChaseData, Five9, Velocify lead manager, Voicent, PhoneBurner, CallHub, Talkdesk, Genesys PureConnect, Nice inContact, CallFire, RingCentral contact center, VoIPtime cloud, Sharpen, are the top dialer software in the market today based on price, features such as call routing, call analytics and consumer support. 
An auto dialer software automatically dials telephone numbers pulled from a list and links either to a live agent or a prerecorded message. Auto dialler removes the tedious task of manually dialing individual phone numbers, allowing representatives to instead focus on the content and delivery of their messages. Auto dialers are widely used in a wide range of settings and industries, inclusive of sales, education, hospitality, and health care. Mainly an autodialer is used in cold calling sales. 
We looked at a variety of auto-dialers in the market today and narrowed down to the best in the market.
---
What is the best auto dialer?
Top auto-dialers for small business
If you have the best auto dialer application in the market, it can save you time and money by automating the dialing process. Auto dialers play pre-programmed messages to answering machine by answering route live calls, to agents, and skipping non-serviceable or busy numbers. An autodialer can amplify the call connect ratio, leading to higher agent productivity and increased sales.
Here is some of the best overall auto dialer for small business based on feature, price, and customer support.
ChaseData is one of the leading auto dialer application platforms that provides auto-dialing as part of its call center package. ChaseData has gained a reputation as one of the best cloud-based auto dialer applications on the market due to its features such as CRM  integration, and inbound call capability. 
The software also has reasonable pricing, with $89 per user, in a month, and includes the voice channel per agent. The package is suitable for small businesses and includes inbound calling and call routing, remote agent capability, auto-attendant, and a reporting package. 
ChaseData has a professional Edition which cost $139 for every user in a month and includes four voice channels for every agent. The professional edition adds predictive dialing and a trainee mode for onboarding new agents and Zapier integrations from more than five hundred apps. The application is suitable for medium-sized businesses and organizations with high volume outbound call centers.
The last tier is the Enterprise Edition, which cost $169 for every user in a month and includes six voice channels for every agent. The plan adds SOAP based Salesforce API for the integration government, healthcare, financial, and other high profile sectors need. It also comes with six voice channels.  
However, if predictive dialing is necessary for your company, ChaseData may not be right for you. Unlike Five9 and Voicent, the predictive dialing is only accessible in the higher-priced tiers. Most users based on online reviews have positive things to say about the organization overall. The software is highly rated on technology, ease of use, and good value for money.
Five9 is a cloud-based contact center application that does not require expensive equipment to use. When it comes to pricing, Five9 plans begin at $185 for every user, for five months. IFive9 is not the cheapest auto dialer software on the market, but it is excellent for businesses needing to avoid complex auto dialer setups or solutions that require workers to be at one location.
Five9 lacks transparency since it does not advertise its pricing. However, pricing is available by consultation and is based on features, usage, number of seats, and month to month versus annual plan. Five9 features set is suitable for companies that need to invest time and money in costly equipment and software downloads. 
Call automation, inbound call center package, coaching and management tools, system integrations, and customer support are some of the Five9 distinct features. On the downside apart from Five9 coming at a high price, it does not have strong lead generation features and CRM integrations of competitors such as ChaseData, Velocify Dial-IQ, and PhoneBurner. Most users are happy with Five9 company with some users saying the service integrates well with Salesforce.
Velocify Dial-IQ is an autodialer which has an built-in lead management software designed to improve the productivity of sales teams. The outbound sales dialer integrates into the existing phone systems to control numerous calls simultaneously. This auto dialer assists sales teams to work more efficiently, making it the best choice for lead management.
Similar to Five9, Velocify Dial-IQ pricing is only accessible by consultation. Third-party websites indicate Velocify Dial-IQ plans start at around $100 per user, in a month with 1.5 cents every minute. For every user, Velocify Dial-IQ pricing is approximately the market average.  
When it comes to features, Velocify Dial-IQ is designed mainly for sales teams. It has features such as auto dialing software solution such as tailored call routing, call prioritization, live coaching, customer support, system integrations, among others.  Noting that Velocify Dial-IQ is designed for lead building and management, it is not designed with features that tackle the auto-dialing needs of businesses across a range of industries from fundraising companies that require integration with constituent management applications to live chats for order processing. 
Velocify Dial-IQ users generally have positive things to say about the organization, with high rates on ease of set up and use.
Voicent is a full-featured auto dialer software platform with a menu of a variety of choices for growing companies. Its prices start at $29 for every agent, in a month, for monthly plans or $19 for every agent in a month with yearly agreements. For the base plan, it is packaged with automatic dialer technology and an agent dashboard. 
Voicent is one of the cheapest auto dialers on the market, but the price can add up fast after the options such as email campaign tools workflow automation tools are included. Most of the Voicent features are accessible for an additional cost, including;
Workflow automation for $99 for an account

Caller ID for $2 for every ID

Interactive text messaging with a phone number for $15 for every number

Call center management for $10 per user

Inbound call center package with a phone number for $15 per number
If your business requires analytics and reporting or lead management tools, Voicent may not be suitable for you. Voicent online users think that the company customer service is excellent and that the service is a good value for the money. 
PhoneBurner is an auto dialer that integrates seamlessly with HubSpot, Salesforce, and Zapier. It is designed with an open API that organizations can use to create their software connections and is priced at $149 for every user, in a month. Based on its features, PhoneBurner is suitable for companies that depend heavily on CRM tools for cold calling leads and moving interested prospects via sales pipeline.
Features included in PhoneBurner plan are call recording, call, and email tracking, and unlimited power dialing. Even though PhoneBurner automates the procedure of manual dialing, it does not provide progressive, predictive, or preview dialers as part of their service. This places ChaseData and Five9 as better options for businesses that require particular functionality.
The online users of PhoneBurner rate are overall positively, with customers claiming there are no hidden fees, and that it functions as advertised.
CallHub is an autodialer service designed to link nonprofits and advocacy groups. The software has pricing from 1.2 cents for every 30-second increments, instead of being based on a monthly subscription.
CallHub is suitable for companies that use temporary phone banking for fundraising or other short term campaigns. However, it does not have features such as call routing and training tools those services provided. 
Customers review online generally are positive, with some saying it is a good value for money and is easy to set up. However, some customers report an occasional drop-in call quality. 
---
What is auto dialer system?
What does auto dialer mean?
An auto dialer is a software that dials a list of phone numbers. It also plays recorded messages, offers analytics, connects calls to sales agents, collects call data to assist train sales agents, and integrates with CRM  platforms to help train sales agents. It is worth noting that a good auto dialer solution should have excellent customer support. 
When it comes to the best auto dialer software, it varies with what you need to do for your company.