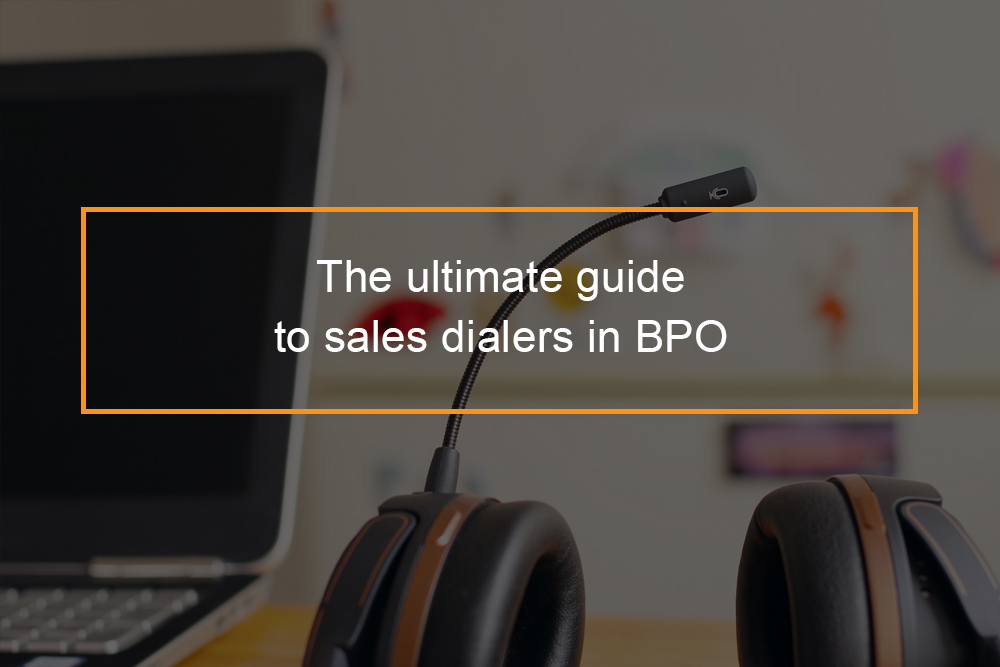 A dialer in BPO ( Business Process outsourcing), is a device that is used when call center agents make outbound calls. The auto dialing software automatically dials up contacts from a database and, centered on agents' availability, delivers matured sales calls to the sales agents. BPO is a business technique in which one company hires another company to perform a task that the hiring company needs for its own business to operate successfully.  It is essential for a center centered on outbound sales since only by dialing technologies can a cloud call center effectively and productively utilize agent resources. Auto dialing software in BPO is used to develop contacts with customers, particularly in telemarketing, emergency notifications, collections follow up, and telemarketing.
---
Outbound call center software: Types of dialers in BPO
Dialing technologies available in BPO
There are three types of dialing modes available: predictive, progressive, and preview dialers. Amongst these, predictive dialing is the most common in BPO.
Preview dialer in BPO
A preview dialer shows the contact's information to a sales agent, before phone dialing. A preview is the first level of automation, and it mixes data from a database with some dialing, which does not need the use of a telephone keypad by the sales agents. With this automated dialing, a record is presented to the agent who decides whether or not to call the customer.
Call center agent productivity is lowest in preview dialing mode since the contact center solution waits for the agent approval. Preview dialers are not ideal for target-oriented companies with a high premium on productivity. Nonetheless, they can be effective in operations that need updating databases and in collection environments where sales agents can immediately preview the prospect's record. Preview dialers are also cheaper than predictive dialers.
Predictive dialers: Predictive dialer in BPO
A predictive dialer can predict when a sales agent is going to complete an outbound automated call, based on real time and historical data, and auto dial before an agent completes the current phone call. Predictive dialing is the most efficient form to place automated phone calls in BPO.
The foundations of predictive dialers are the incorporation of a higher number of phone lines than sales agents. It is also based on: a dialing algorithm that predicts when the sales agent will be available, and a call processor that dials centered on algorithms, to have a call ready to deliver to the sales agent's workstation when one becomes available. The effectiveness of these automated dialers is governed by factors like the sophistication of its pacing algorithms and the average talk time. But this auto dialer system has its disadvantages too. 
When a call is ready, and there is no call center agent, the call becomes abandoned. For this reason, it is hard for a predictive dialer to be effective with a small number of workstations and where talk time is of a long duration. Predictive solutions in 2019 include Five9 omnichannel contact centers, kookoo cloudagent, and Adversus dialer. You will be surprised to note that most of these solutions come with free versions and free trials with no credit card required.
Progressive dialers
By automatically dialing calls, progressive dialers increase agent productivity. The sales agents spend more time talking to clients and less time figuring out who to call next. They also spend less time phone dialing the customer's number and waiting for the call to be answered.
In predictive progressive dialing, the system will automatically place calls from the campaign database and display the name of the customer on the telephone screen. This dialing mode has given high dialing rates and low wait times. However, it has also sometimes meant many abandoned calls in BPO. Such inefficiency results as a result of the algorithms being used. This auto dialer software uses simple algorithms to evaluate over dialing. Progressive dialing is useful in small outbound call centers, which have a small database and fewer workstations.
Power dialer
A power dialer in BPO is an automated phone dialing system that links customers with sales agents more efficiently by enabling agents to center on live connections rather than manual dialing. Power dialing differs from a progressive or predictive dialer in that it uses a manually set calls to sales agent ratio. When a sales agent becomes available, the system automatically dials the next contacts based on that ratio. With this configuration, the cloud call center is provided absolute control over dialing rates.
By automating outbound sales calls, power dialing increases the amount of talk time agents spend talking to real customers. The power dialer is particularly useful when a contact center has a small number of call center managers or sales reps and a large number of customers. Besides, power dialer comes with phone calling and phone messaging features, which can be of importance to BPO. Some of these features include: Caller ids, call routing, calling campaigns management, call transfer dialer CRM integration, appointment scheduling, appointment reminders, call recordings, workflow management, business system integrations, and zapier integrations capability. You can customize dialing behavior to your business phone system and business needs.
Manual dialing mode
The call center industry began with manual dialers. Regular phone lines are utilized to make phone calls to customers. Just as the name suggests, a manual dialer allows the contact center agents to place calls manually. The sales agents have total control in this kind of dialing. The main benefit of manual dialing is that it consumes a lot of time. Typically the agents have paper records to choose the person to be called, find his or her number, ring the number and proceed after the call is answered. In case the call is not responded to, they will have to remember to call that specific customer later. All of this influences the productivity of sales agents.
---
Advantages of auto dialer software for BPO
What is an auto dialer and how can it benefit BPO?
Auto Dialer software is also known as phone dialers or voice dialers. It can be used to place thousands of calls from a database. Auto dialing systems are usually configured to leave audio messages for people on answering machines, receive touch tones, or prerecorded messages and pre recorded voicemails or dial phone numbers for a live person. Outbound call centers, BPO (Business Process Outsourcing), is the place where large numbers of customers and other telephone calls are managed by other companies. Phone dialers are largely used for client support in BPO and telemarketing industry. Many vendors offer complete adaptable and flexible solution dialer and telemarketing software to make a good business sense.
Some of the merits of sales dialers in BPO
Increases talk time
Auto dialer systems connect an automated outbound call when a live person appears at the other end, reducing the wastage of the agent's valuable time. Besides, it helps a call center manager in live call monitoring, thus evaluating an agent's performance.
Improve sales teams productivity
Automate dialing system helps increase work productivity since it automatically dials from a preloaded list of numbers and enables them to connect with more clients.
Suitable for any business
Auto dialers have become ideal for every business industry.
Predictive dialer with auto dialer capability
Predictive dialing is a functionality where outbound calls from the user-chosen list are initiated automatically, and answered calls are then passed to accessible service agents. Predictive dialers assist in enhancing the productivity of contact centers or call centers over manual dialing.
---
Why auto-dialers for BPO?
Auto dialers come with answering machine detection, interactive voice response, automatic call distribution software integration, workflow automation, workforce management, call recording, voice broadcast, click to call, among other features to help deliver successful customer service.
Applications for auto-dialers in BPOs
Outbound telemarketing

Emergency notification solutions

Market research

Customer follow up