Best VoIP apps for Android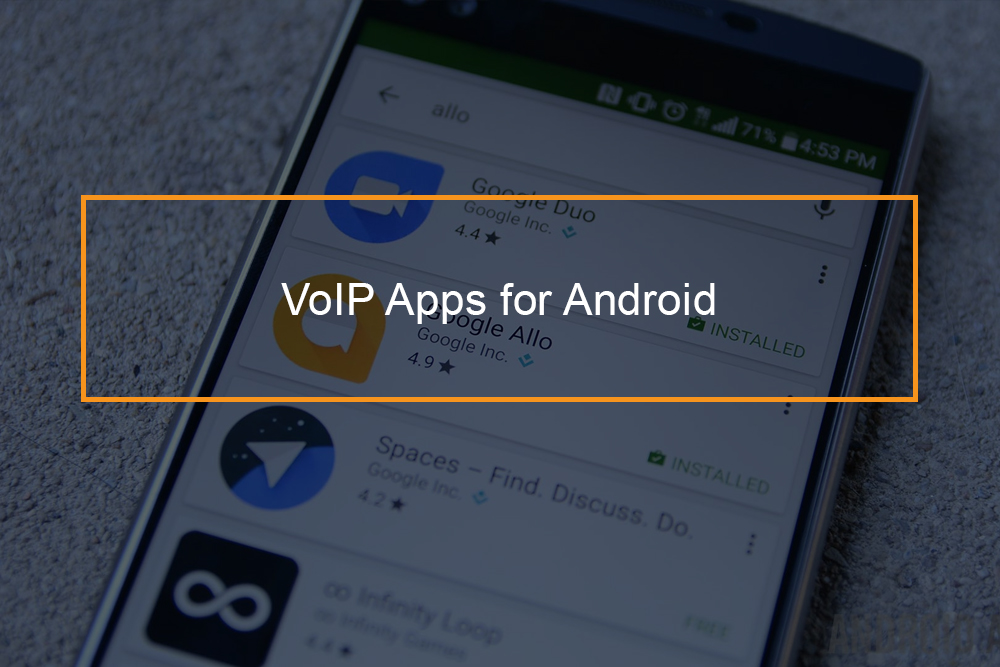 Currently, WhatsApp, Facebook Messanger, GoogleDuo, MagicApp, Google Hangouts, Skype, and Viber are some of the best free VoIP apps for Android. Android VoIP apps can get you an option phone service on your mobile phone for less to no money.
A VoIP app enables you to make calls from your mobile phone. You only get charged for usage over 3G/4G. Your mobile phone provider might charge you for a local call. Today, Android holds the majority of cell phones in the market. The platform's supremacy has to do with the wide variety of mobile phones and its accessibility between the leading mobile providers. On the other hand, Android cell phones are sold by each major provider (AT&T, Sprint, Verizon, and T-Mobile) and many diverse manufacturers.
Today, customers do not rely on mobile networks as they used to in the past. Someone can receive a data signal in the same places you can receive a cellular signal. People are starting to use WiFi more frequently, as well. Advance in technology has given people the ability to talk to someone the way we would talk to a person over the phone. 
---
The best free calling app for Android
The top Android apps that let you make free VoIP calls
In case you are ready to upgrade from your mobile network to something that is not only easier to use, but also affordable and more efficient, here is a list of some of the best applications you can use for VoIP calls.
WhatsApp
WhatsApp is very famous for messaging. However, it also supports video and voice calls. WhatsApp is reliable and extremely famous, which makes it easier for other people to download the app so they can call each other. It comes with additional features such as book integration, file attachments, and multimedia support.
In case you are someone who requires a real phone number, this app may not be the best choice. I you are not this app should work fine for you.
Cost: WhatsApp is free to other WhatsApp users 
Facebook Messenger
Facebook messenger is an above-average free VoIP app for Android. , and video calls. While it does function best for text messages, the quality of voice and video call is dependent on how fast your internet connection is. Facebook messenger heavily depends on resource usage; that is why it is not recommended on older or lower devices. 
You can also try using Messenger Lite, which is less reliant on system usage, even though it only texts and calls.
Cost: Facebook messenger is free to other users of the same app.
Google Duo
Google Duo is one of the latest video calling applications. Google Duo supports regular voice calls perfectly. So as calls can work, everyone needs to be in Duo. The voice and video quality are excellent, and it is straightforward to use. The best part is the cost; it is free. You have to make sure that your friends are signed up on the app. Then you will be ready to use it. Google Duo works with iOS devices and comes pre-installed on some new Android devices.
Cost: Google Duo is free
Google Hangouts app
Google Hangouts is one of the leading VoIP applications since it works the same as Facebook Messenger. Whereas most Google users use it to send pictures and texts, it does support group calls, video calls, and voice calls too. You can also connect your Google Voice number for voicemail, phone calls, and SMS texting. In case you want to make video or voice calls, Google Duo is better for that. Google Hangouts is suitable for someone who wants more features. Google Hangout is free to download in the app store without any in-app purchases or advertising. 
Cost: Google Hangout is free
Skype
Skype is also another popular VoIP app. Skype has a massive user base because of the direct support it gets from Microsoft and Facebook.
You can send messages using Skype to send text messages and to send voice and video calls. For a small fee, you also make landline calls. Whereas the desktop version appears to work better than the mobile app, it is not terrible. The best part is cross-site support for many mobile and computer devices. 
Cost: Skype offers free calls to other Skype users.
MagicApp
MagicApp is a SIP or VoIP app. It utilizes a person's actual phone number to make calls. The features include landline support, SMS support, and cross-platform support. The only downside is that unlike other apps in this list, MagicApp is no free. You pay a charge for unlimited calls to the Unitec States and Canada, unlimited texting to any phone number in the US, and an actual phone to use. MagicApp is compatible with any PC or mobile device.
Cost: MagiApp costs $9.99 per year, and some parts are free.
MizuDroid SIP VoIP Softphone
MizuDroid SIP VoIP Softphone is one of the few SIP applications that are updated frequently on Google Play is MizuDroid. Nonetheless, to use this app, you must be having an existing SIP account to use, but it powers various SIP accounts, IM, VoIP tunneling, encryption, voicemail functionalities, and call diversion. The UI featured in MizuDroid SIP VoIP Softphone is a little outdated, but it's still easy to use and functional. Fortunately, there are no in-app purchases, as this app is entirely free.
Cost: MizuDroid SIP VoIP Softphone is free
Zoiper IAX SIP VoIP Softphone
Zoiper app is one of the few VoIP and SIP applications. It majors mainly on phone calls and includes support for IAX support, Bluttothadditional protocols and the ability to make phone calls through the internet. 
In case you opt for Zoiper IAX SIP VoIP Softphone Gold package, you will receive better audio, video calling support and call transferring capabilities. The app is regarded as one of the last good SIP software out there. If you require apps for voice calls, Zoiper IAX SIP VoIP Softphone is suitable for you. The design and UI are also updated frequently even though the technology is comparatively old.
 Cost: Zoiper IAX SIP VoIP Softphone is free, or $8.49 with purchases inside of the app
Viber
Viber application is not as popular in the United States as it is in other parts of the world. However, it does feature complete video calls, chat service, and voice call service. Viber also has alternatives to include public chats, file attachments, and stickers. However, the stickers will cost you extra. Viber is a compact cross-platform VoIP and SIP to select from.
Cost: Viber is free (with the purchase of extras inside the app)
Signal Private Messenger
In case you are looking for a VoIP app that has privacy features, Signal Private Messenger is a good application to try. Signal Private Messenger supports texting and voice calls but does not have a notable list of features. It does feature above-average encryption, above-average privacy, integrates with your existing contact list and phone number, and security capabilities. All these features make Signal Private Messenger a good choice. The signal is best for voice, and Telegram is best for texting.
Cost: Signal Private Messenger is Free
---
Is there any android app to make free call without any credits, to a person without data and no internet connection?
Yes, there are apps that use offline calling techniques, that is without the data connections, and you can talk for free. After you download the app, you escape from paying high bills to your mobiles. 
Mobile bills are quite expensive for international calls. One of such apps is Nanu app. Nanu is the latest app which is built for smartphones for free call making. It offers free unlimited calling from Nanu to Nanu on the net, and for off-net that is offline, it provides 15 minutes per week free calling.
With this app, you can even have a call to landlines or national calling. Nanu app is designed for android phones, and it requires no internet connection. After you download the app, you can have a free calling facility.