Difference between a contact center and a call center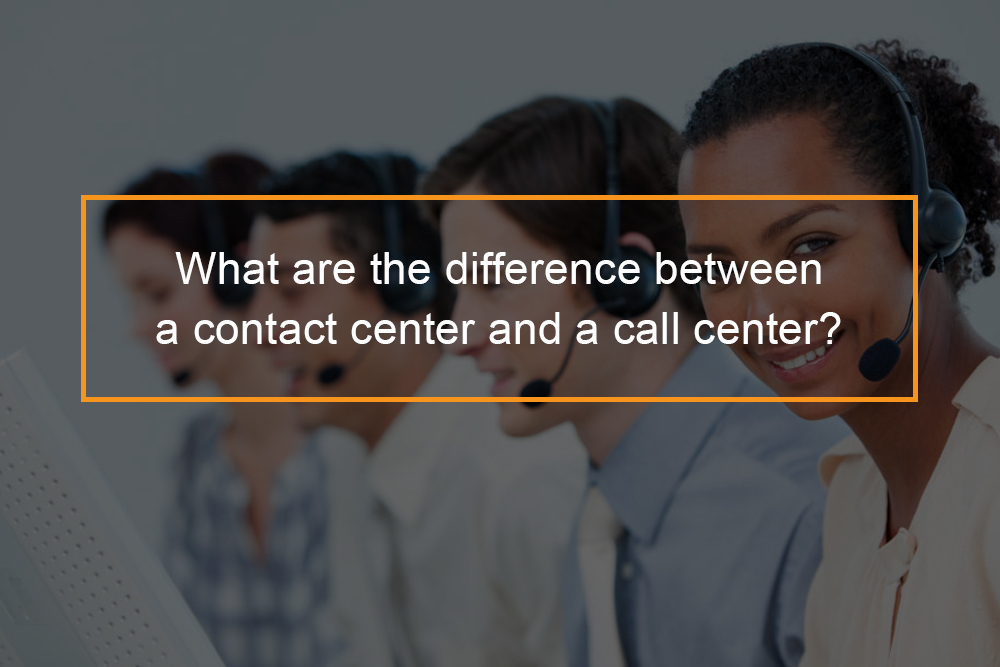 The main difference between a contact center and call center is that while call center focuses only on incoming and outgoing voice calls, a contact center can manage clients with both data software like chat, web-based, email, instant messaging and sometimes will enable the subscriber to share web pages received from the user.
A contact center is based on customer needs, visual communications, text, and phone calls. A contact center also uses a blended contact agent, who can control many types of data-centric consumer communications and voice.
It can be hard to point out the main difference between a contact center and call center, considering they are both tools for customer service. Besides both services involve phone channels. In this post, we are going to discuss the difference between the two.
---
What is a contact center?
Contact center technology definition
A contact center is also known as a customer interaction center or e-contact center. It is a central point from which all clients contacts are controlled. 
A contact center is the new technology of customer service in the market today. Unlike a call center, they have a positive reputation.
A contact center has one or multiple call centers and may also include other types of customer contact. It is a part of an enterprise's entire customer relationship management, CRM strategy.
---
What is a call center?
A call center is a centralized division to which phone calls from present and potential customers are directed. Call centers can manage inbound and outbound calls. They are located either within an organization or outsourced to another company that specializes in handling calls.
Generally, an inbound call center manages a substantial volume of calls at the same time, forwards and screens call to someone qualified to handle them and logs calls. An interactive voice response (IVR) system will answer calls and apply speech recognition technology to either address customer issues with an automated message or route calls to the right call center agent or recipients through an automated call distributor.
---
What is the difference between a call center and contact center?
Contact center vs. call center
It is vital to have a clear understanding of contact center and call center operations, as content personalization sites become more widely implemented. Even though contact centers and call centers are both centers for customer service and are used interchangeably, they are not the same. To explain the difference between a contact center and call center, we will base our discussion on the following factors.
Contact center features vs. Call center features
A contact center provides more features and services compared to a call center. Contact centers offer extra services such as fax services, website interface, email, text chat, and Voice over IP(VoIP) telephone services. While the call center only offers phone call services.
A contact center bridges the gap for the growing need of providing customer support. Today, customers expect companies they do business with to be accessible on numerous communication channels, including social media sites and to offer consistent, qualified services to them. 
Uses of contact center and call center
Call centers are often used in telemarketing since the cost of hiring a call center is cheaper than employing an in-house team. Call centers are utilized by online merchants, computer product, help desks, telemarketing companies, mail-order organizations, computer product help desks, charities, and big organizations that use the phone to sell and offer products and services or enhance the customer experience.
Call centers can also be used to prevent fraud by having your employees follow up on transactions and purchases. A call center can also be used to take collection calls and follow up on debts without assigning in house staff. Finally, you can utilize collected information on your customers and leads to take short surveys and identify what products and services are best for your customers.
Contact centers are also controlled by outside companies and are used to manage customer service. They can also be used to take on activities such as telemarketing, billing services, and debt collection. 
How does a call center and contact center work?
For a call center, inbound call center may manage calls from current or potential clients regarding accounts management, technical support, queries and complaints about services and products, or intent to buy from the company. In an outbound call center, an agent place calls on behalf of the business or customer for tasks including, telemarketing, lead generation, client retention, surveying, fundraising, scheduling appointments, and customer retention.
A contact center uses more channels to work. Contact centers are mainly used for inbound communication and outbound communication or hybrid or both. A contact center agent works in different ways, towards a common goal as a call center. Contact center agent can interact with customers through phone, email, webchat, or other communication channels.
The contact center infrastructure that is essential to support communications may be located on the same premises as the contact center, or it can be located externally. A contact center is supported by mathematical models such as queuing theory, and operations research who consider them to be a method to solve optimization problems.
---
Contact center capabilities and key features
Contact centers are flexible
Contact center managers can adhere to their employee's access and priorities for optimum efficiency in real-time. The contact center can work and collaborate as a team with shared goals and contacts, even though they are operating single stations, over several channels, outbound, and inbound calls. This improves data security and security strategies.
Contact centers come with advanced call distribution feature
Contact centers can distribute calls effectively to increase the number of fielded calls while keeping consumers satisfaction high. Interactive voice response is an example of such a feature, and it boosts initial call resolution by directing a call to the right agent.
Customized scripts
Contact centers often operate with customized scripts to each client interaction. This offers an agent framework for sales and support. It also aids with confidence when tackling bad issues or angry customers. However, a credible contact center agent will deviate from a script when the situation calls for improvisation.
---
Contact center vs. Call center: Types and definitions
Generally, there are two types of call center:
On-premise call center: A call center that operates in your office, hardware, infrastructure, and software applications. Your staff can set up and maintain your IP PBX or PBX. They can also take care of the installation process.

Cloud-based call centers: These types of call centers operate using software hosted in the cloud by a service provider. Users only require a computer or mobile phone with an internet connection to access the service. The upkeep of cloud-based call centers is the responsibility of the service provider. Thus subscribers only focus on managing the business.
When it comes to contact centers, there are multiple types:
Cloud-based contact center: Contact centers that are clouded on a cloud provider's internet server. They are a station where all inbound calls filter.

Hosted contact centers: Contact center where infrastructure and equipment are outsourced to another company that manages the systems externally. This results in better ROI for businesses by decreasing upfront costs and maintenance cost.

Virtual contact centers: A contact center that lets employees work remotely from their homes.
---
What are contact center technologies?
A contact center uses specialized contact center software that let contact information to be tracked, routed, and data to be gathered. Technologies used within contact centers include but are not limited to:
Workforce management system

TTY/TDD communications

Knowledge management system

Interactive voice response system

Email response management system

Automatic call distributor system
---
Choosing between a call center and contact center
Today most companies are preferring virtual call centers over contact centers because of specialization. Epimedium facility is a responsibility to companies. But, outsourcing to a contact center for all sales needs and support is not the only possibility. Dependent on the facility of multiple, dedicated service providers for each medium is an option.
Contact centers offer all the discussed features in the above section. Moreover, these features can be customized to suit business needs.
The main problem with the call center and contact centers is the language barrier, primarily when contact centers are located internationally. Thanks to virtual call centers, a growing number of organizations can employ remote agents from anywhere in the globe and can stay linked.