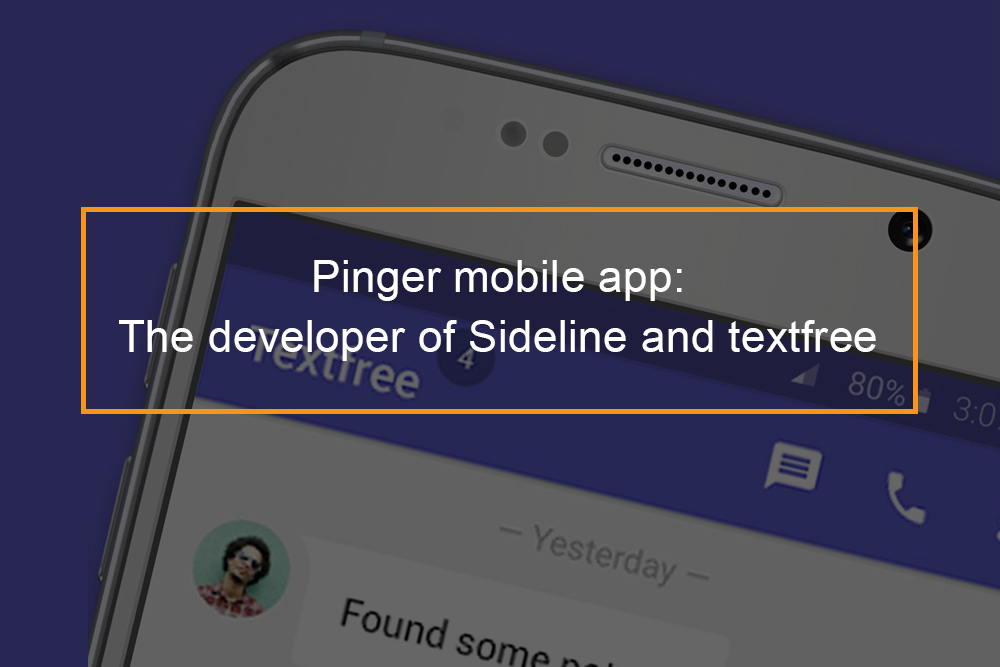 Pinger VoIP is a free texting app. It is in the same category as Google voice. Pinger VoIP gives you access to Textfree and free calling. Textfree enables you to make unlimited phone calls and unlimited text messages for free on your Android, iPad, iPod Touch, and iPhone. Pinger VoIP (Voice over Internet Protocol) was established in 2005 by a mannequin wrapped in Christmas lights to reinvent mobile communication. Pinger has its headquarters in San Jose, California.
---
Is Pinger a VoIP?
Services offered by Pinger inc
Pinger inc is a United Telecom provider for free texts, voicemails, calls, and picture messaging. The company makes VoIP apps. That is mobile apps. It mainly focuses on iOS devices and android. The main Pinger products are Sideline and Textfree.
Textfree texting app: call and text for free online
Textfree is an application developed by Pinger. It enables subscribers to send and receive messages as well as a call over the internet for free or for a price. The application runs on iOS, macintosh, and Microsoft devices. Competitors of the Textfree app include WhatsApp, Optini, and Gogii. 
Users of textfree apps can communicate with others who do not use the application via calling and texting. Users can call within the United States and Canada. While texting is free in thirty-five countries. New accounts receive a new telephone number and sixty free minutes. Users can also communicate with any other user globally. Besides, Textfree has a web browser-based that allows users to send and receive text messages directly from the computer. They offer a permanent number to their subscribers, which they can use to send free texts.
---
How can I create an account on textfree web?
To create an account with text web follow the following step:
Step 1: Sign Up
On the homepage, you will be asked if you want to log in to existing or sign up with a new account. Choose the purple sign up option at the top right corner. It is worth noting that if you click on keep me logged on Textfree web, your account will be active for seven days (meaning you will not have to re-enter the password in that frame).
Step 2: Input account details
Then input your desired password, username, email, gender, and age. In case you decide not to offer the information upon signing up, you can also verify your account by logging via Google+ and Facebook.
Step 3: Verify the ownership of your new account
At this stage, verify the ownership of your account by registering a phone number. In case you do not want to register a phone number with your account, or do not have a telephone number to validate, you can go ahead to use Google verification of Facebook method.
Step 4: Select your number
You can now choose a free phone number to use on the Textfree web. You can still log in to your existing account on any device that supports mobile textfree applications. Now enter in your desired zip code to view a list of phone numbers accessible in your area. After you have chosen a number, click the purple arrow button. Note you cannot change a phone number later.
Sideline text message app
Sideline is an application that adds a second phone number to your phone using technology similar to a textfree application. Sideline is accessible on android, iOS devices, and Microsoft windows and macintosh.
It is a communication app that aids users to work effectively, connect with customers, and collaborate as a team. Business opts for Sideline because it is reliable and comes with advanced features. Sideline comes with calling, international texting, and voicemail features that help a business grow. Sideline offers the following paid upgrades;
Sideline for enterprise- this allows companies to assign and control many numbers for staff for $9.99 per line, every month.

International calling: Sideline has unlimited plans and is affordable of $14.99 for one line per month. For this plan, you need a team's account.
Sideline comes with features such as auto-attendant, which allows the caller to create a virtual receptionist to greet callers and forward them to the appropriate person or department. Also, unlike other messages apps that only operate over Wi-Fi, Sideline uses your current carrier network to connect voice calls. This indicates it works wherever your cell phone is, and the user can enjoy more reliable conversations.
For packages with calling limitations, Sidelines share users' carrier minutes. This means when you have Sideline, minutes get shared between your two telephone numbers. Sideline also allows you to record a separate voicemail greeting for your Sideline numbers. All you have to do is tap voicemail greetings, choose custom and record. In case you explicitly reject an incoming call, that caller might be sent your native voicemail inbox. The best way is to avert this is to let Sideline calls ring all the way through.
---
How to make a call on Sideline app?
To make a call or Sideline a message with Sideline number, open the app first, then tap the gear icon to access settings. The icon is in the top justify corner of your inbox. Then you can set custom ringtones, record a voicemail greeting, and more.
Sideline's integrated inbox shows your calls, texts, and voicemails all from one screen. Incoming calls ring on your telephone. It is essential to note that Sideline is designed to be used as a second phone number for your mobile device and depends on your mobile service for controlling communications. Thus you will need to use your Carrier cell phone number when registering for your account. Adopting a Voice over Internet Protocol number, or number not linked with your device will result in their inability to register for an account.
---
Pinger inc in San Jose review on the app store
Pinger VoIP has fairly good reviews on the app store. It scores 4.7 out of 5. Pinger users on google play store like the fact that they can make free calls with a real United States phone number on the original free calling and texting app.
Pinger VoIP comes preloaded with free calling minutes that can be used to call anyone in the United States, Mexico, and Canada. After that, the minutes are free to earn or afford to buy. Users also like the fact that SMS messages are also free. Besides on top of free calling and text, additional features include group chats, voicemail, MMS picturing and video messaging, ringtones, emoji, and others.
However, some users do not like the fact that VoIP pinger does not support emergency calls. The app also has a negative review based on the fact that it is ad-supported. Also, when roaming, extra additional carrier data fees may apply. Moreover, in case the user's contacts are not on Pinger VoIP, they may have to pay regular carrier fees for texts and pictures.
---
Can you trace a pinger textfree number?
How to identify the owner of textfree number?
You cannot trace Pinger legally. Just like any other phone service provider, Pinger has a privacy agreement that they go into with each user that protects the sensitive personal information. Thus, to divulge any of that information would be breaking a legal binding contract.
You can try calling or texting the Pinger number you have and find out who it is, but chances are you may or may not find out who they are. You can also visit a reverse cell phone directory online. Most directors charge a fee for this service. There are user-generated sites that are free to use; however, they lack extensive info. In case you are unable to identify the person sending you text messages, Textfree enables you to block any unwanted messages.
To block a number on a textfree app, slide your finger across the app, a red delete button will appear on the screen. Click on the block user button.